Remington's Model 700™ Sendero® SF II Ultra Mag Part I
My wallet seems to get lighter as the guns get bigger...
by Joe D'Alessandro Editor | RealGuns.Com

After a few years of staring at a too exposed house foundation and a lawn that resembled the mid west dust bowl of the 30's, my wife and I decided to landscape. The project went well, with the exception of a couple of stretches along the driveway where the soil remained as hard as cement and staunchly grass repellant. So I broke out the Sears Hi-Po rear tine tiller, fired it up, dropped the handles down and almost immediately discovered the meaning of those bright orange squiggly lines Dig Safe had spray painted on the ground prior to the start of excavation. I'd never seen a tiller actually glow bright red before. Anyway, with Central Maine Power emergency truck lights flashing and people in hardhats frantically running about, I thought I'd head to the shop and get started on a heavy thirty rifle project... with the aid of the standby generator.
This past year, I had the opportunity to work with a Remington Model 700 CDL chambered for the .300 Ultra Mag. The CDL proved to be an excellent firearm and the .300 Ultra Mag turned out to be quite a cartridge. The combination was accurate, flexible when handloading and the ballistics were...scorching. One segment of handload development that particularly stood out for me was live fire and data collection over longer ranges. There is something about hitting targets at 300 yards that is a lot more fun than hitting them at 100 yards, even if it means loading up the truck and driving halfway to New Hampshire to find a place where trees don't get in the way at those ranges. So one thing led to another, my wallet got a bit lighter and I became the proud owner of a new Remington Model 700 Sendero SF II with the intention that it would serve as the basis for a long range shooter.
Doesn't hurt if it looks good too...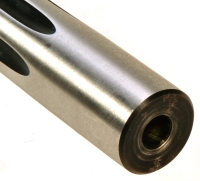 The Sendero's steel hardware is made of 416 stainless, an alloy that seems to hold up better to harsh environments and is less susceptibility to throat and bore erosion than carbon steel counterparts.
Verified by a good deal of infrared thermometer data logging, the gun's barrel fluting helps to dissipate heat more rapidly by providing greater cooling surface area. Fluted barrels also tend to be more rigid than tapered cylindrical types, which narrows the effects of harmonics on shot to shot placement. The 26" long barrel is hammer forged with a 1:10" twist, the chamber is reamer cut. The 0.820" muzzle has a shallow concave target crown. The metal work is...pretty, like when the protective paper is pulled off of a piece of precision machinery. The barrel finish is satin with flute insets and muzzle powder coated a non-reflective black, the receiver and bolt are a bright satin, the bolt body is cleanly jeweled, the bolt knob is checkered - Form follows function doesn't have to result in a utility drab appearance.

The long Remington Model 700 action is quite compact considering its cartridge capacity. The bolt travel is approximately 4.75" with a mag well functional length of approximately 3.750", which works out well as the Ultra Mag cartridge has a maximum spec length of 3.600". There is a little room to play with when handloading, which is always appreciated.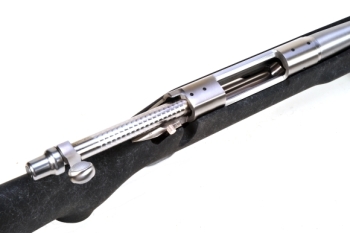 Obligatory and gratuitous spec comments to follow - The bolt is a two lug design, requiring approximately ninety degrees of rotation to unlock. The action is push feed, cycling smoothly and cleanly both feeding and extracting rounds. Pushing a small tab inside and at the top of the trigger guard releases the bolt for removal. Pushing a small tab located at the forward inside of the trigger guard opens the hinged floorplate and unloads the magazine well. While handy in placement, neither control is in jeopardy of being accidentally actuated.
Perhaps the best factory single stage trigger...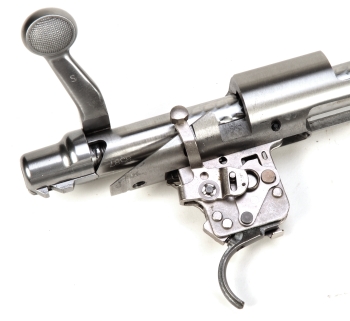 The X-Mark PRO Adjustable is...spiffy, and a mouthful to say. Assembled with durable, close tolerance parts, the X-Mark Pro is catalogued as leaving the factory preset to three and one-half pounds and as being shooter adjustable within a two pound range. Adjustment does not require rifle disassembly, only the 1/16th inch hex wrench that is included with the rifle.
Digitally scale checked as received, the preset pull ran from 3 lbs 14 oz to 4 lbs 2 oz. The scale noticed the variance, my trigger finger did not. I usually set rifle trigger pull in the high three to low four pound range, anything lighter feels...unsteady. I ran the Remington trigger down to 2 lbs 12 oz and it was so crisp I left it there. The two position safety is positive in operation...positively.
Target shooting at sporter weight...
The stock's construction and geometry played a significant part in my selection of this firearm. It is comfortable shooting from any position and it is hand filling. The wide forearm and palm swell, while not nearly as much fun as Palm Springs, make it easy to get a good hold on the gun and operate controls like the safety, floor plate and bolt release. The two buttons on the forearm are handy for shooters who want a sling and bipod mount. I'll take a stab at the intent and assume the forward button is for the bipod. The bottom metal, including a hinged floorplate are nicely textured and anodized aluminum alloy. No, I don't know what kind, but thank you for asking. Considering half million pound airplanes land on aluminum alloy landing gear, I believe this bottom metal should be able to support three rounds of ammunition and/or a finger without too much trouble...and perhaps a slightly smaller airplane.

The H-S Precision composite stock accounts for 2 lbs 10 oz of the Sendero's 8 lb 12 oz total weight, a weight which is impressively light as the stock is dimensionally quite beefy and includes an integral aluminum bedding block and shoulder considerate recoil pad. To put the .300 Remington Ultra Mag Sendero's weight into context, a Weatherby Accumark in .30-378 WM weighs 9 lbs and is classified a sporter and the Winchester Model 70 Super Grade in .300 Winchester Magnum, another sporter, is only about 4 ounces less.
The barrel floats the entire length of the forearm with no speed bumps in the channel. Remington lists the construction of the stock as "...composite stock reinforced with aramid fibers." The aramid fiber description is shorthand for aromatic polyamide fibers which are used in the production of fire and high heat resistant material and in advanced forms of body armor. While I don't believe it would be appropriate to use the Remington to put out a campfire, or as part of a barricade defensive against speeding bullets, I do believe Remington's use of aramid fibers adds a tremendous amount of strength to the composite material along the direction of the fiber. The result is a highly resilient stock that is very carefully shaped for maximum shooting control...and good looks.
Quality is in the details...
I know that blueprinting a rifle, like blueprinting an engine, can help get it closer to optimal performance. I just don't like the idea of purchasing a new rifle with the understanding it will have to be sent to a shop to be made accurate. Remington rifles are shipped in accurate and already finessed condition.
I plopped a dab of Prussian Blue on the backside of the Model 700's lugs, wiped the lug almost dry, assembled the rifle and worked the bolt. Both lugs had a uniform wipe that covered the lug from bolt body radius to the chamfer at the outside lug radius. In comparison to other firearms, the lug contact is full and uniform without the need to finesse the fit with further machine work or lapping.
Beyond the issue of lug engagement, metal and synthetic stock surfaces are blemish free, markings are stamped cleanly and at a uniform depth, parts fit together well, seams between assemblies and parts are straight and parallel where intended. The bore finish is smooth and uniform and chamber is cut at the midrange of spec dimension. The result of all of this is a rifle that performs well right out of the box and with an appearance that instills pride of ownership. With an MSRP of $1,359 and a typical gun store price a couple of hundred dollars less, the Sendero SF II is a bargain. I've been a Remington owner for many years and I believe, today's product is their best.
It may not be the ultimate magnum, but it's pretty close...
The .300 Ultra Mag gives this Sendero its personality, just as the .220 Swift gave personality to the Remington VS SF II companion rifle that was the subject of a project earlier this year. Pictured left to right in progression of size and potential: .30-06 Springfield, .300 Weatherby Magnum and .300 Ultra Mag with capacities of 68, 99 and 112 grains respectively.
Remington engineering/marketing gets credit for parking the .300 Ultra Mag is a space right between the .300 Weatherby and the .30-378 Weatherby. In picking up 12% case capacity over the former and yielding 16% to the latter, the .300 Remington Ultra Mag is approximately 100 fps faster than the .300 Weatherby and100 fps slower than the .30-378 Weatherby when tested with common 26" barrel lengths. By going to a case diameter midway between the two Weatherby cartridges, the .300 Remington Ultra Mag held onto three shot magazine capacity as opposed to the two shot .30-378 Weatherby's magazine capacity. Additionally, by losing the belt and moderating case size, the cost of brass for the Remington .300 Ultra is in line with the .300 Weatherby Magnum at a buck each, rather than the three dollars per the 30-378 Weatherby empty case commands.
Weatherby is not being criticized. To the contrary, I own and shoot a number of their Mark V rifles chambered for Weatherby proprietary cartridges and I believe the .300 Weatherby has been the high standard for .308" magnum performance for over half a century. The comparison with the Ultra Mag was done to place the Sendero and .300 Ultra Mag into proper context.
The Sendero in .300 Ultra Mag is a unique firearm and a rifle/power combination not readily available elsewhere. A similar application rifle, chambered for the .300 Weatherby Magnum with a tactical stock and a slightly thinner profile and unfluted barrel would be Weatherby's Mark V Threat Response Magnum Custom. It's starting price is $2,990 compared to the .300 Ultra Mag Remington Sendero SF II at $1,395. While both Ruger and Savage offer varmint, tactical or target rifles of a similar physical configuration as Remington's Sendero, neither offer a .308" gun at this magnum level of performance. So it was more than dart throwing as a method of selection that brought me to the Remington product.
A couple of steps more to get to a complete shooter...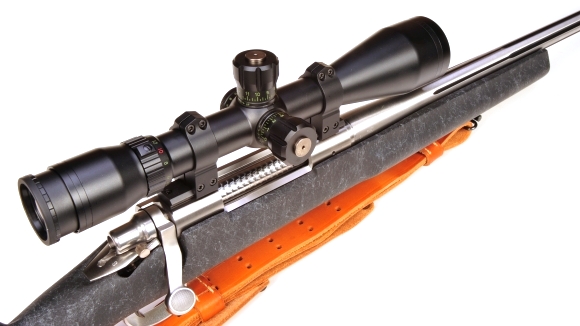 Based on prior experience with the Bushnell Elite 6500 series scope, this seemed to be the best optic for the circumstance. I had mounted an Elite 6500 2.5-16x50mm on the .300 Ultra Mag CDL while that project was in process, but it was the higher magnification 4.5x30x50mm version of the same product I evaluated shortly afterward that seemed the natural choice; lots of eye relief, very bright high quality optics, excellent range of adjustment, high durability, and a very broad magnification range. From a cost perspective, the Bushnell is a high end performing scope with a mid range retail price tag of approximately $600. The Elite series comes with a lifetime warranty. Yes, I do get excited about this Bushnell scope because I finally found a product that doesn't cost as much as a custom rifle, looks great and doesn't represent compromises in specs, features or performance.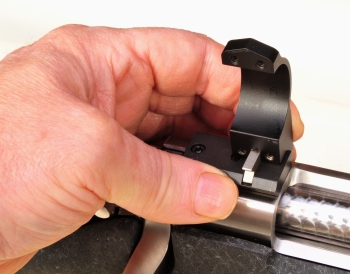 A set of Warne Maxima low profile steel bases and fixed steel rings were purchased from Brownells, the price for bases and rings was under $100. The front base can be flipped end for end to adjust rings spacing to 4.5" or 5" between centers.
The combination of Weaver type side clamping and Warne's cross interlock system will hold a scope onto anything, regard less the level of recoil or weight of scope. This is a simple mount system with a lot of integrity. I use Warne's quick detach rings also, but this wasn't an application that required a feature of this type.

A Brownells' Competition Plus sling was installed. What can I say? I like good slings. They provide lots of support from any shooting position and this sling happens to be a good one. Made from high grade harness leather, it has a wide range of adjustment and it is fast to setup. About $70 with Super Swivels, also available in black.
I need a nostalgic component with my firearms. My Dad, a WW II Marine Corp combat veteran, taught me how to use a sling from virtually every shooting position and Jeff Copper did a good job of reminding us of the benefits and techniques. There is something nice about the contrast of genuine leather with stainless steel and modern synthetic stocks that ties the past to the future...and that's a good thing.
My two cent contribution to accuracy...
Outside of disassembly, cleaning and double checking parts and assemblies for inconsistencies (there were none), the only contribution I could make was to not screw up the rifle on reassembly. A torque wrench was utilized to tighten all rifle and scope mount system hardware to assure everything was square, pulling in the right direction and properly stressed.
I don't lap scope rings anymore. I think the process of removing material sometimes does more harm then good when it comes to ring clamping force and hold. I also don't use any form of liquid thread locker. I clean all contact surfaces with a degreaser like Rem Action Cleaner or KG3, then oil fastener threads, removing excess. In this specific case, the two short base fasteners were torqued to 16 in.lbs., the long base fasteners and all ring fasteners were torqued to 22 in.lbs. I suspect a preset scope ring torque wrench could get the job done and at a much lower tool cost than a $150 micrometer wrench.
H-S Precision advises a 65 in.lb. torque limit for synthetic stock fasteners, however, Remington advises a maximum of 45 in.lbs. for Sendero product. I went with 45 in.lbs. as the H-S stock spec took only a generic barreled action into consideration and disregarded bottom metal material type.
Finally, I preset the scope adjustment with a laser bore sight. I use a standard grade product from Laserlyte that is full adaptable to any caliber from .22" - .50" as long as the gun has at least a 4" long barrel. I've been using the same tool for an extended period of time on everything from the .223 to the 500 Jeffery. Unless the firearm is defective, I can preset to within an inch of being right on at 100 yards. so it has probably save me $1,163,892.50 in ammunition I would have fired over, under, around and not through while trying to get one on the paper.
That was the extent of my prepping the equipment. Not that many years ago I would have had the rifle taken down on the bench and going at it with wood scrapers and glass bedding material to fix low/high spots in the gun's action inletting and barrel channel, then I'd go on to seal all of the exposed wood surfaces to minimize moisture absorption and warping. I might have even cut shims to get the scope in a central adjustment zone. Now all I need to do it buy a decent rifle like the Sendero.
This is going to take awhile...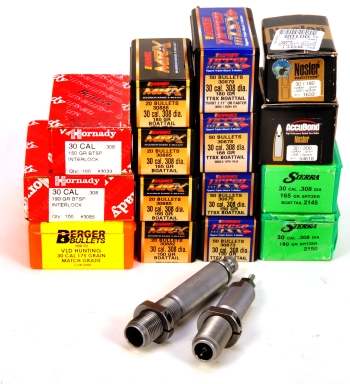 Pictured, only a small portion of the bullet possibilities for the .300 Ultra Mag and a set of Hornady reloading dies. Fortunately, I had the opportunity to work up a decent number of loads for this cartridge during the .300 UM CDL project, so I can begin by seeing if there is a consistent correlation between the early load performance and the performance they produce with this rifle. Then I can go on from there.
With the limited shooting I have done, I can say that the Sendero is a bit more well mannered than the CDL, but there is no mistaken a magnum cartridge is being fired. The stock is comfortable under recoil and muzzle climb is not too bad. It's nice to be far away from the scope eyepiece and still have a crisp clear view of a target.
I'll be back as soon as I have some perforated targets to show.