+P Loads for the .45 ACP
By R.K. Campbell for RealGuns.Com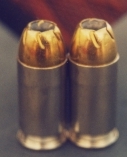 Not for the faint hearted. Those were my thoughts one hundred rounds into the evaluation. I flexed my fingers and began another firing string. It would not be fair to any involved to develop a flinch or milk the trigger at this point. I knew I was firing powerful, highly developed and carefully constructed ammunition. To flinch and produce a five inch seventy foot group was out of the question for a professional-but humanly possible. The adjectives "teeth rattling" and "wrist snapping" came to mind. But I was firing a cartridge not normally noted for such behavior. The .45 Automatic Colt Pistol cartridge relies upon frontal mass and caliber for effectiveness, not velocity and bullet expansion. The loads I was firing were a different story, an attempt to put the .45 in a different sphere.
The standard .45 auto load is a 230 grain jacketed round nosed bullet at about 850 fps. Quite often, the actual velocity of factory Ďhardballí ammunition is around 800 fps. A few hundred rounds in a session, fired in a full size government model pistol, are not grueling. Humans are innovators and survivors and like to strive for more power. The .45 ACP does not have the penetration and flat shooting attributes of the .357 Magnum or the .38 Super cartridge. As a result, those who favor the 1911 have often developed super hot handloads if felons behind cover or game animals were their target. Along the way a group of Texans including noted lawman and writer Tom Ferguson ( Up the Scots, Tom!) developed the .45 Super cartridge. The late Tom Ferguson and pistolsmith Ace Hindman, also deceased, were among those who favored the powerful .45 Super. A sharply invigorated .45 auto the Super was originally formed from .451 Detonics brass. The cases were trimmed to nominal .45 ACP length ( .900 inch) and loaded with a heavy powder charge ( for perfect function, I use a Forster trimmer to trim my .45 ACP cases to .898 inch, especially in tight custom chambers. ) Heavy premium recoil springs and shock buffs were added to the pistols in order to limit excess wear and battering. The standard Colt recoil spring is 16-18 pounds. The .45 Super demands a 22 pound spring. The .45 Super features a stronger case head web in order to better contain the heavier powder charges. Velocities of 1,300 fps with a 185 grain bullet are possible with the Super. The Super is interesting, but there are those who wished a stronger .45 ACP loading without the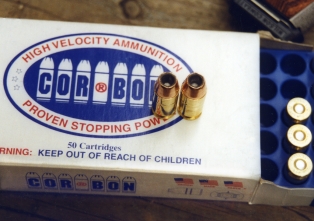 expense of converting their pistol. This led to the development of +P .45 loads. Among the first was the Cor-Bon 185 grain jacketed hollow point load. Shortly after, Remington introduced a +P rated version of their 185 grain JHP. Each load breaks about 1, 130 to 1,150 fps in a five inch barreled .45 auto. Standard loadings of the same bullet weight produce perhaps 980 fps. These loads have proven effective in personal defense scenarios. The Remington load has proven to be a wonderful deer killer as well. With modern bullet designs coming at a steady pace-the Gold Dot and the XTP among them- .45 caliber performance took a leap forward. Some of these bullets are paradigms of efficiency.
For the illumination of Real Guns readers, I elected to test as many +P loadings as possible. The .45 ACP is a great defense cartridge, and many of us own a defensive pistol. Wild dogs are always a consideration, and some of us carry a .45 auto as a backup when hunting. I tested the loads for accuracy and reliability, but also wondered if any might be effective as hunting loads. The answer is a qualified yes. Quite a few exhibited adequate penetration for use against animals over 150 pounds. Some of the loads are available from well stocked gun shops others are special order. My intent was to determine if the extra pressure of these loads is worthwhile, with wear balanced against performance. Blast and recoil are subjective, but worth reporting on. This test involved a bit of electronic equipment that was indispensable. This included my Competition Electronics chronograph, which measured the velocity of each loading. I also loaded quite a few handloads to test performance. I used top quality loading dies from RCBS and the majority powder used was the old standby Unique, from Alliant Powders.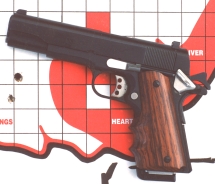 The handgun I used throughout for the test was the High Standard G Man. Sporting a match grade barrel and top quality manufacture; this pistol can be relied upon to give excellent results. I fitted a Wolff premium recoil spring to reduce wear and to insure proper function. I also used newly introduced top quality Wolff magazines to be certain feed reliability was not compromised. I also used a Wilson Combat Close Quarters Battle pistol in some of the tests, with excellent results. Both pistols are fitted with standard semi fixed sights, not true target sights, but either gave good results. I collected a wide assortment of +P rated loads. Some are well known, others are not. Black Hills and Hornady, as an example, are well distributed. Buffalo Bore is better known for Magnum hunting ammunition than for .45 auto loads, and Texas Ammunition is a relatively new company. As is often the case, the smaller companies, with more hands on production, showed faster and a little hotter ammunition. Quality control was evident in all ammunition tested. Standard deviations, or velocity fluctuation between shots, was low in all cases. I would hazard to guess that there is little room for error in producing +P ammunition, and greater care is evidenced in manufacture. It is after all is said and done overpressure ammunition. These are not loads to use on a daily basis. Wear is accelerated. Normally reliable weapons begin to show problems with heavy use of +P ammunition, but in certain instances these loads can be game getters or lifesavers.

A bit after the initial testing, I rechecked my results in a Colt that is fitted with a Bar Sto Precision barrel. As might be expected, there was some overlapping of load performance. The faster load in one gun might be a bit slower in another, as is normal.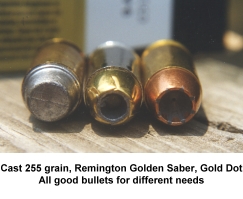 The Cor-Bon and Federal Hydra Shock loads are defense oriented, with limited penetration. Winchesterís +P SXT was designed to offer acceptable performance in short barrel defense guns and the SIG P 220 pistol. The P 220 often develops 100 fps less velocity than a five inch barrel Colt. The SXT +P was designed for the express purpose of improving performance in short barrel handguns. When used in full length handguns, the velocity increase is a bonus. When it comes to game animals, the finest expanding load is probably Hornadyís 200 grain XTP +P. The XTP needs little introduction, it is a bullet that hangs together in tough bone and expands. Buffalo Boreís full metal jacketed flat point bullet offers the greatest penetration and surety of reaching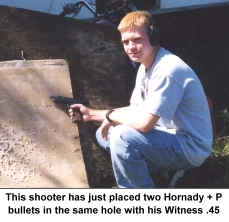 vital organs- and it uses the Hornady flat point. The Black Hills 230 grain JHP bullet is faster than most +P loads and the Black Hills +P really fast! The standard load uses the Gold Dot bullet, an excellent all around choice, while the +P uses the Hornady bullet for increased penetration. These are among the most accurate handgun cartridges tested and give consistent performance in a wide variety of handguns. When it is all said and done, choose the load that seems to give the best results in your personal scenario. Home or shop defense differs from the needs of a man or woman who goes after Boar with a handgun. As for absolute accuracy, this is always an indicator of quality production. All of the loads tested are accurate enough for personal defense, but some are accurate enough for hunting. All are impressive in one way or the other and well worth consideration.
Factory Ammo .45 ACP +P Load Comparisons

Brand
Bullet Weight
Grains
Bullet Type
Velocity
FPS
25 Yard
Group Size
Cor-Bon
165
JHP
1210
4.0
Cor-Bon
185
JHP
1144
3.5
Remington
185
JHP
1004
3.2
Remington
185
JHP
1130
3.5
Remington
185
Golden Saber
1118
3.4
Texas Ammunition
185
JHP
1159
3.0
Buffalo Bore
185
JHP
1167
3.6
Federal
185
Hydra Shock
1121
2.9
Speer
200
Gold Dot
1040
3.0
Hornady
200
XTP
1060
2.0
American Eagle
200
JHP
1110
2.7
Buffalo Bore
200
JHP
1101
3.0
Black Hills*
230
JHP
898*
2.5
Black Hills
230
JHP
941
2.2
Winchester
230
SXT
910
3.0
Hornady
230
XTP
899
2.5
Texas
230
Tactical
936
3.0
Buffalo Bore
230
FMJ
936
3.4
Cor-Bon
230
JHP
970
2.5

* Standard ACP Load - For Comparison Only
As a footnote to cartridge performance variations from one firearm to another, the Back Hills standard 230 grain load yielded 19 fps less, and the Texas Ammunition load picked up 12 fps when fired from a Wilson Combat 1911 type.
Penetration and expansion in wet newsprint

Brand
Bullet Weight
Grains
Bullet Type
Penetration
Inches
Expansion
Inches
Comments
Cor-Bon
165
JHP
8.0
.45
Fragmented
Cor-Bon
185
JHP
10.0
.50
Fragmented
Texas Ammunition
185
JHP
14.0
.72
Hornady XTP Bullet
Buffalo Bore
185
JHP
13.0
.75
Gold Dot Bullet
Federal
185
Hydra Shock
12.9
.69
Speer
200
Gold Dot
14.0
.70
Hornady
200
XTP
16.0
.62
American Eagle
200
JHP
14.5
.80
Gold Dot Bullet
Buffalo Bore
200
JHP
14.5
.78
Gold Dot Bullet
Black Hills
230
JHP
16.0
.70
Black Hills +P
230
JHP
18.0
.68
Hornady XTP Bullet
Winchester
230
SXT
14.0
.75
Hornady
230
XTP
18.0
.68
Hornady XTP Bullet
Texas
230
Tactical
17.5
.70
Hornady XTP Bullet
Buffalo Bore
230
FMJ
16.5
.72
Buffalo Bore
230
Flat Point
34.0
.45
Summary Observations
The 185 grain Buffalo Bore uses the Gold Dot bullet, while the Texas Ammunition counterpart uses the Hornady XTP. It's a close call but I have to favor the Texas Ammunition load's penetration. For personal defense, either is an outstanding choice if the user can control them. The often overlooked Federal Hydra Shock is highly developed load, well suited to personal defense. The Speer 200 grain load provides measured performance and is an excellent all around load. It is not skirting on the edge of high pressure and it is accurate in a good run of handguns. The 200 grain Hornady is a good short range deer load and acceptable as a short range back up for boar. The standard pressure 230 grain Black Hills round is my first choice as an all around .45 ACP defense load, the +P version is a good choice for boar, even better than the 200 grain Hornady load. The Winchester 230 grain SXT is an outstanding personal defense load, but a little hard to come by. The Buffalo Bore 230 grain flat point is a real penetrator and not to be discounted. It cuts a forty five caliber hole for over thirty inches. That is a lot of wound volume.
If you choose a .45 for personal defense, there are many good options. For hunting there are a few which give excellent results. Take your pick-itís your hide, isnít it?
R.K. Campbell
Sources

Cor Bon
1311 Industry Rd
Sturgis SD 57785
Texas Ammunition
PO 248
Ballinger Tex. 76821
Buffalo Bore
PO 78
Carmen Idaho 83462
American Eagle
PO 220
Selma Oregon
Black Hills
PO 3090
Rapid City SD 57709
The story, "+P Loads for the .45 ACP" and supporting photos are the work of R. K. Campbell and published on RealGuns with his permission. Mr. Campbell is a writer in the firearms and outdoors field with over 500 published articles columns and reviews. He is the author of Holsters For Combat And Concealed Carry, The 1911 Semi Automatic Pistol, and the Handgun in Personal Defense. He is a contributing Editor at Women and Guns and Gun Week and Executive Editor of Boar Hunter Magazine.