Real Guns Email
By Joseph D'Alessandro Editor | RealGuns.Com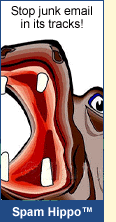 If you haven't noticed yet, a new rev of Spam Hippo has been installed on the Real Guns email servers. If you've registered to access closed portions of Real Guns, you received a Real Guns domain email account, including Spam Hippo protection against spam and viruses. The email service may be accessed with the email client program you are currently using, or through the web mail interface provided by Real Guns. Account information required by your email program, and access through the Real Guns' web mail interface can be found at Getting Stated at Real Guns.
One of the best features of the Real Guns email accounts come in the form of a hippo, Spam Hippo to be exact. In service, removing spam and viruses for almost eight years, the current version is easy to use and 99.9% effective is keeping junk mail and viruses off of your system, by catching it on our mail servers before they are downloaded to your system. Spam Hippo does not use secret black lists, Real Guns makes no filtering decisions for account holder, you are free to use and configure, or not use any part of the Spam Hippo program.
If you are a registered visitor to Real Guns, you can setup or alter Spam Hippo settings at the Spam Hippo - Junk Email Defense System page. There you will find the three basic modules that comprise the Spam Hippo System:
Sender Verification - Stop junk mail with this one-time sender verification feature. If a sender's email address or domain is not on your approved list, you have the option of auto-deleting their messages, or auto-replying with a verification link. The sender may add themselves to your address book by clicking on the verification link, or you can review the pending verification list and elect to manually approve, or delete the message from the list. You can determine the length of time a message is held on pending status.
Approved Senders List - Specify the email addresses and domains you wish to receive email from. Addresses approved by senders and those you approve are kept on separate lists so you will know the source of the approval. If you are getting messages from a mail list, or buy from a particular service, you can also just add the domain "amazon.com" as an example, so all mail coming from the domain will pass through without being filtered. Sender approved addresses are still subject to other filter rules. The addresses you approve are not subjected to any filters.
Manual Spam Traps - Allows you to create your on custom filters using Regular Expression, the standard for filter language. You can filter headers, From and To addresses, as well strings appearing in the body. These can be simple menu selections or compound and complex statements and there are a number of options for dispositioning items picked up by the filters.
There are actually lots of other detail options available for rule setting to cover most every situation. For my own email box I have selected "Sender Verification and queue messages pending for review" and "Delete messages not specifically addressed to me". I haven't gotten false positives and I haven't been getting any spam. When I have a persistent spammer who manually adds himself to my address book, I just toss his domain or address in my manual filters; remember, sender approved addresses are still subject to other filters. If you think your ISP or company might be interested in this antispam/anti virus defense system, it is available as an outsource service to ISPs, corporate and university users at the Spam Hippo site, and in software form for installation on those organizations systems at the Spam-A-Zoid site. If you're a Real Guns registered visitor, the system is yours to use for free, courtesy of NewsGuy Technology.
12/02/2010
Thanks,
Joe