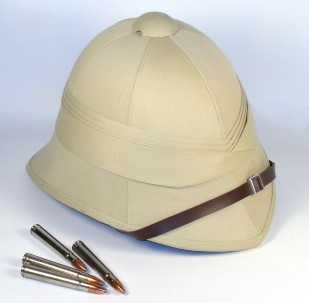 Sometimes, when I'm looking for a little writing inspiration, I dig through the huge pile of junk and rubble I call my office, in search of a mental jump start. I was already wearing the pith helmet when I opened the a cabinet and found a rather mature box of 375 H&H ammo; Federal Premium Safari, loaded with 300 grain Nosler Partitions. I figured if I only had a gun to shoot them, I'd have a legit excuse to wear the helmet. Neato.
I almost had my first safari 375 H&H bolt gun when I was thirteen or fourteen. It was an early engraved Weatherby, built on a Mauser action, with a hairline crack that ran right down the small of the truly beautiful, almost black, walnut stock. I suspect the crack had some relevance to the $270 price tag. So I hustled after-school and weekend jobs, only to see the gun sold out from under me as a result of my rather embarrassing single digit cash flow. Truffato!
Fast forward two, maybe three hundred years. I was standing in front of the long glass counter at Reeds in San Jose, CA, thinking how my bifocals did little justice to distant objects. Sure, I could see well enough to recognize a good looking rifle, but I couldn't make out the writing on the little tags that indicated the price. Never a good situation. After wandering around for a while, I concluded modern Weatherby flash was inappropriate, I needed a more conservative cut. No Remington synthetics, too ordinary, too pedestrian. No ultra lights or ultra heavies and no aluminum receivers or bright stainless steel barrels that shine like a signal mirror. I needed satin finished walnut and blued carbon steel, and at a bit more weight...heft, than the typical short magnum rifle. Yes, I'll say it, I needed something produced in Europe. No, not something from fancy France, or stuffy England. I needed something from a European country, east or west, whose cities still looked a little bit gray from smokestacks poking out of politically incorrect factories. Enter Česká zbrojovka of Czechoslovakia, or CZ as we say in the U.S. of A.
CZ has been producing guns since 1936 and, based on the CZ 550 American Safari Magnum, they've apparently been doing it really well. The gun, then in my hands, felt like a 375 H&H, It looked like a 375 H&H and it had that guppy belly that suggested the gun was made for hunting, not for posing, where two backup shots may not be enough insurance to hunt dangerous game. I handed the gun back to the counter person and looked at some other firearms, but where ever I went, the CZ followed me until, eventually, it followed me home. This is not a review of the CZ 550 American Safari Magnum. CZ is a big company and can afford to buy whatever press they need. No, this is a wandering and sometimes superficially dramatic story of closure. A story that began with a pissed off kid, who got screwed out of a used gun and dedicated his life to finding a relatively inexpensive, yet fully functional 375 H&H bolt gun. Sniff, honk, snort. Sorry, the story sort of gets to me. I can't wait to see how it all works out.
The Tale of the Tape

CZ 550 American Safari Magnum

MSRP
$875
Weight Lbs
9.9 (9.0 actual)
Overall Length
46.4" (46.0 actual)
Barrel Length
25.0" Hammer Forged
Twist Rate
1:11.9"
Action Type
Square Bridge M98 Mauser
Bolt
2 Lug Claw Extractor
Safety
2 Position
Capacity
5+1 Cartridge
Magazine Type
Integral - Hinged Floor Plate
Pull
13.7" (14.0" Actual)
Drop
1.6
Stock Material
Walnut
Wood Finish
satin
Metal Finish
Satin
Front Sight
Hooded - Vertical Adj.
Rear Sights
Integral Base - Express 3 Leaf
Scope Mounts
Integral 19mm
Trigger Type
Single Set
Not set Pull
3 lbs1 oz - Actual
Set Pull
15 oz - Actual
Express Sights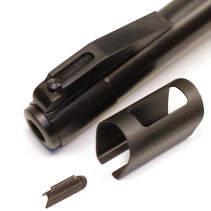 I came to an awareness when I was reviewing Lee's reloading products. I love to poke and pick at products that obviously have well considered designs; lots of little touches that suggest the designer knew how the product would be used. The CZ 550 Safari Magnum has express sights, which are appropriate for this type of firearm. The front sight is a beautify banded ramp configuration, with a hood cutaway for lighting and a detent to make sure it stays in place under recoil and under sustained banging around associated with field use. The sight blade is secured by a spring loaded button to facilitate substituting blades of varying heights for the purpose of vertical sight adjustment. Optional blades are stamped with an identifying number and they may be ordered from CZ-USA's service department. Horizontal sight alignment, windage adjustment, is accomplished by loosening a central set screw and drifting the rear sight.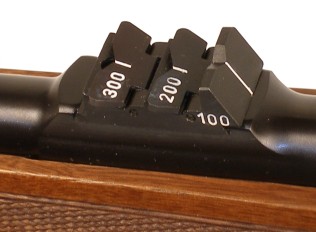 As express sights go, CZ has done a good job. The dovetail is integral to the barrel, which I assume won't create weird harmonics as a result of an odd distribution of barrel mass. There are three leafs; 100, 200 and 300 meters, the first fixed, the last two folding. CZ notes the sights are optimized for 100 meters use. Sights of this type are intended for shooting up close and personal, where a lion's nose or an elephant's nostril might otherwise fill a scope. They are sturdy and fast, which is about all you have a right to expect. Serious use over a variety of distances, and with a variety of loads, would require a pocket full of front blades, an Allen wrench to unset the dovetail, a small brass hammer, and perhaps a file...maybe a saw. But, you know, you can't have an express rifle without folding express sights. They look stylish and they are absolutely fine hiding under a more practical optical sighting device. Before I make this sound like a criticism of the CZ sight system, I need to clarify this is not the case. The sights are fine, I just have nothing more then distain for metallic sights, until some company begins to make them in a Braille version to suit my eyesight.
The Dark World of Integral Scope Mounts

The CZ 550 Safari Magnum is built on a large square bridge Mauser action which, coincidentally, make a heck of a flat spot to mount a scope. 19mm dovetails are cut fore and aft into the receiver and serve as a sturdy scope mounting platform, not unlike the systems incorporated into Sako and Tikka products. Quality rings, fixed and quick detachable, are available from Warne, Tally, Leupold, and CZ, typically priced between $40 and $60. In the picture above you'll notice a recess below the rear dovetail. That's right, that one. This serves as a locating point for the aft scope ring and prevents the rings and scope from moving rearward under recoil, or forward if you favor the Dick Cheney carry and the guy in front of you stops abruptly. Personally, I like the concept of dovetailed receivers. This means one less part to fall off in the scope mounting system, the bases, and one less expense. The only problem is the lack of standardization across various manufacturers, and sometimes within manufacturers, which means ring sets may be dedicated to individual rifles and fluid reassignment of scopes is not always probable.
Built for Hunting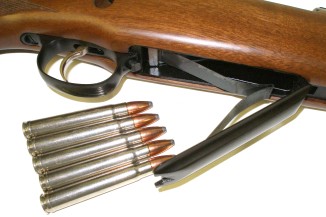 The bottom metal and mechanics of the gun are noteworthy. First of all, it is all nicely blued steel; no plastic, no cheap aluminum stampings. The heavy duty latch, located safely out of the way at the front of the trigger guard, has no problem retaining a magazine with 5 rounds. One of the things I don't like about the big cartridge Weatherbys I own is their two cartridge capacity. These are not small guns and they are intended for hunting dangerous game. It does not seem reasonable that the compromise in design should manifest itself as overly limited ammo capacity. CZ deftly avoided that pitfall; no problem carrying 5 lbs of ammo in this 10 lb gun. Insert happy face emoticon here.
A Finesse Trigger in a Standard Firearm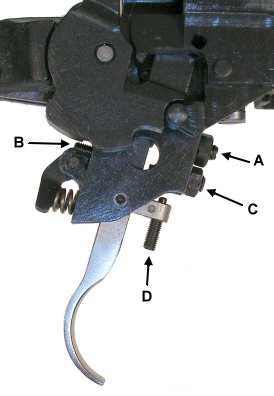 For those of us who have watched American manufacturers practice design by litigation, or design with an emphasis on cost reduction, the trigger is an outstanding feature of the CZ 550 and very much reminiscent of the old days of European rifles with single and double set triggers. Whatever did happened to "The Shooter's Bible" and Mannlicher rifles?
Single set; push forward to set, then trigger pull is measured in increments of a few ounces. Don't set the trigger and the pull is a clean of 2.4 - 4.4 lbs depending on owner's adjustments. The set trigger function minimizes sear engagement and needs to be smack tested when adjustment is accomplished. This feature is principally used when ground squirrels are clearly in the shooter sights , the shooter is already in the prone position and the bullet has only one place to go. I set my gun's standard trigger to 3 lbs, I'll save the set function for a special occasion, although none comes to mind.
"A" is the normal trigger pull adjustment, "B" determines trigger travel prior to release, "C" is trigger travel after discharge. "D" is the set trigger pull adjustment. Adjustments are made with the stock removed from the firearm and very specific procedural instructions are provided in the manual. Honestly ? Great trigger.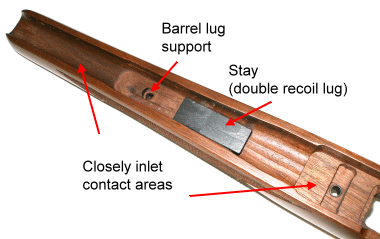 I'm use to pulling a couple of guard screws and lifting out a barreled action without much resistance. This is not the case with the CZ 550. The stock hangs on to the metal parts like a monkey in love. In fact, I couldn't slip a .003" piece of shim stock between the stock and barrel. The picture illustrates the lower barrel contact areas. The wood is sealed inside and out, metal and wood parts line up on the same plane and there are protective inserts or steel ferrules wherever there is a fastener. All little touches I have not seen in a mass produced gun for a long time. Well done.

I called CZ-USA marketing and asked why the American Safari Magnum did not have a cross bolt when one was present on the Austrian style stock. The response was that the American stock was beefier. I have both American and European stocks for the CZ 550 Safari Magnum, dimensionally the American version is actually thinner at the small of the stock than its European cousin. Neither gun has a cross bolt that captures any part of the action or barrel in recoil. The European model has a through stock reinforcing bolt that would seem more decorative than functional. The reason there is no cross bolt became obvious with disassembly; none is needed because of the gun's embedded recoil management systems. Besides the heavy duty hardware and close inletting that locates the action tightly within the stock, there are four huge recoil surfaces that prevent the action from driving back and causing damage to the wood. I don't know if you can tell from the two preceding pictures, but the stay is a chunk of steel with two large legs that lock it tightly into recesses inletted into the stock. The face of the stay bears against the trailing edge of the barrel's forward integral recoil lug, thereby blocking the barrel from rearward movement. Both the American and European style stocks have the same support. My guess is that the European stock has the additional of a reinforcing bolt either, as noted earlier, purely for aesthetics, or because there is increased drop at the heel and recoil hits the small of the stock at angle that creates greater stress. In any event, neither stock is in jeopardy from recoil fractures. I will cover the difference in stocks in detail later in this series.
Locking Lug Surface Contact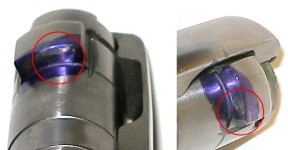 Just for drill, I put a little Dykem on the back side of the bolt locking lugs and chambered an empty to check the contact. One lug had about 65% surface contact, the other about 50%, which comparatively speaking isn't bad. I will wait until I have finished the handload segment, after applied pressure and use dimensionally settle things down a bit, and check again. I can't bring myself to lap lugs for full contact unless the gun is going to get a new barrel and headspace overall is being established.
Preparation for the Range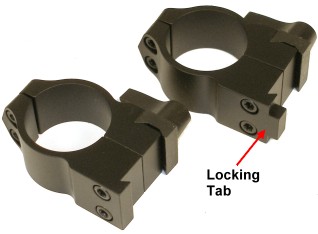 I selected Warne Maxima steel rings #2BLM for this application. They have the locking tab specifically for the CZ set up, they are quick detachable and based on prior product experience, with all of that Torx head hardware, they will stay put. I began using Warne rings and mounts a while ago on some of my harder kicking guns, then started using them on all my guns with their quick detachable rings set up. The fact that they also look good doesn't hurt a bit. After lots of experimentation, I no longer lap rings or play with them in any way. I just follow the manufacturers instructions. In this case, torque fasteners to 20 in/lbs and that means with an actual torque wrench present. I do not use any form of thread sealant or adhesive.
The Wisdom of Warne factor....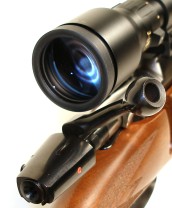 The high rings pretty much peek over the top of the express sights and with a good quarter inch of clearance under the objective bell. I called Warne to ask the cosmic question, "If I lower the scope and put the view of the honkin' big express sights closer to the center of the objective lens, would this deteriorate optical performance?" The answer was that at higher magnification this wouldn't be noticeable, at low magnification it might, however, getting closer to bore centerline is the priority when weighing minor tradeoffs. The caution was that the problem might be on the other end of the scope, the ocular lens and bolt handle clearance. The scope I installed happened to have a healthy size ocular lens, sitting inside of an 1 3/4" diameter eyepiece. The high rings offered sufficient clearance. For reference, the high rings are .535" from the receiver to the lower point of the ring saddle, the medium rings are .425". The .110" difference was essential to bolt handle clearance. It's nice to talk with tech people who know and like the products they sell. Thank you Ron.
Mueller 3-10x44 Tac II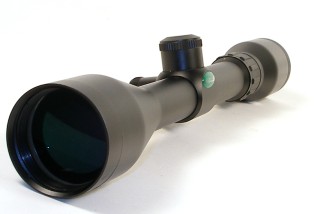 I first heard of Mueller Optics on our message boards, and I then I noticed them being offered by E. Arthur Brown. This is not to suggest they are unknown as much as to illustrate how much information zips right past me. We have a review of Mueller Optics in the works, so until then - We selected the Mueller 3-10x44 Tac II with Mil-Dot reticle. The glass is exceptionally clear and bright with excellent contrast, probably thanks to all Japanese optics and assembly. Adjustments are click precise and repeatable, eye relief and field of view are very good for a scope with this magnification range, and not a single part moved around or broke after 100 pounding rounds of full up 300 grain 375 H&H loads.
At a time when other value scope manufacturers are suffering from business consolidation, less than tolerable design problems and degradation of quality cost reduction efforts, it is really nice to see an alternative to overpriced "Premium" scopes that have become more expensive than the recipient rifles. Within the context of this project, I put the rifle with it's integral mounts in the maintenance cradle, I put the rings on the scope and bolted and everything together. I plopped in an optical bore site and found I only had to move vertical alignment down two clicks and horizontal over right once. Of course I assumed the alignment was too easy and therefore wrong, so I used a laser boresight and got the same results. Then I brought the gun to the range and barely had to move the adjustment. Usually I need to spend time chasing groups around the target - not this time. The Mueller scope has a wide range of adjustment, approximately 95 MOA elevation and 90 MOA windage, but in this case the finger tip controlled turrets stayed at approximately mechanical adjustment center.
The Range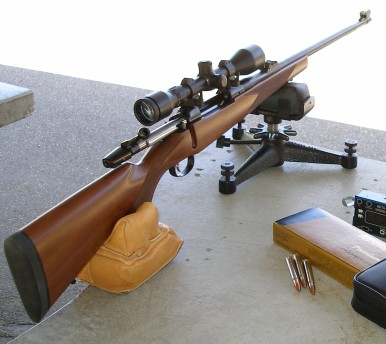 A muzzle blast pressure induced headache, a slightly longer right arm and possibly a detached retina, all and all, a damn fine day of shooting. After a little over 100 rounds of 300 grain full up loads I can honestly say the CZ 550, at 10.5 lbs with scope and a load of ammo, shoots like a very large varmint rifle.
Recoil
Recoil was a very manageable at 38 ft/lbs, compared to about 24 ft/lbs for a 30-06 sporter, or 90 ft/lbs for my 416 Weatherby. Muzzle climb was minimal and the wide factory recoil pad was actually pretty resilient. The European stock comes with a Pachmayr Decelerator pad, but I can't say there would be a great difference. I mistakenly installed a Limb Saver slip on pad in anticipation of a lot of bench time. Excessive pull length can lead to a hyper extended rotator cuff and that is where this change was headed. I noticed the additional discomfort immediately, so I removed the pad and finished the day without much of a problem. I think the straight line cut of the American stock may have had to do with the absence of upward rotation, but I will install the European pattern stock and compare the two. Weatherbys have a good deal of drop at the heel, something I feel converts some of what would normally beat the shooter silly into harmless and sometimes quite spectacular upward rotation.
Trigger Squeeeeeze
Some trigger chat - I like old military triggers. I like to take up slack and preload a trigger, feel a clean let off, then have a respectable amount of over travel. I don't know why, it just works out that way. Fall to the prone position, turn my hat around backwards, settle my face on the comb of the stock, adjust my grip, then start my long term relationship with the trigger. I don't like too light of a trigger, I like to feel polished machine surfaces contacting one another and I want to know I am doing something. The unset CZ 550 trigger is excellent. Set to 3 lbs it never got in the way and detracted from my shooting. The set trigger? I guess I am just not that good. Just the act of placing my finger on the trigger was enough to discharge the rifle and I never felt as through I was settled in when it happened. Almost all of my shots pulled right when I used the set trigger feature, yet were tightly grouped without. I will give it more time and see if I can't change the way I set up to get the benefit of this feature. The set release is predictable and it is consistent, I just don't do well with a very light trigger.
Temperature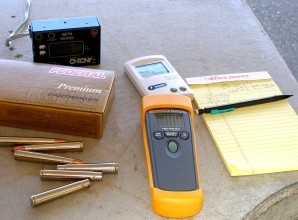 I like to get to the range early when shooting my large cartridge Weatherby rifles. Four or five shots in rapid succession and a breakfast of fried eggs in a potential. Another four or five shots and I can entertain myself with a heat mirage. In fact, for the longest time I entertained myself with the simple phrase to friends, "Touch that barrel and tell me if it is warm". The picture, left, is offered as evidence of instrumentation and copious note taking.
We opened the session with ambient 60.5°F and closed the session at 61.7°F. After three rounds the barrel just forward of the receiver ring climbed to 69.5°F. Left sitting for 10 minutes to heat soak, this temp climbed to 70.0°F. Three more rounds raised the same area to 71.2 and, after ten shots, 74.3. The point is the gun never really got very warm, at least with any frequency practically anticipated from this type of rifle. The 375 H&H doesn't exactly represent recorded setting pressures, but at 62,000 PSI+ it isn't a slouch either. I'd suspect at the recorded velocity, the Federal ammo was operating in the 54,000 PSI range so this may have contributed to the cooler operation. The ammo velocity range ran in 2468 - 2506 fps range. The velocity average for any group of ten shots was relatively uniform; the gun did not get faster as the barrel was breaking in. Then again, neither did I, so who am I to judge?
Group Size and Consistency

To tell you the truth, my expectations for the gun's ability to group was not very high. Packaged with the rifle was a signed factory test target with a 50 meter 3 shot group that measures just under 2". It was clear, deer size game was as small an animal as I could expect to hit, and I don't mean small deer, I mean Texas lying size deer. Ignore the vertical string, that was me playing with the Mueller scope to verify click increments. The group in the circle is five shots in a 7/8" cluster, shot from a rest. The first three shots fell into half an inch. I think that speaks a lot for the gun, as well as for the Mueller scope and Warne mounts. I'm going to send that CZ test shooter a pair of glasses. Of course, if my job was to shoot these things all day, I might be a little punchy also.
Retrospective Hair Splitting
Overall, I'm very pleased with the gun's form fit and function and I believe the quality of the gun rivals competing products selling at twice the price. I like the traditional look and feel, and I like the shot to shot consistency. I like the expanded ammo capacity and I like the blued steel and genuine wood stock. I like the scope ring set up and I think the Mueller Mueller 3-10x44 Tac II, which I thought would be an overkill, worked out perfectly.
I don't like the ugly importer stamps on the gun, they are almost disrespectful of the product and they could easily be corrected. The integral express sight is fine, but a conventional surface mount sight would allow the owner to further personalize the gun. Shaving a pound off the gun would make a big difference and probably make it easier to use for more general purpose hunting, but then again, this would also up recoil.
And then...
I've got a replacement Austrian pattern stock and swivels, a ton of brass, maybe the same amount in bullets of varying kinds, two or three kegs of powder and at least one good shoulder. I'm going to fix up the gun a little, although not really much is required, and work up some good handloads for the 375 H&H. There is a lot of potential here. Think of a 30-06, only throwing 270 grain rather than 180 grain bullets. It is a flat shooting round with lots of retained velocity and energy. Coming soon.
Get The Big Gun...and call me Bwana Part I
Get The Big Gun...and call me Bwana Part II
Get The Big Gun...and call me Bwana Part III
Thanks
Joe