Wild West Guns' Master Guide
The .457 Wild West Magnum
by Joe D'Alessandro Editor | RealGuns.Com

My first centerfire rifle was a Marlin Model 336 in .30-30 WCF, a gun that is still in active use today. But the Marlin I own that gets the most use is a Model 1895 Guide Gun. Chambered for the .45-70 Gov't., it is used for hunting, recreational target shooting and the rifle of choice for extensive handload development. Not a newcomer to the combination of big bore - compact lever action rifles, nor a person dissatisfied with Marlin's standard product, I was very interested in seeing Wild West Guns' notion of what it takes to make a good gun even better.
Wild West Guns is Alaska's largest custom gun shop, amongst other things, and they turn out a lot of work based on the Marlin Model 1895. The Wild West site offers three representative lever action models: Alaskan CoPilot, Alaskan Guide and Master Guide. However, the parts and services that go into each of these models are available in virtually any combination and in conjunction with Wild West Guns or customer provided firearms. Models are available in: 30/30 WCF, 35 Remington, 44 Remington Magnum, 357 Magnum, 45 Colt, the company's proprietary .457 Wild West Magnum, and .50 Alaskan chambers.
The Master Guide, pictured left, differs from the Alaskan CoPilot in that it has a straight cut rather than pistol grip style stock. The Master Guide differs from the Alaskan Guide in that the Master Guide is a take down model. Again, these are representative models; actual configuration is determined by the customer's imagination, preference and budget.
Marlin M1895 Guide Gun - Wild West Guns Master Guide

Model

Marlin Firearms
Wild West Guns
Chamber
.45-70 Gov't
.457 WW Magnum
405 Grain MV*
1,330
2,000 fps
Mag Capacity
4
4
Stock
Walnut
Laminate
Hardware
Blued Steel/Stainless
Stainless
Weight
7lbs
6 lbs 5oz
Length
36 1/2"
34 1/4"
Pull
13 3/8"
13 3/8
Barrel
18 1/2"
16 1/4"
Rear Sights
Semi Buckhorn
Ghost Ring
Front Sights
Brass Bead
Fire Sight
Scope Mount
Receiver Mount
Scout Mount
* Factory ammunition. Remington .45-70 Gov't Ammunition - 24" barrel, .457 Wild West Magnum HSM Ammunition - 22" Barrel.
Master Guide Feature Highlights
Takedown capability: This particular Master Guide rifle began life as a limited production Marlin SDT; a stainless steel gun with a black/gray laminated stock and 16 1/4" barrel. Modified to make it into a take down model, there are a number of practical benefits - two barrel/chamber sets can be ordered at the time of purchase, the take down makes for a less conspicuous package when shipping or carrying when traveling and it is easer to pack into a remote hunting site. Additionally, while probably not enough benefit to warrant the modification in its own right, takedown capability really simplifies cleaning. Putting all of that aside, it is a pretty nifty piece of machinery.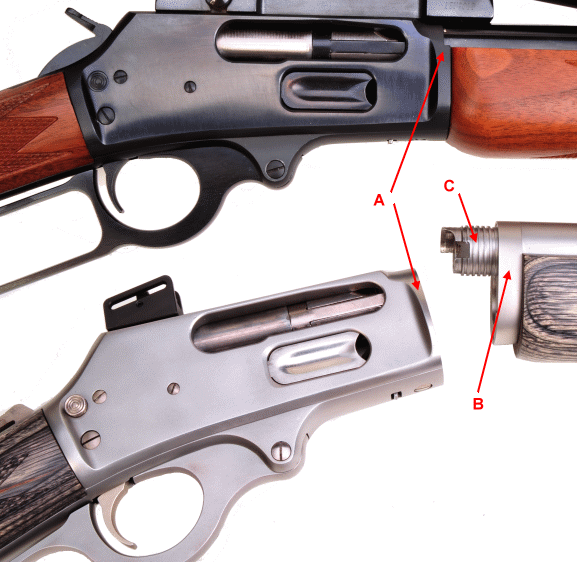 When converting to a take down configuration, the step is machined from the face of the standard Marlin action, "A", rendering it a precision flat surface. The barrel shoulder is cut further forward and a precision forearm spacer "B" is installed. The spacer is used to control headspace and barrel to receiver orientation. Wild West Guns uses an uninterrupted square cut barrel thread "C", rather than the common interrupted thread approach, to secure the barrel to the receiver. While an interrupted thread could permit a barrel to be installed and tightened with less than one revolution, chamber and thread strength would be compromised for that convenience. The Wild West full thread approach gives up nothing in the way of strength and the barrel is still easy to remove and install.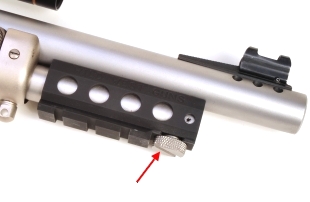 To install or remove a barrel, the large thumb screw that anchors the end of the magazine tube is loosened and the magazine tube is pulled forward and out of a recess in the face of the action. Then the barrel is screwed in or out as intended. On installation, the barrel to action lock up is tight and an appropriate amount of effort is required to tighten the barrel the last few degrees if rotation. Once the barrel is in correct orientation to the action, the magazine tube is slipped back into the recess in the action, preventing barrel rotation in either direction. Tightening the thumb screw secures the magazine in place.
Sighting systems: The rifle is built for use in Alaskan hunting conditions, where it has to survive extreme climate conditions and extremely harsh environments. Which may be why the Master Guide has redundancy in sighting systems. The under barrel Weaver rail mount affixed to the magazine tube, pictured above, is a light mount. It is intended for use in conjunction with a flashlight, a tactical light or laser.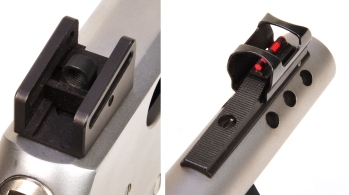 For primary metallic sights, the rifle utilizes a combination of Wild West Guns' wing guarded rear ghost sight and a ramped and hooded Williams 290N FireSight front sight.
The front sight hood is cutaway to provide brush protection while allowing the maximum amount of light to reach the light pipe. The hood is detent pinned to permit removal while assuring it stays in place under substantial recoil.
Marlin receivers are drilled and tapped for scope mounting as they leave the factory... No, I don't mean they are drilled and tapped as they are being loaded onto the truck for shipment, I mean in standard form Marlin receivers are drilled and tapped for scope mounts. Wild West Guns' capitalizes on this feature by attaching their ghost sight at the Marlin's aft scope mount holes. Adjustable for both windage and elevation, the ghost sight aperture can be used as is, however, it is threaded to also accept Williams standard aperture inserts.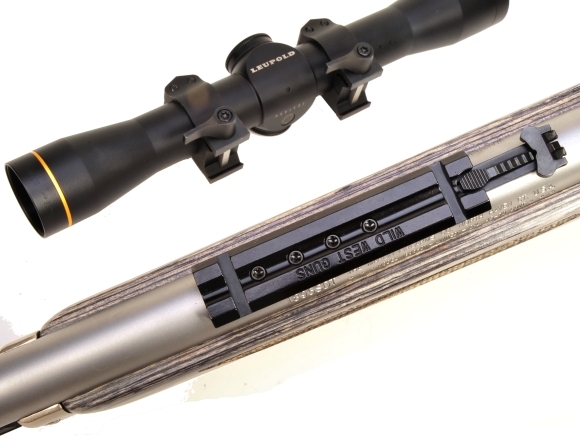 The Master Guide's scope is mounted scout fashion, midway up the barrel. The system utilizes a combination of Weaver type Wild West Guns' proprietary scope base, Warne Quick Detachable rings and, in this case, a Leupold intermediate eye relief scope. The Wild West Guns' base is secured with four hex fasteners and overlays the Marlin's semi-buckhorn sights without disturbing their function. The Warne Quick Detachable rings stay put and can be removed and reinstalled without effecting scope alignment.
During periods of inclement weather, or when light conditions are less than satisfactory for scope use, the scout scope can easily be removed, allowing the shooter to use either the ghost sight or, with the ghost site removed, the standard rear factory sight. The front FireSight is the same height as the factory ramped sight, so line of sight is correct in either circumstance. Again, these are optional systems and a customer can select or decline components to suit personal requirements. There is nothing to prevent a customer from forgoing the scout scope mount and rear ghost sight and opting for a conventional receiver mounted scope, or installing a receiver/barrel top extended rail system that would permit mounting of various mechanical and optical sighting systems. The limitation I have found with the typical rail system made for the Marlin is that they anchor at the Marlin's rear sight dovetail, which eliminates the possibility of retaining the factory rear semi buckhorn folding sight or installing a similar configuration FireSight. Personally, on a firearm like the Guide Gun, I really like a solid back up to a scope or other accessory sights.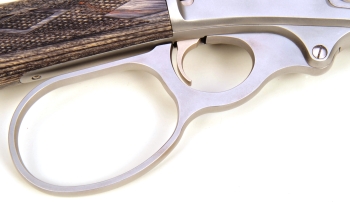 Shooting Comfort - Convenience: Marlin's recent limited production .45-70 Gov't rifle emulates Wild West Guns' Big Loop Lever, which, if anything, validate the part's usefulness. A 2" vertical opening versus the 1" standard Marlin, leaves room for more than three fingers...or a gloved hand without making the gun look silly.
The Master Guide is fitted with a Decelerator recoil pad, something I install on my guns and so much better than the brick Marlin installs on most factory guns. Just this simple change altered the personality of my Guide gun from a sledge hammer to an easy to handle hard hitting rifle, even with high performance handloads. A couple of other nice Master Guide touches are detachable sling swivel studs and a ported barrel.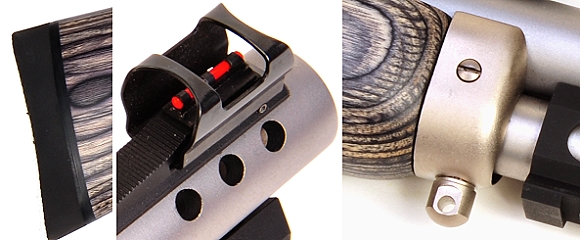 Reliability Enhancement: There are lots of high performance parts added throughout the Master Guide. The Wild West Guns' Trigger Happy part is pretty nice. With this drop in replacement trigger, the Marlin wiggling trigger syndrome is gone, the new trigger breaks cleanly and pull is a measured, consistent 21/2 lbs. This is less than half the typical Marlin pull. A heavier tensioned ejector is fitted to the rifle, what Wild West Guns labels a Bear Proof Ejector, and an anodized aluminum magazine follower replaces Marlin's plastic piece.
General Impressions: I'm nearing social insecurity age. I don't like things that are different, I don't like change for the sake of change and I am convinced virtually nothing is done well anymore. In fact, I don't usually speak to anyone under sixty years of age because I don't believe they have enough credibility or common sense to carry on a conversation....except for my grandchildren. We let them get away with murder because it drives their parents nuts That said, with the exception of porting, the extensive list of Wild West Guns' modifications to the Marlin are, in fact, practical and significantly improve function.
The Wild West Guns 457 Magnum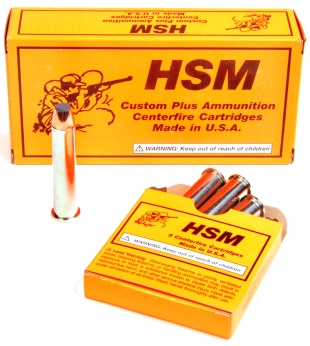 The Wild West Guns .457 Magnum, and the other big chamber for their lever guns the .50 Alaskan, seem appropriate in establishing a personality for the Wild West Guns product. Big bore, reasonable powder capacity, and moderate pressure all add up to a large wound channels, deep penetration and lots of kinetic energy - an excellent combination for guns with short barrels. With 3,600 - 3,800 ft/lbs of muzzle energy, the Wild West Guns cartridge outperforms the 450/400 Nitro Express 3" 400 grain load1, the .404 Jeffery 400 grain load and falls only 100 ft/lbs short of Norma's Barnes 400 grain .416 Rigby ammo2. A .458" 400 grain bullet traveling at or slightly over 2,000 fps can do some amazing things, as can a 350 grain bullet moving a couple hundred feet faster. The last bullet analysis we did on the .45-70 Gov't is a pretty good indication of what that cartridge can do, and Wild West Guns' 457 Magnum offers measurably more.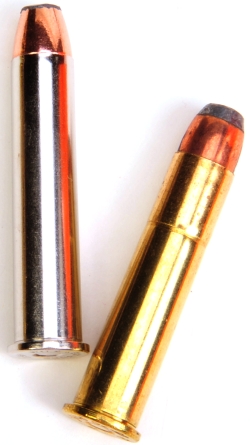 Both 350 and 405 grain .457 Magnum Factory ammunition is loaded by HSM and available as a retail product through Wild West Guns. The ammunition pictures above and near right is loaded with 350 grain Swift A Frame bullets. Factory ammunition runs about $70/box 20, which is consistent with other premium brands of high performance .45-70 ammo and nearly half the price of some of the specialized magnums. HSM ammo is packaged 20 rounds to the box, each 5 rounds packed in a smaller box for convenient carry.
Firearms chambered for the Wild West Guns .457 Magnum can be used routinely with .45-70 Gov't ammunition. The use of .45-70 Gov't ammunition is similar to shooting 38 Special ammo in a .357 Magnum chamber or .44 Special ammo in a .44 Remington Magnum chamber. Because head spacing is at the rim, accuracy with the shorter round is pretty much maintained, however, care must be taken to clean the gun's chamber after using shorter ammunition before resuming use of the longer .457 Magnum round.
Handload data for the .457 Magnum is published on the Wild West Guns web site. Load data, components and guidelines are very straight forward. I did not work up any handloads for the rifle, however, I did assemble some ammunition to see how it all went together. Using a set of .45-70 Gov't Redding Competition dies and a Lee Factory crimp die with sizer and crimp dies set up 0.100" above the shell holder to accommodate the .457 Magnum's length, ammunition was easy to produce. It would have been interesting to load ammo with very heavy cast, some tough North Fork or GS Custom bullets, maybe some Hornady flex tip bullets and see what sort of accuracy and energy numbers were produced. Another time, perhaps.
The illustrations below are an approximation of the Wild West Guns .457 Magnum case dimensions. The .457 Magnum case is, approximately, 0.105" longer than the .45-70 Gov't round with 4 - 5 grains more capacity. The cartridge overall length is 0.100" longer. I'm sure the extra length keeps the .457 Magnum out of .45-70 Gov't chambers, but it also does increase net capacity. Wild West Handload data puts pressure levels between 35,000 and 45,000 CUP.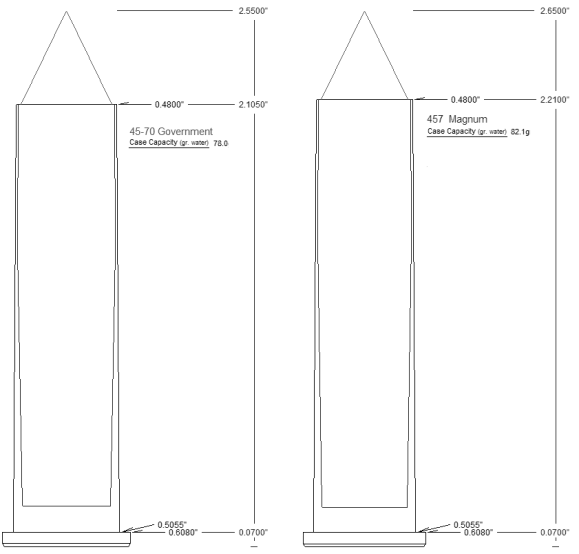 Shooting impressions...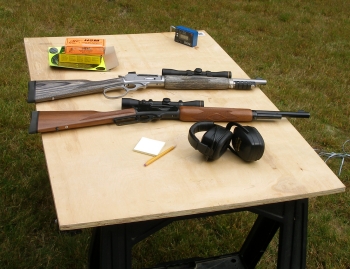 Velocity: How much more lavish can a shooting set up be? At least I got around to changing to birch laminated plywood. The old pine exterior C grade table wore out my elbows.
Testing consisted of live fire with the Master Guide and Wild West Guns 350 grain .457 Magnum ammunition. This was followed by live fire with Remington Express .45-70 405 grain ammunition. The .457 Magnum ammunition is factory rated at 2,200 fps with a 22" barrel. Remington's standard pressure Express ammunition is factory rated at 1,330 fps with a 24" barrel.
The HSM 457 Magnum ammunition averaged 2056 fps from the Master Guide's 16¼" barrel, or only 144 fps less from a barrel almost 6" shorter than test length barrel; approximately -25 fps per inch of barrel length reduction and the Master Guide being clocked has a ported barrel. Knowing it is permissible to fire .45-70 Gov't ammunition through the Master Guide, I thought it only appropriate to chronograph those loads and compare them to a firearm chambered specifically for the .45-70 Gov't. Low pressure Remington Express 405 grain ammunition clocked 1,285 fps with a 18½" Marlin Guide Gun and 1229 fps with the 16¼" barrel Master Guide or 17 fps per inch of barrel reduction which suggests the velocity loss as a result of barrel length is negligible and there is no velocity loss as a result of firing the shorter cartridge in the longer .457 Wild West Magnum chamber. This is an important factor in a firearm of this type, as this permits the gun's owner to load up with heavy hitting ammo for the big stuff and still use inexpensive, light recoiling ammunition for deer season - a feature without penalty. I did not test .410 shot ammo in the gun. Sorry, I can't being myself to push shot down a good barrel even if it works*.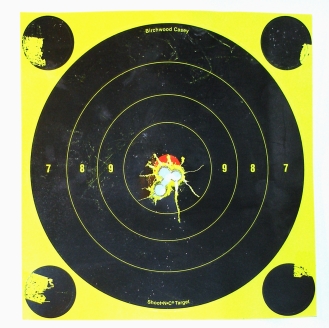 Accuracy: One of the nicest surprises I encountered when first shooting the Marlin 1895 in .45-70 Gov't was the gun's excellent accuracy and consistency of shot placement. After years of dinner plate size groups from my old .30-30 WCF lever gun, near MOA and sub MOA hundred yard groups with the big .45-70 Gov't were seriously appreciated. Wild West Guns lost none of that performance in their chamber, cartridge or even take down modifications.
The target at the right has a hundred yard three shot group that measures 0.6". It was the best of the group put up with the .457 Wild West Magnum 350 grain Swift A Frame ammo. No, all of the groups were not this tight, but groups hovering at a little under or a little over an inch were common place.
Group sizes didn't begin that way. No changes were required to get the rifle to shoot better, but it took some time getting use to the scout scope mounting, so my first groups were in the 2" range. Probably my tendency of wanting to crawl up on every scope and crank up the magnification. But the three post Leupold reticle centered so naturally, once I got myself to relax, the set up performed admirably. With scope removed, the ghost sight worked well also, although I am predominately a scope shooter. So how does a gun with such a short barrel do so well in the accuracy department? Topping the list has to be quality of workmanship, the Master Guide is a finessed firearm in terms of performance and aesthetics. Additionally, a long sight radius on a long barrel, not the long barrel itself, typically makes for accurate shooting. Once a scope is mounted, sight radius is of no consequence, so barrel length is much less critical to accurate shooting. In fact, many of the newer tactical rifles, bolt and AR based, have 20" barrels with the AR's dropping down as short as the Wild West Guns product.
Heavy lead, handling and recoil: I've not found the .458" caliber Guide Gun to be difficult to handle with a decent recoil pad in place. In fact, it's a little like operating a jack hammer; they make a lot of noise, they bounce around a bit, but at the end of the day there is no real discomfort as a reminder of the experience.
The .457 Wild West Magnum makes no more fuss than the .45-70 Gov't, even though the rifle weighs only a hair over six pounds and the cartridges holds a distinctive edge over the .45-70 Gov't round in performance. This gun points well. Close up, you can just sort of get the muzzle over in the general direction of a target and a very natural hold and sighting position will get you the rest of the way. I've hauled around a lot of heavy hitting bolt action rifles, .375 H&H and upwards and they all share two factors; heft in rising well above ten pounds and unwieldy length in excess of 44". Here's a gun that will handle the heaviest game North America has to offer, and a lot heavier, weighing 40% less and 10" shorter in length.
Sometimes exuberance does have bounds...
If you've been around race cars, photography or even good consumer electronics you know that the price of watching your favorite NFL team, like the NY Giants for instance, does not come cheap. Nor does getting a skilled machinist and/or gunsmith to sit down and build your dream rifle. The Master Guide that is the subject of this material carries a price tag of $2,700 and change. A typical stainless Master Guide Gun runs approximately $1,865. Much of the cost difference stems the featured gun being built up from a limited production Marlin SDT rather than a production Guide Gun, and the addition of a few odds and ends accessories. The $1,865 version of the gun includes:
Marlin Model 1895 Guide Gun

Barrel length 18.5 inches

Recoil Control Porting System

Straight style Wood Stock Cut to Your Length of Pull

Pachmayr Decelerator pad

Action tuned for reliability

Wild Wild West Trigger Happy Kit set at approx. 3lbs

Safety Vented Magazine Tube

Wild Wild West Ghost Ring Rear Sight

Williams Fire Sight in red with skeletonized hood

Bead Blasted Stainless

Take down conversion

Test Fired

If you supply your own gun, subtract $385. A stainless steel version of this model runs approximately $110 more. Of course there is always the option of picking and choosing the options your like and having your own gun smoked over to your personal requirements. $300 will get your gun converted to the .457 Wild West Guns Magnum; vented magazine tube and heavy duty ejector included. Converting your gun to a take down model costs $550 and blue guns require refinishing. Wild West Guns is a full service custom shop so I am sure there are many more possibilities.
There is also the parts approach. Purchasing either directly from Wild West Guns or quality gunsmith supply shops like Brownells, items like the Big Loop Lever, Trigger Happy trigger kit, Ghost and FireSight kits, aluminum followers, and under barrel laser light mount can all be purchased for independent installation.
Conclusion...

Wild West Guns offers quality custom product, parts and services at competitive prices on a "take only what you want" basis. They are a standout when it comes to hot rodding the Model 1895. For those of us who load up the .45-70 Gov't round and know the value of a fast handling guide gun, the .457 Wild West Magnum cartridge offers measurably more while maintaining firearm compatibility with the standard .45-70 Gov't. My Guide Gun has a birthday coming up pretty soon. Maybe I'll start saving my pennies and treat it to a trip to Alaska. Let's see. Chamber for the .457 Wild West Magnum, definitely a takedown conversion...
1 Hornady data, published by Hornady for their 450/400 Nitro Express 3" 400 grain Dangerous Game Solid ammunition.
2 Specification published by Norma.
* All reference to .410 bore ammunition has been removed as it appears a very small number of people were having a difficult time understanding the English language and context and made it impossible for anyone to have an open and free discussion of the subject.