Real Guns had the good fortune of spending a week with
Ruger
's long awaited Sub² Compact Pistol, the SSCP, chambered for the all new Ruger .180 ACP cartridge. I can sum up the experience in one word, "Incredibly Impressive".
Pictured left to right: .357 SIG, .380 ACP and the new .180 ACP. Loaded with either a 28 grain full metal jacketed or 20 grain hollow point bullets, velocities of 1,200 fps and 1,400 fps from the gun's 1¼" barrel were attained.
I personally fired 122,006 rounds, never once experiencing a jam, slam fire, stove pipe, pickle barrel or even an inside slider. A slight callous was raised on the palm of my left hand as a result of the 20,335 required magazine changes.
We did switch from 20LB to 10LB target paper to assure penetration, however, during sustained fire from behind a barricade, while riding on horseback and at the apex arc of a tire swing, the gun performed ...admirably, producing ½" MOA six shot groups at 100 yards.
When queried about the strategy behind the SSCP, Justin Case, Ruger's Vice President of Marketing and Trade Show Collateral Material, jumped in with both feet and possibly one hand, "We introduced that little SP101 chambered for the .327 Federal and that sold out. We introduced the little LCP in .380 ACP and that sold out. The trend is obvious, Americans want...no, they demand ever smaller guns and the new 0.180" caliber will certainly give them something to think about. In a self defense scheme of things, we assume there will be a primary firearm, a backup firearm, a knife, a club,...maybe a pointed stick, and THEN the SSCP takes over where all other options have failed. Besides, the damn thing's cute, does anyone actually care about application?"
Evolutionary or revolutionary manufacturing?
OK, no one is going to miss the obvious physical similarities between the SSCP and Ruger's Super Redhawk, however, the little SSCP is actually the product of a breakthrough manufacturing process that utilizes the company's LCP. An LCP, empty of course, is placed directly into really hot water for an hour, then placed into a dryer set to "High" without selecting the "Wrinkle Guard" option. A quick check for softener sheets, a shot of Pennzoil and the result is a perfectly sized SSCP as seen below left, ready for retailors' shelves.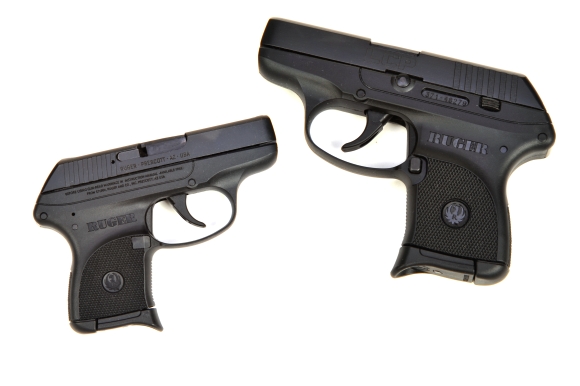 The tale of the tape...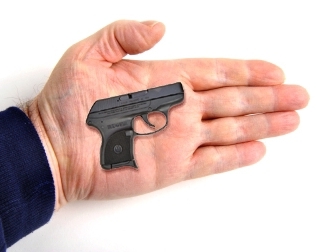 | | |
| --- | --- |
| Manufacturer | Ruger |
| Model | SSCP |
| Caliber | .180 ACP |
| Mag Capacity | 6 Rounds |
| Construction | Wash & Wear Nylon |
| Action | Gas Operated |
| Weight | 6 oz |
| Barrel Length | 1¼" |
| Overall Length | 2¾" |
| Trigger Pull | 25 lbs |
| Sights | Fixed, D&T for scope |
| Included | Extra Mag, Case, Pack of Gum. |
| MSRP | $133.27 |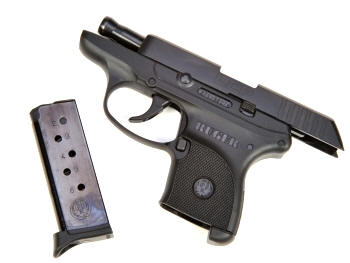 We really appreciate the gun's compact size and reasonably light weight. Drawn from a shoulder holster, a Tac leg holster or even a cross draw rig...belly aside, the little SSCP is fast handling, quick pointing and a natural for getting on target. I did get a small slide bite in the web of my hand, but that is a small price to pay for the peace of mind the SSCP provides.
Soon, SSCP owners will be able to tune their guns to their personal preferences. We've been advised by L. Larry Weeks,
Brownells
spokesperson, that they are collaborating with numerous vendors and will be offering: competition spring sets, Hogue grips, Williams FireSights, Warne scope mounts, and a drop on .308 Winchester DPMS upper receiver. Rail mounts for lights, laser sights and bayonet mount adaptors will follow. Everyone sees the Special Ops potential of the SSCP.
The .180 ACP was actually the brainchild of Sid Moses Browning, John's second cousin, twice removed. He had intended to tool up to manufacturer an autoloader based on his second cousin, twice removed, John's design, but he was a little absent minded and forgot. John Stevenson,
Hornady
's V.P. of Ballistics and Proprietary Powder Blending, in collaboration with Ruger on the project, decided to utilize a variation of Sid's design.
With only 1.4 grains of case capacity to work with, John concocted a blend of Alliant Blue Dot and hydrazine but, unfortunately, the compound caused it to rain whenever it was tested in the lab. Eventually the Blue Dot was discarded, the hydrazine was discarded and velocities of 1,200 fps for a 28 grain FMJ bullet and 1,400 fps for a 20 grain hollow point bullet load were attained with a small rifle magnum primer and one medium size pop rock.
The 28 grain load proved to be a reliable feeder, however, the 20 grain hollow point is the real stopped for this combination. In test medium at the RealGuns lab, expanded diameters of up to 0.200" were common place with penetration of up to ¼" in mixed fruits and vegetables. Experiments conducted with lab rats were inconclusive. There were no fatalities at point blank range, or bleeding, or... bone fractures, however, there was clear evidence of agitation and aggravation which may have led to ulcers and a possible need for surgery further down the line. By then, under a new federally managed national health care program, surely they would all die.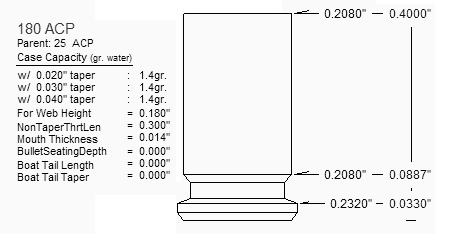 Will it succeed?
Absolutely. The SSCP and .180 ACP are new products and the public is bored. Europeans will love this gun. It's green, it's not mean and it is not capable of doling out capital punishment. I only had a couple of problems with the gun. It has virtually no report, so to avoid paying an NFA tax as the owner of a silenced gun, I am required to shout "Bang!" at a minimum of 82dB each time I squeeze off a shot. There is no recoil so, once or twice, the combination of no report, no recoil and an inability to penetrate 20 lb paper, left me unsure as to whether of not the gun had actually discharged. I mean, if a gun goes off in the forest and nobody hears it...
Everyone had a great time this year. My wonderful wife, Diane, has renewed my contract for another year and there are healthy and happy family and friends as far as I can see. Enough grandkids around to prevent brain cells from frosting over. Lots of good people in the industry helped us along in meeting our goals - hands off and always pleasant. We had a lot of writing opportunities this year and we made our way into print publication. Maybe it's Thanksgiving. :-). We're looking forward to Shot and whatever trouble we can get into to. We're Looking forward to meeting some of our new friends face to face. Really appreciative of the email we receive and very glad that some folks are finding value in the information they find on RealGuns. Cindy asked if I would offer a sincere thanks to all of the nice folks who purchased firearms from her this year. You're welcome, Cin.
I want to thank the Lord for giving me a life much bigger than my size and for helping me to make it look as though it almost fits.