After finishing a series of articles with an emphasis on high end firearms, AR type firearms and tactical bolt action firearms, writing about the Ruger International is a bit like coming home. I'm not being critical of the other types of firearms, far from it as I enjoyed each and every project. It's just nice to pick up a very modern rifle that can conjure up forty plus year old memories of hunting the Black Hills, or upstate New York or walking the woods in New England. It's a good reminder that picking up a rifle doesn't automatically mean a day of shooting through the screens of a chronograph or having to neatly label each and every round of handloaded ammunition to facilitate data collection.
In ancient times, when inexpensive labor, low cost machines and surplus Mausers were in ready supply, a lot of local gunsmiths made a good living by sporterizing large and small ring military Mausers. While I was having rifles made with 24" barrels in .243 Winchester for hunting deer and antelope at longish ranges, a friend who was a much more knowledgeable hunter headed off in another direction. He had a Model 93 small ring Mauser action weight reduced, an 18½" barrel installed and then the barreled action fitted to a full length, nicely grained, walnut stock. No fancy Monte Carlo comb, no cheek piece but, as I recall, the gun did have metallic sights and a compact, low magnification scope. In fact, in many ways it looked a lot like the Ruger Model 77 Hawkeye International that is the subject of this article.
| | |
| --- | --- |
| Model | M77 International |
| Chamber | .243 Winchester |
| Capacity | 4 |
| Stock | Walnut |
| Hardware | Matte Blued |
| Barrel Length | 18½" |
| Twist | 1:9" |
| Sights | Adjustable Metallic |
| Trigger | L6 Non-Adjustable |
| Overall Length | 38½" |
| Pull Length | 13½" |
| Weight | 6 lbs 13oz |
| MSRP | $967 |
With a look influenced by Mannlicher styled rifles from Griffin & Howe, the Ruger International model made its first appearance during the 1968 - 1993 M77 MK I production run. The current generation was introduced in 1993 as part of the M77 MK II product line. The change to the MK II platform brought along several changes: a three position safety, a newly design floorplate latch and a blade type ejector. The MK II also featured a non-adjustable trigger in deference to a growing threat of product liability litigation*. All and all - nice gun.
General Impressions
The M77 International is small. In fact, it is the same length as a Winchester or Marlin lever action saddle carbine, but it weighs less. For some reason, most full stock rifles give the impression of a heavier and longer firearm. The stock, for as plain as it is, has a very attractive, almost oil finish appearance and the type of non-reflective metallic surfaces that are appreciated in a hunting rifle. It is a very tasteful classic look. The stock is a straight cut with approximately ⅜" drop at the comb and ⅝" drop at the heel. The thin recoil pad is correct for the nearly recoilless .243 Winchester. There isn't much more to say about the stock other than the muzzle tends to end up exactly where the shooter is looking.

The Ruger utilizes a slender contoured barrel that measures a mere 0.500" at the muzzle, which contributes to the rifle's light weight. The .243 Winchester version has a relatively tight twist at 1:9". Remington firearms come close at 1:9⅛", Winchester is 1:10" as is Browning and most other manufacturers. The 1:9" twist is a nice touch for stabilizing heavier bullets for deer hunting and for achieving adequate stabilizing revolutions per second of bullet spin from a relatively short barrel that will produce less than maximum cartridge velocity potential.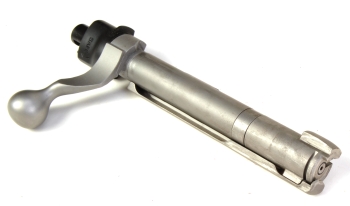 The Model 77's action has a fixed extractor and is controlled feed; a lot like a Mauser system. Therefore a round is grabbed when driven from the magazine and remains secure on the bolt face all the way into the rifle's chamber. The bolt is made from stainless steel for better resistance to corrosion, erosion and general wear and tear. The lower surface of the bolt is well vented to contain and redirect hot gases in the event a case head rupture.
The International's metallic sights are useful. At a time when many people are sticking scopes even on slug guns, it is nice to see a company that realizes deer hunting in dense cover with 30 yards of visibility can use a good set of metallic sights that are fully adjustable. The rear sight folds out of the way for additional scope objective lens clearance if that is the desired set up. The Ruger, of course comes with a set of 1" rings that mount to Ruger's integral receiver mounts and Warne makes a set for this application that is quick detachable.

The "U" shaped front sling swivel was a bit of a hassle. More to the point, I had to remove the swivel from my Latigo sling before it could be installed... which left me laying on the floor in a pile, trying to untangle myself from all of the sling loops and buckles. Eventually, through sheer will, I gave up and installed a Cobra carry sling, the sling equivalent of a clip-on tie.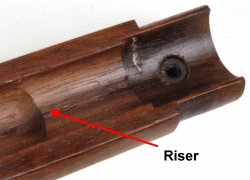 Disassembly of the International was a little bit different than taking down a M77 Hawkeye with a conventional stock. There is an end cap that secured the forearm at the muzzle and the fit of the inletting appeared to be much tighter and needed a little parallel pressure tapping to free the barreled action from the stock.
The barrel floats in the forearm until the very end where the barrel channel relief ends and contact is made with the last couple of inches of barrel. The end cap slide over stock and barrel to lock the two together and a small screw prevents the assembly from slipping off.
The concern with full length stocks is that their long length contact with the barrel may create odd pressure points along the barrel as temperature and/or humidity move the wood around. The problem is usually addressed by either gutting or slitting the barrel channel in the forearm to make it non-responsive to environmental changes or by installing a metal insert in the channel. The barrel is generally floated all the way to the muzzle where an end cap loops over the gun's muzzle and a screw secures the stock to the end cap. The idea is not to pull them together, but rather assure their separation. I like the Ruger approach because it offers greater barrel protection and real support. I'm looking forward to live fire checkout to see what kind of accuracy this arrangement can deliver.
I was saving it for a CZ 550 custom, but...
I sorted through a bunch of scopes, trying to find the right one for this rifle and its probable application. Unfortunately, I found it locked up with some other accessories designated for use with my CZ 550 full stock that is at Dennis Olson's shop for modifications. I love that gun and I am very picky when it comes to optics, and it is just as correct for the Ruger as it is for the CZ.
Both the Ruger and CZ are fast handling rifles that probably aren't going to see the far side of 250 yards. So neither the Ruger or CZ 550 need high magnification, but they do need a lot of illumination, a crisp image, a wide field of view and lots of eye relief. The Bushnell Elite 6500 1.25-8x32mm fits.
| | |
| --- | --- |
| Manufacturer | Bushnell |
| Series | 6500 Elite |
| Model | 651832M |
| Objective Lens Diameter | 32mm |
| Ocular Lens Diameter | 50mm |
| Reticle | Multi-X |
| Magnification | 1.25-8X |
| FOV | 60'-9.7' |
| Range of adj. W/E | 75/75 |
| Adjustment Increment | ¼ MOA |
| Eye Relief | 6" |
| Tube Diameter | 30mm |
| Length | 11 |
| Weight | 15.8 oz |
| MSRP Approx | $953 |
| Discount Retail Approx | $649 |
Over the years I've gone through a lot of bargain priced scopes and a few very expensive scopes and I think I have given up on both extremes. Cheap scopes aren't reliable and lack quality optics or coatings. Very expensive scopes don't really improve upon mid range products. I believe gravity finally caught up with Leupold. Their medium to low end scope performance specs haven't kept up with competitors and their prices are eroding rapidly. Leupold's tactical and other very expensive scopes seem more targeted to tax payer's funded government or grant purchases.
I just completed a review of a Blaser R8 with a $2,000+ Swarovski Z6 scope and, other than the Austria Corporate headquarters, it held no field performance edge over the Elite 6500. The Bushnell scope that went onto the Ruger is water, fog and shock proof, nitrogen filled for positive internal pressure, Rain Guard® HD coated lenses. It has a limited lifetime warranty and a "No questions asked" one year replacement warranty. The optics are Japanese and that is where the product is assembled.

The Parte Seconda Plan...
I have a lot of handload components coming in for the second part of the project, but I didn't want to close up Part I without a comment or two on live fire, the Ruger M77 International and the .243 Winchester round. I ran some of my... special 100 grain deer hunting handloads through the Ruger and a Remington, 18½" and 22" barrel respectively. The Ruger generated 2,884 fps of muzzle velocity, the Remington 3,042 fps. 158 fps less for the convenience of the shorter barrel and overall firearms. With a 200 yard zero the 22" barrel gun shot within 1.5"+/1 to 200 yards, then dropped -6.6" at 300 yards. The 18½" was the same to 200 yards, dropping -7.4" at 300 yards. At 300 yards the short barrel gun, at 1,144 ft/lbs delivered only 142 ft/lbs less than the longer barrel gun. The Remington is 3" longer and almost 2 lbs heavier. The Ruger seems like a pretty good trade off in any similar comparison.
Be back shortly with handloads and live fire performance assessment. The .243 Winchester is an excellent round. The Ruger is a great little gun. The Bushnell scope makes for ideal optics. Should be a lot of fun working up handloads for this combination.
* Ruger and His Guns, R.L. Wilson