After what seemed like months of getting pounded by lightweight, big bore, high performance rifles, I was ready to work on a project where recoil and muzzle blast weren't a gun's most memorable features. The Ruger 10/22 rimfire seemed a likely candidate, even if just for curiosity sake because so much conflicting information about the gun has been published over the forty five or forty six years of its existence. Sorting out fact from fiction is always fun, and the rifle's design would permit significant parts changing without the need for special tools or machine shop services. Always good to be able to maintain control over a process and to be able to measure the effect of each change.
| | |
| --- | --- |
| Model | Ruger 10/22 Target |
| Stock | Laminated Birch |
| Hardware | Alloy Steel/Aluminum |
| Caliber | .22 Long Rifle |
| Action | Autoloading |
| Operation | Recoil |
| 2 Stage Trigger | 2 lbs / 5lbs |
| Mag Capacity | 10 |
| Metallic Sights | None |
| Barrel | 20" Heavy Profile |
| Twist Rate | 1:16" RH |
| Weight | 7 lbs 2 oz |
| Overall length | 38 1/2" |
| Pull Length | 13 7/8" |
| MSRP (RGI Price) | $499 ($369) |
The Ruger Model 10/22T, a more recent addition to the 10/22 line up has been with us since 1996. Differentiating it from other 10/22 Models is an absence of metallic sights, a 0.920" diameter hammer forged 20" barrel, a two stage target trigger shared with the Target Tactical model, and a laminated target type stock.
The Ruger's barrel and securing V block are made of alloy steel. The receiver is made of aluminum alloy. The housing for the trigger guard assembly is made of fiber filled polymer. The target model, as is the case with the target tactical model, is supplied with a Weaver style scope base adapter, but no rings.
The barreled action accounts for 4 lbs 10 oz of the gun's overall weight, which is only significant in the fact that the laminated stock is actually quite light.

The gun's controls are laid out neatly and ergonomically. Current Rugers include an extended magazine release which use to be a popular aftermarket upgrade. The change from an aluminum to plastic trigger guard came in early 2008.

Ruger includes sling swivels on the 10/22 Target. The support for the barrel is at the end of the forearm with the barrel floating in the rest of the forearm. The heavy barrel is pretty spiffy looking with a spiral finish and a flat recessed target crown. The fit and finish is good, inletting is clean and the stock is sealed inside and out.
Change with a purpose...
Based on my many years of experience with firearms, when I looked down the Ruger's barrel, I almost immediately noticed an absence of sights. This condition led to Modification 1, installation of a scope. Not a speculative modification of improvement. nor a modification of modification of convenience, but rather one of necessity.
The Ruger is supplied with a scope base adapter, I'll call it a mount base, that is compatible with both Weaver style and rimfire tip off mounts. This was installed on the rifle and topped with a set of steel Warne Maxima 30mm medium height rings from
Brownells
.
The Ruger is a fifty yard gun, a hundred yard gun at the most, not because of mechanical or quality limitations of the rifle, but because it is chambered for the .22 Long Rifle cartridge. Still, I decided to mount a Bushnell 6500 Elite 2-5x16x42mm scope, complete with the sunshade that was packed in its box. Why such a big scope? The magnification range covers the entire range of the application, the big 30mm tube contributes to a very bright image and a wide field of view and the scope has parallax correction for more precise adjustment. Additionally, the scope's relatively long eye relief helps to provide a comfortable hold even with the gun's longish pull length.
I appreciate the fact that Ruger ships the 10/22 with sling swivels, but I like quick detachable types because slings get swapped to different guns and because I can only figure out how to thread a shooting sling onto a set of swivels once. Also from Brownells, a set of Michael's of Oregon quick detachable swivels with wood screw studs, #1311-2. A Latigo shooting sling was installed because it helps when I have to carry the rifle and pull along a hand truck full of shooting rests, targets, ammunition and sand bags. Additionally, a good shooting sling really comes in handy when shooting for accuracy without the aid of a rest. Collectively, Modification #2 was one of convenience, but one that also provides measurable accuracy improvement.
Beyond what I've already mentioned, the only other thing that was done to the Ruger was to take it down and clean it up to get all of the factory preservative gunk out of the bore and action.
Ammo selection was for baseline.
Ammo selection was not of consequence, other than to say that I drew from a supply of ammo that is five or six years old. It was selected because it is middle of the road 40 grain standard velocity ammo, the same that has gone through every .22 rifle and handgun I own, have owned or shot for evaluation over the same period of time. It was chosen because I know how it shoots and how it generally groups, so it is easy to spot anomalies associated with firearms. It is not match ammo, it is... frugal ammo, just what fun .22's are suppose to shoot.
X marks the spot... or maybe slightly to the left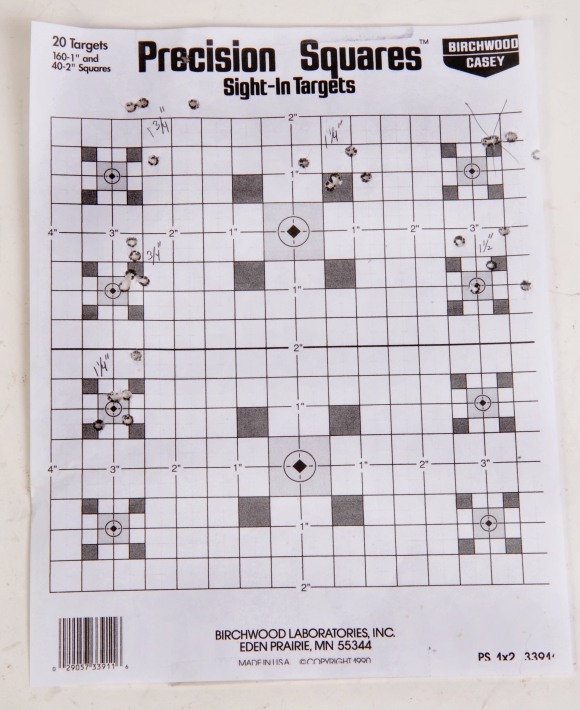 I wasn't worried so much about bullseyes as group size, so I didn't make much of an effort until the last two groups to get on target. The groups were shot left to right and top to bottom at 50 yards. The best was 3/4", the biggest spread was 1 3/4"; still day, low 70ºF. Was that OK performance? Probably. I made no effort to check for loose parts or torque values, nor did I do a check of incidental contact in the barrel channel or around the action inletting. But I had a starting point and that is all I was looking for, for now.
It doesn't look like a small block Chevelle Wagon...
Back in the whacky 60's, drag racing was a great sport for amateurs and professionals alike. Some of the best competition could be found in the junior stocker classes, where rules mandating the use of mostly standard factory parts forced some pretty creative thinking when searching for a performance edge. For those willing to work for it, a car that covered the quarter mile in sixteen seconds in showroom trim could be coaxed, coddled and recalibrated to run low twelve second E.T.s. Probably the most important two things... three things I learned from the experience: 1) Don't leave your Coke on the roof of the car when you head for the staging lanes, 2) It is much more expensive to build Fords than Chevys 3) Big performance gains are mostly the aggregate result of many small improvements. And that is the approach that will be taken for this project.
The plan is to work through a series of reasonable modifications, measure the result of each and see if the gun can't be brought around to groups of less than half the size of those that appear above. So far the gun is a good shooter and maybe it will be a great shooter before kids and grandkids get here later on this summer.