Products like the SPS can sometimes be problematic for a manufacturer. In this case, the $639 Model 700 SPS offers the same strength, reliability and operating features as the premium $959 Remington Model 700 BDL/CDL guns. Usually, company's protect flagship products by diminishing the low end product in some functional way.
As an example, Weatherby chambers both their low end Vanguard and Mark V for a number of Weatherby magnum cartridges. However, the Vanguard does not use the company's proprietary Mark V action, it utilizes an inexpensive Howa derivative action and two inch shorter barrel length. Consequently, the Weatherby Mark V and Vanguard products are separated by tangible strength and performance differences.
Remington has seen fit to produce the SPS versions of the Model 700 with all performance features intact. If you shoot a .300 Ultra Mag SPS along side of a BDL, CDL or even Remington Custom Shop gun, the ballistic performance will be the same and the guns are all built on the same popular Model 700 action.
The Special Purpose Synthetic
The Remington Model 700 SPS is by design and function just like every other well made Model 700, right down to the adjustable X-Mark Pro™ Trigger and R3 Recoil pad . It does differs from more premium model Remington products in some materials selected for ancillary assemblies and in the type of finish applied to hardware.
The synthetic stock is a fiberglass reinforced molded piece rather than the more costly aluminum framed composite stocks used in conjunction with some of the distance hunting and tactical Remington models. The SPS stock is quite rigid, thanks to internal gusseting and fiberglass construction. The barrel floats throughout the barrel channel and rests on a pressure pad at the tip of the forearm. Structurally, it is the same as other Remington sporter rifles, including sling swivel studs.
The barreled action and bolt are finished in matte black oxide. You will not be able to shave in the reflection of this bolt body, but then it also won't serve as a reflector beacon to warn game. The bottom metal and floorplate are cast aluminum, the follower and spring are steel. Bottom metal fasteners are graded socket head steel.
I believe what we have here is a hunting rifle. A gun that can shoot straight, doesn't need to be coddled, is built on a time proven design and won't empty your wallet in payment for superfluous gadgetry. This is the kind of gun that was sold when America was a nation of hunters, when taking game was more important than rifle range ego and every dollar spent needed to account for some tangible benefit.
Remington's Model 700 SPS 270 WSM

Manufacturer
Remington Arms Company
Model
Model 700 SPS
Caliber
.270 WSM
Magazine Capacity
3
Barrel Length
24"
Twist Rate
1:10"
Weight
*6 lbs 13 oz.
Overall Length
*43 1/4"
Stock
Molded fiberglass
Pull
*13 1/4"
Drop at comb
3/4"
Drop at heel
3/4"
Non-optical sights
None
Trigger
X-Mark Pro Adjustable
Trigger Pull
3 lbs. 11 oz.
MSRP
$639
RealGuns Store
Retail $595 Member's Price $565

* Actual weights and measures
The SPS is produced in several barrel length, 20" - 26" depending on caliber, model and application from .17 Remington Fireball to .300 Remington Ultra Mag. There are plain and overmolded synthetic stock versions, Realtree® Hardwoods® HD™ camo, carbon steel and stainless steel hardware. The SPS is a moderately priced, high performance series of guns within the Model 700 product line, covering varmint, small and big game hunting as well as tactical applications.
The .270 WSM. It is one of the best of the WSM series. Winchester labels their 270 WSM 130 & 150 grain Supreme Elite™ XP3® ammunition for deer, moose, brown bear and thin skinned African game including leopard and lion. I would defer to the manufacturer as knowing best, but antelope, deer, elk, moose and black bear would all seem perfectly reasonable. Outside of one filled with Bert Lahr, most lions, and brown bear, would have me reaching for something more... bigger.
I'm glad to see the Models 798 and 799 gone. Yes, I know they were of a respected Mauser design and Eastern European manufacturer, but I believe the SPS route reflects better on Remington and allows customers to think "Remington" for a basic gun as well as for those fancy custom shop models and experience gathered with one will directly apply to the other.
There has to be a custom rifle in here somewhere. In fact, I am planning one on the short action version at this time. For a bargain price, I was able can get a strong, reliable Remington Model 700 action, but without paying for a walnut, or premium synthetic stock and bright hardware. When the time comes, the money I saved on the purchase will go to the my personal preference for the custom gun.
In contour and geometry the SPS is a CDL clone. The stock is straight cut for use with a scope, the grasp is hand filling fore and aft without feeling like a club and the stippled surfaces in place of molded checkering is welcome. Nice recoil pad, particularly for a lightweight hard hitting magnum cartridge in a rifle that only weighs six pounds and change.

The gun's projected personality is "Bolt action cousin to an AR 15"... and that's a good thing. What is the point of suiting up in camo, dousing yourself in something related to deer excrement and then carrying around a rifle that will stand out like a sore thumb anywhere, except perhaps in a gun store? Actually, the thumb analogy is less than obvious as I suspect the contrast depends upon what form of malady the thumb is experiencing... And then it stands out in comparison to what, a sore finger? Let's try, the SPS on the woods will not stand out like Woody Allen's venerable portrayal of a cello player in a marching band.

A round that can make a good gun exceptional...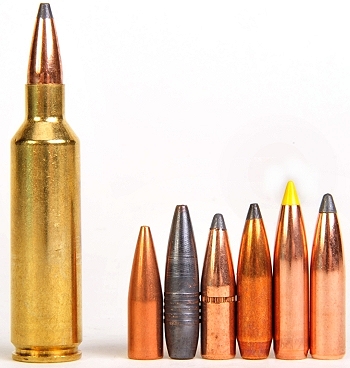 The 270 WSM is a 2001 derivative of the 300 WSM. Of all the WSM cartridges, it probably has the best bore to capacity ratio and bullet weight and construction consistent with taking big game. The 270 WSM provides a substantial bump over 270 Winchester performance, to the level of the 270 Weatherby. The Remington's 24" barrel is the same length selected by Winchester for their production 270 WSM guns.
There are lots of good bullets available for 0.277" guns that range in weight from 90 to 180 grains, however, the and useful range is closer to 110 - 150 grains. Pictured left to right: Hornady 110 grain HP, GS Custom 110 grain HV, Hornady 130 grain Interlock, Sierra 140 grain Spitzer, Nosler 150 grain Ballistic Tip, and Nosler 150 grain Partition.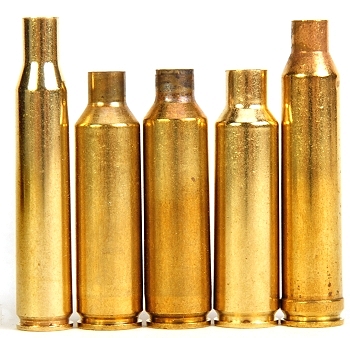 WSM cartridges are well behaved, easy to reload and inherently accurate. As time went by, only the 270 WSM remained a part of my rifle collection as the 325 WSM proved to be too light for a heavy hitter and limited in bullet choice and the 7mm WSM couldn't do more than my very accurate 7mm Remington Magnum.
I did have the opportunity to evaluate the .270 WSM and .270 Winchester side by side and the WSM proved to hold a substantial performance edge over the original 270 Winchester. The .270 Winchester, near right, has a 67 grain capacity, the 270 WSM, next cartridge, holds roughly 79.5 grains, or approximately 2 grains less than the 7mm WSM, 325 WSM and 7mm Remington Magnum that follow.

Applying the Real Guns Basic Universal Laminar Linear (BULL) calculation, the .270 WSM looks a bit like this on the relative overbore scope card: 257 Weatherby 20.8, .264 Winchester 19.3, 270 WSM 18.6, 7mm Remington Magnum 18.0 and .270 Winchester 15.7. Yes, it is a barrel warmer, but not a barrel cooker.
With a little time on my hands, some handloads...
Bullet Type
Bullet
Grains
Bullet
Diameter
C.O.L.
Powder
Type
Charge
Primer
Type
Muzzle
Velocity
Muzzle
Energy
Hornady HP
110
.277"
2.735"
Varget
59.0
CCI 250
3395
2816
Hornady HP
110
.277"
2.735"
IMR 4350
64.0
CCI 250
3440
2891
*GS Custom HV
110
.277"
2.725"
Re 19
70.0
CCI 250
3469
2940
*GS Custom HV
110
.277"
2.725"
RS Hunter
69.5
CCI 250
3504
3000
Barnes Triple Shock BT
130
.277"
2.800"
Re22
65.0
Fed 215
3319
3181
Barnes Triple Shock BT
130
.277"
2.800"
IMR7828
65.0
Fed 215
3307
3158
Hornady SP Interlock
130
.277"
2.720"
IMR 7828
65.0
CCI 250
3322
3186
Hornady SP Interlock
130
.277"
2.720"
Reloder 22
66.0
CCI 250
3330
3202
Sierra SBT
140
.277"
2.746"
IMR 7828
66.0
CCI 250
3198
3180
Sierra SBT
140
.277"
2.746"
RS Magnum
72.5
CCI 250
3138
3062
Nosler Ballistic Tip
150
.277"
2.823"
Reloder 22
65.5
CCI 250
3073
3146
Nosler Ballistic Tip
150
.277"
2.823"
IMR 7828
65.5
CCI 250
3109
3220
Nosler Partition
150
.277"
2.773"
Reloder 22
64.0
CCI 250
3129
3262
Nosler Partition
150
.277"
2.773"
IMR 7828
64.0
CCI 250
3143
3302
*Loads for these bullets cannot be used for any other of the same weight
The Remington SPS shot sub MOA with 130 - 150 grain handloads and a little care in powder selection. The 110 grain loads shot approximately a 1 1/2" best. The best group came from the Sierra 140 grain IMR 7828 loads, as small as 1/2". The others fell in right around an inch, and they did so consistently. My favorite hunting load is the IMR 7828 Nosler Partition load. It came in just under an inch, maybe as wide as an inch and a tenth, but more than accurate enough for hitting even a long ways off.
Conclusions? Of course...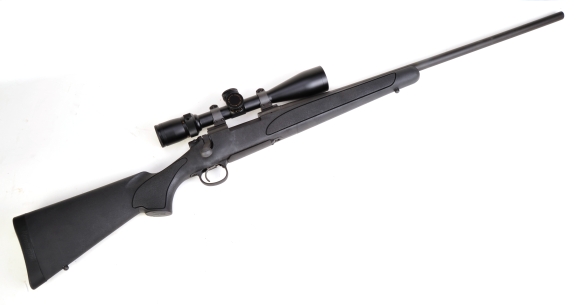 The Remington SPS 270 WSM is a first class hunting rifle, long and short range, and suitable for pretty much anything hunted in North America. It is a special blend of nice looking and well made that, metaphorically speaking, can be hosed off right along with the off the road pickup truck at the end of a long day and it will be ready for the next time it is needed.