My interest in the 6.5 Creedmoor chambered Ruger M77 Hawkeye was derived from my interest in the 6.5x55 Swedish Mauser and my appreciation for the Model 77 Hawkeye. The Ruger M77 Hawkeye is a prime example of modern manufacturing technology yielding a high quality firearm in very traditional form.
The Ruger M77 Hawkeye 6.5 Creedmoor is a trim, well balanced seven pound rifle, which may seem like standard fare. However, this M77 has a twenty six inch long barrel with an eight inch twist, intended to exploit the 6.5 Creedmoor's inherent long range and high accuracy potential. When I read the barrel specification, I had to grab a tape measure and double check the barrel length as the gun handles... much smaller.
Ruger's Model 77 Hawkeye 6.5 Creedmoor

Manufacturer
Sturm Ruger & Co., Inc.
Model
Model 77 Hawkeye
Caliber
6.5 Creedmoor
Magazine Capacity
4
Barrel Length
26"
Twist Rate
1:8"
Weight
*7 lbs 0 oz.
Overall Length
46"
Stock
American Walnut
Pull
*13 1/2"
Drop at comb
*3/4"
Drop at heel
*1"
Non-optical sights
None
Trigger
LC6™ Non- Adjustable
Trigger Pull
*5 lbs. 9 oz.
Safety
Three Position
MSRP
$827
RealGuns Store
Retail $632 Member's Price $600

* Actual weights and measures
The Creedmoor Reference
Product names often are established to trigger transference; the emotions associated with something in past memory, hopefully positive, carried over to something new, prior to acquiring any actual direct experience. A common example of this is when you meet someone for the first time and feel as though you've known them for a long time. Frequently this happens because the new acquaintance shares traits in common with a person you know, or had known, well.
¹Creedmoor was a great name to Hornady, the designer of the cartridge, to reference. It was the name of the rifle range opened by the National Rifle Association in 1873 on New York's Long Island. Creedmoor was host to the famous American - Irish long range rifle competition held in 1874. Of course, there is also the term "Creedmoor" applied to a rifle, which is shorthand for parameters defining rifles used for Creedmoor long range competition. I was surprised to learn that there was no "Creedmoor", only the family name "Creed", the people who once owned the range's site and the site's similarity to the moorland of Great Britain. The name "6.5 Creedmoor" instantly evokes a sense of tradition, imagery of long range shooting and expectations for a high degree of accuracy. Ruger chambered and defined a rifle fitting for those expectations.
The Ruger Model 77 Hawkeye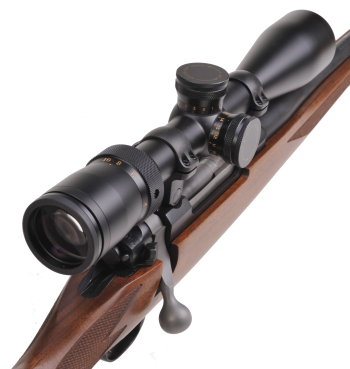 I've owned and handled a good number of Model 77 Hawkeye rifles. It is kind of nice to become familiar with the physical presence of a firearm and to be able to carry that familiarity from one cartridge to another. In my realm of experience that's .22-250 Remington through .416 Ruger. Regardless which I pick up, the bolt handle is in the same place, the safety operation is the same, the floorplate releases the same and scopes mount the same. Of course, the stock geometry is also the same.
Subsequently, it has become easy for me to pick up any M77 Hawkeye and to shoot each example relatively OK.
This particular example is carbon steel, blued with a walnut stock, and with a stainless steel bolt assembly. The stock is cut more narrow then some corporate rifles, but it is a good hunter's stock.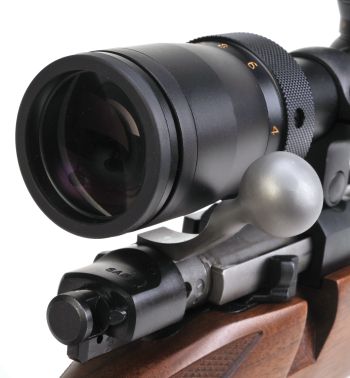 A nice touch is the scalloped bolt handle. The cut doesn't compromise strength, however, it does provide a healthy amount of bolt to scope clearance. Even with moderate height scope rings there is sufficient clearance for large objective bells and large eyepieces.
The receiver is, of course, notched and grooved for Ruger's proprietary scope rings. A 1" scope tube set is included with each rifle, a 30mm set available on exchange or as an accessory purchase. Sets are also available from independent manufacturers.
The three position safety is off to the side, away from the bolt and the scope. Full forward - Fire, Mid position - the bolt can be cycled to remove or chamber a round but the gun will not fire. Full back - safety on and bolt locked down.
The floorplate release is embedded in, and shielded by, the trigger guard. This makes for a handy release with less chance of inadvertently dumping a magazine full of live ammo. The matte black finish is attractive, as is the etched Ruger logo, but none of it is flamboyant in any way.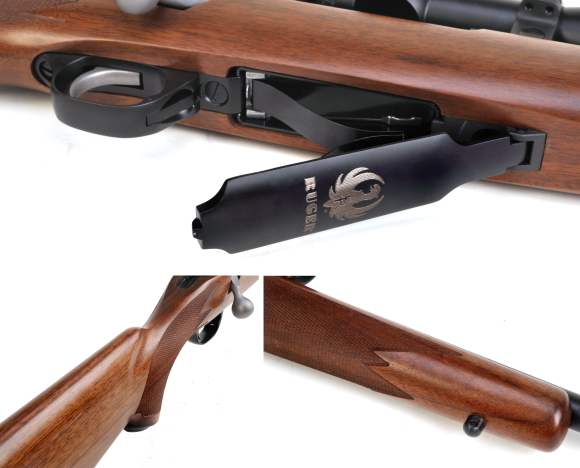 The stock is narrow, the checkering is laid on in a simple pattern, but it is functional in purpose. Sling swivel studs are installed at the factory. The stock has an oil finish look to it, but it is much more impervious to the chemicals and environment. Most of my Ruger firearms look about the same as when I purchased them, both metal and wooden parts. Inletting is tight and clean, sealed inside and out. The barrel floats to the end of the forearm, where it is supported with a small... berm.
The 6.5 Creedmoor cartridge. Exactly what IS going on here...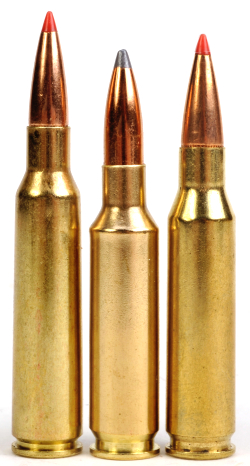 That's the Creedmoor playing Monkey in the Middle with a 65.x55 Swedish Mauser, left, and a 7mm-08 Remington, right. The 6.5x55 appears only for reference as it is not a short action cartridge, however, the Swedish cartridge is significantly larger, but outperformed, by the smaller 6.5 Creedmoor. The leading contribution to this performance pickup is the higher operating pressure of the Creedmoor.
Specifications

6.5x55 Swedish
6.5 Creedmoor
7mm-08 Remington
Overall Length
3.150
2.825
2.800
Case Length
2.165
1.920
2.035
Shoulder D"
0.435
0.462
0.454
Case Head D"
0.477
0.470
0.470
Capacity (H2O)
57.0
53.5
55.00
*Net Capacity
54.0
49.4
47.5
Operating PSI
55,114
60,191
60,191
*After seating bullet lengths 1.200-1.220"
Dimensions - SAAMI Maximum Specification
My experience with the current generation of Hornady cartridges tells me they create cartridges in my image, not too tall and a little too wide. Why not just neck the .308 Winchester down to 0.264" and begin with 55 grains of capacity, similar to the 7mm-08 Winchester? The problem with most short cartridge rifles is that when loaded with heavy for caliber bullets, deep seating reduced net case capacity.
The 6.5 Creedmoor is designed as a long range shooter, see 26" barrel, which means high sectional density bullets, which means very long bullets. By shortening the case and blowing out the shoulder dimension in comparison to the .308 Winchester case, and by increasing the spec overall cartridge length by 0.025", the stubby Creedmoor actually has greater case capacity than the 7mm-08 Winchester in a typical short action rifle. Yes, really.
What happens when cartridge and rifle are put together?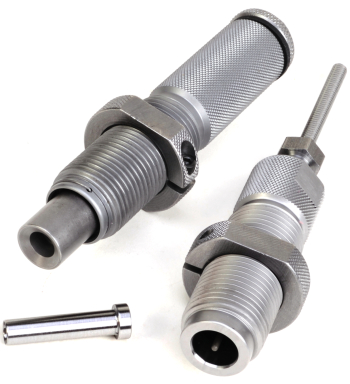 At this moment, loaded ammunition and brass are available only from Hornady, 0.264" bullets are available from every manufacturer in all popular types of bullet construction. Hornady loaded ammo comes in 120, 129 and 140 grain weights, the 129 grain load is part of Hornady's Superformance line, delivering 2,950 fps worth of muzzle velocity from this moderate capacity cartridge. Neato. Even the 140 grain A-Max match ammo is smoking along at 2,820 fps. Prices are more than competitive at $20-$24 per box of twenty; an incentive to grow the cartridge's popularity, no doubt. fifty piece of Hornady brass go for approximately $32.
From a handloading standpoint, the Creedmoor is relatively pedestrian. In fact the only clue regarding the cartridge's long range bent in a $32 Hornady's Custom Grade New Dimension two die set is the inclusion of a seating stem for their slippery A-Max and SST bullets. 6.5 Creedmoor die sets are also available from RCBS and Redding as basic and competition grade dies sets with price tags from $50 to $300+. For hunting and recreational target shooting, the $32 set works just fine and this is where I started assembling ammo.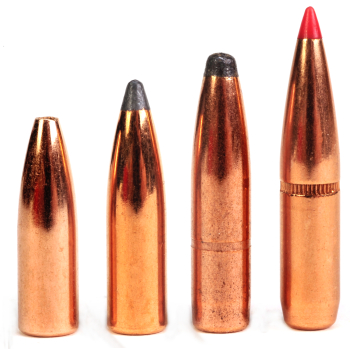 The four bullets selected for handloading were (L-R): Sierra 100 grain hollow point Varminter, Sierra 120 grain spitzer Pro-Hunter, Privi 139 grain SPBT, and the Hornady 140 grain Interlock SST. These bullet weights and types of construction cover a broad range of hunting situations.
There are many, many others bullets to choose from 85 grains to 160 grains, including a number of Scandinavian made products in the 156 grain range intended for moose hunting where, apparently, eight foot of penetration is desireable.
Powder, dependent upon bullet weight, ranged from H414 and Varget to H4350 and Re 19. I tried to go as slow as possible to reap the benefit of the long 26" barrel.
Conclusions? So far...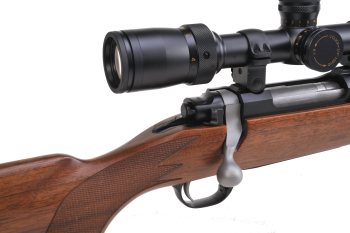 I have no idea what the symbolism of an over cropped rifle image represents. Must be some deep meaning that eludes me at the moment... sort of like a lot of hot air. In any event, the Ruger is what I like to term a "nice gun".
The fact a company remembers what a traditional sporting rifle is suppose to look like is greatly appreciated. More so, this is proving to be a really interesting combination. I'm having fun and, after all, isn't that really what is important?. See you for part deux. That's French for you know... You pronounce it like "duh"... which I say with some frequency.
The Ruger M77 Hawkeye - 6.5 Creedmoor Part I
The Ruger M77 Hawkeye - 6.5 Creedmoor Part II

¹"The Story of Creedmoor" by David Minshall
"The International Rifle Match" Harper's Weekly, New York, Saturday, October 10, 1874