Manufacturer

Remington
Model
1911 R1
Country of Origin
U.S.A.
Type Action
1911 Single Action Autoloader
Frame & Slide
Alloy Steel
Finish
Satin Black Oxide
Grips
Checkered Walnut
Caliber
45 ACP
Capacity
7+1
Barrel Length
5"
Twist
1:16" LH
Weight
38.5 oz
Overall Length
8.5"
Overall Height
5.5"
Sights
Three Dot - White
Sight Adjustment
Windage
Sight Radius
6.25"
Trigger Pull
4 lbs 13 oz
MSRP
$699
Discount Retail
$607
Supplied With

R1, Hard Case, 2 Magazines,
gun lock, and manuals
The Remington R1 is similar to an M1911A1 version of the popular 1911 Government Model. Differentiating it from the original M1911, the frame is clearance cut to enhanced trigger pull, a short trigger is employed and the grip safety tang is extended. Like the original M1911, the R1 has diamond patterned checkered grips and a flat mainspring housing. The Remington's hammer width, at 0.281", is slightly more narrow than the 0.309" M1911A1 wide spur piece.
The Remington 1911 R1 also incorporates popular commercial Model 1911 enhancements: flared and lowered ejection port, a Novack standard dovetail mount front sight, beveled magazine well, a match grade stainless steel barrel bushing, and a Series 80 type trigger assembly. Produced entirely in at Remington's Ilion, New York plant, as shipped, the R1 can serve as a very competent gun for self defense or recreational target shooting.
As a near MIL spec gun with well established enhancements, Remington's R1 will accept all popular 1911 type upgrade pieces, which means it will no doubt serve as the basis for many enhanced and customized guns. After working with a number of 1911 types produced outside of the U.S., personally, I am really happy to see Remington make this gun available.
The R1's sighting system...

A Novack 65° x.330" standard dovetail replaces a staked in front sight, the aft dovetail is standard GI. This means there are tons of accessory sights that will fit this gun. That said, the factory three dot system works well and the small set screws in the factory sights facilitate both drift sight adjustment and replacement.
Control and status check...

The 1911 R1 is a gun for right-handers. Magazine release, thumb safety are both actuated with the right hand thumb. Yes, ambidextrous safeties and magazine releases can be installed to suit shooter's preference. The Remington gun has a small slot in the barrel tang that serves as a loaded chamber indicator. The rim of a chambered cartridge shows in the slot.
A little more detail please...

The slide to frame fit is good; not so tight that it takes two men and a small boy to rack the slide, but not so loose that slide rattles. This is an 80 Series configuration so there is a firing pin plunger and spring, next to the firing pin stop, that locks the firing pin until the gun's trigger is fully depressed. The slide has clean machine finishing inside and out and smooth fitting piece parts. These are all standard 1911 spec parts and configurations; firing pin, springs, stop, extractor, etc. which opens the door to the use of enhanced parts and accessories, as well as parts interchangeability.

The stainless steel barrel, bushing and link assembly are close fitting parts and well finished. Lug engagement, checked with modeling clay compression was approximately 92% or a bit more. The barrel measured 0.580" at the muzzle, the bushing inside diameter for the first 0.240" measured 0.581" for 0.001" clearance. This is more than tight enough for a service pistol and about 500% less than the slop fit of the imported 1911 guns I've seen. This is critical territory when it comes to a 1911's accuracy.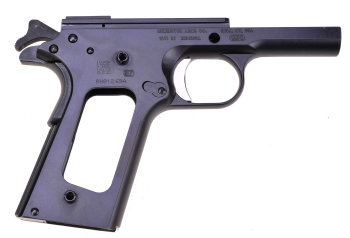 The frame casting is slick; no rough spots, pits or parting lines. Machining operations performed on the frame are clean, pins are properly located, frame rails check parallel and all internal ways are flat, smooth surfaces. The quality of the casting and machine work is very similar to the work found on a high end SIG. Remington has been able to manufacturer a quality 1911 while its competitors are pushing cheapo imported "GI" models for the same price or more. For these reasons, the R1 will be incorporated into our future 1911 projects.
Bits and pieces...
The Remington 1911 R1 isn't hiding poorly made parts and cheap production. Again, really clean casting and machine work all around. The parts are much better in fit and finish than most of the drop in upgrade third party parts. No parting lines on the hammer, hammer hooks and sear ledge are cleanly formed and contact and engagement is uniform. Depth of sear engagement is carry gun worthy and appropriate, so there is room for some trigger finessing to lighten pull. There really is no creep in the factory trigger which makes it a really good 80 Series trigger.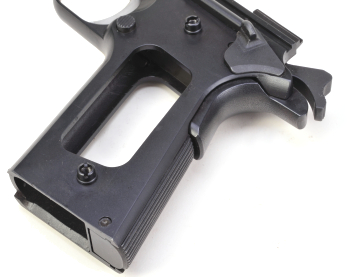 I ran through all of the traditional parts fit checks and was not able to find any problem areas. Even the trigger bow dropped with gravity within the frame channels and there was no drag with a magazine inserted. The mainspring housing is steel, no attempts at hiding plastic parts. I accept the need for manufacturers to install firing pin blocks to assure compliance with various state laws. Fortunately, Remington was able to fit 80 Series trigger linkage without degrading function.
The only part that made me a little crazy was the thumb safety. It was installed and fit properly, but the safety lock plunger recess was a little deep... a little, crisp so the frame would not surrender the safety to disassembly without a bit of a fight. Personally, I can live with that minor struggle in exchange for a safety with positive actuation. All of the controls works properly; magazine release, grip safety, slide stop, etc. Disassembly of slide from frame did not require tools, although a bushing wrench is included in the case with the gun.
Taking a break to think about this....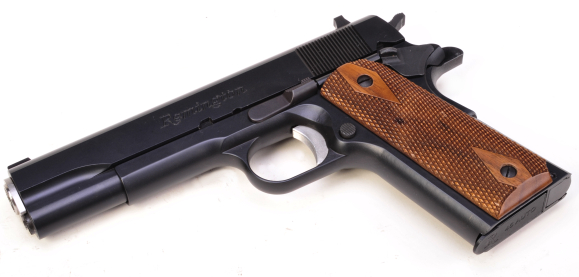 I spend a good deal of time shooting 1911's converted to .45 Super or .460 Rowland, however, I don't often get the opportunity to spend time with a full size .45 ACP Model 1911. Shooting the Remington 1911 R1 with Remington 230 grain ball ammo was... relaxing. At 809 fps over the chronograph, the big slug moves with conviction, but recoil is actually quite mild. At seven to ten yards, shooting offhand, quickly, it was easy to keep three and five shot groups under and inch or inch and one half. The sights are easy to follow and align and the grip is quite comfortable. Group sizes remained tight, the gun didn't develop a rattle and, for as tight as the gun was, the slide felt as though it were moving over ball bearings. Clean up was easy, the durable black oxide finish wiped down with a silicon cloth. The last check out for the gun was to check out reliability and accuracy with a variety of ammo types... Part II.
Remington's 1911 R1 45 ACP Part I
Remington's 1911 R1 45 ACP Part II