It's been a busy fall season, examining and reviewing firearms produced by numerous manufacturers. It appears that the quality of fit and finish, design and performance of the firearms are at an all time high. After fifty-seven years of pulling triggers and burning up ammunition it's good to see excellence in engineering and customer sensitive marketing leading the charge.
Throughout the time I've spent shooting and hunting literally hundreds of Remington firearms, it has been without incidence, mishap or mechanical failure of any type with one exception. A well worn Model 700 chambered for the 7mm Remington Magnum saw service in very harsh weather conditions. It wasn't cleaned properly and ended up requiring chamber polishing... a service Remington provided, free of charge. Not bad service on a fifteen year old rifle.
During all of the time I've spent shooting and hunting, I've experienced one accidental discharge with one rifle, a Marlin 336 saddle carbine. I was hunting with a buddy of mine, lost an opportunity to take a shot at a deer, sat down on a tree stump and proceeded to place the Marlin in half cock safe mode. Unfortunately, I got my fingers and thumb tangled up, the hammer dropped on a loaded round and the gun discharged. That was an... invigorating experience! Fortunately, even at the age of fourteen, as a person who read instruction manuals, who had completed the Hunter's Safety Course and remains the son of a WWII combat Marine, I knew the importance of obeying the rules of safe firearm handling. The gun's muzzle was not pointed in the direction of anyone and bullet ended up, harmlessly, in the ground a few feet away. Of course I became the brunt of jokes for the rest of the season... and perhaps a few more that followed.
After careful analysis of the technical properties of the Marlin's trigger and safety system, I came to the amazing discovery that the problem resided with me. The hammer had gotten away from me, which was an incredibly careless thing for me to let happen. Teenage lack of coordination? Loss of concentration? That was fifty years ago and the incident left such an impression on me that I can remember every detail of the event, right down to how the cold wind felt blowing across my embarrassed red face.
In reading through some of the Remington litigation Internet pile-on, the litany of agenda-bent, maligning statements, it seems as though these folks choose to completely ignore the repeated substantiation, by both plaintiff and defense, that no one, NO ONE, has ever been able to replicate a Remington discharging under any of the theorized circumstances, or even the under staged circumstances where the firearm wouldn't qualify as severely abused or egregiously modified.
Today, I am honored to be reviewing the current Remington Model 700 XCR, a fine example of American product ingenuity and business enterprise. I sincerely hope that the collection of "bloggers" who operate with pack mentality and gauge their success by what they can destroy, rather than what they can create, will find something else to wag their tongues about. I'd like to be afforded the opportunity of selecting and shooting firearms of my choice, the guns I've determined safe and appropriate for my personal applications, rather than those deemed worthy by ambulance chasing lawyers who manipulate family grief and much of the liberal press.
A gun defined and refined by North American hunting...

The Model 700, the model core to this series, has been in continual production since 1962, building to an installed base in excess of five million rifles. While there have been numerous running changes to the design, and the model has been presented in many application variations and aesthetic themes, the 700 type rifle has essentially retained its original form, fit and function. The Remington Model 700 distinguishes itself from other models, Remington and competitors' products with its "Three rings of steel" encasement of a cartridge case head. The gun's recessed bolt face locks up inside the counter-bored breech of the barrel and the breech of the barrel is surrounded by the steel ring of the receiver. A very strong assembly and one that lends itself to a high degree of accuracy.
Remington Model 700 XCR II TN

Manufacturer
Remington Arms Company, Inc.
Model
Model 700 XCR II TN
Caliber
.30-06 Springfield
Magazine Capacity
4
Stock
Overmolded Grip Areas - Synthetic
Hardware
TriNyte® Coated Stainless Steel
Barrel Length
24"
Twist Rate
1:10"
Weight
*6 lbs 7 oz.
Overall Length
*44 1/2"
Pull
*13 1/4"
Drop at comb
*5/8"
Drop at heel
*7/8"
Non-optical sights
None
Trigger Type
X-Mark Pro Adjustable
Trigger Pull As Received
*4 lbs. 10 oz.
Trigger Pull As Tested
3 lbs. 2 oz.
MSRP
$970
RealGuns Store
Retail $773 Member's Price $734

* Actual weights and measures
This particular Model 700, the XCR II TN, distinguishes itself from other Model 700 rifles in a number of ways. As noted by the TN designation, the rifle's stainless steel hardware is protected with Remington's TriNyte® corrosion control system. TriNyte®, electroless nickel applied with a proprietary physical vapor deposition process. The coating is described by Remington as a fractional thickness of a human hair (0.004')
This treatment has been applied to a number of recent Remington firearm releases and, something I'm glad to see. The coating is both highly abrasion and harsh element resistant; it is easy to clean and it makes for an attractive looking forearm.
The XCR II TN is light, even though it has a longer than typical 24" barrel to produce optimal ballistics for the .30-06 Springfield cartridge. This example checked in at a very balanced 6 lbs 7 ounces. While the barrel seems to have a traditional taper and full 0.659" muzzle diameter, rather than something more drastic to achieve lighter weight, the stock is lighter than walnut or laminated and the bottom metal and hinged floorplate assembly are made of finely finished cast aluminum.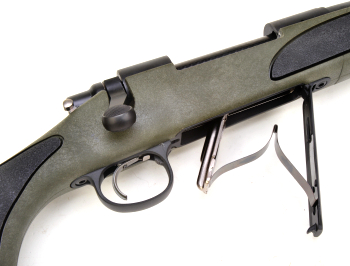 The follower is steel. The combination gives the gun a comfortable... familiar heft while cutting approximately a pound and one half from the gun's weight in comparison to a Model 700 BDL.
I am glad to see the X-Mark Pro trigger carried over to the XCR II. The feel is crisp, clean and it is nice to have an adjustable trigger incorporated into a mass produced factory rifle. I cranked the pull down to just above 3 lbs for testing. For field use I would have adjusted it to about 4˝ lbs. The XCR II is fitted with one of Remington's Super Cell recoil pads. A very comfortable, no drag pad with exceptional recoil dampening properties.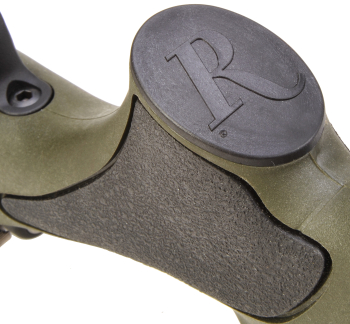 I have to thank Remington, on behalf of me and the rest of the near pabulum eating age throwbacks, who might forget what brand firearm we've purchased if not for the product embedded logos that provide a constant reminder. Friendly jab at Remington's tastefully done product marking. I'm onboard as long as they don't raise white letter the big "R" on the grip cap.
Those inset grip panels are ideal for this gun's purpose. Nice soft surface in place of cheese grater-like checkering and the material actually has a warm feel. In fact, with temps dropping to near 20°F, I was temped to stand outside all night to see if my hands stuck to the grips. No,,, not really.
The .30-06 Springfield. The World's most useful cartridge...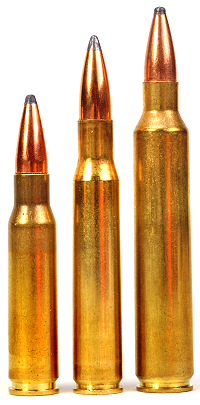 Ignoring short cartridge and "all things metric" bias, the laws of physics, a broad selection of reloading components and modest cost of ammunition favor the venerable .30-06 Springfield. From coyote to bear, from elk to moose, and anything else a hunter would find roaming the North America landscape, there is an appropriate .30-06 Springfield ammunition selection.
Cartridge
*Cost/20
Weight
Muzzle
100
200
300
308 Winchester
Hornady
Superformance
$26.99
165
V
2840
2635
2439
2252
E
2955
2544
2180
1858
T
-1.50
1.80
0.00
-7.60
.30-06 Springfield
Hornady
Superformance
$27.99
165
V
2960
2750
2549
2357
E
3209
2769
2380
2034
T
-1.50
1.60
0.00
-6.90
.300 Remington UM
Nosler Trophy Grade
$62.99
165
V
3350
3103
2871
2650
E
4111
3527
3020
2573
T
-1.50
1.10
0.00
-5.3

* Current average prices - discount retail
In comparison to the .308 Winchester, the .30-06 Springfield advantage is perhaps only 5%, but it comes without cost penalty. The Ultra Mag boomer has substantially more performance, but it comes with a hefty additional cost, perhaps best reserved for more specialized applications.
The Remington Model 700 Model 700 XCR II TN, as noted earlier in text, has a longer than typical .30-06 Springfield length barrel. It matters. A couple of inches of barrel length enhances the performance differential between it and the .308 Winchester and the effects of handloading with relatively slow powder.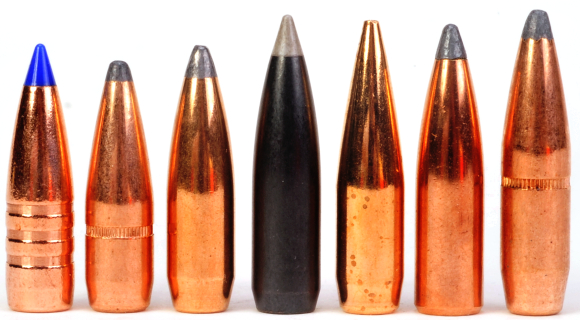 Seven bullets were selected for the handload portion of this project, 130 grains to 190 grains. There are lighter and there are heavier weights available, but these seemed to represent the most useful for hunting and they represent a good cross section of cost and construction.
Putting the rest of the pieces on...

There wasn't much to do to get the Model 700 ready to go. I ran a patch through the bore, cleaned off the trigger and bolt assembly and put back on a drop of gun oil on contact surfaces. I started to install a Weaver Super Slam with low Warne mounts, but there was insufficient bolt clearance. So I bumped up to a Bushnell's Elite 6500 4.5-30 x 50mm with Warne steel bases and medium height rings with the thought I would shoot out to two hundred yards during live fire check out. I'll take a break here to assemble some test lots of ammo. Be back soon with Part II.
Remington's Model 700 XCR II TN Part I
Remington's Model 700 XCR II TN Part II