There is a certain conditioning most of us have had when it comes to .32 caliber guns. Before the arrival of the .327 Federal Magnum the caliber was anemic in autoloaders, not much better in revolvers and mostly labeled as "Use only when your primary gun is empty and there are no pointed sticks or rocks within reach". Of course, that situation no longer holds true.
When I got my hands on a Ruger SP101... two days of range time, some ballistic test medium and a particularly bad day or two for the local rabbit and squirrel population, it became my personal protection firearm when out in the surrounding woodland. No more heavy .357 Magnum revolver tugging at my belt like a brick. No more square, bulky autoloaders to catch on branches or to fill up with dirt and debris. No more taking up the space in my tackle box that is reserved for lunch.
Federal Personal Defense and Speer LE Gold Dot Personal Protection Ammo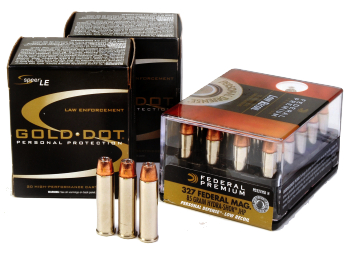 Federal and Speer have been steadily adding to the .327 Federal Magnum factory ammunition selection. At the time of this writing there are a total of five factory loads available. All are personal defense rounds with bullets appropriate for this application.
Speer also released 115 grain component bullets that are specifically tagged for use with the .327 Federal Magnum. The increased velocity of this round definitely warrants a bullet of tougher jacket construction, although I've had good luck with hard cast bullets as well.
Brand

Current .327 Federal Magnum
Factory Loaded Ammo

Bullet
Weight
Grains

Bullet Type

Muzzle
Velocity
FPS

Muzzle
Energy
Ft/Lbs

Federal

American Eagle

85

Jacketed SP

1400

370

Federal

Premium Personal Defense

85

Hydra-Shok HP

1400

370

Federal

American Eagle

100

Jacketed SP

1500

500

Speer

Gold Dot LE Personal Protection

100

Gold Dot HP

1500

500

Speer

Gold Dot LE Personal Protection

115

Gold Dot HP

1380

486

All data based on 4" barrel performance
A standout within a lot of old favorites...
Cartridge

Bullet
Weight

Muzzle
Velocity

Muzzle
Energy

32 ACP

65

925

123

380 ACP
85
1000
189

32 H&R Magnum

85

1120

237

38 Special +P

129

950

258

9mm Luger

124

1120

345

327 Federal Magnum

100

1500

500

357 SIG

125

1350

506

357 Magnum

125

1440

575
To place the .327 Federal Magnum's ballistic performance into proper context, the table (right) illustrates how it fits in with other popular primary and backup self defense rounds. Obviously this is not a cartridge of last resort.
Notable is how close the .327 Federal Magnum comes to the 357 SIG's performance when the 357 SIG has been rated by law enforcement as one of the most effective one shot stoppers in service. The Federal Magnum isn't that far off the mark even when it comes to the 357 Magnum and it does so with much less muzzle blast and recoil.
And it is a round that is easy to put on target

These groups were shot at seven yards, two hand hold, no rest and with the SP101's factory installed simple blade sights. The little gun has a bit of recoil hand slap and a decent about of bark, but it is relatively easy to control and a good combination. I think Federal put something really useful together with the .327 Federal Magnum design and I think Ruger, in designing their firearm, clearly understood the application.