One of the reasons larger magnums are less frequently the subject of articles appearing on Real Guns these days, as opposed to more general application cartridges, is that the typical cost of big magnum ownership tends to limit the number of people who shoot them... and who read about them. What's brought me back into large magnum coverage are two relatively low to moderately priced models from Remington, the Model 700 SPS and Model 700 XCR II that are chambered for differing members of the Ultra Mag family of cartridges.
The SPS with an MSRP of only $639 is the basic matte blued carbon steel model. While available in many chambers, in terms of Ultra Mag cartridges, it can be purchased as a 7mm Ultra Mag or 300 Ultra Mag. Not a bargain basement gun in any respect, the SPS has a clean synthetic stock with Super Cell recoil pad, hinged floorplate and a genuine magnum length barrel of 26"; no barrel truncating to protect the sale of higher priced models as has been the case with several other manufacturers.
The XCR II, with an MSRP of $970, is a bit more gun than the SPS. For starters the XCR II is available in all Ultra Mag chambers: 7mm, 300, 338, and 375. Additionally, the XCR II's hardware is all stainless steel, both barrel and action, with all hardware protected by Remington's proprietary corrosion and scratch resistant TriNyte matte black finish. Additionally, the XCR II has an upgraded synthetic stock with hinged floorplate, olive drab with overmolded inserts at key handling points and the excellent X-Mark Pro Adjustable trigger.
Both the SPS and XCR II rifles are based on the same Model 700, one gun is as strong as the other and both reflect the same high standard of quality. The XCR II has a few enhancements as noted earlier and, perhaps it has greater bore wear resistance as a result of the use of stainless steel. We elected to go with the XCR II so back to back pieces could be written on the 7mm Ultra Mag and 375 Ultra Mag, both within the same form, fit and function. The plan, for as long as gunpowder and my shoulder hold out, is to cover the 7mm Ultra Mag, then follow with the 375 Ultra Mag version of the rifle. With reloading tools and applicable components in-house, there will be expanded handloading "Part II" coverage of both firearms.
Remington Model 700 XCR II

Manufacturer
Remington Arms Company, Inc.
Model
Model 700 XCR II
Caliber
7mm Remington Ultra Mag
Magazine Capacity
3
Stock
Overmolded Grip Areas - Synthetic
Hardware
TriNyte® Coated Stainless Steel
Barrel Length
26"
Twist Rate
1:9¼"
Weight
*6 lbs 13 oz.
Overall Length
*46 1/2"
Pull
*13 1/4"
Drop at comb
*5/8"
Drop at heel
*7/8"
Non-optical sights
None
Trigger Type
X-Mark Pro Adjustable
Trigger Pull As Received
*4 lbs. 2 oz.
Trigger Pull As Tested
3 lbs. 0 oz.
MSRP
$970
RealGuns Store
Retail $825 Member's Price $773

* Actual weights and measures
What can the combination of 7mm Remington Ultra Mag and XCR II do for you?

OK, I think the obvious question is, "Will this combination help me to make new friends and will women find me more attractive?" The short answer is, "Of course." And, if you're like me, anything would be better than your old friends and everyone knows that women have a natural affinity for 7mm owners… especially if the 7mm owner is wealthy, drives a new Ferrari and lives in an exceptionally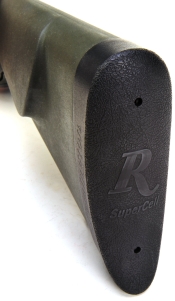 large mansion. But there is more to justify owning a 7mm Remington Ultra Mag than just finding yourself in the company of exciting new celebrity friends, living in extraordinary mansions, driving fast cars, and having a hair fluffing famous model girlfriend. The combination of a Remington 700 XCR II and the 7mm Remington Ultra Mag make for a heck of a hunting rifle.
The Remington 700 XCR II that is the subject of my yammering weighed in at 6 lbs 13 oz. which is light for a full size sporter and almost helium-like in the world of big magnums. This means the 7mm Ultra Mag XCR II is light enough to be taken just about anywhere a hunter would want to go. I know, what about the potential of being beaten profusely about the head and shoulders by "big magnum-light rifle" recoil? Well, between the shock dampening qualities of the XCR II's synthetic stock, and Remington's no more tears Super Cell recoil pad, only the sweet sound of a 7mm bullet leaving the gun's muzzle at a hellacious velocity signals the presence of a big magnum cartridge. In recap - Light weight magnum rifle, world class velocity, no more tears recoil.
The XCR II, as is the case with other Model 700 Remington guns, has a two position safety. The bolt can be cycled in "Safe". The scalloped bolt handle makes for relatively low scope mounting. Here a scope with a large 50mm objective lens required a set of high 0.525" saddle Warne rings on very low profile Warne bases. There is plenty of eyepiece clearance, so even a 44mm objective lens scope would have worked fine with 0.375" medium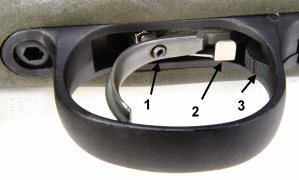 height rings and 40mm, as long as there is sufficient eyepiece clearance, would be dropped down to an 0.250" low ring.
Top right photo, the XCR II shows the hinged floor plate. I'm not crazy about the large XCR II logo. I can usually remember what model firearm I've purchased and the stylized logo detracts from the otherwise very clean lines of the rifle. And yes, I am being picky. Inside the trigger guard controls are 1-trigger pull 2-bolt release 3-floorplate release. All handy, but out of the way of accidental actuation.
The 7mm Remington Ultra Mag in context...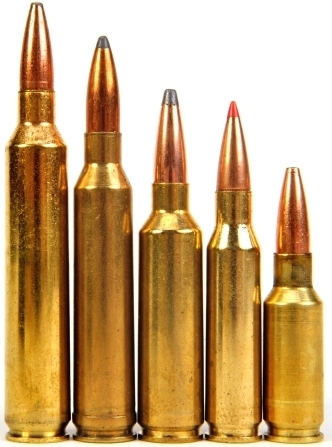 Pictured, L-R, 7mm Ultra mag, 7mm Remington Magnum, 7mm WSM, 7mm-08 Remington, and the 7mm-30RG wildcat. These represent only a few of the many 7mm cartridges that are currently available, but this short list does illustrate the versatility of the caliber.
Bullets of this diameter, 0.284", have uncharacteristically high sectional densities and slick ballistic coefficients. Coupled with a wide range of bullet weights, one hundred to one hundred and eighty grains with numerous types of construction, there are 7mm cartridges that perform well from popgun through cannon, up close and long range.
The introductions of the Remington's Ultra Magnum family and Winchester's Short Magnum family, 1999 and 2000 respectively, seemed a cultural fork in the road. At the onset, the Ultra Mag targeted the marksman or hunter who wanted greater power and range in a firearm. The WSM targeted the guy who liked the idea of owning a magnum, but didn't really want to be kicked by one.
Changeups and juggling of marketing messages ensued in an effort to promote these product lines. Sometimes the signals seemed a bit mixed... as they did with the initial 140 grain factory 7mm Ultra Mag load. I can presume the idea was to lead with the rounds incredible feet per second potential for maximum "Wow!", but for those of us who had been shooting the mature 7mm Remington Magnum with 160 and 175 grain bullets at big game, this seemed more like maximum "Huh?" These days, the 7mm RUM is just hitting its stride with the best combinations of rifles and ammunition being produced by Remington.
And speaking of manageable recoil...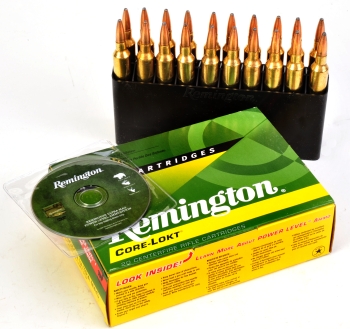 For handloaders, reduced loads for magnums represents a relatively pedestrian task; go light on the powder, get light on bullet weight, swap out the gun's 30x scope for something less... telescope-like. But reloaders are in the minority of gun owners and pushing an ultra high performance magnum where reloading is not an alternative can lead to a very narrow applications and limited firearm sales opportunities.
Remington made a smart move when they introduced Power Level Products. With them, an Ultra Mag owner can buy factory ammo that delivers maximum magnum power or ammo that is more consistent with whitetail deer hunting. Quite a feat for a cartridge is so large a DVD can be packed inside the box.
Power
Level
Bullet
Type
Bullet
Weight
MV
FPS
ME
Ft Lbs
300 Yard
Drop"
Recoil
1
Core-Lokt®
140
3000
2797
-3.6
31
II
Ultra-Bonded®
160
2950
3091
-7.1
35
III
Ultra-Bonded®
140
3425
3646
-2.7
36
III
Scirocco™
150
3325
3682
-2.6
37
III
A-Frame™
175
3025
3555
-3.4
40
Power Level Products not only offers a variety of bullet weights and types of construction to suit various game, but they are also varying load intensity. In the case of the 7mm Ultra Mag product, Level I approximates .270 Winchester performance and is intended for use on whitetail sized game. Level II replicates 7mm Remington Magnum and Weatherby Magnum performance and is intended for use on medium and large game. Level III is intended for big, tough game, including big bear. All of these loads are very much flat shooting and all hit within 2" of trajectory of one another at 200 yards. Interesting concept; one cartridge, flexible ammo loading, no need to zero for each different load in most cases. Neat.
Set up and check out...
For the sake of live fire testing, I installed a Leupold 3.5-10x50mm scope on Warnes steel rings and bases. Brass was in short supply at the time I was putting this project together so I purchased 7mm Remington Ultra Mag ammo to baseline the gun's performance and to serve as a brass supply for handloading. Should have Part II, the live fire and handload portion of the project wrapped up shortly.

The Remington XCR II and the Pharonic 7 Part I
The Remington XCR II and the Pharonic 7 Part II