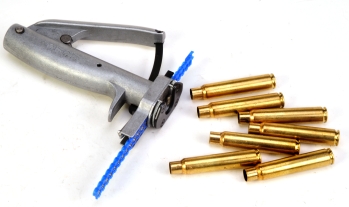 The 375 Remington Ultra Mag is a heavy hitting cartridge on both ends. So after working through a couple of boxes of ammo, I accepted that utilizing a lead sled during bench shooting was more productive than attempting to dampen the recoil with a grimace. While all of the handloads that appear are perfectly acceptable under hunting or even sighting in circumstances, fifty pounds of sandbagged sled was just right for high volume handload development.
Now who put that there?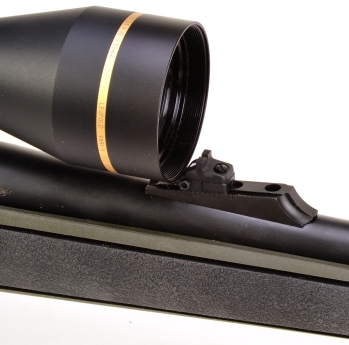 For as much as metallic sights on the XCR II 375 Remington Ultra Mag are appropriate for hunting close in dangerous game, so is the drilled and tapped receiver. In addition to being powerful, the 375 Remington Ultra Mag is also quite flat shooting as you'll see in other information that follows..
A 10x variable scope was mounted to quantify the rifle's 100 yard performance. Because the scope had a 50mm objective, there was a minor clearance problem at the rear sight that was solved by moving the sight slide forward just enough to clear the scope. Not a big deal. It would have been easy to index the slide so it could be returned to its original position and the sight was not visible within the scope image.
Easy round to handload and no special tools required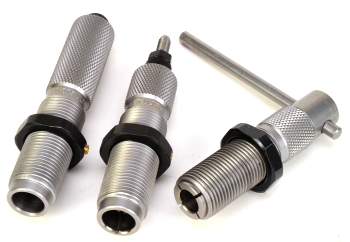 Despite the size of the .375 RUM case, as illustrated above, even a basic handheld priming tool works well. The one size fits all shell holder of the RCBS unit worked like a champ. The only handload accessory that did not work was the inertial bullet puller. The case dropped in and the collet grabbed the case, but the collet expanded so much that the cap would not screw onto the pullers. Didn't matter as I usually keep a collet puller screwed into the tool head of the turret press.
There are a number of die sets available for the .375 RUM; full length and neck sizers and combo sets. In this case I went with an RCBS 2 die full length sizer set that cost $28.99. There are sets available up through $180 for bench rest quality with most coming in more toward the mid range. The RCBS set calls out a #38 shellholder which covers the RSAUM and RUM cartridges. Comparing drawings the RSAUM and WSM showed a .003" difference in extractor groove width and less in case head diameter. I used a #35 Hornady shellholder that is made for use with WSM cartridges. Since all of these cartridges are .404 Jeffery derivative, they are very much the same.
Smokeless powder by the miller's scoop full...
Loads utilizing fourteen bullets were assembled and shot, these were the six that delivered the best accuracy and they also seemed to represent a good cross section of bullet weight and construction. There could be a bit more here, but it was cold at the range and there were some gusting winds, and these were shot from a lead sled which is not the best rest for qualifying accuracy. Considering that some manufacturers tout inch and one half groups as an accuracy guarantee, and recoil meant a lot of gun movement between shots, I think the big Remington delivered exceptional results as posted in the handload section.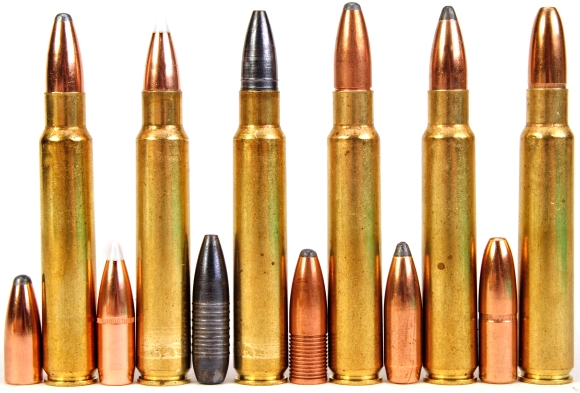 Not a rainbow in the bunch...
The 375 Remington Ultra Mag has a lot of reach. Three hundred yards is within near point blank range with a 200 yard zero. The very light load hits with a ton of kinetic energy at 300 yards, two tons with a bit more bullet weight. Velocity, even at the extended ranges is high enough to fit in comfortably with each bullets intended range of impact velocity. The heaviest weight bullets really hang onto velocity and energy and there is little shift in point of impact across the span of available bullet weights. In the examples given below, from lightest to heaviest, fastest to slowest, trajectory differences with a 200 yard zero are slightly more than one inch.
Speer 235 Grain

Range -yards
0
100
200
300
Velocity - ft./sec.
3168
2826
2575
2306
Energy - ft.-lbs.
5236
4274
3460
2772
Path - in.
-1.5
1.4
0.0
-6.6
Nosler 260 Grain

Range -yards
0
100
200
300
Velocity - ft./sec.
3022
2820
2627
2442
Energy - ft.-lbs.
5271
4592
3984
3442
Path - in.
-1.5
1.4
0.0
-6.5
GS Custom 265 Grain

Range -yards
0
100
200
300
Velocity - ft./sec.
3108
2940
2778
2621
Energy - ft.-lbs.
5683
5086
4540
4042
Path - in.
-1.5
1.3
0.0
-5.8
Sierra 300 Grain

Range -yards
0
100
200
300
Velocity - ft./sec.
2793
2602
2418
2243
Energy - ft.-lbs.
5196
4508
3895
3351
Path - in.
-1.5
1.8
0.0
-7.8
The days of the 10-11 pound express rifle, with folding multiple leaf sights, or a 1.5x scope, are a thing of the past... although, yes, I still own one. Too much of a sense of nostalgia to make it disappear from my collection.
Just before a thinly sliced ham and Swiss on rye...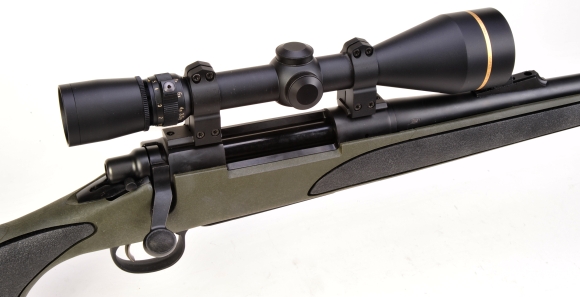 No, I'm not rushing, but I am having a moment of favorable anticipation of a really tasty sandwich for lunch. Remington's XCR II, chambered for the 375 Remington Ultra Mag is a bargain and a real opportunity for anyone who wants to own a high grade big magnum, but thought they were all priced out of range. The XCR II is well made, powerful and accurate, this is about as good as it gets for a rifle that can drop most any game, anywhere.
As 375 Magnums go, the 375 Remington Ultra Mag is an over achiever in most comparisons. It will shoot flatter, hit harder and do so accurately as long as the shooter is up to the task. If a straight up hunting rifle isn't exactly what you want and tastes run more to fancy walnut, engraved hunting scenes and hand fit and assembled Ultra Mags, there is always the Remington custom shop. Bring your check book.
Remington's M700 XCR II meets the 375 Remington Ultra Mag Part I
Remington's M700 XCR II meets the 375 Remington Ultra Mag Part II