Drizzle is turning to ice on ground contact, but ambient temperature is too high for a respectable snow storm. I know the weather is waiting for mid week to close the airport and leave me stuck in Maine... like the opening to a Steven King novel. Renegade machines will attack, cornering me in the shop, while huge rat-like humanoids attempt to scratch their way through the floor and carry off my favorite bench lathe. That's OK, the lathe had it coming. Yes, inclement weather has kept me inside for an extended period of time. Why do you ask? "Scratch, scratch!"
The Winchester 70 Featherweight
The Featherweight version of the Model 70 was first placed in production in 1952 to complement the standard Model 70 which had been in production since 1937. The Featherweight has been produced in a number of variations with differences related to: chamber, barrel length, stainless or carbon steel hardware, and grade of materials and finish. The Featherweight was Winchester's attempt at making a light hunter's version of the Model 70 although, at 7½ lbs, today "featherweight" is a bit of a misnomer.. but only to a misdemeanor degree. In 1937, 7½ lbs defined a featherweight rifle.
The current Featherweight, with a 24" barrel, is listed as weighing between 7 lbs 4 oz and 7 lb 8 oz. This particular Featherweight, chambered for the 270 WSM scale checked at 7 lbs 8 oz, although it is listed as a 7 lb 4 oz version. Featherweights with 22" barrels are listed as 6 lbs 8 oz or 7 lbs even. CG is at the floorplate hinge, which makes the rifle a little nose heavy, but steady in hold. Installation of a scope doesn't result in neutral balance, however, that seems irrelevant as this is a rifle that is easy to shoot accurately.
The Featherweight stock...
I thought it might be worthwhile, as I don't often look closely at Winchesters, to poke around a little bit and see how this one is put together in comparison to other Winchester Model 70's in the shop.
The Model 70's Featherweight stock has a satin finished dark walnut. The stock's lines are clean in a very traditional way, which makes the fancy, wraparound, ribbon paneled, point checkering... fitting, rather than ornate. I believe the patterns are 20 LPI machine cut. That said, the diamonds are clean, a bit sharp when new, but they do what they are suppose to do, provide a slip free surface. The little cross bolt plug is nifty; functional and decorative and the recoil pad is excellent. Decelerator pads are not the newest on the market, but one of the best. They make my 416 Weatherby a reasonable firearm and they do the same here with the 270 WSM. Swivel studs are included. The length of pull and drop at the comb and heel are all very comfortable.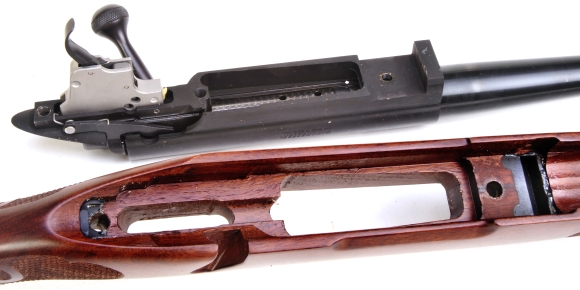 Something common with current production is the stock's unwillingness to let go of the barreled action without putting up a fight. This one went three rounds, but it was for a good cause. The inletting is clean and sealed and the death grip appeared to be the spot glass bedding at the action's front recoil lug and the fastener location under the tang. In fact, the action and strong were so tightly bound together initially I called Winchester to confirmed there wasn't some obscure fastener I had overlooked. I flipped the gun over, supported the comb of the stock on a padded riser that lifted it off the bench, then tapped the bottom of the action's feed port with a wide rectangular piece of Nylon bar stock until the action began to separate from the stock.
Hardware and some not so hardware...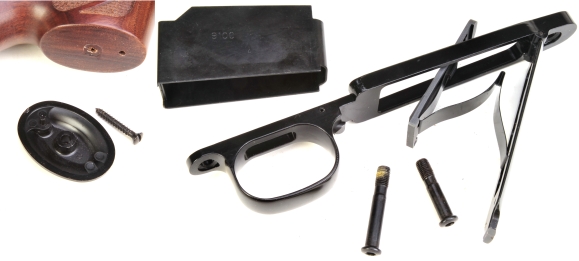 The magazine box is steel, as is the floorplate. The trigger guard and rest of the bottom metal is powder coated aluminum. The follower is a high lubricity poly part that plays well into a very slick cycling action. The parts are substantial and well-finished and lighter than five pounds of steel hanging off the bottom of the gun. The fasteners are, as is the trend, socket head screws. The only glaring mismatch is a poorly fitting hollow plastic grip cap. The rifle isn't bargain basement and the cap detracts from the appearance of rest of the firearm. I ran into the same grip cap issue probably five or six years ago with a Model 70 Compact and ended up buying a nice aftermarket piece from Brownells as a replacement. I am looking forward to doing the same.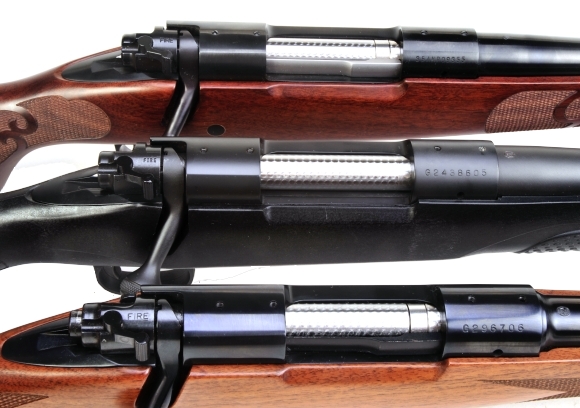 Bottom to top; Model 70 Compact 243 Winchester - 2000, Model 70 Super Shadow 270 WSM - 2003, Model 70 Featherweight 270 WSM - 2010. The short action ejection port on the two 270 WSMs is 2.750", the 243 Winchester version measured 2.500" even though action length for all are the same at 5.750". The top and bottom are controlled round feed type with a full length extractor and the Super Shadow is push feed. The original Model 70 was controlled round feed. A byproduct of this... investigation is that I know with certainty I can replace the stock on my Super Shadow with a clean walnut Winchester Featherweight piece and some factory or custom bottom metal.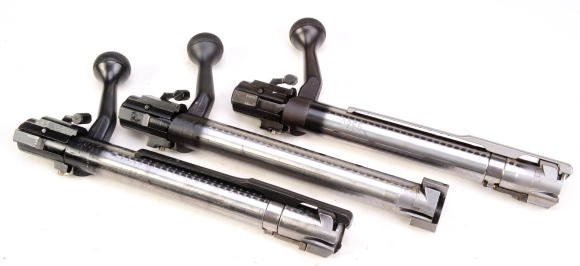 Bolt dimensions are similar. They all have a bolt body diameter of 0.693", they are all 5.097" from bolt head to inside face of the bolt handle. Top and bottom bolts have full length, non-rotating extractors, the center is push feed. All have the handy three position horizontal pivoting safety.
M.O.A. Trigger System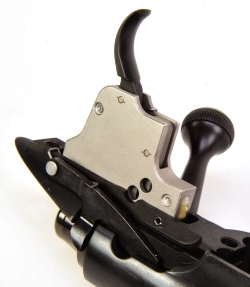 The Winchester Model 70 Featherweight features the company's proprietary M.O.A. trigger. By increasing the trigger's mechanical advantage, preloading to eliminate creep and by controlling overtravel, the new trigger has a short, crisp and light pull and is fully adjustable.
Winchester does send a mixed message with this feature. Adjustable for pull weight in the range of 3 - 5 lbs, Winchester indicates that the trigger is set to 3.5 lbs at the factory (actually 3 lbs 10 oz) and should not require adjustment. Winchester suggests adjustment is best left to a gunsmith... then defines in excellent detail within the manual how adjustment is safely accomplished. Then they buried the two adjusting screws in the front of the trigger under 2 or 3 tons of hot melt glue.
I don't like hot melt glue on my guns.. or Jeff, the rude customer service guy at Winchester who acted at though he was doing me a favor by answering a couple of very easy verifying questions after being placed on hold for twenty minutes. Just kidding... not really. As a note of luck, it is not necessary to remove the stock to adjust the trigger. There is a small window in the mag well that allows access to adjusters with just the floor plate and magazine box removed.
Winchester Model 70 Featherweight

Manufacturer

DBA Winchester Repeating Arms

Model

Model 70 Featherweight

Caliber

270 WSM

Magazine Capacity

3

Barrel Length

24"

Twist Rate

1:10"

Weight

*7 lbs 8 oz.

Overall Length

44"

Stock

American Walnut

Checkering

Cut 20 LPI

Hardware

Blued Carbon Steel

Pull

13 ¾"

Drop at comb

½"

Drop at heel

½"

Non-optical sights

None

Trigger

M.O.A. Adjustable

Trigger Pull

*3 lbs. 10 oz.

Safety

Three Position

MSRP

$859

* Actual
I was going to assemble a comparison table to illustrate the differences between the Model 70 Sporter and the Featherweight. Essentially, with the exception of stock aesthetics, there are none. Weight, dimensions, capacity, length of pull, height of comb, MSRP - they are all the same, so the choice between one and the other is strictly one of visual appeal.
After having this opportunity to take a good look around I think I've arrived at some preliminary conclusions. The Model 70 Featherweight is a competent, traditional hunting rifle. Its action is very smooth for a production gun and its trigger is on par with the adjustable triggers being released, of late, by other manufacturers.
The gun overall seems a little.. heavy handedly assembled. Nothing really wrong, although nothing particularly exciting. The walnut has that reddish hue found on imported rifles fit with Turkish Walnut stocks. The checkering looks oddly dated and reminiscent of the old post '64 press checkering days.
Winchester's U.S. Presence
In 2006, U.S. Repeating Arms, owned by Fabrique Nationale d'Herstal, closed its New Haven, CT manufacturing plant. In doing so they ceased production of the Winchester Model 94 lever action rifles, Model 70 bolt action rifles and Model 1300 shotguns, ending over a century of American tradition and I went looking for the metaphorical fork. Things got really weird when Winchester attempted to sell Browning autoloading rifles and probably the homeliest .22 LR autoloader ever made under the Winchester brand. Both of these products have since disappeared. When Winchester Repeating Arms of Morgan, UT announced production plans for the Model 70 in the FNH Columbia, South Carolina plant, I followed along with the developing story and took a look at the new Model 70's at Shot, but I didn't see anything exciting to report.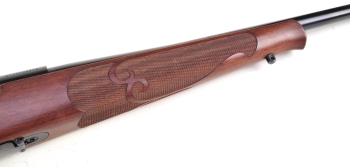 Today, Winchester exists as a trademark* with production rights licensed to Brownell International, a Herstal group entity. The Winchester Model 70, current lever guns and shotguns are made in the FNH facility in Columbia, South Carolina. Warranty service is done in Arnold, MO, a consolidated service facility that services Browning, FNH and Winchester firearms.
Preliminary conclusions
I put this rifle next to a Winchester built in the New Haven plant and they are really two different guns. The current Featherweight has not retained the elegance of earlier Winchesters and what is being produced is a competent imitation with a somewhat European influence in the execution. I was reminded neither Winchester or U.S., Repeating Arms didn't survive the New Haven plant closing, but rather a European company purchased the right to produce and market their interpretation of the Model 70 and other historical Winchester firearms.
What does this all mean? The Herstal Group has been in business since 1889 and they are very successful at making quality firearms. They have done a good job with Browning for the most part, although that product line is looking a bit... cost reduced. Perhaps FNH will make Winchester a better brand. Winchester and U.S. Repeating Arms were on shaky financial and management legs for at least thirty years prior to the New Haven plant closing and, for at least some of those years, production was of dubious quality. Maybe this takeover and relocation is the best way to perpetuate the brand, however, that is not the same as perpetuating the product. In the mean time, we'll get a scope mounted on the Featherweight and see how the gun does in live fire.

The Winchester Model 70 Featherweight Part I
The Winchester Model 70 Featherweight Part II