It's funny how things can change all around you and, for the most part, go unnoticed. I've been shooting firearms made by T/C since the early 70's. With a young family and a very tight budget, a low cost Contender with interchangeable barrels allowed my wife and I to fiddle with firearm gadgetry and enjoy whatever range time we could manage. I still own that frame and every accessory we ever purchased, including barrels, grips, forearms, and a 1½X T/C Lobo scope.
I didn't really do much with the T/C Icon after its 2007 introduction. The 30TC cartridge was interesting, as were the unique aspects of the rifle's design, but Smith & Wesson had acquired the company and I wanted to wait a bit to see if the Icon would continue and how else the product line and company might develop. It appears that this is one of those times when the outcome of an acquisition is a benefit to both companies and what began as a K. W. Thompson Tool and Warren Center collaboration got to move beyond its forty-five years of producing firearms.
Some Icon - Venture comparisons and overview...

Thompson/Center Venture

Manufacturer
Thompson/Center U.S.A.
Model
Venture
Type
Bolt Action
Caliber
.270 Winchester**
Magazine Capacity
3+1
Barrel Length
24"
Twist Rate
1:12" 5R Type
Weight
7.0 Lbs
Overall Length
43.5"
Stock
Composite - Traction Panels
Hardware
Blued Carbon Steel*
Length of Pull
13 1/2"
Drop at comb
1/2"
Drop at heel
1/2"
Sights
None
Scope Mounts
Bases Included
Trigger Pull
3.5 - 5 lbs Adjustable
Safety
Two Position
MSRP
$565
Discount Retail
$465

* Weather Shield treated bolt handle, Melanite
coated bolt. ** Sixteen chambers, short/medium
length, standard and magnum cartridges.
The Venture, initially a January 2009 release, is an interesting product. Intended to be an inexpensive Icon derivative that would hold broad market appeal, the Venture represents a minimal compromise in Icon features and no compromise in production quality.
Where the Icon is available in numerous versions from basic sporter weight to the company's tactical Warlord, the Venture is offered more narrowly in two versions. The Icon has solid, Ultra Wood, laminated wood, and composite stock options. All versions include T/C's proprietary Interlock Bedding System, an aluminum bedding block that resides squarely between the gun's action and its stock. The Venture does not utilize the Interlock Bedding System, it is fitted with a composite stock, heavily cross ribbed for strength and integral aluminum bushings at the fastener locations. The Icon features Integra Base scope mounting where Weaver type bases are CNC machined directly into the rifle's receiver. The Venture is supplied with a set of removable Weaver type bases. The Icon has a two position safety, plus a bolt lock. The Venture has a conventional two position trigger safety.
Both the Icon and Venture have a sub MOA accuracy guarantee expressed as three shots inside 1" at 100 yards. Both guns incorporate proprietary 5R rifling; with five grooves, one is always opposite a land for less bullet distortion and the sides of the lands are cut at 65° rather than a conventional 90° angle to reduce bore fouling and bullet jacket damage. Both Icon and Venture models are available with a Weather Shield™ silver gray finish which the company represents as 50x more corrosion resistant than stainless steel. Bolts are finished in black Melanite for smooth operation and both rifles have adjustable triggers. After handling budget priced firearms from most manufacturers, I have to say the Venture represents a lot of value while retaining a high end appearance.
Picking and poking... observations
When I first saw the grip area panels, I assumed T/C had taken the same tact as they had on the Encore Pro Hunter stocks. However, the stock on the Venture is a Hogue stock with traction panels while the Encore FlexTech® stock receives Simmons recoil dampening material embedded in the stock to absorb recoil as well as inserts at the grip and forearm for improved hold.
While the FlexTech® stock probably makes a lot of sense on this somewhat feisty 5.5 Lbs .45-70 Gov't Katahdin, I prefer the more conventional composite stock on the 7 lb 3 oz 270 Winchester Venture.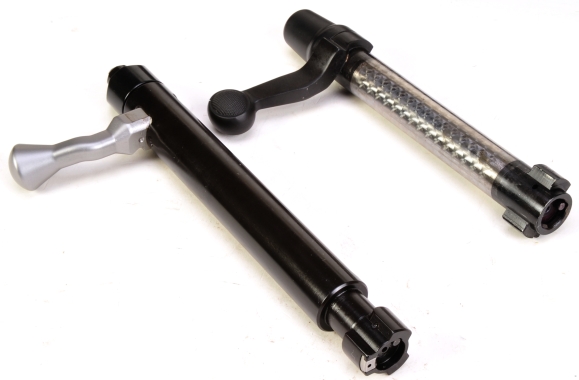 T/C's "Fat Bolt" design is pretty beefy. The Venture's bolt has an 0.853" body diameter and 0.825" tri-lug bolt head. By comparison, a Remington Model 700, a really stout action, has a 0.704" bolt body and 0.990" dual lug bolt head. At first look it would seem the Remington has greater lug contact area at 0.122 sq.in. However, as there are three lugs on the Venture's bolt, the actual lug contact surface is also 0.122" so there is plenty of surface area in contact when the bolt is closed.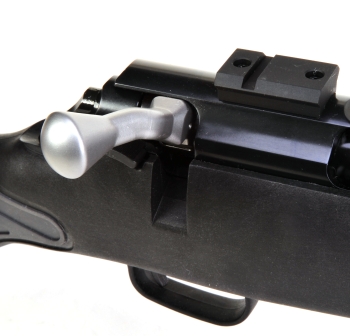 A benefit of the three lug set up is that only 60° of rotation is required when opening the bolt. While this may permit faster operation, I'm happy with just the additional scope clearance this creates. With large eyepieces so common on current scopes, conventional 90° bolt rotation can force a high ring requirement. I installed high rings on the Venture for this project, but only because they are more comfortable for me when shooting from the bench a good deal. Otherwise, low rings would have worked just fine.
The Venture, a push feed bolt action, has a large extractor and positive spring loaded ejector. Both chambering and extraction were very positive.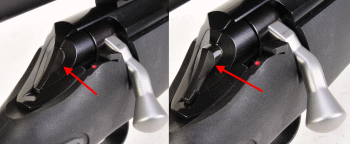 The rear of the striker acts as a cocked condition indicator. Always nice to have this status heads up,
Before working with the Venture, my personal favorite for slick cycling was the current Winchester Model 70, which is based upon a -re '64 design. We have a new winner in the Venture. The bolt stroke is slick, lock up is very positive and there is virtually no bolt wiggle when in the full back position. Unlike the Icon, the Venture manual does not cover bolt disassembly, it is not supplied with a bolt take down tool and interchangeable bolt handles, as offered for the Icon, are not listed for the Venture. Something for me to tinker with, later.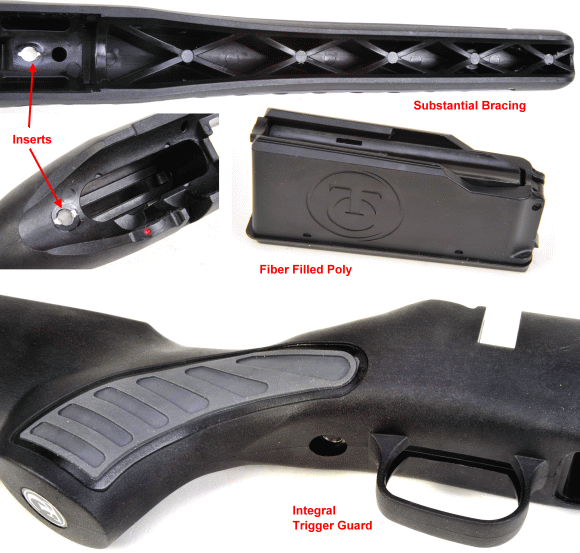 Not to belabor the point, the composite stock on the Venture is well done. The internal cross ribbing is extensive, without creating excess weight, fastener spacer bushings are present as required and sling swivels are preinstalled. The magazine is made of fiber filled poly,... just like a $4,000 Blaser R8. The traction inserts are well placed and effective even in the foot of snow we got buried in today.
The Venture has a very solid, balanced feel and gripping areas are shaped and sized correctly to fill human hands. Thompson / Center did an excellent job with overall aesthetics. It is unique to find a gun designed with the thought that it will eventually be shot.
Mainstream manufacturers are installing high grade adjustable triggers on their products but, for some reason, either the point of adjustment is buried under the stock making access difficult, adjustment instructions are omitted from product literature. T/C did something nifty here by making the trigger adjustment point accessible with just the bolt removed and they described the process of adjustment clearly in the gun's manual - safe and easy
No mounting objections... sorry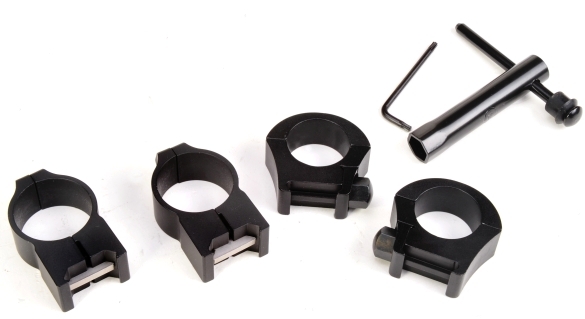 Both Weaver type scope bases and rings were included with the Venture. Pictured right - The 1" diameter rings were Thompson / Center lightweight aluminum, medium height. I would have used them, however, I had a Burris SixX 30mm scope set aside for the project. Warne steel rings were selected because that is my standard choice and I had a set on hand. The T/C rings are very well made, nicely stylized and complete with cross bars to prevent longitudinal movement in the mounts under recoil. The supplied installation tool, pictured top right is handy, making ring removal quick and easy. The tool's cross bar handle stows inside the tool's body when not in use.
This subject firearm is chambered for the 270 Winchester, which is one of my favorites. Pictured center, the 270 Winchester is flanked left by the 308 Winchester and right by the 270 WSM; three of the sixteen available Venture chambers. Barrel length is either 22" or 24" depending on cartridge. For the most part, high capacity overbore cartridges get a 24" barrel, all others 22"; 270 Winchester 24", 308 Winchester 22" and 270 WSM 24".
There is a certain logical inconsistency in barrel length to cartridge assignment. As an example, the 30-06 Springfield gets a 24" barrel, but the 300 Winchester Magnum, 338 Winchester Magnum and 300 WSM get 22" barrels. If the 30-06 Springfield were 22" I'd go with a capacity:bore ratio as the underlying factor, so I am not sure. Something further to check into. All trivial curiosity as most 30-06 Springfield firearms have 22" barrel and WSM barrels vary from 22" - 24" dependent upon manufacturer. In any event, the Venture offers the shooter good cartridge choice flexibility.
For the live fire portion, I've got controlled lot handloads with most popular bullet weights and types and some factory ammunition to use as a baseline. I also have data collected from firearms tested earlier to use as a basis for comparison.
An attention getter...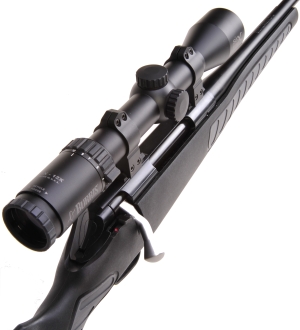 This is a good looking gun, one that drew quite a bit of attention around here. It looks good, carries well and, even on a preliminary basis, it is a solid shooter. I thought the Burris SixX would compliment the Venture and it really did. Good match on color and texture and even the logos color matched the Venture's traction panels.
Personally, I'm glad I got to spend time with this firearm. it is a different design, it handles better than many other established products I've shot recently and it's got a good feet. beyond shooting as a factory chamber, it would serve as the basis for a pretty slick wildcat custom.
I'll be back in Part II with live fire information and some assessment of the gun's accuracy and performance to Thompson Center's MOA Accuracy Guarantee.
Thompson / Center's Venture Part I
Thompson / Center's Venture Part II