Marlin's 22" barrel Model 338MX arguably strikes a better balance of size versus power than the 24" barrel Model 338MXLR. Two inches shorter than the 338MXLR and an inch shorter than a Remington Model 700 Mountain Rifle, the Marlin 338MX is still not a typical lever action fifty yard spitballer.
Marlin Model 338MX

Manufacturer

Marlin Firearms

Model

338 MX

Type

Lever Action

Caliber

338 Marlin Express

Magazine Capacity

5

Barrel Length

22"

Rifling

1:12" 6 Groove

Weight

*7 lbs 0 oz.

Overall Length

40"

Stock

walnut, pistol grip

Hardware

Blued

Length of Pull

*13 5/8"

Drop at comb

*1 5/8"

Drop at heel

*2 1/2"

Sights

Metallic Adjustable

Scope

Drilled & Tapped

Trigger Pull

*7 lbs. 3 oz.

Safety

Cross Slide

MSRP

$652

$545

* Actual weights and measures
The 338 Marlin Express cartridge, in combination with this rifle, outperforms or matches bolt action rifles chambered for either the 338 Federal or 338-06 cartridges. Marlin recommends the Model 338MX for hunting anything in North America and notes this in product literature with the presence of categorizing coyote, deer, bear and very large proboscised moose icons. A tough jacketed 200 grain bullet, producing 3,000 ft./lbs of muzzle energy, suggests these are credible assertions.
The factory ammo's use of low .430 coefficient of drag Hornady Flex Tip bullets give the round relatively long legs. The 200 grain 338 Marlin Express load has higher retained energy and velocity than a 180 grain bullet .30-06 Springfield load and it shoots flatter all the way out to 400 yards.
Indices

338 Marlin Express 200 Grain Load 216 Yard Zero

Range -yds

0

100

200

300

Velocity - ft./sec.

2565

2365

2174

1993

Energy - ft.-lbs.

2921

2483

2099

1764

Path - in.

-1.5

2.8

0.9

-8.3

Time of flight - sec.

0.0

0.1

0.3

0.4
I ran the factory loads on the RealGuns Ballistic Calculator and generated the table indicated above. 300 yards is a long ways off. I realize there are a good number of shooters who can deliver on a target well beyond this point, but for me, three football fields is enough for me. As a point of reference, the 338 Marlin Express slug hits at 300 yards with 3.5X the energy of a 30-30 WCF, just about 1/3 of the drop and with 66% greater velocity. This isn't a typical lever gun.
A gun is partially defined by its cartridge...
Marlin offers a number of different lever action designs and chambers with each combination having its own distinct personality and suitable for a different application. A 30-30 WCF is an excellent gun for deer, black bear and hogs when hunting densely wooded areas where shots are inside 100 yards, more typically inside 40 or 50 yards. The guns are fast and light and excellent handling even with metallic sights. The 45-70 Gov't guns, particularly the Guide Guns are made for the same settings, but they can handle much heavier and tougher game. With modern high pressure loads they can handle anything in North America, with range being the greatest limitation; hundred yards for best results. The 338 Marlin Express makes for a different kind of Marlin.
L-R, 338 Ruger Compact Magnum, 338 Marlin Express, .308 Winchester and .30-30 WCF. The 308 Winchester is shown for dimensional context. The 30-30 WCF is a reminder of how much lever guns of traditional design have changed and developed over the years with modern materials and manufacturing processes and cartridges of ever greater intensity.
Cartridge

Bullet
Weight

Grains
Capacity

MV

ME

338 RCM

200

71.0

2950

3866

338-06
200
69.0
2800
3483
338 Federal
200
57.5
2660
3143

338 Marlin

200

61.0

2565

2923

308 Winchester

200

56.0

2550

2888

30-30

170

44.0

2200

1827
0.338" bullets are a bit like 0.284" bullets, potentially high in sectional density and low in coefficient of drag. They retain velocity longer, which yields greater down range kinetic energy and flatter trajectory.
...partially by its live fire personality...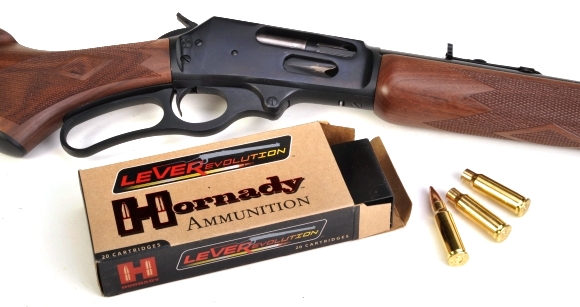 The Marlin 338MX loaded up easily and without the loading spring removing half of my thumb as happens on occasion with my 45-70 Guide Gun. Feed was routine and positive, as was extraction and ejection. Recoil was about the same as a lightweight bolt action 308 Winchester; can't miss it, but it isn't harsh by any means. The 338MX was accurate to the extent of popping a sub 2" knot out of a dead birch tree at 50 yards through metallic sights. A scope makes the 338MX a 1" gun at twice that distance. I couldn't quite match the factory-stated velocity for the 200 grain Lever Evolution load. Spec performance is 2565 fps, however, they clocked 2515 over the chronograph. I'll chalk that up to the difference between 24" and 22" models, but both are actually better than good.
...and partially by its appearance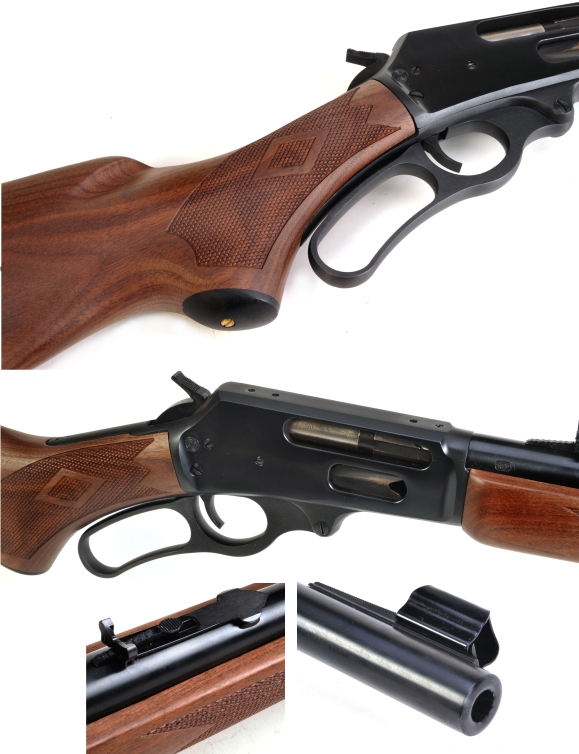 There may be even more at work here in this current product, the Remington influence. Gone are the satin-finished stocks and glossy plastic bits. In their place is an oil finish like... finish and the elegant, yes elegant, matte black plastic trim. They combine with the traditional Marlin hardware bluing to give the gun a bit of a nostalgic look. And I like the black trigger. Very nice.
If there is a point to address...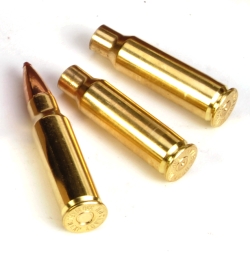 If there is an enervating influence to the 338 Marlin Express strategy it would be in the area of bullets. The Marlin is a tubular magazine firearm, which means no conventional pointed bullets. 338 Marlin Express factory ammunition is loaded with 200 grain Hornady Flex Tip bullets, spitzer type, which are soft and designed specifically for use in tubular magazines. It would be great if there were a 180 grain and possibly a 225 grain load to give the cartridge a bit more latitude.
The 200 grain FX bullet is available to handloaders as a component part, but there are other interesting bullets out there expand the weight range and the number of useful applications the round might serve. This and handload data will be the subject of Part II.
Marlin's Model 338MX Part I
Marlin's Model 338MX Part II