Firearm design is artistic expression, particularly when a gun's form follows function and when simplicity, rather than excess, is at the heart of a design. A designer has to not only meet product reliability, longevity, performance, and cost goals, he also has to package all of the pieces so that they will please at least four of the five human senses... five for those with beaver-like tendencies.
Some people really like AR type firearms. You know, the "modern sporting rifle." I can appreciate AR performance potential but, too often, they become a repository for so much useless junk that a gun of this type quickly loses its sparse and Spartan appeal. Western civilization psyche, my psyche, is anchored in Athens, and I've not seen an ancient Greek sculpture made of aluminum and poly and hammered into the shape of a giant cheese grater. Besides, when it comes to hunting, there is not a single facet of AR design or performance that makes them anything more than a mediocre substitute for a bolt action rifle. They are heavy, homely and under- powered. Thank you in advance for your thoughtful email.
The Remington Model 700 CDL is a rifle that projects understated elegance from the clean sweeping lines of its walnut stock to its non-reflecting black hardware finish. Nothing hangs out that isn't required to hang out and nothing in included that isn't necessary to the function of the rifle within its intended applications. OK, maybe not THAT absolute. There are modest concessions to essentials that can be found in the forms of forearm and grip caps, two tensioning cross bolts and a tiny touch of fancy in the checkering pattern. But then, it is a beautiful rifle.
I've thought a good deal about overall current production from rifle manufacturers. Some seem lost and trying to make a variety of products with the hopes one model will stick and become a success. Some are stuck in the past, making the same products as always and becoming less relevant each year. Others, like Remington, seem to be making more measured, purposeful changes to their product lines; evolution rather than revolution. The kind of gun that can be used for a long time and won't embarrass its owner within a couple of years of purchase by looking like a dated trend piece... a gun like my Winchester Super Shadow. Good grief.
The Model 700 CDL line was introduced in 2004. The BDL line that was launched in 1962. Pictured right is my Model 700 BDL 7mm Remington Magnum that was manufactured in 1972. My wife and children purchased it as a much appreciated and humbling Christmas gift for me from Edelman's when we lived in NJ. While thirty seven years separate the two guns framing these words, I think the BDL has held up pretty well. The difference between the two firearms reflects changing views of hunting and shooting situations, as well as improved reliability of accessories and better materials and manufacturing process rather than just changing trends in aesthetics.
Polyurethane makes for an inexpensive, and durable factory finish, but often yields a dipped in clear plastic look. Modern durable satin finishes enhance the natural qualities of walnut and are non reflective, which are always good attributes of a hunting rifle. Metallic sights for backup duty on flat shooting magnums are not longer necessary, thanks to strides made in scope reliability and their all weather performance.
The earlier model's dropped heel stock needs a raised Monte Carlo comb to get the shooter's eye in line with the scope's eyepiece. The relationship of the gun's butt plate to elevated bore centerline redirects recoil away from the shooter's shoulder by rotating the gun's muzzle upward under recoil. Perceived recoil is reduced, but so is the chance of a fast follow up shot. Major advances in recoil pad design and materials allowed gun designer's to straighten out the stock and minimize muzzle climb. As a result, the current Model CDL has a classic look and it is a functionally better hunting rifle with much lower perceived recoil.
Remington Model 700 CDL DM

Manufacturer

Remington

Type

Bolt Action

Caliber

7mm Remington Magnum

Magazine Type

Detachable

Magazine Capacity

3

Barrel Length

26"

Rifling

1:9¼"

Weight

*7 lbs 8 oz.

Overall Length

*46 ½"

Stock

Walnut

Hardware

Blued Satin

Length of Pull

*13 ¾"

Drop at comb

*3/4"

Drop at heel

*1"

Sights

Clean Barrel

Scope

Drilled and Tapped

Trigger

X-Mark Pro™ Adjustable Trigger

Safety

2 Position Thumb Safety

MSRP

$1041

$915

* Actual weights and measures
This subject CDL has a 26" barrel, a feature shared with the 300 Winchester Magnum version of the same model, which is two inches longer than standard cartridge versions. Good choice on the part of Remington as this cartridge has enough powder capacity to benefit significantly from the additional two inches. Remington's current Model 700 BDL weighs the same as the CDL, but it has a 24" barrel, the same length as my 1974 production gun. Personally, since the CDL and BDL weigh the same, I prefer the weight invested in the CDL's two barrel length rather than in the BDL's heavier stock.
The X-Mark Pro trigger is a gem, adjustable from a tad over two pounds to a high of approximately six. It feels like it's gliding on ball bearings. My old Remington has a smoked over trigger that breaks at 3½ pounds and is very crisp, but the stock has to come off if I want to make an adjustment.
Aesthetically, looks are so subjective, but I tend to like the understated looks of the new CDL versus the more flashy gloss finish, skip line checkering and gloss blue of the early CDL.
A quick tour... please don't touch the exhibits

Current CDL production stocks are very clean from checkering to inletting and internal sealing. All of the stocks I've seen exhibit very nice grain. The detachable magazine and release buttons blend in well with the lines of the stock, leaving nothing to protrude that will get caught on clothing or fingers.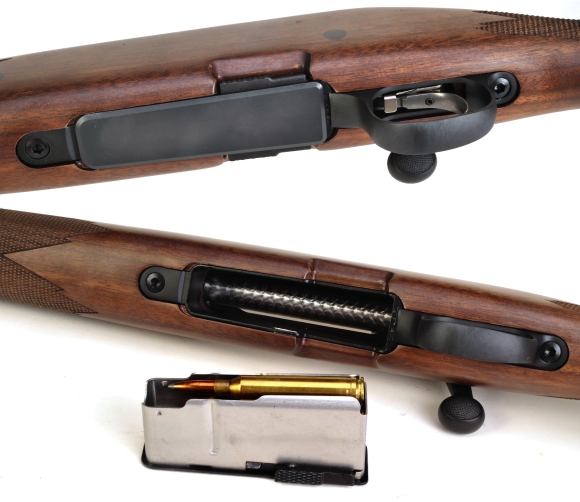 Bottom metal is clean and flush. The detachable magazine holds as much as the well of a hinged floorplate gun, but a magazine version firearm is easier to load and empty. Extra magazines can be purchased and loaded with the same or different type of ammunition as circumstances dictate. The wrap around checkering panels are nice, functional and not overdone. The one step adjustment screw for trigger pull can be seen on the face of the trigger in the top picture.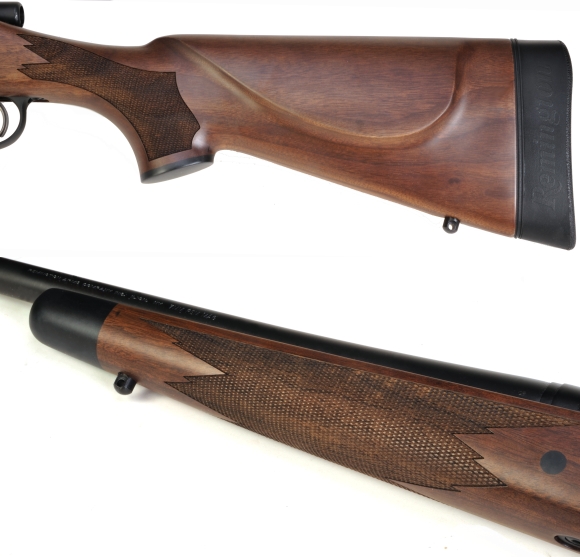 The drop at the heel of the stock is minimal; straight back recoil terminating at an excellent recoil pad for fast follow up shots when necessary. The cheekpiece provides good support and maybe a hair of cast off keeps it away from the shooter's face. The perceived recoil with the CDL is much less than the BDL. While the forearm and grip caps may be plastic, the satin finish and nice radiused blending give them a very... rich, well-blended appearance. The newest finishes are excellent. No clouding, very translucent to the point of almost being transparent, so all of the walnut's natural grain and coloration detail variations show through. This is a very modern rendition of a very traditional rifle; traditional in appearance with modern materials and manufacturing process.
Ah, but I was so much older then, I'm younger than that now-wow-wow...*
I'm glad to see that Remington chambered this model with two classic magnum cartridges, the 7mm Remington Magnum and the 300 Winchester Magnum, in addition to a selection of standard cartridges. Both cartridge have seen a lot of service in hunting and target shooting firearms and both have performed exceptionally well.

While making it's début in 1962, my first experience with the 7mm Remington Magnum came in 1972. At that time I was told it was too much gun for anything but moose or bear or, alternatively, the theory was advanced that the cartridge was suitable only for western hunting and 500 yard shots at antelope. By the time thirty years had passed, the cartridge was deemed by Internet experts as barely lethal for large deer and black bear. I suppose the cartridge wasn't paying attention as it has worked extremely well on all of the above and just about everything in between.
Anyone who has hunted with the 7mm Remington Magnum would tell you that it is an extremely
flexible and flat shooting round that can be loaded with bullets from 110 - 175 grains, light enough for coyote and heavy enough for the largest North American game. Based on the 375 H&H Magnum case, the cartridge has been blown out and shortened to fit a standard length action. Unlike 308 Winchester length short magnums, long heavy bullets work well and don't severely encroach into case capacity. Brass is long lived and there are lots of powder types that match up with this case capacity.
Cartridge
7mm-08
Remington
7mm
WSM
7mm
Rem Mag
7mm
Rem UM
Overall Length "
2.800
2.860
3.290
3.600
Case Length "
2.035
2.090
2.500
2.850
Capacity Grains
55.00
81.10
82.00
112.00
Maximum PSI
60,191
64,542
62.366
63,817
And moving right along...
The newest CDL DM has quite a bit of Bavarian woods stag hunting like appeal. It is definitely Euro/American traditional, in a common heritage but not in a UN Euro/American kind of way. The rifle feels good, handles intuitively and has all the three rings of steel strength present in all Model 700 Remington rifles. I'm impressed by the attention Remington has paid to detail and the quality of the factory assembly and finish.

I'm going to take a break here to get a scope mounted on the CDL and assemble ammunition for this combination. Then I'll be back with handload and live fire results. I want to shoot the CDL along side the BDL also to quantify the value of two more inches of barrel.
Remington's Model 700 CDL DM Part I
Remington's Model 700 CDL DM Part II

*A line from Bob Dylan's "My Back Pages"... best sung with your nose pinched between your thumb and forefinger.