The .264 Winchester Magnum was introduced in 1958. The first production rifle chambered specifically for this cartridge was the Winchester Model 70 Westerner, with one of the initial production pieces gifted to General Curtis LeMay1. I would have thought the Model 70 African, chambered for the 458 Winchester Magnum, would have been a more appropriate gift.
The 264 Winchester Magnum is one of three related cartridges, the others being the 458 Winchester Magnum - 1956 and 338 Winchester Magnum - 1958. They are all based upon a .375 H&H Magnum parent case, neck modified for caliber, reduced in body taper and shortened to 2.500" to approximate .30-06 Springfield length for function in a standard length action. A forth and similar cartridge, the 300 Winchester Magnum was introduced in 1963, however, this cartridge case length is a longer 2.620".
If there was a radical or controversial component to Winchester's introduction of these cartridges, it was the creation of Winchester and the sporting arms press of the day. Beyond the myriad of early wildcat adaptation of the 375 H&H case, custom gun makers like Griffin & Howe used it as the basis for proprietary cartridge lines as early as 19203 and Roy Weatherby launched his successful company with a raft of 375 H&H derivative cartridges that were designed in 19432.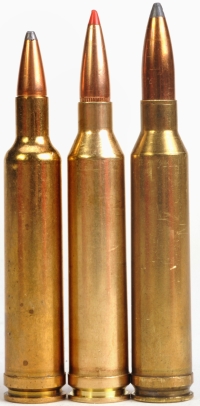 One of the most successful 375 H&H derivative cartridges is the 7mm Remington Magnum, which was introduced in 1962. Historically, the early demise of the 264 Winchester Magnum's popularity has been attributed to Remington's success with their cartridge. The larger 0.284" bullet in Remington's design provides a better balance of high velocity and bullet weights and the 7mm Remington Magnum is easier on barrels. Pictured right, left to right, 257 Weatherby Magnum, 264 Winchester Magnum and 7mm Remington Magnum.
While H&H derived cartridges continued to be introduced, I believe the 7mm Remington cartridge marked the end of successful factory effort with H&H based cartridges. The 8mm Remington Magnum - 1978 and the 416 Remington Magnum - 1988 are excellent performers, but occupy a market niche. Marlin's 2000 Shot Show introduction, the 450 Marlin have drawn few enthusiasts from the 45-70 Gov't contingency. After all of the shuffling between short, long and some combination of "fat" magnums, 30-06 Springfield length magnums with full length H&H capacity seem to be the emerging mammal.
The 264 Winchester Magnum should have done better. I believe it was axed by lazy writer's mob mentality as the popular condemnations make no sense. If the round's velocity cooks barrels and the bullet weight is too light, please explain the success and acceptance of the 257 Weatherby Magnum for use on everything from chipmunks to elk. And if the little 6.5 Swede is cheered on for use on moose in Sweden, the most ballistically conservative nation in the world, how could a cartridge moving the same bullets 700 fps faster not be embraced in world wide unification?
So why are we all here, Joe...
Because I love the concept of the 264 Winchester Magnum... and this big ass gun. There, I've said it out loud. And because the laws of physics, and the state of Maine, don't support the 264 Winchester Magnum's reputation, I intend to load and shoot and analyze the cartridge and record the results in concert with one of Remington's truly spiffy Sendero SF II rifles. Big gun, big scope, very fast bullets - what's not to like? Additionally, I have a couple of shop rifles in build stage and one is slated to be a sporter weight 264 Winchester Magnum so this project will help me to nail down some realistic expectations.

The Remington Model 700 Sendero SF II does nothing to disguise its purpose. Its H-S Precision tactical type stock is made of woven Kevlar and fiberglass cloth, unidirectional carbon fiber with an epoxy-based gel coat and laminating resin laid over a fiberglass reinforced polyurethane foam core. The stock is finished with a non-reflective, non-slip baked-on polyurethane finish.

At the heart of this marriage of hardware and stock is a CNS machined integral aluminum bedding block that solidly and consistently secures the barreled action. Ambidextrous palm swells, wide flat bottom forearm and excellent recoil pad make the gun comfortable to shoot from any position. The Sendero's barrel is free floating and makes no contact with the barrel channel. This is a stock design that has successfully performed in many target, tactical and long range hunting applications. It weighs only 2 lbs. 10 oz., it dampens recoil and it is virtually indestructible.
The Sendero's barreled action is all 416 stainless. The receiver is machined from solid-steel bar stock for uniformity and strength, as opposed to a cast actions, as is found in many current firearms. Remington's cylindrical receiver provides a solid bedding area in the stock for consistent shot placement. The gun's recessed bolt face locks up inside the counter-bored breech of the barrel which is surrounded by the receiver, forming a triple steel enclosure of the cartridge case head. The integral extractor is set in a groove inside the rim of the bolt face, uniformly supporting the cartridge head. It is a very strong and part of an innately accurate piece of hardware.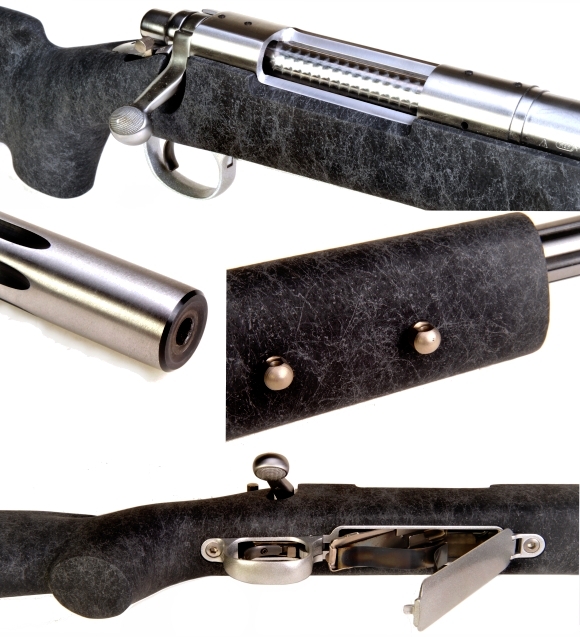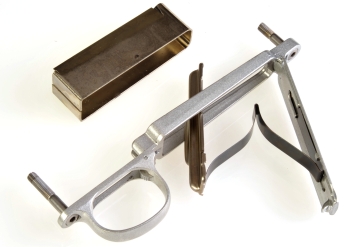 Above - the double swivel studs on the forearm allow for alternative sling mounting positions and for a sling and bipod to be concurrently attached. The Sendero's barrel begins at the receiver with a 1.25" diameter barrel that tapers to 0.815" at the muzzle and the barrel's shallow recessed target type crown. Fluting trims barrel weight while gaining barrel rigidity.
The floorplate release is at the upper, inside trigger guard loop. The bottom metal is aluminum for light weight with the exception of the magazine follower and magazine box, two parts that see a lot of metal on metal contact.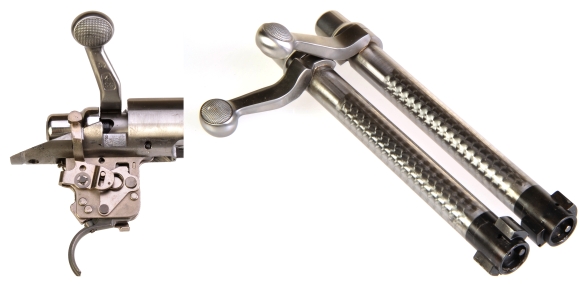 Model 700 Sendero SF II

Manufacturer
Remington Arms Company
Caliber
264 Winchester Magnum
Magazine Capacity
3
Barrel Length
26"
Twist Rate
1:9"
Weight
*8 lbs 8 oz.
Overall Length
*45 3/4"
Stock
H-S Precision composite
Pull
*13 3/4"
Drop at comb
1"
Drop at heel
1 3/8"
Non-optical sights
None
Trigger
X-Mark Pro Adjustable
MSRP
$1,451

* Actual weights and measures
The Sendero is equipped with the X-Mark Pro trigger, a very slick trigger that is externally adjustable for pull. I adjusted the trigger on this gun to 2½ Lbs. The 264 Winchester Magnum version of the Sendero is built on a long Remington action; bolts pictured above are from a .264 Winchester Magnum and 300 Remington Ultra Mag - both the same length and minor bolt face differences.
The Model 700 Sendero is a well made rifle assembled from premium parts. No injection molded plastic stock, no chrome moly as far as the eye can see and lots of quality part fitting and secondary machine operations. My personal 300 Ultra Magnum version has held up well under a lot of use and delivers excellent accuracy today, just as it did when first purchased. While it seems like a larg... ish rifle, at 8 ½ Lbs it weights the same as my Winchester Model 70 Featherweight. No, the irony didn't escape me.
Some thinking out loud... Always a dangerous thing.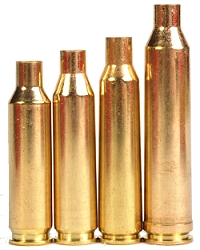 Cartridge
Cartridge overall Length
Case
Length
Grains Capacity
PSI
120 Grain MV
120 Grain ME
6.5 Creedmoor
2.825
1.920
53.5
60,000
3,010
2,415
6.5x55 Swede
3.150
2.165
57.0
55,000
2,822
2,123
260 Remington
2.800
2.035
53.5
61,000
2,930
2,288
264 Win Mag
3.340
2.500
82.0
62,000
3,250
2,815
With the exception of the 6.5 Swede, which is easy to handload to a velocity higher than most factory ammo, the rest of the cartridges are within expectations. The only problem is that there is an inconsistency in factory test barrel length so the data is a little difficult to interpret from the standpoint of efficiency. The 264 Win Mag earns a 19.3 BBI which is high within this group, but lower than the perfectly acceptable .257 Weatherby that rates a 21.2 BBI. The lower capacity cartridges should lose less velocity with less barrel length.
I saw an odd note in Sierra's Edition V regarding the 264 Winchester Magnum. The passage reads that this cartridge was loaded with a is (was?) factory loaded with a bore riding bullet; the forward part of the shank ahead of the bearing surface is land rather than groove diameter. Their caution was rifles with short throats. My thought was that velocity readings might have been based on on reduced bore friction bullets. Something to think about. Powder choice should prove to be interesting as most manuals referenced older powder types.
And now...
I'm going to spend a few days working up some load data and installing an appropriate scope on the Sendero. Then I'll be back with the combination's shooting manners and performance.
The 264 Winchester Magnum... Part I
The 264 Winchester Magnum... Part II


1Winchester - R.L. Wilson
2Weatherby, The. The Gun. The Legend - Grits & Tom Gresham
3 Wildcat Cartridges Volume I - Wolf Publishing