My wife is out of state visiting family and left me to my own devices... mostly firearms, power tools and the truck. She calls me three or four times a day, wracked with the type of guilt usually attributed to an adult who has left a two year old to fend for themselves. I don't know why, all I've been doing is staying up late, watching really bad SciFi movies and eating lots of junk food. OK. She may have a point.
The Model 464™ Center Fire Lever Action Rifle was announced in January 2008 as a basic straight stocked, 30-30 WCF chambered lever action rifle. Mossberg referred to it as retro and a tribute to an American classic. Pretty savvy marketing in response to the void left by the Winchester plant closure and suspension of the Winchester Model 94's 111 year run, coupled with Marlin's preoccupation with turning lever action rifles into overweight, long barreled varmint rifles.
The initial Mossberg Model 464™ release was a plain Jane firearm; blued hardware, uncheckered beech straight stock, 20" barrel and a six shot magazine. The Model 464™ Pistol Grip variation was introduced in January 2009 as an upgraded model. It shares the slick functional parts of the initial 464™ and adds a cleanly checkered, tight grained walnut stock and a pistol grip.
Manufactured in Mossberg's ISO 9001 certified Eagle Pass, Texas manufacturing facility, the gun came out of its carton cleanly finished and without functional or aesthetic defects. In overall heft and appearance it is much less bulky than any current production Marlin Model 336 variant and certainly much better made than my New Haven built, rough cut 2x4ish Winchester Model 94 Deluxe.
The Model 464™ 41020 package includes the firearm, a gun lock, instruction manual and two pamphlets regarding safe use and safe storage of a firearm. There is also a hammer extension for use when a scope is mounted on the rifle. Wanting to shoot the gun with open sights, I did not mount a scope. However, for those who might, the Model 464™ utilizes a symmetrical two piece base; Warne's two piece Weaver type base number is M827/827.
The barrel is button rifled, the magazine is full length and there is a tang slide safety rather than a cross bolt stuck through the receiver. The specs, manual and product announcement cite a folding rear sight, however, this example is fitted with a traditional, non-folding, but fully adjustable "V" notch sight.
Details, details... details
Mossberg Model 464™

Manufacturer

Mossberg

Model

41020

Type

Lever Action

Caliber

30-30 WCF

Mag Capacity

6

Barrel Length

20.0"

Rifling

Button 1:11" 6 Groove RH

Weight

*6 lbs 10oz.

Overall Length

38.5"

Stock

Walnut, Cut Checkered

Hardware

Blued steel

Length of Pull

*14 "

Drop at comb

*1.75"

Drop at heel

*2.5"

Sights

Blade Front, Adjustable Rear

Scope

Drilled and Tapped

Trigger Pull

*6lbs. 6 oz. Non-Adj

Safety

Two Position Tang

MSRP

$535

Discount Retailers
$425

* Actual weights and measures
Marlin utilizes a 1:10" twist for their 30-30 WCF products, the Mossberg checked 1:10". Current Winchester production employs a 1:12" twist. Even the longest 170 grain bullet intended for the .30-30 WCF should stabilize with anything tighter than a 13" twist, so the 1:10" should work well and, at 30-30 WCF velocity, there would be no over rotation speed issues.
There is a good deal of drop at the comb and heel of the stock and the pull is relatively long. The Model 464™ is intended for open, rather than telescopic sights which makes this stock geometry appropriate.
The trigger pull is heavy, almost obligatory when it comes to lever guns, but it is crisp and it is a very short pull. The lever needs to be fully closed before the sear will release, which requires no more than a normal hold.
The walnut stock has a durable satin finish. Both oil and smokeless powder cleaning solvent wiped right off without leaving a shine. The barrel and magazine tube appear to have a #240 grit finish, the receiver is polished, but not to a high gloss.

Very closely following the traditional Winchester Model 94 in appearance, the Model 464™ is an angle eject type. As noted previously, the Model 464™ is manufactured Texas in an ISO 9001 certified environment. The company is unique in that it was founded by Oscar Frederick Mossberg as a family business and remains so even today... while most every other firearms company has been bought and sold a number of times over. Nice to buy firearms from a company that doesn't fly the flag of Belgium and I think Mossberg for being a provider of U.S. jobs.
A little less conversation a little more action...
While there is a general similarity between the Mossberg Model 464™ and the Winchester Model 94, they actually have numerous differences in mechanical design and in manufacturing process. Pictured below, Mossberg on top, Winchester below.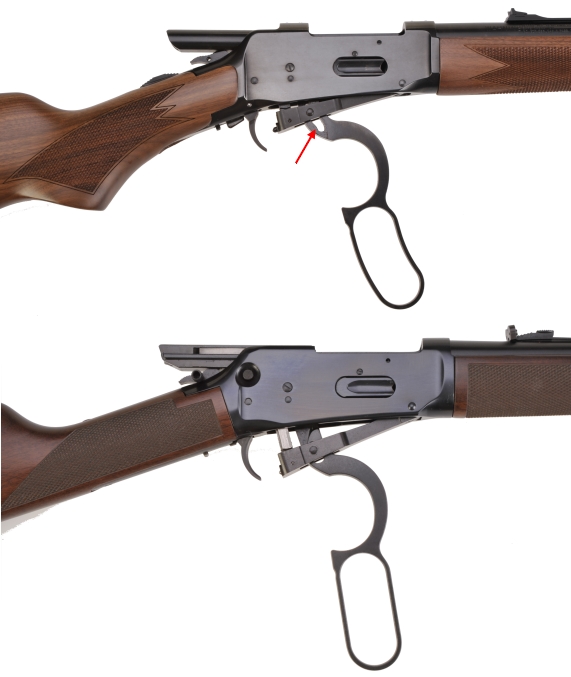 The Mossberg has a longer lever cam slot... say that three times fast, the bottom links drops less and the lever travel is no farther forward than the Winchester. The loop above is farther forward because it is shaped to follow the form of the pistol grip, not because it travels farther, yet the Mossberg action's capacity for cartridge length is greater; 2.625" for the Mossberg and 2.375". A big deal for lever guns. Both use a trigger stop (Mossberg nomenclature), tabs sticking down behind the trigger to prevent the trigger from being pulled until the lever is fully closed.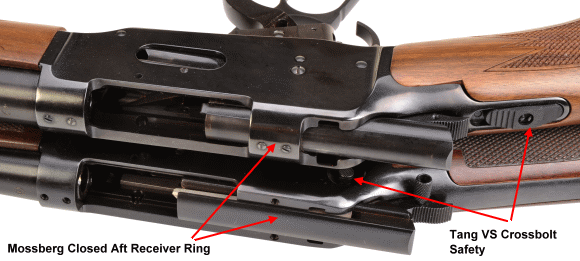 Both Winchester and Mossberg actions rely on a locking bolt, AKA falling block, to back up the bolt when the action is closed and locked and to act as a firing pin safety by physically preventing the hammer from striking the firing pin unless the lever is closed and locked. While the Winchester utilizes narrow bolt rails and matching grooved receiver to locate and guide the Model 94's bolt, the Mossberg has a cylindrical bolt that rides in matching radius cuts that run the full length of their gun's receiver. The Mossberg also has a closed aft receiver ring. The combined changes make for a stronger assembly than the Winchester and they make for much smoother operation.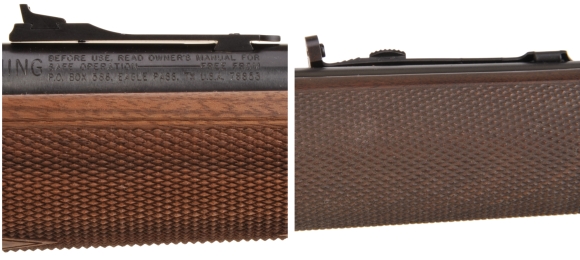 The laser cut Winchester checkering (right) has wide spaces, as large as the as the raised diamonds, and the diamond points are flat. Machine cut, the Mossberg lines are narrow and diamonds are high and tight, all formed to a crisp point. The Mossberg checkering also has a thin pattern shadow line that is a nice aesthetic touch.
I had more 30-30 WCF ammo around than I care to admit...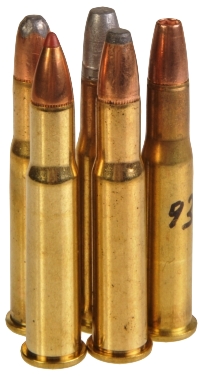 A trip to the range, which in rural Maine, means stepping out the back door of the shop, I shot three factory loads and two handloads, firing all through the Mossberg Model 464™ and through the Winchester Model 94 Deluxe, both with 20" barrels.
Cartridge
Weight
Grains
Winchester
Model 94
Mossberg
Model 464™
PMC
150
2,237
2,265
Hornady Leverevolution
168
2,299
2,323
Remington Core-Lokt
170
1,979
2,057
HL - Barnes X
150
2,194
2,237
HL - True Shot CG Cast
170
2,085
2,107
Bore finish, rifling depth, bore diameter, gas seal... I don't know and I'm not going to guess, but I do know that the Mossberg consistently clocked a higher velocity than the Winchester.
There were no problems cycling with any of this ammunition, flat tip or truncated Barnes bullet. The angle eject really popped empties to the side. A big plus - the loading gate on the Mossberg, unlike my Winchester and Marlin, didn't take a bite out of my thumb. Both my Marlin Guide Gun and Winchester Model 94 could do a guest spots on "True Blood".
Fifty yards, open sights and, yes, my less than pristine eyesight...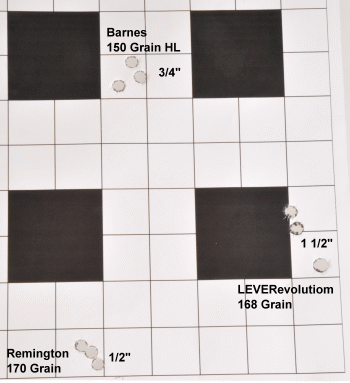 I usually try to mount a scope on a review rifle to take my eyesight out of the accuracy equation. The Mossberg shot so well without a scope that I elected to shoot it using only the traditional metallic sight arrangement and to shoot at fifty yards.
The gun was shot to record group size, not for center black. The target impact reflects typical shift caused by changes to bullet weight and velocity. I'll take ownership for that low flyer in the Hornady group. Subsequent groups shot were more in line with the others on this target.
The open front blade sight and brass bead worked fine, but a set of Williams FireSights, or similar, would be nice on a rifle destined to be shot in the woods under less than ideal lighting conditions. I know Mossberg puts these sights on some of their turkey and slug guns, so maybe... For anyone who wants the gun and can't wait for a factory change, the Mossberg takes any 3/8" dovetail standard front and rear sights, so are many types to choose from.
The trigger pull was a little heavy, but crisp, and the pull weight wasn't noticeable after a few shots. Recoil was too light to be of consequence and the rifle felt very balanced and stabile even though it is a very lightweight firearm. The stock drop was perfect for a natural eye to sight alignment and shooting even at one hundred yards from a standing position was reasonable.
Hey! Wake up! I'm almost finished
I sometimes wonder how many good products take a hit from careless and uniformed comments made on message boards. I've seen the Mossberg 464™ attributed with issues that suggest the author had never seen a Model 464™ much less actually shot one. That's a shame, because we all love firearms and we are all always looking for the next good one. Based on this first hand exposure, the Mossberg Model 464™ could very well be the woods rifle you've been looking for.
If you miss the classic lever action rifle in its fast handling 30-30 WCF form, stop whining and check out Mossberg's Model 464™, first hand, and form your own opinions.
The product's quality is first class, the derivative design is excellent and the consistency of fit and finish is that of a much more expensive firearm. Best of all, the Mossberg Model 464™ is an accurate and reliable hunting rifle at a more than fair price.