Living in Maine, prepping for winter gets to be instinctive, primal... It's like having a brain with a mind of its own. Sort of like Freddie Francis' 1962 Sci-Fi classic "The Brain". Well, not exactly like "The Brain"... more like the 1972 classic, "The Man with Two Heads". In any event, this time of year, the car gets put away and the 4x4 truck comes out. The mower head comes off the tractor and the snow blower gets installed. On the firearms front, the superfluous, gadgety guns that occupy most of my time during the summer, give way to real hunting rifles.
Being a relic, hunting season isn't about male bonding, modeling designer camo, satisfying a G.I. Joe fixation, or getting all sniper...y to hunt deer. I just dress to keep warm and dry, put a few essentials in my pockets, then go out and kill a deer. Seems to work. When it comes to a rifle, I don't need or want gimmicks, just a rock solid reliable gun with appropriate power and range. The Ruger M77 Hawkeye Standard represents just such a rifle.
Did you know that "Dis" is a pronoun in my home state of NJ?
Ruger M77 Hawkeye Standard

Manufacturer

Ruger Firearms

Model

Cat.# HM77R Mod.# 37123

Type

Bolt Action

Caliber**

7mm-08 Remington

Magazine Capacity

4

Barrel Length

22"

Rifling

1:9.5" 6 Groove RH

Weight

*7 lbs 0 oz.

Overall Length

*41.75"

Stock

Walnut

Hardware

Blued Gloss

Length of Pull

*13.50"

Drop at comb

*0.50"

Drop at heel

*0.75"

Rear Sight

Clean

Front Sight

Clean

Scope

Ruger Integral Mounts

Rings

1" Included

Trigger

LC6™ Non-Adjustable

Trigger Pull

*3 lbs.12 oz.

Safety

3 Position Thumb

MSRP

$843

$644

* Actual ** Available in 16 different chambers
The Ruger Model 77 Hawkeye Standard is a U.S. made firearm, manufactured from casting pour to assembly in New Hampshire, and serviced by the same company. With the established fact that this is a well designed and well executed product, I can say that "Made in the U.S.A." means a lot. It means Ruger, rather than being a glorified outsourcing agent like many of its competitors, maintains an investment in this country and is providing jobs to Americans, without hanging a premium price tag on firearms to cover the cost of the company's commitment.
Unlike Ruger's current 16.5" barrel Compact, or the 20" barrel of the company's earlier Ultra Light model, the Ruger M77 Hawkeye Standard has a 22" or 24" barrel, as determined by cartridge. The M77 Hawkeye Standard's slightly longer barrel means significantly improved ballistics, but without a noticeable weight increase and without diminishing handling.
Ruger seems to always find a way to combine high dollar functionality and reliability with realistic prices. The M77 has a good trigger, crisp and light, however, pull is not owner adjustable. The Ruger is controlled round feed, facilitated by a non-rotating Mauser type claw extractor. The Ruger does not have metallic sights which, in these days, is the norm. The straight cut stock keeps the muzzle down under recoil and the comb is relatively high, which works out well for its intended use with a scope. At 7 pounds even the M77 Hawkeye is much lighter than most 22" barrel firearms.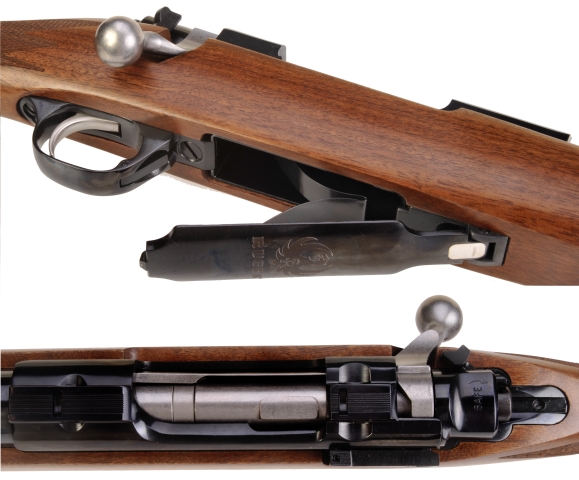 Both the three position safety and floorplate can play a role in unloading the Ruger Hawkeye. The safety is in the "Fire" position when full forward, in "Safe" mode, but with the bolt free to cycle, in the mid position and "Safe" with the bolt locked in the closed position with the safety in its aft position. The safety is placed in the mid safe position to load and the bolt can be cycled to empty the magazine. Alternatively, the rifle may be emptied by depressing the release latch recessed into the front of the trigger guard.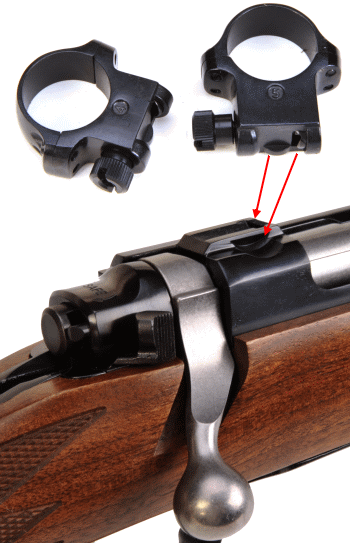 Considering that a decent set of rings and bases are priced in the $50 - $75 range, having integral scope mounts bases and getting a free set of rings is a thoughtful customer service.
1" rings are included with all M77 rifles, however, they can be swapped for 30mm rings if desired and other configurations can be purchased from the Ruger store. There are twenty two different part numbers to help optimize selection. If you're looking for an additional options, Brownells offers compatible rings made by Redfield, Ruger, Warne, Millet, and Leupold.
Ruger rings are secure to prevent movement in any direction. They are clamped into the scalloped recesses in the sides of the receiver and a center tab projecting down from each ring locks are keyed into the top of the receiver. A scope will stay put under recoil and rough handling, but it can also be quickly removed by loosening the cross slotted and knurled ring nuts.
Rings are supplied one step apart in height, with the taller ring installed in the aft location to place the scope parallel to the rifle bore's centerline.
With scope in place and lunch out of the way...
A 3-10x42mm scope went on cleanly, forming an overall appearance I can only refer to as.. spiffy. Very little adjustment was needed to laser align the scope and the installed height was just right for eye - eyepiece alignment. With a break in the overcast skies, a chronograph was set up and some targets posted to collect velocity and accuracy data.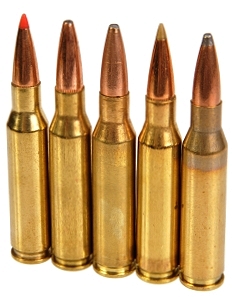 Commercial ammunition is available in bullet weights from 120 to 168 grains, however, the 7mm-08 Remington is mostly at home with 120 to 140 grain hunting ammunition. The Ruger rifling twist can easily stabilize lead core bullets through to 160 grains but sectional density, trajectory, muzzle and impact velocity and energy suggest 140 grains is the optimal bullet weight for the cartridge.
In context, the ever popular .243 Winchester tops out at 105 grains and the flat shooting 25-06 Remington extends bullet weight to 120 grains. The 7mm-08 Remington's 140 grain bullet gives a nice power bump without moving up to one of the long action 7mm cartridges.
Ammunition is readily available and mostly inexpensive, although the price range for twenty rounds can run from $17 to $56 for the exotic. Any ammunition in the range will deliver good hunting ammunition, the more expensive will get you much fancier boxes and nifty names.
Ammunition

Bullet
Grains

Listed
MV
Listed
ME
Actual
MV
Actual
ME
Typical
$/20
Privi Partizan PSP
140
2854
2537
2721
2302
$17
Remington AccuTip
140
2860
2542
2864
2551
$39
Remington Core-Lokt
140
2860
2542
2862
2547
$30
Federal Fusion
140
2850
2525
2866
2554
$28
Hornady Superformance
139
2950
2686
2905
2605
$30
Nosler Custom AccuBond
140
2825
2481
*
*
$56
Over the Chronograph, factory ammunition performed well, generally exceeding manufacturers' published velocity specification. Hornady came in slightly low, Privi came in more significantly so, but a quick look showed that Privi utilizes a 610mm, 24" barrel, which would easily account for the difference. While Hornady generally lists test barrel length, they do not for this cartridge.
The 7mm-08 Remington isn't a barrel scorching, wiz bang, mega magnum, but it is a necked down, hot rodded .308 Winchester derivative. Much the round's exceptional down range performance can be attributed to the 7mm bullet's relatively high sectional density and high ballistic coefficient bullets. From our Real Guns™ Exterior Ballistics Calculator -
Indices
7mm-08 Remington 139 Grain Superformance - Range 0-500 yds
Range -yds
0
100
200
300
400
500
Velocity - ft./sec.
2905
2677
2460
2254
2059
1874
Energy - ft.-lbs.
2604
2212
1868
1568
1308
1084
Path - in.
-1.5
2.6
1.9
-4.5
-17.9
-39.4
Near Zero Yds.

26

Midrange - Yds.

137

Far Zero Yds.
242
Max Ordinate - in.
+3.0
Point Blank Yds.
283
Using a 6" kill zone, the 7mm-08 Remington is a 283 yard point blank cartridge, but 400 yards is doable and there is enough retained velocity to make this an excellent choice for long range shooting. That's getting a lot from a 22" barrel and a lightweight sporter Ruger Hawkeye. By the same token, the round's moderate high velocity makes it an excellent woodland round where bullets will stay together even during close in impact.
Easy shooting rifle

Granted, these are the best groups shot for each respective brand, but nothing else strayed very far from these results. Groups were shot from a cradle rest with a 10x scope. Recoil and muzzle blast were minimal... coming from a guy who shoots a lot of large magnum rifles. I'd say both are on the order of a .30-30WCF, less than a .308 Winchester, more than a .243 Winchester.
So what is left to say?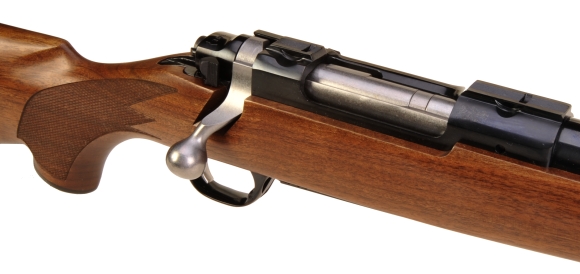 With first hand experience, the Ruger M77 Hawkeye Standard remains as initially defined, a hunting rifle. Perfect for Maine, excellent for whitetail, excellent for black bear and moose. I'd also take it hog and deer hunting in Texas in a more open environment. The M77 Hawkeye Standard is not the kind of gun that gets traded on Gun Broker when the "new" wears off. It is more the type of gun that lasts a long time, proudly wearing the nicks and scratches of generations of use... like me. Nice gun.