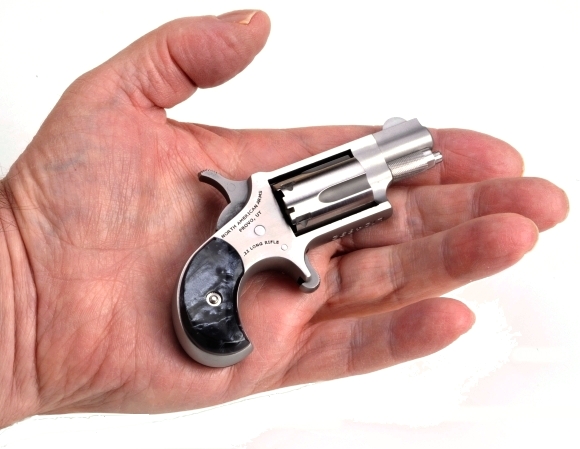 Some time ago, I was watching a TV episode of Swamp People. An alligator hunter named Bruce Mitchell lost his balance, fell out of his flat bottom boat and onto the back of a substantial size gator. Mitchell, apparently unfazed by the circumstance, pulled a North American Arms mini revolver out of the top pocket of his bib coveralls and dispatched the gator with a single shot. It wasn't the lethality of the mini revolver that got my attention, as
gator hunters typically put an alligator down with a single 22 rimfire shot to its tiny walnut size brain, but the fact that a seasoned hunter like Mitchell would elect to carry this little gun and then use it so handily in such a dire situation was impressive.
North American Arms Mini Revolver

Manufacturer

North American Arms

Model #

NAA-22LR

Type

Single Action Revolver

Caliber

.22 LR

Capacity

5

Barrel Length

1.125"

Twist Rate

1:8"

Weight

*4.6 oz

Overall Length

4.00"

Overall Height
2.375"

Grips

Black Pearlite

Hardware

Stainless Steel

Sights

Blade/Notch

Sight Radius
1.87"

Trigger Pull

*4 lbs. 3 oz.

Safety

**Safety Slot

MSRP

$215 Special Edition

* Actual weights and measures
**Hammer rests in slot between chambers
I've handled a number of mini size guns over the years and only three out of many have ever seen the light of day on Real Guns™; two with positive reviews, one with a deserved horrendous review, the others returned to manufacturers without public comment. Unfortunately, even the two guns that were positively reviewed, were cheap in price, materials and labor and the end results were products that could only marginally serve as a last resort firearm. Sort of like buying a backup parachute because it's on sale. Comments regarding poor quality of materials and/or labor do not apply to the North American Arms mini revolver. Overall, the mini revolver is a well made little gun.
Fit and Finish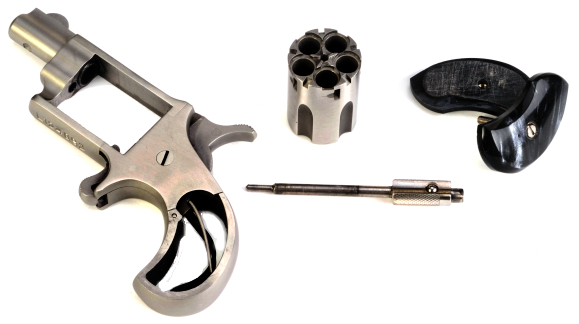 The North American Arms 22 LR Mini Revolver is made of stainless steel, major components, frame and cylinder are machined precision castings. Outside surfaces are nicely finished, very much on par with more expensive firearms from major manufacturers. The less obvious surface are generally also very good, not perfect, but acceptable on balance.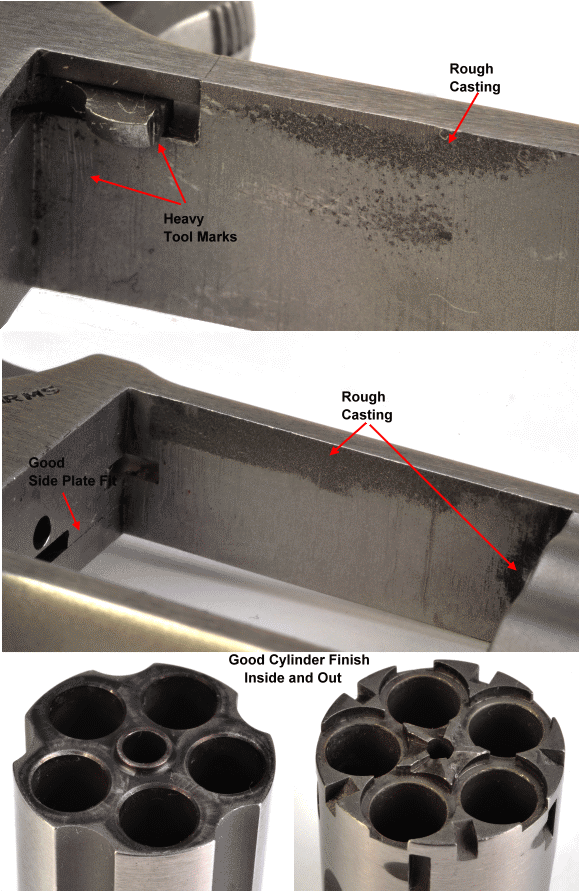 The notations point out aesthetic and not functional issues. The gun's lock work was clean, its movement was crisp and consistent. The bore was not so exciting. I am not sure if the rifling is cast in or finished in a secondary operation, but the gun's bore was rough and uneven. One side of the rifling was barely visible at the muzzle while the lands and grooves on the other side were distinct. The bore leaded very quickly after a few shots, a sign of a rough surfaces.
Function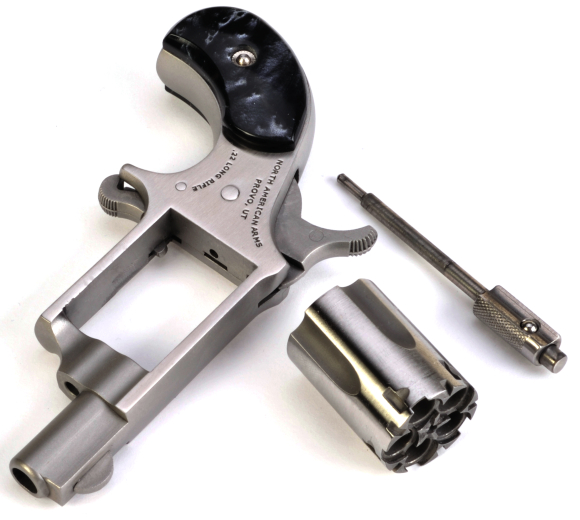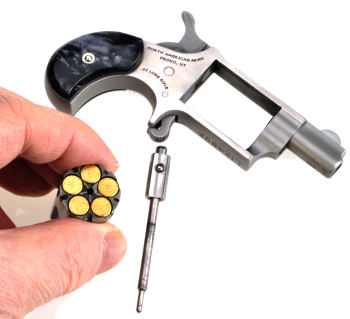 The gun's cylinder is removed to load and unload the chambers. The instructions indicate that with the hammer at half cock, the button at the front of the cylinder pin is depressed to release the detent ball embedded in the pin, then the cylinder pin is removed. The cylinder can than be removed or installed from either side, although I found it easier to roll the cylinder in and out from the right side.
Removal and installation of the cylinder pin during the first loading was tough; parts were tight and it took some juggling to get everything lined up. After firing one full cylinder, the gun came apart and reassembled easily, but nothing shot loose and cylinder timing and gap remained appropriately tight.
The North American Arms mini revolver has an interesting safety function. Instead of having to rely on one empty chamber to dead head the hammer and prevent accidental discharge, the hammer blade is lowered into one of the safety slots that reside between chambers. Properly placed in the safe position, the cylinder is locked down against rotation, the hammer blade is contained, allowing all of the chambers to be safely utilized.
The manual suggests trying to put the gun into a safe configuration with an empty firearm until comfortable with the process. I know I was filled with trepidation the first time I tried this feature. Like everything else about this little revolver, a couple of times at bat and each feature is easy to use. The rear of the cylinder should look as it does to the left when the safety is engaged.
I'd like to say "Pictured, left, is the mini revolver in full size", but that would depend on the monitor it is being viewed on. The point is that the gun is very small, which means the grip surfaces are small. No matter how many times I handled the revolver, it required care to keep fingers away from the trigger while setting the safety or cocking the hammer. When shooting the gun, there just isn't much to grab onto and overcoming the gun's 4+ pound trigger pull required a good deal of concentration if a bullet was going to actually hit a target.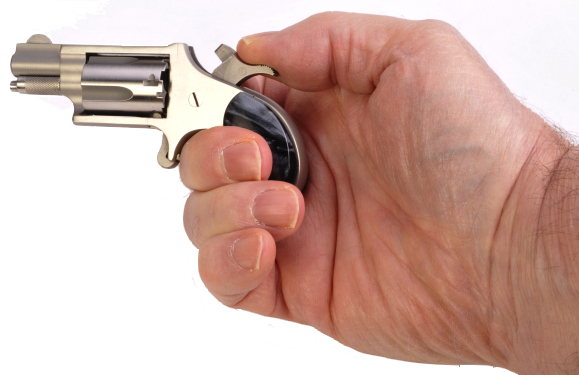 What penetrates 2" of slick paper catalog?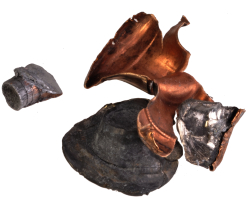 Ironically, both a CCI Mini Mag 22 LR 40 grain bullet fired from the North American Arms mini revolver and a 250 grain Hornady Jacketed hollow point fired from a 6.5" barrel Model 25 S&W penetrated to the same depth. The 22 LR projectile traveling 772 fps, compared to the ammunition's rated 1,335 fps. The Colt muzzle velocity was 768 fps.
The 22 LR slug barely expanded and held onto most of its weight. The 45 Colt slug shed its jacket, and mushroomed to 0.850" while retaining most of its weight. The mini revolver would not compare with the 45 Colt in terms of damage done, but no one, including North American Arms, would make that assertion.
The North American Arms revolver was not difficult to shoot, just awkward to shoot. The first couple of shots missed a large coffee can at ten feet, but after sorting out sight positions and alignments it was pretty easy to keep shots in a couple of inches at that range. The revolver wasn't unpleasant in report or recoil, it just kept getting lost in my hand and I had to constantly check myself to make sure I didn't extend a finger past the cylinder gap or near the muzzle to avoid powder burns. Again, not difficult, just different and related to the gun's small size and not the quality of the product.
Backup or novelty?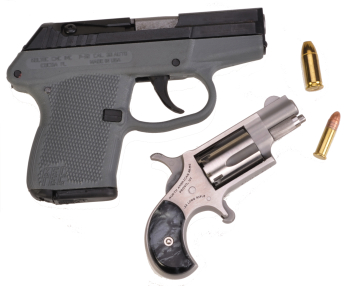 The philosophy put forth by North American Arms is that their mini revolver would serve as a gun of last resort or, in paraphrase, "It's better than being unarmed". Maybe, but I wouldn't want to invite a shootout by presenting this firearm. For use as a primary carry firearm? No, not at all. Under powered, no sights, hard to reload... nothing there.
How about back up or a tackle box gun? The Kel-Tek .32 ACP is better suited to the task. The Kel-Tek may be a little taller and longer, it is much thinner and easy to conceal. With hollow point bullets, the little 32 ACP can do a lot of damage and it is intuitive in handling and shooting.
For enthusiasts and collectors, the North American Arm mini revolver is interesting and there are lots of ancillary products sold in support or personalization of the mini revolver. For entertainment? Absolutely. The gun is fun to shoot, everyone enjoyed it and it was quite reliable in operation. North American Arms mini-revolver - decent quality, especially for the price. Great little gun for collecting and recreational shooting. Self defense value? There are too many better, bigger, choices without all of the compromises.