The old adage, "The the most powerful handguns are still only the equivalent of an anemic centerfire rifle" clearly doesn't apply in this instance, I had been using a short barrel version of the Super Redhawk, the Alaskan, around the shop for tree stump removal. In fact, I'd still be using it today, but the muzzle blast kept starting the squirrels on fire.
This is a project I'd been looking forward to for some time. The truncated Alaskan would surely make a good choice for a defensive gun in bear country, but the gun's short barrel left a lot of the 454 Casull's velocity on the table... yes, right there next to my truck keys. In any event, and I wanted to see how much of a performance bump the Super Redhawk would get by moving up to a 7.50" barrel Standard from the Alaskan's 2.50" barrel and to figure out if I would feel confident carrying the longer barrel version as a primary hunting firearm.
The Super Redhawk Standard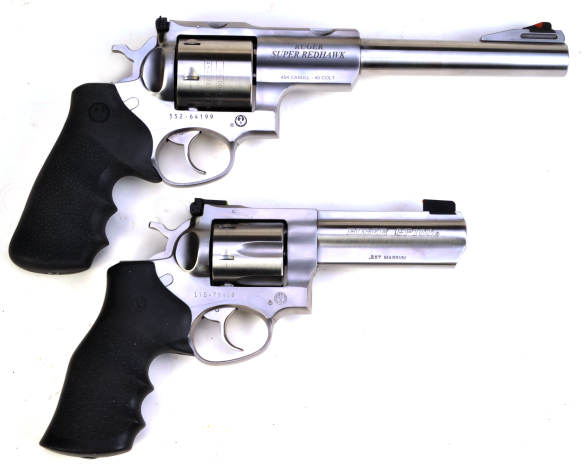 Manufacturer

Sturm Ruger & Company
Model
5505 - Super Redhawk Standard
Introduced
1986
Caliber
*.454 Casull & .45 Colt
Action
Double / Single
Hardware
Stainless Steel
Grips
Hogue Monogrip
Capacity
6
Barrel Length
7.50"
Twist
1:24 RH
Sights - Rear
Micro Adjustable W & E
Sights - Front
Interchangeable Blade
Sight Radius
9.25"
Overall Length
13.00"
Overall Height
6.25"
Weight
53 ounces
Trigger Pull
12 lbs Dbl / 5 Lbs 11 Oz. Single
MSRP
$1049

*Available in .44 Mag with 7.5" and 9.5" barrels
The Super Redhawk is a product of evolution. Not so much a Redhawk evolution, as much as a GP100 evolution. The Super Redhawk has a much enlarged and extended version of the GP100 mono grip frame, a scaled up version of the GP 100 trigger mechanism and a common cylinder/crane triple locking system.
The Redhawk, introduced in 1979, did influence the Super Redhawk's design in at least in one respect. There was a low incidence problem with early Redhawk production where barrel shanks cracked as a result of stress corrosion; ductile material subjected to stresses in a high temperature and chemically corrosive environment. The Redhawk problem was traced to the type of lubricant that was then being applied to barrel threads during assembly and it immediately went away when the lubricant was changed, but the new Super Redhawk still received the reinforcement of an extended frame as added assurance. The extension also moved the gun's scope mounts entirely to the gun's frame.(1) One of Ruger's traits I've always appreciated is it's conservative engineering driven product development. Form follows function, the results are often quite elegant and aesthetically pleasing.
Massive is such a relative term...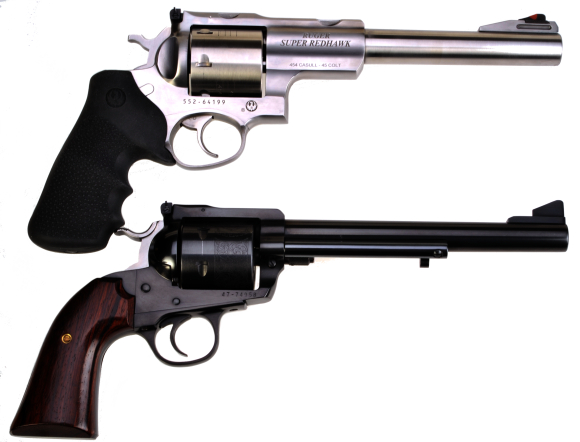 Every once in a while I'll see a writer describe the Redhawk as "massive" which I don't believe is an appropriate adjective. Overall, the Super Redhawk is actually a relatively compact revolver. It is larger than a Blackhawk in the frame, but actually smaller in overall envelope. In the world of double action revolvers, the Super Redhawk is a full one and one quarter pounds lighter than a Smith & Wesson X Frame hunter's model like the Model 460XVR™. The Super Redhawk is robust where appropriate, but compact overall and there is no side plate to weaken its structure.
Modularly modern...
There is little chance of the Super Redhawk becoming a shoebox gun. Shoebox gun? That's one of those complicated, high piece part count, non-modular firearms that come apart easily, but can never be reassembled again. Too embarrassed to take it to a gunsmith, the pieces go in a shoebox for future (read that as "never") disposition. The Super Redhawk is very easy to disassemble and assemble for cleaning.
The grip comes off, the mainspring and strut are pulled, the hammer pivot and hammer are removed, the entire trigger guard assembly is unlatched and pulled out and the cylinder is removed by sliding it forward. The only tools required are a common screw driver to remove the grip screw and the little disassembly pin that comes with the gun and is used to hold the mainspring in a compressed state so it can be removed and installed in the frame. Ten minutes to take the gun down and to reassemble and I'm slow and dexterity challenged. Ruger provides detailed instructions in the gun's manual.
There are only two areas of disassembly and reassembly of note when working on the Super Redhawk. The trigger guard and trigger guard lock plunger need to be fully in place upon reassembly. If the plunger is not fully extended, the hammer will travel, but will not cock and gun will not be functional.
The pawl pivots within the trigger assembly and is preloaded to the forward position with a small pawl plunger and pawl plunger spring. If the trigger is depressed when the trigger guard assembly is out of the gun, the pawl can separate from the trigger and launch the plunger and spring someplace close by, yet incredibly hard to find. Follow the manual which says don't disassemble beyond removing the trigger guard assembly and don't pull the trigger while tipping the assembly to its right side.
A cartridge in search of a cannon carriage
How does a relatively short revolver cartridge get so fast? Basically, by stoking the boiler. Yes, I know that metaphor is only valid for crusty old guys. How about... "You crank up the volume". The 45 Colt maximum average pressure is 14,000 PSI. Originally called the 454 Magnum Revolver by Dick Casull and Jack Fulmer in 1957, the cartridges creators(2), the 454 Casull tops out at 65,000 PSI(3) , a pressure level that puts most centerfire rifle cartridges to shame.
Range 0-150 yds - Factory Ammo

Range

0
50
100
150
Cor Bon
265 Grain
ft./sec.
1800
1552
1340
1173
Cor Bon
265 Grain
ft.-lbs.
1906
1418
1057
810
Hornady
240 Grain
ft/sec
1900
1678
1480
1307
Hornady
240 Grain
ft.-lbs.
1923
1500
1166
911
Hornady
300 Grain
ft/sec
1650
1478
1326
1200
Hornady
300 Grain
ft.-lbs.
1813
1455
1171
959
The more I worked with the Super Redhawk, the more I realized it would be a good Maine woods substitute for my favorite 1895 .45-70 Gov't Guide Gun, for all of the reasons I selected a guide gun in the first place. I'd get to progress from a compact gun that is 37 inches long and weighs 7 pounds to one that is only 13" long and weighs a little over 3 pounds. Throw in a hunting holster and I'd be able to hike with both hands free so I could maybe avoid losing my footing while climbing... and tumbling down a hill until I end up breaking through the ice of a fast moving stream, soaking wet, bruised from rocks and branches, with the temperature hovering at -22°F... as an example.
A cure for five MOA eyes...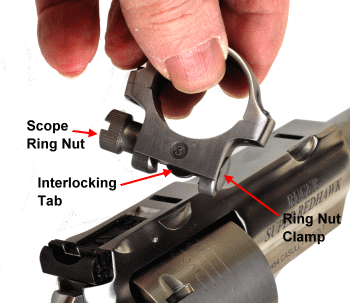 I rarely use firearms with metallic sights anymore. I suppose I would if I could figure out how to hang my reading glasses on them, but using a scope seems a better strategy. Ruger makes mounting a scope in the Super Redhawk an easy process.
As with their other firearms intended for scope use, Ruger packs a set of ring with the Super Redhawk for use with their proprietary integral mount system. Again, another touch of Ruger engineering. The ring clamps to the scalloped recesses in the side of the gun's frame and the interlocking tab keys the ring to the gun preventing any fore and aft scope movement under the most significant recoil.
Once the scope and rings are assembled to the Redhawk, the large knurled scope ring nut on each ring can be loosed to remove the scope as an assembly when necessary without, in my own experience, losing zero. In use, I've never shot a Ruger firearm, even those chambered for big and dangerous game rifle cartridges, that could budge this scope mounting system.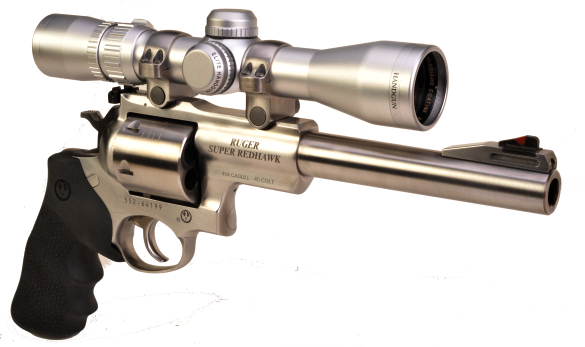 A Bushnell 2-6x32 Elite Handgun Scope was installed on the Super Redhawk, using the included 1" rings, which ended up being a more than good looking combination. Stainless guns look good with either black or silver scopes, but I think this one works particularly well. More so, this is an appropriate scope to match up with the Super Redhawk's 454 Casull ballistics.
There are only three competitive handgun scope manufacturers in my view, Burris, Bushnell and Leupold. There are lots of second and third tier suppliers, but within that group the price to pay is reduced eye relief, less than optimal lens quality, excessive weight, narrow field of view, and less than premium construction. In researching the choice for the Super Redhawk, the Bushnell easily out spec'd the Leupold and it did so at a much lower price. The Burris product had a slight edge in field of view, but lost out on size, weight and
diminished eye relief. The scope was also priced higher than the Bushnell unit.
| | |
| --- | --- |
| Bushnell Model | EH2632 |
| Finish | Silver |
| Magnification | 2-6x |
| Objective Lens | 32mm |
| Reticle Type | Multi-X |
| FOV @100 yds | 14' 2x - 4.5' 6x |
| Weight Oz | 10.0 Oz |
| Length - Inches | 9.5" |
| Eye Relief Inches | 20.0" |
| Exit Pupil (mm) | 16 - 5.1mm |
| Click Adj @100 yds | .25" |
| Adj Range @100yds | 70.0" |
| Mounting Length | 4.0" |
| MSRP | $478 |
| Typical Price | $299 |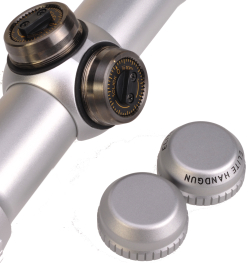 The Bushnell 2-6x32mm Elite has 20" of constant eye relief which provided assurance the scope would keep the recoiling Super Redhawk away from my noggin. A noble cause. In fact, the Elite was specifically tested to survive the 454 Casull. This model has a one piece aluminum tube which means reduced mass in motion under recoil, less weight pulling the gun upward and less stress on the Redhawk.
The scope's Multi-X Reticle is easy to get on target, but provides an unobstructed view of the target. The scope is argon purged, the lenses are RainGuard HD treated to prevent fogging even in the rain. The Ultra Wide Band Coating is applied to every lens element in the system to assure color correctness and max light transmission. Bottom line, the scope is 100% waterproof, fogproof and shockproof and it carries a Lifetime Limited Warranty
Click increments are accurate and track uniformly to adjustment. Adjustment is crisp and there is plenty of tactile feedback to keep track of each increment. The caps are aluminum, not plastic and the little o ring seals around the adjusters are a nice touch. The image is sharp, contrast excellent and everything remain as received throughout the project.
Live fire... to put it mildly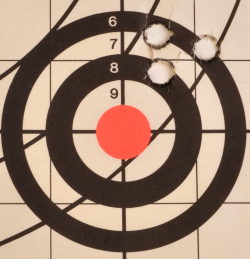 Groups were shot from a cradle rest as 25 yards because I thought the distance was a fair assessment of the gun, scope and ammunition as a combination, devoid of the influence of my underdeveloped longer range handgun shooting skills.
Ammunition
Bullet
Grains
Rated
FPS
Actual
FPS
Group
Size
Hornady JHP
240
1900
1909
0.8
MagTech FMC FP
260
1800
1814
1.3
Winchester PTHP
260
1800
1789
0.7
Federal
300
1520
1525
0.7
Buffalo Bore
360
1425
1396
1.0

Three Shot Groups 25 Yards - Inches
The best group came from the Winchester ammo as pictured, however, it is difficult for me to say if this was the result of less recoil or the accuracy potential of the combination. The Winchester also shot a sub 2" group at 50 yards, which is pretty respectable. Both MagTech and Buffalo Bore shot just at 2.5" at 50 yards. All of this is more than enough accuracy for any type of medium and big game hunting. I believe the gun can do better, so I am going to rack up some more range time and reshoot groups to see if there is a measureable difference.
I did shoot the Ruger Super Redhawk with and without the Bushnell scope. The group size at 25 yards was about double the size of the groups shot with the scope and 50 yard groups blossomed to 4"- 5" which is about all my eyesight can deliver. Ruger metallic sights, however, are excellent for their purpose and I use them on all of my defensive guns for shooting between 7 yard 25 yards.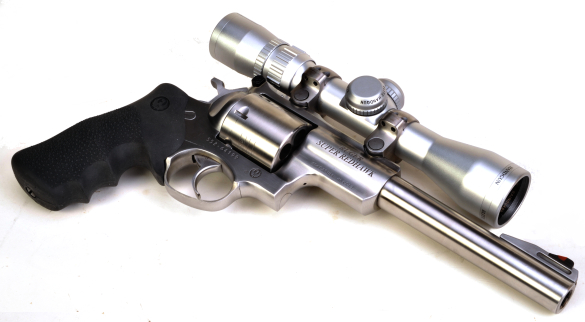 I could easily leave a long gun at home for a woods hunting trip for all of the reasons noted earlier. The accuracy of the Super Redhawk is excellent and will only get better with more shooting time. The personality of the gun, in concert with the 454 Casull is not casual. A lot of concentration is required to shoot the combination well, but for any shooter willing to make the effort, the gun can really deliver. For a hunting firearm, the Super Redhawk is an excellent piece of equipment. For frequent target practice, there is a lot of low velocity, low cost 45 Colt ammo that would allow working on accuracy without dealing with hunting handgun recoil. The Ruger Super Redhawk is as impressive as it is unique. Nice gun.
Ruger's Super Redhawk 454 Casull Part I
Ruger's Super Redhawk 454 Casull Part II

(1) R.L Wilson, "Ruger & His Guns". (2) "Cartridges of the World No. 12" (3) "Speer Reloading Manual #14"