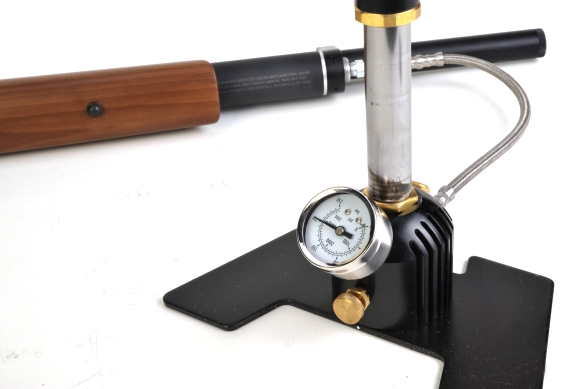 The hand pump was easy to set up and detach when completed, but it is a workout which probably drives the demand for spring - piston guns that only require a barrel break to charge. But then spring - piston guns are limited to single shot and that is a significant disadvantage for recreational use. I suspect I would end up with a tank and compressor if I were more actively engaged in this type of air rifle use.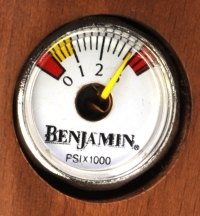 It was easy to stay on top of pressure levels and to pressurize to proper level with the gun's embed gauge. With factory tune, the gun produced a measured 845 fps and it held approximately this level through the first eight shot magazine. After the next eight shots, pressure dropped to 2,000 PSI and velocity ended at 779 fps; actually good velocity for a 25 caliber with 28 grains of pellet weight.
A little tinkering with adjustments yielded 905 fps at a full 3,000 PSI charge, but sixteen shots later, pressure was just below 2,000 PSI and velocity was 770 fps; greater gas consumption. Through all of it the gun was remarkably quiet, much of this the result of pellets firing at subsonic velocity. Nice break after just wrapping up a 375 H&H based project.

From a handling perspective, the gun is comfortable, feeling not unlike a varmint rifle in the firearm world. It's a heavy rifle. I'd like to point to areas like the ambidextrous cheek piece and very wide forearm as the greatest contributing factor, but the stock with trigger guard only accounts for 3 lbs 3 oz. It take a bit of steel to contain 3,000 PSI of pressure and some pretty solid metering systems to reliably and consistently.
The scope is well made and nicely finished, perhaps more in an optical multiplication range more suitable for a flat shooting centerfire rifle, particularly with a Mil Dot reticle, but it is difficult to fault a manufacturer for putting too good of an accessory on a rifle. Image was bright, contrast good, no noticeable flare. Adjustments were positive and uniform in increment, things stayed put and the mount system is... robust. Parallax and power rings have smooth adjustment, elevation and windage have 1/4" @ 100 yard clicks. Eye relief could have been a bit longer as I found myself crawling up the stock a bit to get a good centered look. A three inch lens shade is included with the scope.
Trigger pull was good from an air rifle perspective, springy feel from a firearm perspective and a bit long. Again, in the world of upper end air rifles, very good. The safety is positive and, as is the tradition, located within the trigger guard and just ahead of a cocked trigger. The bolt stroke and lift felt like a well made 22 long rifle bolt action gun. The magazines feed without fault and were easy to load and change out as required.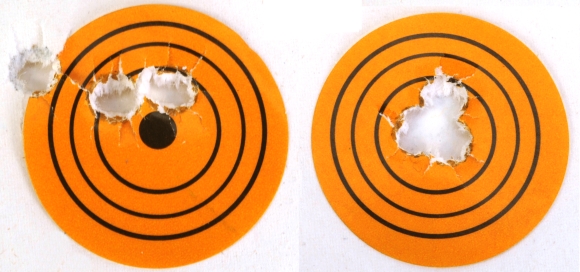 Outer black ring is 1" in diameter, groups shot at 33 feet, both three shots. The first group, left, represents the fifth through seventh shots out of the gun, the second group represents shots fourteen, fifteen and sixteen. Both were shot from a rest with the difference coming from me getting comfortable with the trigger feel and the scope's position. The small group is less than 3/8".
Before I drift into the rest of the NFL post season play...