Ah yes, a little more snow in the land of the plow trucks. About five years ago my wife and I purchased a garden tractor in an effort to be more self sufficient. Besides cultivating and lawn care attachments, we picked up a four foot wide snow blower that is driven by the tractor's twenty-six horse power engine, a set of hundred pound wheel weights, a two hundred pound hitch weight and a set of chains for the rear tires. While my neighbors are habitually trying to figure out how to dispose of the mountains of snow created by plow trucks after a few snowfalls, I'm still spending only twenty minutes clearing a three hundred foot drive and walkways, tossing snow forty to fifty feet into the woods so there is no mountainous snow build up.
I didn't attend Shot this year. I can read about what's new, in great detail, from the deluge of email press releases I receive from manufacturers and distributors, then personally assess each that is of interest to me. I am more concerned with what works, and what works has nothing to do with obsessing over new and mostly redundant gadgets.
Browning's Takedown Hunting Rifle
Browning BLR Lightweight Takedown

Manufacturer

Miroku Japan

UPC #

023614255321

Type

Lever Action

Caliber

*325 WSM

Mag Capacity

3

Barrel Length

22"

Rifling

1:10"

Weight

**6 lbs 15 oz.

Overall Length

42"

Stock

Walnut - Gloss

Hardware

Gloss Blue

Length of Pull

**13.75"

Drop at comb

**1.0"

Drop at heel

**1.0"

Rear Sight

Adjustable - W&E

Front
Ramped - Bead

Scope

***Drilled and Taped

Trigger Pull

**4 lbs. 9 oz. Non-Adj

Safety

Half Cock - Folded Hammer

MSRP

$1,179

Discount Retail
$819

* Available in sixteen different chambers
** Actual weights and measures
*** Receiver and barrel tapped for mounts.
My first experience with the BLR was in 1980. It was my wife's choice for a pending hog hunt and the gun remains in like-new condition today. She liked the speed of a lever gun, the detachable magazine that would allow pointed bullets, and the strength of the action that easily handled 60,000 PSI of 243 Winchester pressure. Finally, she liked the rifle because it was exceptionally accurate. The current BLR offers even more.
The subject gun is a takedown model, nice for transporting, and it is chambered for the 325 WSM, a powerful 8mm short magnum that, in 200 grain factory loads, stays even with the .338 Winchester Magnum, covering just about any game in North America. The current BLR Takedown model offers enhanced function over early BLR production.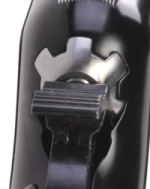 The BLR, and the straight grip '81 version, are offered in a wide range of high performance standard and magnum centerfire chambers and in two action lengths. Short: 223 Rem, 22-250 Rem, 243 Win, 7mm-08 Rem, 308 Win and 358 Win. Long: 270 Win, 30-06 Springfield, 7mm Rem Mag, 300 Win Mag, 300 WSM, 270 WSM, 7mm WSM, 450 Marlin, and 325 WSM.
The BLR looks a bit like a traditional lever action rifle, but it functions more like a bolt action rifle. This model's bolt is a six tooth parallel key spline that rides in grooves inside the gun's aircraft aluminum alloy receiver. The splines keep the bolt solidly aligned with the bore centerline and a rotating six lug bolt head engages lugs in the gun's barrel extension for a solid lock up. The bolt head encloses a cartridge's case head and it keeps the breech face perpendicular to the bore.
Rack and pinion...
For some reason, gun owners seem to get queasy when the conversation turns to disassembly of the BLR. The reason for the apprehension, I'd guess, is related to the absence of readily available factory disassembly documentation and the caution by the factory not to disassemble to gun. Then there is the fact that the design is so distinctly different from other lever guns. As a "complexity based on parts count" issue, the Marlin Model 336 has sixty seven hardware pieces that go into its barreled action, in comparison to seventy four for the Browning, with the higher piece part count attributed to Browning's rotating bolt assembly, not in the lever actuation system.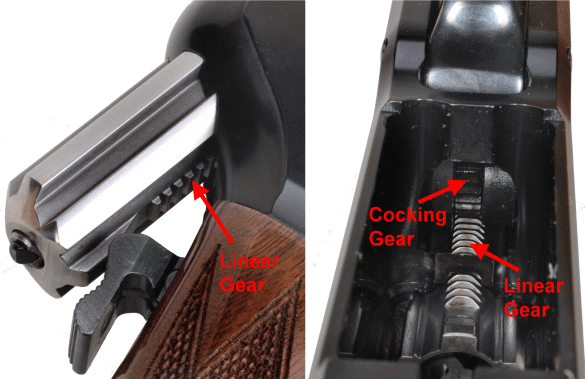 Above left, splined bolt with linear (rack) gear on the bottom side. Above right, the cocking gear engaging the bolt as seen through magazine well. Unlike a traditional lever action rifle where the nose of a pivoting lever actuates the gun's bolt, the Browning BLR is actuated by a rack and pinion system. Motion of the gun's lever drives a pinion gear set, which drives a linear gear located on the bolt. As a result, rotating motion of the gun's lever is converted into the bolt's linear motion.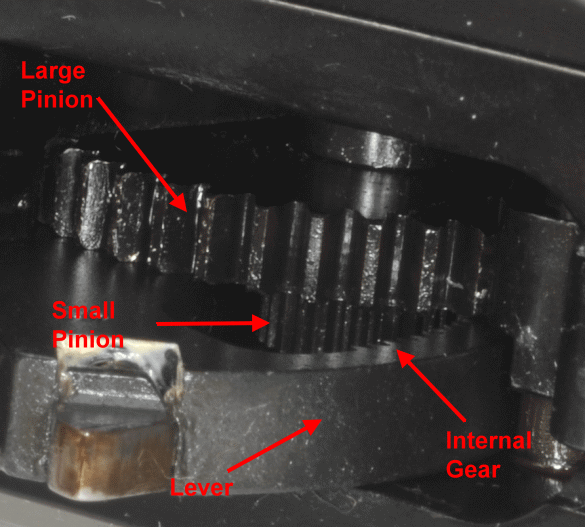 Opening the lever and looking into the bottom of the receiver, we can see the portion of the lever that fits into the receiver has a set of teeth that forms a shallow radius internal gear. The lever's internal gear drives the small diameter pinion on cocking gear which, in turn, drives the large pinion, which moves the gun's bolt in and out of battery. Lever throw is short and required effort is kept low. Mechanically the system is tight, precise and provides substantial mechanical advantage.
How well does all of this bolt rotating and gear ratcheting hold up? The traditional heavy hitting lever action rifles like the Model 71 Winchester are typically chambered for the 348 WCF, or one of the Alaskan cartridge derivatives. The 1895 Marlin is chambered for the modern load version of the .45-70 or 450 Marlin. The .348 WCF and Alaskan cartridges are maximum rated for approximately 46,000 PSI. Hot .45-70 ammunition, 40,000 PSI and the .450 Marlin, 47,000 PSI. All pressures generally regarded as the limit for safe and reliable operation for Winchester and Marlin lever action rifles. The 325 WSM, the subject rifle's chamber, has a maximum pressure of just under 64,000 PSI which serves as an indication of the BLR's superior strength.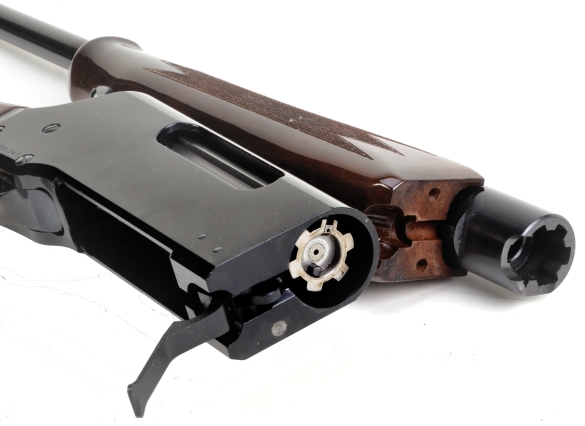 Because the bolt locks up in the barrel and not in the receiver, the BLR is a very accurate firearm and the design of the take down function is greatly simplified. No interrupted screw connection or headspacing lock nuts, just the simple pull down of a lever that tucks into a recess in the gun's forearm and the barrel can be pulled from the receiver. Taken down, we have a high power centerfire rifle that can fits into a 23"x9"x2" space for shipping or back packing and it can be reassembled, without tools, in a handful of seconds.

Pretty, but not vacuous...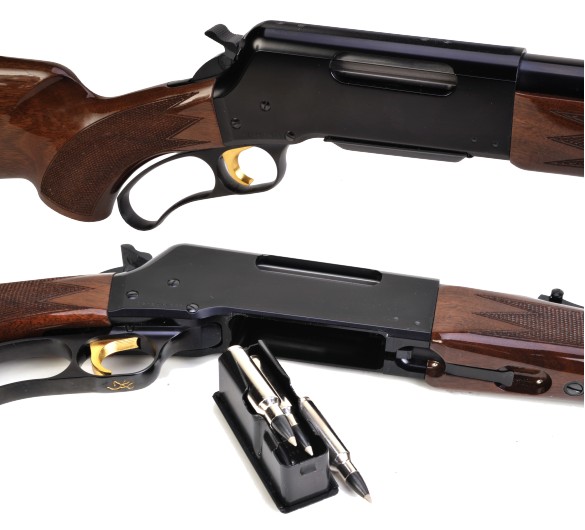 I am not a fan of glossy, but I'd be lying if I said I didn't think this rifle possessed a high level of aesthetic appeal. Fit and finish is excellent, everything that is suppose to ratchet, click and snap does exactly that and it does so with confidence. The removable magazine holds three rounds, so a four round capacity with one in the chamber. If you need more than that for a big game hunt, you might want to consider golf. Feed and extraction are low effort and reliable.

The Browning is hand filling. When picking it up and holding it in a shooting position, the gun is muzzle steady and weight balanced, but the gun is light. With the magazine in place the Browning BLR is sealed up tight with no openings into the action to collect dirt and debris. In fact, with the exception of a minimal but adequate ejection port, the gun is sealed top, sides and bottom.

A 325 WSM personality...
A rifle is just so much hardware until the chamber is disclosed. Then it has a definable personality. A BLR Lightweight Takedown, with 20" barrel and chambered for the 223 Remington, might be viewed as a handy camp rifle. With a 22" barrel and chambered for the 325 WSM, the gun becomes a big game rifle that can competently and confidently fit a number of serious applications.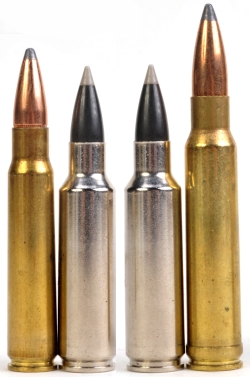 The 325 WSM is not a minor or mediocre cartridge. Often compared to the .338 Winchester Magnum, it is an 8mm round and should be compared to the 8x57 Mauser for proper context as both share .323" diameter bullets. The table below represents typical commercially loaded ammunition, Nosler Custom.
Cartridge
Bullet
Dia. "
Bullet
Grains
MV
fps
ME
ft/lbs
8x57 Mauser
.323
200
2475
2720
325 WSM
.323
200
2900
3634
338 Win Mag
.338
200
2950
3864
Everyone has an opinion regarding suitability of a round for certain types of game, but I tend to go with the source that carries the most liability for expressing an opinion; in this case, Winchester. They place the 8x57 Mauser as a deer and black bear cartridge, the 325 WSM as an elk, moose and brown bear round and the same for the .338 Winchester Magnum. However, if Bullwinkle or angry bears are not menu objectives, the 325 WSM can be loaded with low recoil, lighter weight bullets in the 100 - 180 grain range and used for hunting everything from coyotes to deer.
Conclusions... without all the jumping
OK, I'm going to stop before I hurt myself from adjective overload and do something useful... like mount a scope on the BLR and work up some 325 WSM handloads to shoot a long side some factory ammo. I'll be back shortly with some live fire reports and some bottom line performance assessment.
Browning's Lightweight BLR Takedown Part 1
Browning's Lightweight BLR Takedown Part 2