In days gone by, if someone were to ask me what the difference was between the people who deer hunt and those who shoot skeet and/or trap, my response would have been, "A six figure disposable income and an appreciation for golf." But then I've always had a blue collar mentality, even after my blue collar days were somewhat behind me. Today, skeet, trap and sporting clays are for everyone. They are all fun, challenging, accessible, and affordable sports. Two of Remington's firearms intended for just such applications combine fancy with reasonable price.
The Model 1100 series went into production in 1963 with approximately twenty-three variations of competition and hunting firearms within the series. Today there are six configurations offered in: .410 bore and 28, 20 and 12 gauges with actions tuned for target loads. Subsequently, all twelve gauge guns have 2 ¾" chambers, including the TAC 4 tactical shotgun.
Heavy hitting for hunting, waterfowl magnum loads through slug guns for deer and bear, has been covered by several generations of Remington's adjustable gas system shotgun, which is now the Model 11-87 and more recent Versa Max® 12 gauge products.
Remington Model 1100™
Manufacturer
Remington
Model
Classic Trap
Sporting Series
Type
Autoloader
Autoloader
Construction
Blued - Walnut
Blued - Walnut
Gauge*
12 2¾"
Magazine Capacity
4
Barrel Length
30"
28"
Choke
Interchangeable
Bead Sights
Mid Steel - Front Ivory
Overall Length
49
50½
Weight
8 Lbs 4 Oz
8 lbs
Pull Length
14 ½"
MSRP
$1270
$1211

* Also available in 20, 28 gauge and .410 Bore
As fancy graded factory stocks go, neither the Classic Trap or Sporting Series models are disappointing. Grain and figure are quite pronounced, with good contrast and clear, uniform finish. Metal work is bright, and consistent in finish; satin receiver sides, beaded top, gloss barrel.
A few Classic Trap additions and differences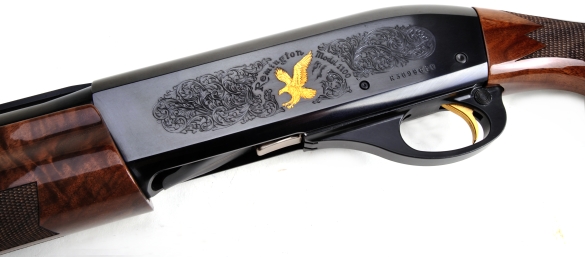 The left side of the Classic Trap receiver is embellished with a golden eagle and scroll work that does not appear on the Sporting Series gun. It is tastefully done production machine work. The Sporting Series model has plain receiver sides.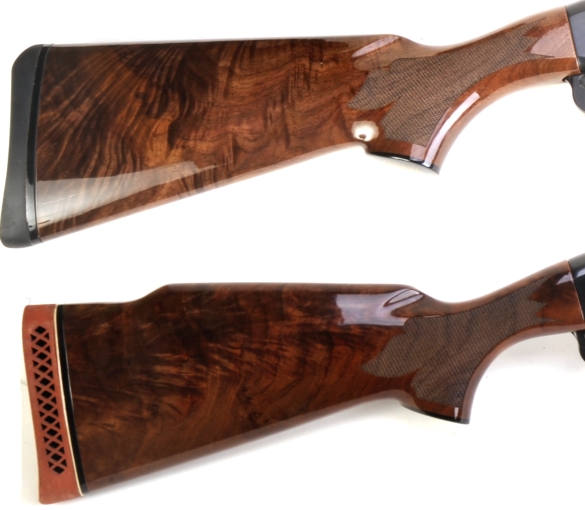 Both stocks have a slender cross section, tight radius pistol grips and 14 ½" pull length. The Classic Trap, bottom above, has a 1 7/16" drop at the comb and 2" drop at the heel. The Sporting Series gun has no Monte Carlo and is a straight 1 ½" drop at the comb and heel. The Classic Trap conforms to that sport's tradition of virtually total left hand control of the gun and the need to establish a tight triangle of support that connects the shooter's cheek, hand and shoulder. The Sporting Series gun is configured more appropriately for sporting clays. Monte Carlo-less shooters don't have to do without the other fancy touches found on the Classic Trap, they can get a straight stock and embellishments with the Premier Sporting Series gun.
Setting up lighting, I noticed the heights of lights are determined by my reach and ability to make adjustments. Which means if I were taller, I'd be a much better photographer.
All choked up... I know, too cheap and too easy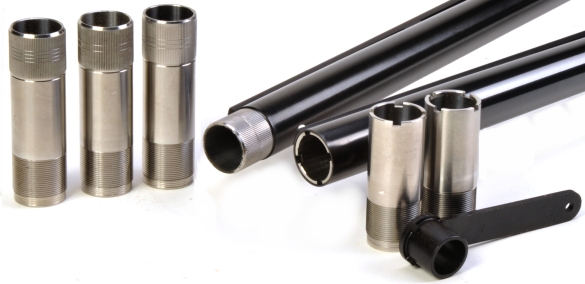 The choke system for each gun is different, The Classic Trap in the foreground is supplied with Rem Chokes and a choke tube speed wrench; singles, long handicap and mid handicap choke tubes included. The Sporting Series gun is supplied with extended Briley chokes that do not require a wrench for changing. Skeet, modified, light modified, and improved chokes are included. Again, an application sport distinction.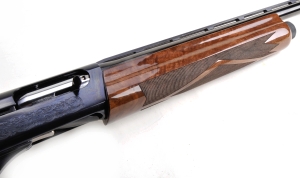 Both guns are fast and intuitive to shoot. With just about any variety of 2¾" ammunition, recoil is soft as a contribution of action type, gun weight and ammo.
In today's market where premium guns typically command an equally premium price, both guns are a good value. If there was one change I'd like to see, it would be Remington moving away from the high gloss stock and metal finishes and shifting toward something more elegant with a satin wood and metal finish. Nice guns.