The 303 British round and No.5 Mk1 carbine as a combination are a lot of fun and exhibit virtually none of the shortfalls or negative behavior parroted or portrayed on the Internet. With pressure levels at or below 49,000 psi, cartridge cases didn't measurably stretch, the little rifle did not have vicious recoil and muzzle blast and there was no evidence of a wandering zero or acrobatic, tumbling bullets on the verge of being banned in the Hague... or even the Häagen-Dazs. By the same token, the 303 British did not demonstrate exceptional performance; eight hundred yards on the gun's rear aperture sight mostly demonstrates that the British have a sense of humor.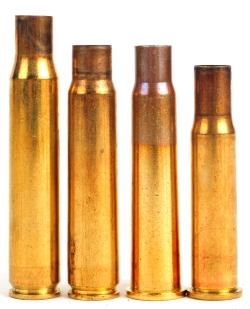 The 303 British dates to 1888 and, with its nominal fifty-six grain capacity, it is very similar to the 30-40 Krag. In fact, 303 British cases can be made by running a 30-40 Krag case through a 303 British full length die and trimming the resulting case to 303 British length1. The 303 British, with the same capacity as the 308 Winchester, isn't ballistically limited by its capacity as much as it is by its maximum operating pressure; 49,000 PSI for the 303 British Vs 62,000 PSI for the 308 Winchester.
For the sake of case size comparison L-R: 30-06 Springfield, 8x57mm Mauser, 303 British, and 30-30 WCF. The 303 British originated as a black powder round intended for use in machine guns in use by the British and their allies2 and made their way into Enfield rifles with both cordite and smokeless propellants.
Lots more bullets than the 8x56R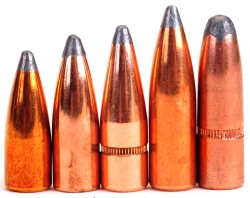 While not a 0.308" bullet, 0.311" bullets for the 303 British are in decent supply. A quick scan of Graf & Sons shows stock for: 123, 125, 150, 174, 180, and 200 grain bullets with construction suitable for anything from varmints to elk.
For this project I selected 125 grain Sierra, 150 grain Speer, 150 grain Hornady, 180 grain Sierra, and 180 grain Remington - all popular bullets and readily available. While the Remington Core-Lokt looks a little less than streamline, at 303 British velocity, barn door like ballistic coefficients aren't much of a detriment.
Nothing out of the ordinary was required. Working with Graf's brass, sizing was routine. All cases were trimmed to 2.222" and deburred as bullet cannelures were used for crimping. Headspacing was to the rim. Pressure was kept at or sub 49,000 in deference to the lightened No5 Mk1 action. There is little to gain by pushing this cartridge. There was no measureable or visible case stretch, however, pressure expanded cases to fifty-seven and one-half grains which was enough to adjust load data to as it appears below. So all of the data is for once fired brass in our example of a carbine.

Warning: Bullet selections are specific, and loads are not valid with substitutions of different bullets of the same weight. Variations in bullet material and length will alter net case capacity, pressure and velocity results. Primer selection is specific and primer types are not interchangeable. These data represents maximum loads in our firearms and test equipment and may easily be excessive in other applications. All loads should be reduced by 3%, and developed following safe handloading practices as represented in established reloading manuals produced by component manufacturers. Presentation of these loads does not constitute a solicitation for their use, nor a recommendation.

Cartridge: 303 British

Firearm: No.5 MK1 Jungle Carbine
Max COL: 3.075"
Bullet Diameter: 0.311"
Primer: CCI 200
Barrel: 19.7"
Reloading Dies: Lee Precision
Max case length: 2.222"
Group: Distance 50 yards - Three shots

Military Metallic Sights - Loads Kept Within SAAMI 49,000 MAX PSI
COL and Capacity
Load Data & Performance
Bullet Type
Bullet
Weight
C.O.L.
Inches
Net
Grains
Water
Powder
Charge
Grains
Muzzle
Velocity
FPS
Muzzle
Energy
Ft/Lbs
Group
Size"
Sierra
125
2.900
51.4
Re17
51.0
2798
2173
2.2
Sierra
125
2.900
51.4
Benchmark
44.0
2822
2210
1.9
Sierra
125
2.900
51.4
H414
53.0
2637
1930
2.6
Hornady SP
150
2.992
50.3
Re17
48.0
2588
2231
2.0
Hornady SP
150
2.992
50.3
BL-C2
47.0
2597
2246
2.5
Hornady SP
150
2.992
50.3
Win760
50.0
2640
2322
3.1
Speer
150
3.040
52.2
Re17
50.0
2724
2472
2.7
Speer
150
3.040
52.2
Varget
46.0
2639
2320
2.6
Speer
150
3.040
52.2
H414
51.0
2645
2329
2.7
Sierra
180
3.075
49.6
Re17
46.0
2583
2667
2.9
Sierra
180
3.075
49.6
BL-C2
44.5
2455
2410
2.7
Sierra
180
3.075
49.6
IMR3031
40.0
2479
2456
2.4
Remington
180
2.952
48.6
H414
47.5
2473
2444
2.1
Remington
180
2.952
48.6
IMR 3031
40.0
2441
2382
2.8
Remington
180
2.952
48.6
RS Big Game
45.5
2418
2338
2.5
Rifle's accuracy was better than my eyesight
Conclusions
Europeans have used the 303 British round in many types of firearms, including double barrel, and in pursuit of large and dangerous game. Only in America have we relegated the 7mm Remington Magnum to the task of squirrel hunting. The 303 British will stay within a hundred feet per second of the 308 Winchester cartridge in concert with short barreled woods rifles... which brings us to the No.5 Mk1 carbine with its eighteen and one half inch barrel. I'd love to take this gun hog or deer hunting in these North Eastern woods. The carbine is light, fast and accurate and the folded down large aperture peep sight is quick to get on target and track moving game. Maybe this fall I'll get to see for certain. Interesting combination with a lot of personality and utility.
1 Handloader's Manual of Cartridge Conversion - Donnelly
2 A History of Firearms - Carman