It is interesting to find a company with a sixty-six year operating history that projects such a modern and progressive image. Perhaps the company's start with new, high velocity cartridges, or marketing taglines such as "Tomorrow's Rifles Today" always stood in contrast to the more typical stodgy industry participants.
The Vanguard was added to the Weatherby product line circa 1970 and became a pivotal product. While the Vanguard was introduced under Roy Weatherby's stewardship, it appears to have been managed and developed into a successful product line under the leadership of Ed Weatherby1. The Vanguard came to represent a change in business and product philosophy; flashy, ultra high performance works of art versus quality, more practical hunting rifles.
The Vanguard is manufactured by Howa Machinery Ltd. Japan, an arrangement that has been in place since the product's 1970 introduction. Howa has, at some points in time, also manufactured the Weatherby Mark V and Mark XXII. Manufacturing technology and facilities are so specialized and so capital intensive, that centralized manufacturing has become the industry norm. The Vanguard is still produced to Weatherby quality standards and specifications, which means fit, finish and appearance are distinctly Weatherby.
The Vanguard® Series 2 product line, introduced in October 2011, is comprised of thirteen standard configurations, beginning with the $599 Synthetic, pictured left, and ending with the $1,099 Range Certified models. Within that price range are carbines, walnut stocks, different barrel contours, and youth and scoped models. The Vanguard may also be ordered as a custom product through certified Weatherby dealers. Regardless the price or model, all Vanguard Series 2 firearms carry a Sub MOA accuracy guarantee.
Vanguard® Series 2 models are available in a number of chambers to fit virtually every application: .223 Remington, .22-250 Remington, .240 Weatherby Magnum, 243 Winchester, .25-06 Remington, .270 Winchester, 7mm-08 Remington, .308 Winchester, .30-06 Springfield, .257 Weatherby Magnum, .270 WSM, 7mm Remington Magnum, .300 Winchester Magnum, .300 WSM, .300 Weatherby Magnum, and .338 Winchester Magnum. Barrel lengths vary from 20" to 24" and in contour, dependent upon model and chamber.
The rifle that serves as the basis for all that follows is a Vanguard® Series 2 Synthetic with an optional detachable magazine and chambered for the 30-06 Springfield.
We prefer the term "Frugal"...
Weatherby Vanguard Series 2

Model
Synthetic DBM
Caliber
30-06 Springfield
Magazine Capacity
3*
Stock
Griptonite® Synthetic
Hardware
Matte Blued Steel
Barrel Length
24"
Twist Rate
1:10"
Weight
7.25 lbs**
Overall Length
44 1/2"
Pull
*13 5/8"
Drop at comb
*5/8"
Drop at heel
*1"
Sights
None
Trigger Type
Two Stage Adjustable
Trigger Pull - Received
3 lbs. 8 oz.
MSRP
$599
Typical Retail
Mid - High $400+

* 3+1 with detachable magazine or 5+1
with hinged floorplate. ** Actual

Maine is a great state for hunting deer, black bear, moose (If you can live with a moose lottery), and assorted and sundry varmints. It is a state that can get extremely cold and wet and is populated with hunters who want, and will negotiate for, quality reliable equipment at the lowest possible price. The Synthetic version of the Vanguard Series 2 seems to be a good fit for Maine, especially when chambered for the 30-06 Springfield, one of the best all around hunting cartridges.
The Vanguard Series 2 Synthetic is a good looking rifle. Bead blasted matte hardware and synthetic stock finish give the gun a look of substance. There are no reflective or slick surfaces, pistol grip and forearm inserts are comfortable and provide a non-slip surface in cold and/or wet weather. The stock is fitted with sling swivel studs and a quality recoil pad. The stock geometry, while not exactly the same as the iconic Mark V, provides a hand filling angular forearm, an ideal comb height and cheekpiece rise for proper support for scoped shooting and just the right amount of drop at the heel for good recoil management.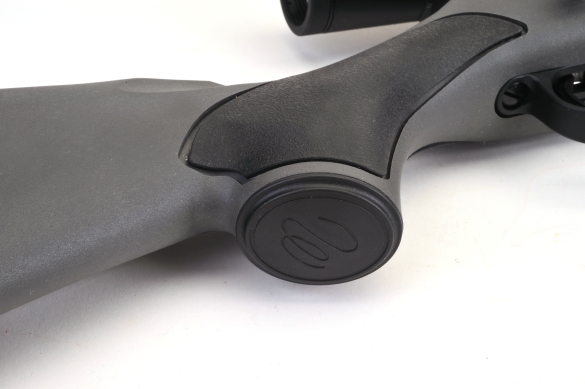 Weatherby did a good job with color selection, something that remains an unmet challenge for other manufacturers. The Weatherby has black grip area inserts and trim pieces on what I'll call a slate gray stock. Remington, as an example, has black trim also, but their synthetic stock body is an almost olive. Additionally, where Weatherby brand marks in matching colors, Remington tends to contrast mark... as though customers wouldn't otherwise remember which brand or model of gun they purchased unless the Remington logo wasn't shouting at them.
Bond. James Bond...
Being the observant kind of guy that I am, I wasn't too far into the shooting day when I realized there were no sights on the rifle. So I went ahead and installed a scope, a Minox ZA 5 2-10x40 XR-BDC, with a fine, range estimating reticle. As a combination of scope and rifle, the two went together to form the black and dark titanium firearm equivalent of a Shelby Cobra 427 S/C. Very nice. Sold by Minox USA, Minox scopes are made with optical glass from Schott in Germany and assembled in the United States. More on the Minox scope in separate coverage.

Warne Maxima mounts and Burris Xtreme Tactical bases were used to mount the scope. The Vanguard rifle takes the same base numbers as the Remington Model 700 and Howa 1500 so there are lots and lots of options. In this case the bases were selected because they are Picatinny type and have more cross slots than conventional Weaver type bases, which means more latitude in fore-aft scope positioning.
Well thought out design touches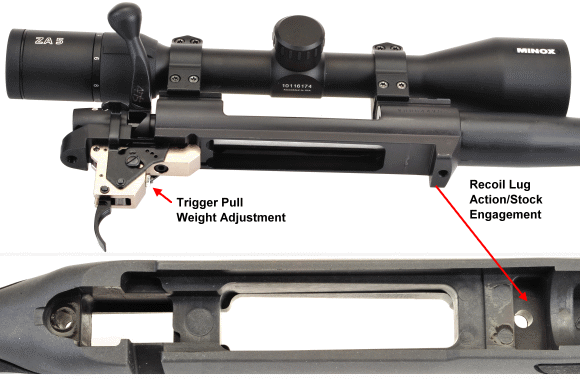 The new trigger is two stage and had a one screw adjustment to set pull weight between 2.5 and 5 lbs. The stock must be removed to perform this adjustment, but that task requires only removing two trigger guard screws. The recoil lug that is integral to the action is retained at a recess in the thick part of the stock. This puts a lot of surface area in contact with recoil absorbing surfaces and keeps the load off of the action's tang and the stock wrist; the locations where less well designed systems often show stocks' splits... and not the good kind. Grabbing the recoil up front also allows the rest of the stock length the act as a shock absorber and dampen recoil.

The firearm's angular exterior and ribbed interior make for a very rigid structure. The barrel floats with the exception of one contact point at the tip and closely follow the barrels contour for a neat appearance.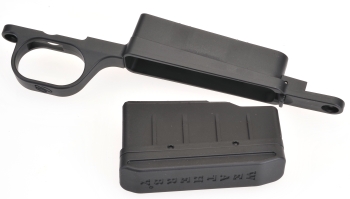 The Vanguard Series 2 Synthetic is available in a 5+1 round hinged floorplate version, as well as in a 3+1 round quick detachable magazine version, pictured. The detachable magazine is also available in kit form and can be installed on any Vanguard or Howa 1500 based firearm.
The hinged floorplate version holds more rounds and the gun can be topped off when necessary, something that can't be done with the cartridge centering magazine in place. On the other hand, the detachable magazine allows a hunter to carry preloaded magazines with a variety of ammunition types or to enjoy the quarter pound less rifle weight afforded by the detachable magazine configuration. Friends who have observed my... unique shooting and tracking skills would understand why the hinged floor plate version, with more rounds loaded, would be my preference. Still, it is nice to have a choice.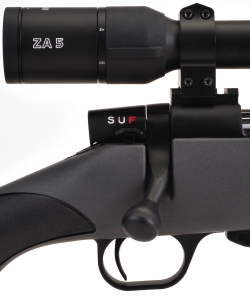 The Vanguard (left), two lug gun with a 90° bolt rotation. The Weatherby's bolt stroke is fluid, not unlike a Model 70 Winchester, and without the Mauser follower bump. Good call on the swept back bolt handle angle and scalloping as it cleared even large eyepiece scopes with only medium height rings. Subsequently, no fingers tangled in the scope and no scopes sitting a foot off the barrel. This makes a difference as the higher the rings, the more acute the angle of incidence between line of sight and path of bullet, which exaggerates scope adjustment increments.
The Vanguard's three position safety is a nice touch. The "S" position blocks the sear and locks the bolt. The "U" position blocks the sear, but allows the bolt to be cycled to empty the gun. The "F" position is pretty self explanatory and remains the best way to separate bullets from cartridge cases.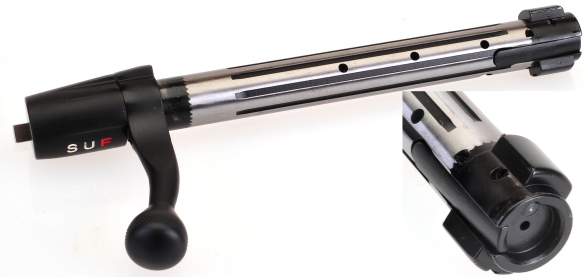 The Vanguard has a solid bolt body for the greatest columnar strength and resistance to bolt thrust. It is also fluted to reduce contact surface area for smoother cycling. The three gas ports keep hot gases away from a shooters face and hands in the event of a case rupture. The bolt face recesses into the barrel and surrounds a cartridge case head which means three rings of steel - the bolt head, the barrel and the receiver. I like the short claw extractor. It reminds me of a pivoting Sako extractor, only with more leverage and more grip.
Now that everything is back together...
Probably a good time to take a break, round up all necessary shooting supplies and get ready for a serious range session. I have to say the Weatherby Vanguard Series 2 is a lot more gun than I anticipated based on prior experience with Howa house brand firearms. The Howa guns shot really well, but that guns' fit and finish were less than exciting. The Weatherby Vanguard Series 2 product, on the other hand, is nicely executed with presented none of the negative aspects of the Howa. The Vanguard Series 2 quality is very much inline with the examples of Mark V product I have owned over the years.
Be back shortly with Part II. In the mean time, you may want to check out Weatherby Nation on the Weatherby.Com site. Weatherby nation is a Weatherby themed message board that features discussion, product information and promotional programs for Weatherby owners and other firearm enthusiasts.
Weatherby's Vanguard® Series 2 Synthetic DBM Part I
Weatherby's Vanguard® Series 2 Synthetic DBM Part II

1 Weatherby. The Man. The Gun. The Legend - Grits Gresham & Tom Gresham