Editorially, we try to publish articles that address firearms and accessories we believe would be of interest and/or value to readers. What the heck does that mean, Joe? It means, collectively, we try to cover both established and new products. It means some products we process as projects never make it to the light of day because we found that they did not represent something worth sharing with readers. It means that we sometimes don't have the time or resources to cover everything, but we try to rotate coverage to bring as much of a diversity of information to readers as possible.
Real Guns® actually has quite a bit of experience with Weatherby firearms. I shoot them quite frequently, however, it's been a while since we've featured their products. With two part Vanguard coverage recently completed and published on Real Guns, it seemed appropriate to follow through and address the company's Mark V. I have the rifle on the bench and apart, and I've taken lots of photographs. I'm not yet sure how best to present this firearm's personality, but we'll get there.
A little background music please...
In contrast to many stodgy American and European traditional sporting rifles, the Weatherby Mark V is a beautiful firearm in the best Michelangelo tradition. Its sweeping lines and unique blend of compound curves and angularity project both grace and power. The look that had once been described by more than a few conservative sportsmen of the 1940s and 1950s as exaggerated or ostentatious, has come to represent a classic high performance firearm. Actually, I believe they referred to the Weatherby as "Uppity as all get out".
Anyone who isn't familiar with the history of Weatherby rifles, the Weatherby company and its founder Roy Weatherby, would probably enjoy the product of a little research. Here's a man, who within his own lifetime, started a company, remained an integral part of every firearm and cartridge innovation and marketed and managed his business into a major success. An accomplishment that probably began with the proverbial million to one odds of succeeding, even with the presence of true entrepreneurial spirit. If you can locate a copy of Weatherby. The Man. The Gun. The Legend, By Grits and Tom Gresham, I believe you'll find compelling, interesting and entertaining stories of life, business and commercial firearm development... which should stand in contrast to what you are reading here. Yes, that is a shot at me. I had it coming.
Today, Weatherby is not the same business. Weatherby functions under evolutionary leadership and vision, bringing a broad selection of firearms, ranging from the value priced high performance Vanguard to the premium Mark Vs and onto the elegant and elaborate custom shop products to the market place, without abandoning its legacy.
So where to begin...
The rifle, pictured above and below, is an example of the company's flagship model, the Weatherby Deluxe Mark V. This one has been fitted with a Bushnell Elite 6500 2.5x16x42mm scope and chambered for the 378 Weatherby Magnum. The rifle's stock is made of AA fancy walnut. It is capped with Maplewood spaced rosewood at the forend and pistol grip, fine line checkered and fitted with a Pachmayr Decelerator recoil pad. The stock finish is gloss. The barreled action is blued alloy steel finished to a high luster and capped at the muzzle with a removable brake. The barrel has a #3 contour.
While revised, refined and uniquely configured over time, the basic proprietary Mark V action has been shipping to Weatherby customers since 1959. The Mark V addressed Weatherby's need for a more durable replacement for the variety of actions used in early Weatherby production; 1903 Springfield, P17 Enfield, military and commercial Mauser variants, Winchester Model 70, and Remington 720/721. Three years after the introduction of the nine lug Mark V, a six lug version was introduced to be used in concert with lesser intensity cartridges. Across both versions there have been a number of nuance variations in Mark V actions as an evolution of design and for special applications.
Early Mark V actions were produced by both Precision Founders, Inc. in San Leandro, California as investment cast product in California and J.P. Sauer in Germany as a forging. J.P. Sauer was also responsible for bringing hammer forged barrels to Weatherby, allowing Weatherby to lead the U.S. firearm's industry in this feature1-2. All Modern Mark V actions are made of forged, machined steel. Most recently, production of the Mark V action has been moved from Brainerd, MN to Weatherby in Paso Robles, CA.
The value of experience...
Weatherby has done a great job of hiding necessary plumbing. The result is a slick outside and no compromise on the inside when it comes to well engineered systems. Some of what Weatherby does to manage heavy recoil is subtle. Mark V stocks are fancy, but the bigger guns tend to have fancy grain on the buttstock and forearm, but straighter grain in the stock wrist area where strength to absorb recoil is essential. The stock's geometry tends to convert rearward thrust into a modest muzzle rise and the cheek piece stays away from the shooter's face.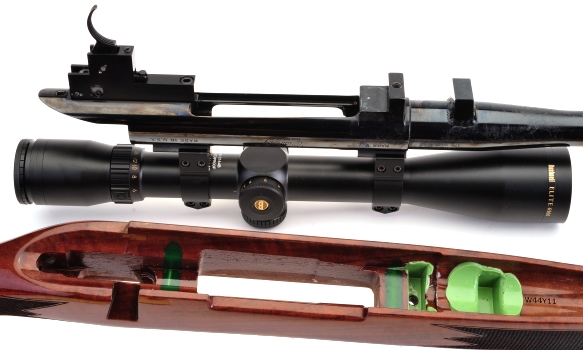 The stock is heavily reinforced to hold up to the pounding of a heavy magnum round. The barreled action has double recoil lug surfaces to spread the load over a large area. The stock is glass bed reinforced at the applicable contact surfaces. Instead of the typical cross bolts and wood plugging on the outside of the stock, there are two glass bedded stress relieving cross rods, on either end of the magazine well, embedded in the stock. The unstressed bottom metal is hard anodized aluminum and the finish matches the steel parts bluing perfectly. Guard screws for this particular combination are torqued to a very pedestrian 35 in/lbs. The barrel floats with the exception of one pressure point just that is in line with the bottom seam of the forend cap.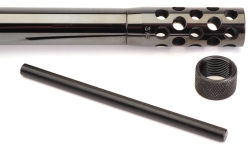 The Accubrake is compact and effective, reducing felt recoil by as much as 53%. For me, personally, it makes the difference between having to pretend I don't feel battered after working through a couple of boxes of heavy loads at the range and actually enjoying a range day with the rifle. With or without the brake, recoil is not severe enough to be an influence while hunting and it is a snap to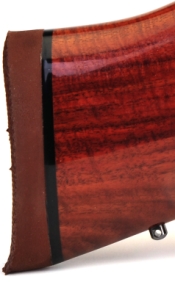 pull the brake and install the thread protector when so desired.
I shoot both the 338-378 and 416 Weatherby magnums with and without the brake in place. When we build rifles for our 358-378 RG wildcat, particularly when they are sub seven pound guns, we thread the barrels for brakes so the shooter has a choice. So what about the killer pressure waves that will set your ears to spinning and cause professional hunters to throw their clients out of Africa because of the racket guns with brakes make?... Message board experts, wiki wisdom and peer pressure mimics. Any gun with 12,000+ PSI of muzzle pressure is going to be loud, but I find tales of Weatherby muzzle blast and recoil to be highly exaggerated.
Weatherby fits Mark V rifles with Pachmayr Decelerator recoil pads. The Decelerator does a great job of absorbing recoil without looking like a big gum eraser stuck on the end of a nice rifle. I install the same type of pad on all of my rifles that have a tendency to smack me in an exceptional manner.
Obvious points of comparisons
While the Weatherby Mark V action is very strong for numerous reasons, including steel alloy selection, heat treating and mass, the issue of nine locking lugs always seems to lead the discussion. The Mark V has nine lugs that are 0.200" x 0.147" x 0.058" for a total of 0.104 square inches of lug thrust surface area. Yes, two sets of three are wider, but the increased width goes to camming, not thrust surfaces. Vanguard lug surfaces are 0.441" x 0.463" x 0.114" net of thrust side bevel surfaces for 0.050 square inches of lug thrust surface area. The twin lug Vanguard is dimensionally very close to the Remington Model 700.
The question often raised is, "Are all nine lugs in contact at the same time?" The short answer is, yes, when they need to be. There are always multiple lugs in contact when the bolt is closed over a cartridge. Where contact is not made on bolt closing, it would be under firing pressure or at least long before pressure forced any lug or lugs to exceeded their yield strength.
| | | | |
| --- | --- | --- | --- |
| Dimensions | Model 700 | Mark V | Vanguard |
| Bolt Stroke | 4.78 | 4.50 | 4.47 |
| Receiver Bore | 0.704 | .0850 | 0.691 |
| Bolt Diameter | 0.696 | .0841 | 0.678 |
The Weatherby bolt body is full diameter; the bolt body matches the outside diameter of the radially dispersed locking lugs. Bolt thrust is carried by the locking lugs, so the increase in bolt body may not be a primary factor in increased resistance to bolt thrust or action strength. The large diameter bolt, however, allows for larger diameter cartridge capacity and the increase in bearing surface makes for smoother feed and cycling. The 0.550" Ultra Mag casehead diameter is about the limit for the Remington Model 700 without resorting to a hinged extractor and associated clearance work.
Bolts, pictured, left to right, Remington Model 700 300 Ultra Mag, Weatherby Mark V 378 Weatherby Magnum, Weatherby Vanguard 30-06 Springfield. The two outside bolts have conventional opposing, twin lugs and 90° bolt lift. The Mark V has three sets of three lugs and a 54° bolt lift. The difference in lift is not a minor point, as current generations of large eyepiece scopes can often force the selection of high and extra high rings on 90° lift guns and place the scope well above rifle bore centerline. The 378 Weatherby cartridges have a 0.604" casehead and is easily handled by the Mark V action.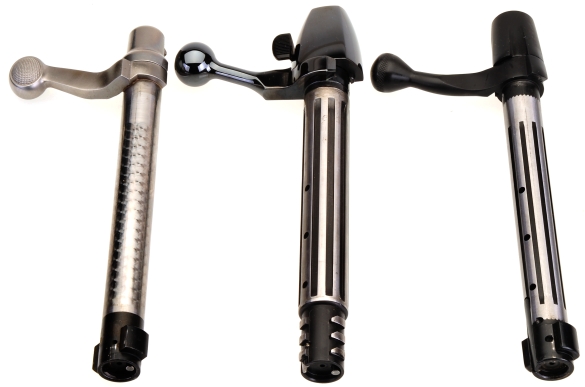 The Mark V has an integral Direct Striker Intervention Safety; the firing pin is locked, the bolt is locked in the engaged position and the sear is disengaged. All three have spring loaded, plunger ejectors. The Mark V and Vanguard have hinged extractors. The Remington extractor is a riveted spring, internal to the bolt face recess. All three promote the fact that cartridges' caseheads are surrounded by three rings of steel; recessed bolt face, the barrel chamber and the front ring of the receiver. The Weatherby products have three bolt body gas bleed holes to vent hot gases away from the shooter in the event of a blown primer or case rupture.
The 378 Weatherby Magnum Cartridge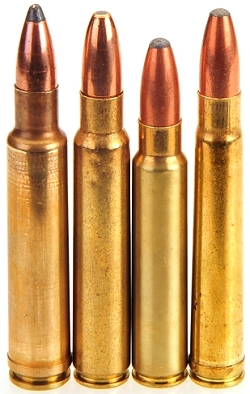 The 378 Weatherby Magnum as introduced in 1956 and is the parent case for the 30-378 (1996), 338-378 (1998), 416 (1989), and the 460 (1959) Weatherby Magnum cartridges. It is a big... no very big sporting rifle cartridge case -
Measurements

378
WM
375
UM
375
Ruger
375
H&H
C.O.L."
3.655
3.600
3.340
3.600
Case Length"
2.913
2.850
2.580
2.850
Capacity H20 Grains
132.9
114.3
100.2
92.6
Max Pressure KPSI
63.8
63.8
62.0
62.4
A further note of comparison, the beltless 416 Rigby, the case often pointed to as the basis for the .378 Weatherby, has a water capacity of 132.4. The 375 Weatherby Magnum which was replaced by the 378 Weatherby Magnum, has a capacity of 101.6 grains.
The 378 WM is intended for the large, dangerous game, however, it is also a relatively flat shooting rifle and would be a great thumper anywhere big 375s apply. At nine pounds, or ten pounds with scope as pictured above, the Mark V Deluxe is probably not a big horn sheep gun, but it might shoot flat enough to otherwise qualify for the job.
I ran these tables on the Real Gun Ballistics Calculator with a constant A Frame bullet design and popular weights for the cartridges listed. Makes for some interesting points of comparison that lead me to believe, in regard to the 378 Weatherby Magnum, that it is a pretty amazing round.
Indices

378 Weatherby Magnum 270 Grain
Range -yds
0
50
100
150
200
250
300
Velocity - ft./sec.
3100
2960
2825
2693
2564
2440
2319
Energy - ft.-lbs.
5760
5253
4782
4346
3942
3568
3224
Path - in.
-1.5
0.5
1.4
1.3
-0.0
-2.6
-6.7
Indices

300 Winchester Magnum 180 Grain
Range -yds
0
50
100
150
200
250
300
Velocity - ft./sec.
3000
2880
2764
2650
2539
2430
2325
Energy - ft.-lbs.
3597
3315
3052
2806
2575
2361
2160
Path - in.
-1.5
0.5
1.5
1.4
-0.0
-2.7
-6.9
Indices

270 Winchester 130 Grain
Range -yds
0
50
100
150
200
250
300
Velocity - ft./sec.
3200
3046
2897
2752
2612
2476
2344
Energy - ft.-lbs.
2955
2677
2422
2186
1969
1769
1586
Path - in.
-1.5
0.4
1.3
1.2
-0.0
-2.5
-6.5
The Real Guns Barrel Burner Index puts this overbore cartridge at 23.3, which doesn't mean a whole lot unless the intention is to set up shop in the middle of a prairie dog town and burn through 500 rounds through an overheated barrel. This index assignment places the big 378 10% more overbore than the 257 Weatherby Magnum and better than 40% greater than the 375 H&H. In my estimation, because this isn't the type of rifle that will see bulk ammunition volume and spend its life at the rifle range, the wear and tear is trivial compared to the performance upside.
Could be 1961...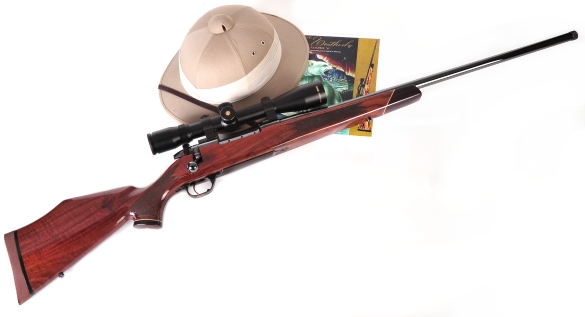 Weatherby Mark V

Model
Deluxe
Caliber
378 Weatherby Magnum
Magazine Capacity
2
Stock
AA Walnut - Rosewood
Hardware
Lustre Blue
Barrel Length
26"*
Twist Rate
1:12"
Weight
9 Lbs
Overall Length
46 5/8"
Pull
13 5/8"
Drop at comb
7/8"
Drop at heel
1 3/8"
Sights
Clean Barrel
Trigger Type
Adjustable
Trigger Pull - Received
3 lbs. 2 oz.
MSRP
$2,300
Discount Retail
$2080

*2" with Accubrake installed
Roy wasn't kidding when he taglined "Tomorrow's Rifle Today" on the cover of his 1961 catalog. I wonder if he would have believed that the Mark V would still be a prestigious and unique product in 2012? Fifty plus years into the future, the 378 Weatherby Magnum cartridge still outperforms all other commercial rounds in its original and derivative forms in 458, 416, 375, 338, and 308 calibers.
Some things have changed. At fifteen years of age, I could afford the hat and the catalog, but not the $295 rifle. Adjusted for inflation, the rifle in current dollars would be priced at $2,270. At $2,300, the price for a Mark V Deluxe chambered for the 378 Weatherby Magnum, has only increased by $30. Not much of a price to pay to realize a childhood dream. Wonder how that approach is going to play over the dinner table this evening?
In the meantime, I have a pile of sorted out brass, a lot of slow powder and some very good bullets to load. I will be back shortly with the live fire results and handload data.
The Reign of the Weatherby Mark V Part I
The Reign of the Weatherby Mark V Part II

1-2 Weatherby. The Man. The Gun. The Legend, By Grits and Tom Gresham and Tomorrow's Rifle Today, 11th Edition.