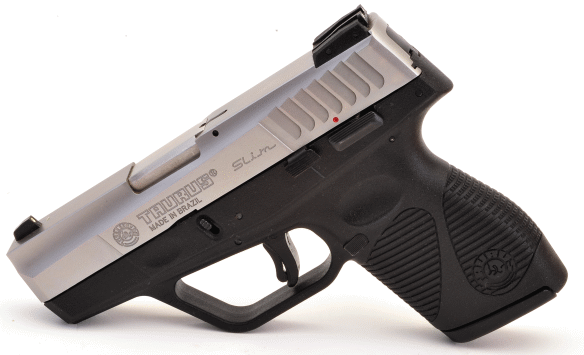 I haven't had the opportunity to look at a Taurus, close up, for some time. I believe the last was a Taurus Model SS4 44 Mag, an attractive gun and a good shooter. The PT 740 is one of the more compact guns chambered for the 40 S&W I've spent time with. Barely 0.950" at the widest point on the slide, the grip is long enough to support two fingers under the trigger guard, with the pinky under the magazine. Its empty weight, with magazine in place, is just eighteen ounces.
Comparatively squeaking...
As seen below, compared to a full size autoloader like the Glock 22, the Taurus is very compact, which serves the small gun's primary purpose, concealment. I would note that the Taurus is truly a compact handgun in that it is thin as well as small in perimeter size. In fact, the Taurus has a "Slim" model designation. Some compact, high capacity autoloaders are as thick as their full size counterparts, which hardly serves the purpose of concealment.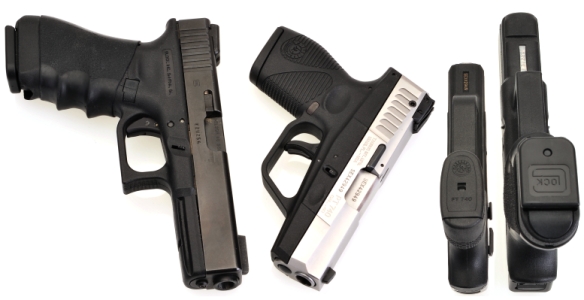 Dimension
Glock
22
Taurus
PT 740
SIG
P224
Ruger
SR40c
Size
Full
Compact
Compact
Compact
Caliber
40 S&W
40 S&W
40 S&W
40 S&W
Overall Length "
7.9
6.2
6.7
6.8
Overall Height "
5.4
4.5
4.5
4.6
Width "
1.2
0.95
1.30
1.3
Barrel Length "
4.5
3.2
3.5
3.5
Weight - Ounces
34.3
18.0
25.4
23.4
Magazine Capacity
15
6
10
15
MSRP
$599
$498
$1,125
$529
Truly compact handguns do reflect some compromise and the Taurus is no exception. Narrow grips require greater focus to manage recoil and maintain accuracy. Lesser capacity magazines mean the potential for more frequent reloading. Short barrels yield somewhat diminished exterior and terminal ballistics. However, as a balance of concealment and performance, this gun and this cartridge require only minor tradeoffs.
Inside, other than powder residue, the Taurus is as clean as outside. Modern casting techniques and clean secondary operations make for precisely held dimensions and close fitting parts. The guide rod is double sprung and permanently assembled. The barrel is ramped and polished for positive and reliable feed which means just a smidgen of unsupported case at the ramp.
The front sight blade is retained from the inside of the slide with a cross slot fastener. It is part of a simple, but effective, three dot system. The frame is durable poly with more cast than stamped parts in comparison to other brands and models of striker autoloaders. The slide bearing surfaces are comparable in size to a full size auto. There are no rattles or slop in the slide fit. The slide needs to be racked with... confidence.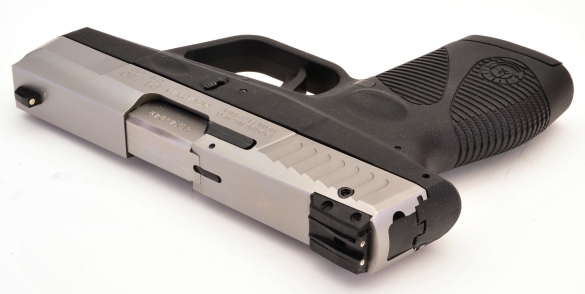 After taking this gun apart and looking at it, literally, through a magnifying glass, then reassembling it until it was covered in soot, all I can say is that it is a well made gun that functions reliably and accurately and it is backed by Taurus's unlimited life time repair policy. Details of the service policy are packaged with each firearm and appear on the Taurus website.
Bang, bang,... bang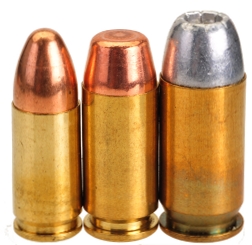 What we've got here is a relatively large 40 S&W cartridge and a relatively small gun. Pictured left to right: 9mm Luger, 40 S&W and 45 ACP. A casual look at factory ammunition yielded 132 flavors, from 25 manufacturers, covering everything from shotshells to self defense.
Buffalo Bore 40S&W +P pushed a 180 grain bullet 1,100 fps. Hornady Critical Defense 165 Grain Flex Tip ammunition clocks 1,175 fps. My personal preference is for cartridges with greater power than the 9mm Luger and, in this compact package, a tad smaller than the 45 ACP. There is a lot of good factory ammo at very reasonable prices, probably because of the volume consumed, and there are lots of good components for handloaders who like to assemble their own ammo.
For folks who like to get in range time to attain and maintain proficiency, there is Winchester 165 grain FMJ target ammo and Remington UMC 180 grain MC. Which ever most closely aligns with the personal defense ammo of choice. I did a side by side comparison between the Taurus PT 740 with its 3.2" barrel and the Glock 22 with its 4.5" barrel to see what the tradeoff was in velocity between the short and longer barrel gun. The Winchester ammo averages 1,086 fps with the Glock and 939 fps with the Taurus. The Remington ammo averages 1,072 fps with the Glock and 897 fps with the Taurus. So 100 - 150 fps difference depending on the ammunition.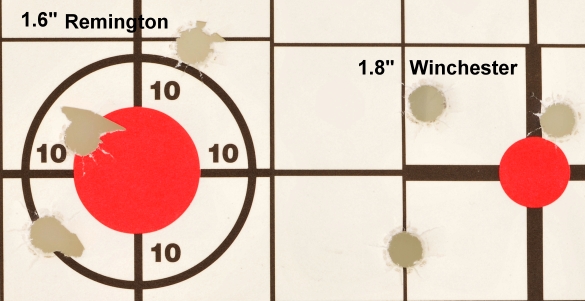 These targets were shot at 7 yards, 21 feet, from a two hand hold, with the left hand held low enough to not play slide catcher. I think this is a more than reasonable distance for this gun's typical application and I thought ease of control and degree of accuracy were very good.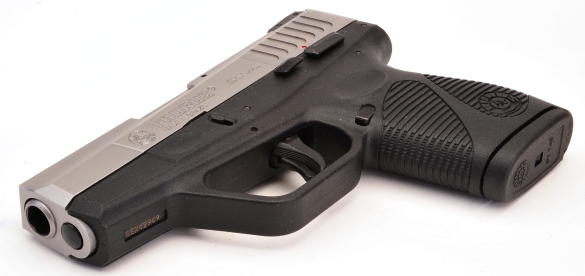 The only issue I would raise is the PT 740's single action trigger pull. The double action pull is great at a measured 6 lbs 8 ounces. The pull isn't particularly long, resistance is uniform and there is minimal creep on release. Single action trigger pull offered little resistance until the trigger was well back in the trigger guard and the trigger finger was at an odd angle. At 7 lbs even, the pull was actually heavier than the double action pull and there was significant creep just before release. As a practical matter, none of this seemed to detract from shooting accuracy, but it bumped up the need for pull concentration.
All and all, a very nice gun not only for its low price but in comparison to many compact firearms sold at much higher prices. Best bet, next time you're in your neighborhood gun store, check one out and see for yourself.