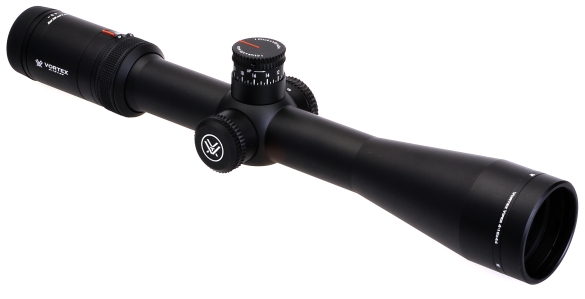 One of the obvious strengths of Vortex Optics is the company's ability to produce a really good looking scope. The Viper HS is just the right shade of black, it has just the right index marking and touches of contrasting color and just the right control feel and mechanical look to project quality and precision.
Specifics

Vortex
Viper HS LR

Country of Origin

Philippines

MSRP - Typical Retail Price

$649 - $549

Magnification range

4-16 x 44mm

Objective Bell

52mm

Objective Lens

44mm

Side Focus

50 Yds - ∞

Tube Diameter

30mm

Adjustment Increments W/E

.25/.50 MOA

Weight oz.

20.0

Length

13.7"

FOV Max - Min - Magnification

27' - 7'

Minimum Eye Relief

4.0"

Eyepiece Diameter

42mm

Exit pupil

11- 2.7 mm

Range of Adjustment W/E

75/50 MOA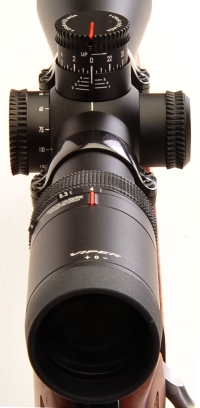 Designed in the U.S., assembled in the Philippines, The Vortex Viper HS LR provides virtually all of the features expected to be found on very high end riflescopes at a more moderate price: one piece 30mm aircraft grade aluminum tube, multi coated extra low dispersion optical glass with ArmorTek scratch resistant coating, The Viper is shock proof, water proof and fog proof.
There are a number of innovative mechanical design touches. The scope's Mag View feature angles the magnification ring index upward toward the shooter for increased visibility. The speed ring is right sized for its function. Some other manufacturer's products have a huge speed ring that forces the use of high scope rings to achieve adequate bolt handle clearance. This moves the optical centerline away from the bore centerline and sharpens the angle of incidence, which amplifies the degree of change with each click of scope adjustment. Both elevation and magnification position marking indicators are bright red light pipes and the elevation turret, with integral rotation counter, is not capped to facilitate ease of adjustment. The Viper's Customizable Rotational Stop (CRS) feature prevents dialing more than one rotation below zero so adjustment isn't lost when making large elevation corrections. Side focus adjustment is also accessible without removing a dust cap, however, all controls are "O" ring sealed.
What's a product without a few dozen acronyms...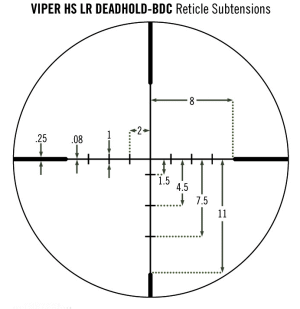 The Viper HD LR is supplied with a Deadhold-BDC Reticle, a carry over from Vortex tactical scopes. Without the MOA numbers included here for the sake of illustrating reticle tick mark delineation, the actual reticle in uncluttered, but with enough reference scale information to assist with hold over and lead decisions. For those unaccomplished fellows like myself, who like to guess, the reticle's central area appears as fine cross hairs.
Vortex refers to Deadhold-BDC as a focal plane reticle. There are two focal planes in a scope, one on either end of a scope's erector optics. By placing the reticle forward between the objective lens and erector optics, the reticle size appears proportional to the scope's magnification setting. In this arrangement, the reference increments marked on the reticle are always dimensionally correct.
A thoughtful inclusion...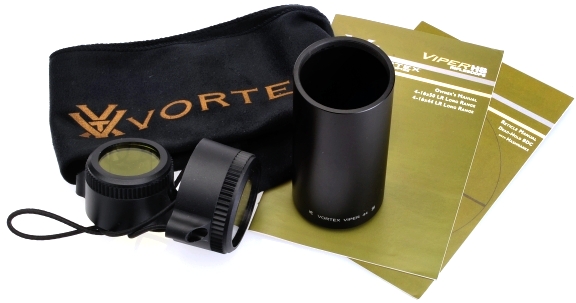 A manufacturer that doesn't try to make basic scope accessories extra cost items? I know there is nothing I like better than dropping serious money on a scope, only to find that I have to spend more money for necessary accessories. Or my other favorite, being required to go to a manufacturer's web site to the product's manual because the company wanted to save 50˘ on an instruction manual. Vortex is not guilty of this irritation. Each scope includes a wipe cloth, see through lens caps, a sunshade, and documentation. It's almost as though they want customer to get the most use and life out of their product.
I believe this is where we came in...
I mounted the Viper on a Ruger M77, chambered for the 7mm-08 Remington, and shot at ranges from fifty to two hundred yards. The optics are bright, the image is sharp and point of impact tracked to any adjustments made. I like the longish eye relief. However, for more permanent duty, I probably would have selected the Viper HS 4-16x44 Riflescope (Non-LR) that is supplied with standard capped controls and quarter MOA adjustment increment for both windage and elevation. Nice scopes. For further information product line information, check out Vortex Optics.