The Browning Hi Power is the classic firearm I always meant to buy, but never quite got around to it. With a great fondness for 1911 types and the 45 ACP, the refined Browning Hi-Power, with its European production and 9mm cartridge, seemed a bit too... European and never made it to the top of the priority list. Later, when I became preoccupied with European firearms, the Hi-Power seemed too... John Browning American. In retrospect, the Browning Hi-Power probably represents the best of both worlds.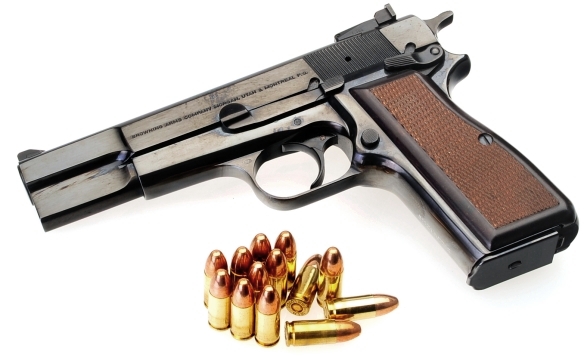 What follows is not a design review or a design performance review of the Browning Hi-Power. Originating with firearm design genius, the military sidearm of choice for fifty or sixty nations and literally thousands of law enforcement agencies, there is little I could add to the existing narrative. However, having held and shot many firearms over a span of many years, and in possession of more than a little product manufacturing knowledge, it seems reasonable for me to comment on my personal impressions of this firearm and the assembly quality of current production.
Brief history for context...
John Browning held over one hundred twenty-eight firearm patents1, more than any other designer. His designs appear as sporting firearms, firearms used for competitive shooting, weapons used for self-defense and weapons with military applications. His creative ideas manifest themselves in firearms produced by Browning, Colt, Fabrique Nationale Stevens, Remington, and Winchester, to name just a few. There is not complete concurrence in regard to how the Browning Hi Power came into existence. While there is great confidence of fact expressed between the covers of books authored by Joseph M. Cornell, Curt Gentry and David Miller, each differs to a minor degree in detail. Where there is general concurrence and supporting documents, it goes something like this -
At the request of the French government, or as an enhancement to the Model 1911, John Browning completed two slightly different prototypes and submitted them to Colt in 19212. Colt was not interested in producing the pistol, so Browning sent the prototypes to Fabrique Nationale in Belgium. FN had an interest in one prototype and used it as the basis for constructing two more prototypes which were submitted to the French Army for trials in 1922. After comment, two more prototypes were prepared and approved by the French Army in 1923. Browning was awarded a patent for this firearm, posthumously in 1927, a few months after Browning's death in Belgium.
After Browning's death, the design was finessed by F.N. employee and Browning friend Dieudonnť Saive until 1929 with no market demand until 1935. Initial sales were to the Belgium Army as a 13 shot, 9mm Luger Model 1935, all consistent with the 1927 patent. Many more orders for the gun followed and the Model 1935 proved to be a very popular handgun. In the 1970's FN upgraded the Model 1935 and it became the Hi-Power Mark II. The Mark II had an ambidextrous safety, an improved handgrip and wider sights. In 1989 Hi-Power Mark III was introduced featuring a differently contoured grip frame and enlarged ejection port.
Company
Browning 051004493
Model
High Power Standard
Point of Origin
Belgium/Portugal
Caliber
9mm Luger
Action
Short Recoil S/A
Trigger Pull
8 Lbs
Magazine Capacity
13*
Sights
Adjustable Target
Sight Radius
6 1/2"
Slide
Blued Steel
Barrel
Stainless Steel
Frame
Blued Steel
Grips
Checkered Walnut
Barrel Length
4 5/8"
Overall Length
7 3/4"
Overall Height
5 1/4"
Overall Width
1 1/4"
Weight - Empty
32 Oz.
MSRP**
$1,149

*10 round capacity where required
** Price as pictured. Also available in ten shot
and fixed sight versions.
Currently, Browning produces two versions of the Hi-Power, the Mark III and the Standard (Pictured Above). Four enhanced Hi-Power Luxus models and other custom versions of the Hi-Power are available through the Browning Custom Shop. The differences between the Mark III and Standard models are, predominately: the Standard's optional adjustable target sights and corresponding milled slide surface, the Standard's flatter rear frame contour, the Standard's cut checkered walnut grip panels, and the Standard's polished blued finish. The current Hi-Power Standard has all of the functional improvements of the Mark III; enlarged ejection port, ambidextrous safety, dovetail mounted rear sight, etc, but retains form and aesthetics closer to the Model 1935.
The Browning Hi-Power Standard is supplied with two magazines, packaged in a hard plastic case with owner's manual, lock and key, sight adjusting tools and state agency required, certified factory fired cartridges. Consistent with the $1,149 price tag, the gun's frame and slide are immaculately finished, as are the checkered walnut grips. Out of the box the Hi-Power cycled cleanly, all controls indexed crisply into position and the slide racked with about the expected amount of resistance while working against a 17 pound recoil spring and a 32 pound hammer spring.
The Hi-Power and the 1911 cousins...
While there are obvious similarities between John Browning's design of the 1911 and the Hi-Power, there are some significant differences. Both are short recoil, tipping barrel, locking system handguns. Both guns have radial locking lugs that engage their respective slides when the slides are forward with breeches locked. The 1911 barrel is linked between the barrel lug and pinned by the slide stop. The Browning slide stop, below, is linked to the recoil spring guide assembly that is held against the front of the barrel lug under recoil compression spring pressure. A camming surface, formed on the aft side of the barrel lug rides over a cross bar that resides between the forward frame rails and causes the locking lugs engage or disengage in synch with the cycling of the action.
Company

Browning 051004493
Colt Series 70
Gold Cup
Model
High Power Standard
National Match
Point of Origin
Belgium/Portugal
Hartford, CT
Caliber
9mm Luger
45 ACP
Action
Short Recoil S/A
Short Recoil S/A
Trigger Pull
8 Lbs
2 1/2 Lbs
Magazine Capacity
13*
7
Sights
LPA - Target
Eliason - Target
Sight Radius
6 1/2"
6 5/8"
Slide
Blued Steel
Blued Steel
Barrel
Stainless Steel
Alloy Steel
Frame
Blued Steel
Blued Steel
Grips
Checkered Walnut
Checkered Walnut
Barrel Length
4 5/8"
5"
Overall Length
7 3/4"
8 1/2"
Overall Height
5 1/4"
5 1/4"
Overall Width
1 3/8"
1 3/16"
Grip - Trigger Span
2 1/2"
2 7/8"
Weight - Empty
32 Oz.
37 Oz.

*10 round capacity where required
** Price as pictured. Also available in ten shot
and fixed sight versions.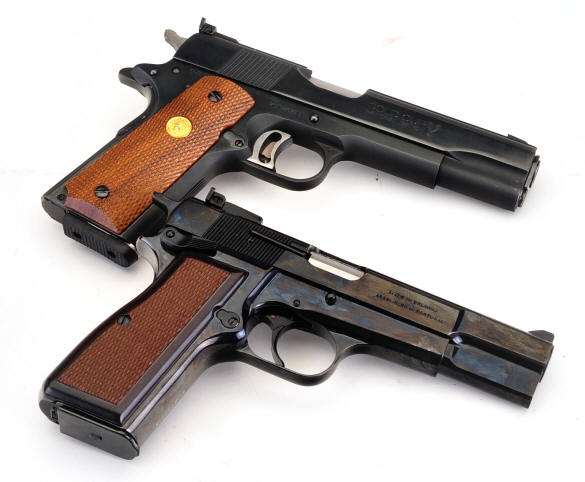 The Browning double stack gun (above - bottom gun) is wider than the 1911, however, the grip feels smaller in the hand, as often noted by shooters who have handled the Browning. I would attribute this to the pinch at the top of the grip frame that moves the hand closer to the trigger and shortens the trigger reach. A second noticeable difference is that, perhaps because of the longer barrel and slide mass, the 1911 feels more nose heavy, loaded or unloaded. A third difference is the absence of a grip safety and a removable barrel bushing. A fourth is the difference in trigger feel and pull, which is not minor. The Browning Hi-Power has addition springs, levers and mechanical advantage influences that will keep even a gun with a slicked up trigger hovering at 4 pounds.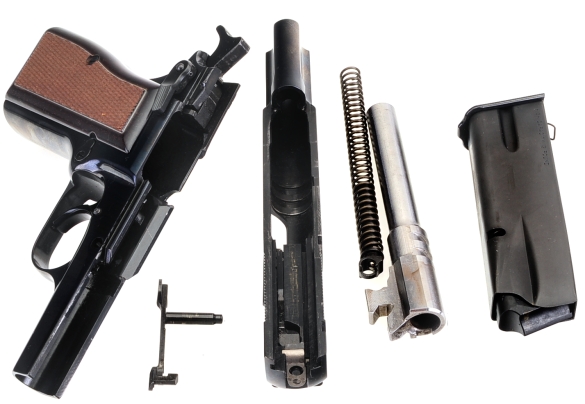 The Browning Hi-Power is easy to take down for maintenance. Pull the magazine, check for empty, lock the slide back with the thumb safety, push out the slide stop, release the slide and ease it off the frame. Kind of miss the presence of the 1911 Slinky spring and having to pull recoil spring plugs out of ceiling tiles.
Live fire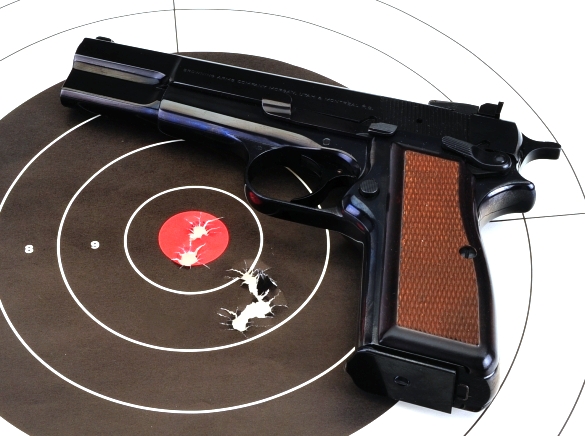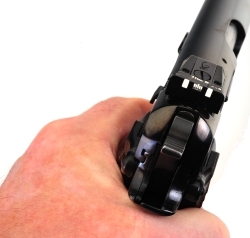 The broad Hi-Power's grip, compared to the 1911's narrow mainspring housing and grip safety, make it very comfortable and steady in hand and it always feels balanced. The 25 yard, 5 shot group pictured above was shot from a rest, but at 1 7/8", I was impressed. Winchester 115 grain FMJ white box @ 1,201 fps over the chronograph.
The adjustable target sights produce an excellent sight picture and the black framed white vertical bars make alignment quick and instinctive. Point of impact movement to adjustment is incrementally uniform and predictable. The 9mm round is not low power by any means, however, recoil seems negligible even after a long shooting session.
And then a little closer, without the shooting rest....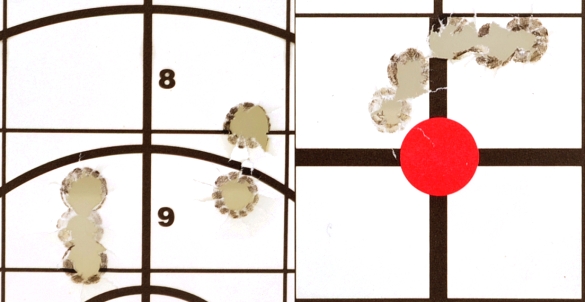 The two 5 shot groups, immediately above, were shot at a more practical 25 feet and from a two hand hold; 1 1/2" and 1" respectively. As I noted before, the Browning Hi-Power is extremely steady in hold and the target sights are excellent. If there was a challenge to getting this level of accuracy it came from the trigger and the concentration required to circumvent that 8 pound pull.
Yes, as a matter of fact, I do have an opinion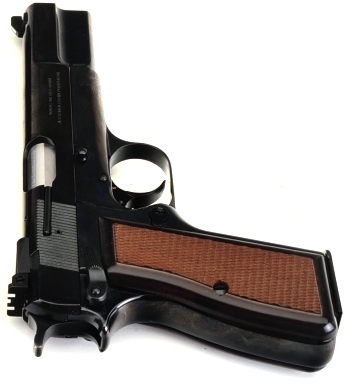 The Browning Hi-Power is as relevant today as it was in 1935. The gun's high capacity, excellent accuracy and functional reliability make it an excellent partner for today's high performance 9mm Luger ammunition. After working my way through all of the mini 9's, plastic 9's and crudely built nines, it would be difficult to deny that the Hi-Power is a class act.
The controls are positive and within the sweep of the thumb; safety, magazine release and slide release. In addition to the design, the quality of manufacturing has kept the Hi-Power as a major competitor in a very crowded market place. The gun's bluing is flawless, parts have a finesse fit and there are no sharp or rough edges to be found. The gun felt as tight and smooth in operation when the shooting day was over as it did at the onset.
The Browning Hi-Power isn't like a CZ 75, or a Glock, or a SIG, or a S&W, or a Ruger. It is a distinctly and uniquely a Browning Hi-Power... a blend of history, tradition and modern performance. Something like a 1911 with manners. Nice gun. For further information - check out Browning.Com.
1 Standard Catalog of Browning Firearms - Cornell 2 The History of Browning Firearms - Miller