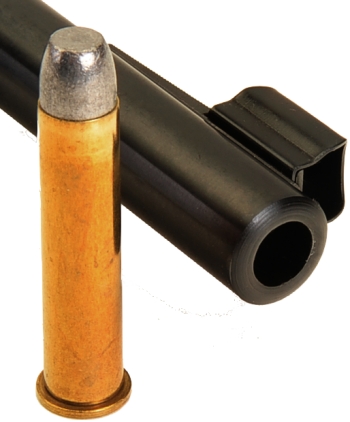 A few months ago, Real Guns published a somewhat critical review of a Marlin 45-70 Guide Gun that had been assembled in Remington's Ilion, NY facility, following the Remington acquisition of Marlin. It had a production date of approximately February 2012.
In short form, while the firearm reviewed was very accurate and there were no malfunctions, the gun was found to have a number of quality of finish and assembly defects, each documented with photographs and descriptive text. Remington was credited with saving the Marlin brand through acquisition and Remington's well earned reputation for manufacturing quality firearms was noted. Finally, confidence was expressed that Remington would soon be producing Marlin firearms that surpassed the original manufacture's products of recent years. The article closed with a commitment to revisit the firearm in the then near future. That near future is here.
Some hysterical background...

Yes, that was intentional. As time goes by, I find it increasingly necessary to note the obvious. Marlin began manufacturing 45-70 lever action rifles in 1881. The top eject Model 1881 was a consolidation of Wheeler, Burgess, Toepperwein, and Marlin patent designs (1., sold for $18, the equivalent of $404 in 2012 (2.
The Model 1895, first offered in 1896, was a closed top, square bolt, side eject Hepburn design, scaled up in the receiver, barrel and magazine to accommodate larger cartridges. It was available in take down form and with round and Octagon barrel lengths from 15" - 32" in length. Fifteen inch barrels were first available in 1897, the forerunner of the Guide Gun. The early Model 1895 rifles were chambered for a variety of 45-70 cartridges: 45-70 Gov't, 45-70 Marlin, 45-70 WCF, 45-70-330 Gould Express, and 45 Gov't Short Range. Early Model 1895 lever guns persisted, at least in the form of a lightweight version, until 1917, the last date any 45-70 model variation was offered.
Marlin Model 1895G

Origin
Ilion, NY

Manufacturer

Remington

Model

Model 1895G

Type

Lever Action

Caliber

45-70 Gov't

Mag Capacity

4

Barrel Length

18.5"

Rifling

1:20"

Nominal Weight

7.0 lbs

Overall Length

37"

Stock

Walnut

Hardware

Blued Steel

Length of Pull

13.25"

Drop at comb

1.25"

Drop at heel

2.00"

Sights R - F

Semi-Buckhorn - Brass Bead

Scope

Receiver D&T for Scope

Trigger Pull

5 lbs. 8 oz.

Safety

Cross Bolt Safety

MSRP

$680
In 1948, Marlin introduced a new family of lever action rifles in the form of the Model 336 with a much stronger round breech bolt that was completely enclosed in a solid top receiver, with the exception of the gun's ejection port and locked in place with a large locking bolt. The receiver, breech, locking bolt, and carrier were all made from forgings and the ejector was redesigned for positive function. When the Marlin Model 1895 45-70 Gov't next appeared in 1972, it was as part of the Marlin 336 family and much stronger than the original.
The Marlin 1895G, the subject gun defined by the spec box, was placed in production in 1998 with its 18 1/2" barrel with 8 and 12 Micro-Groove® and, finally, 6 groove Ballard rifling. Barrels were ported at the muzzle for the first four years of production. The Marlin Model 1895 Guide Gun remains a pussycat to shoot with standard ammunition and a real thumper on both ends of the gun with modern high pressure factory and handloads. This model firearm, in this chamber, has been credited with taking the largest dangerous game in the world, and not as a stunt. It is also a great North American big game rifle. The Model 1895G is key to Marlin's identity.
What a difference 8,000 numbers can make...
The Model 1895 Guide Gun has been covered extensively on Real Guns® in both factory standard and modified form. All can be accessed through the left column article index or search function. Touching on areas that were problems with the first review firearm this unit, with its 8,000 higher serial number, has a stock that fits its hardware. Inletting is clean, checkering is cleanly cut, finish is uniform and attractive, and there is no sign of finish in the recoil pad vents.

There are no marks next to pin heads in the receiver's bluing, no handling scratches anywhere. The screw slots are all clean, nothing is chewed up by use of an improper screwdriver. The metal finish is gloss and/or matte as intended with a very even finish.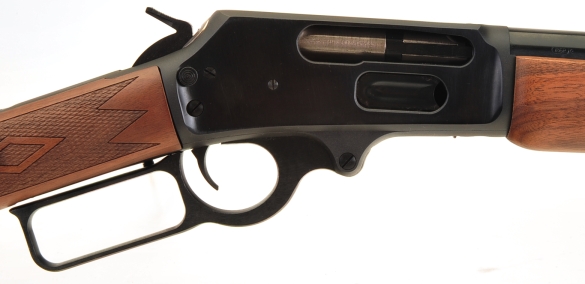 The sight set is finished as nicely as the rest of the rifle with no handling marks or scratches on the ramp at the hood grooves or under the elevation adjuster on the rear sight. No corners are rubbed bare. No recessed holes with burrs or bare metal.

Internal parts are free of burrs, dye marking, tool marks, or burn marks. The rifle cycles smoothly with no gritty feel, mechanical dragging and hesitation. Feed and ejection are as intended, regardless the bullet type selected.
More than a one sample rifle compared to another, this is one rifle selected from several recent production guns that all had the same outward appearance. They are certainly a major improvement over the first of the Remington Model 1895 Guide Guns examined and it is better than the final two years of Marlin's production prior to the acquisition and a major step toward marrying Remington quality with Marlin designs.
How does the current Model 1895 Guide Gun perform?
All of the ammunition qualified within this series is factory loaded. Represented, in left to right order of appearance below, are: Winchester Super X 300 grain*, Winchester Supreme 300 grain*, HSM 350 grain, Buffalo Bore 405 grain, Ultramax 405 grain*, Black Hills 405 grain*, Remington Express 405 grain*, Buffalo Bore 430 grain, and Garrett 540 grain. SAAMI spec ammo is denoted with an "*". The others all fall into the category of "Safe for modern lever action firearms" and the Marlin is specifically listed as applicable by each ammunition manufacturer.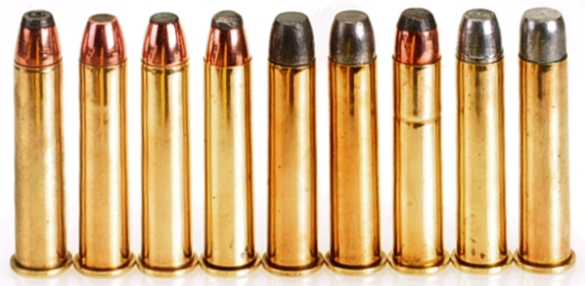 There is a huge misunderstanding of what constitutes modern factory loaded high pressure ammunition. Much of it falls below 35,000 PSI, nothing exceeds 40,000 PSI. Well below the 47,000+ standard for the 450 Marlin. SAAMI for the 45-70 Gov't is 28,000 PSI for safe use in trapdoor and weaker replica firearms. CIP sets the European standard at 31,908 PSI for weaker firearms. The Marlin is a much tougher firearm and we have never worn one out on any of the ammunition above or similar performance handloads. Data and results in Part II.
Marlin Under Remington Stewardship Part I
Marlin Under Remington Stewardship Part II
Marlin's Official Website
1) Marlin Firearms - The company the History of the Guns and the Company that Made Them - Brophy 2) An approximation as the Consumer Price Index only tracks back to 1913.