There are guns and cartridges people like to talk about. There are guns and cartridges people like to shoot. There are guns that people like to take hunting. Rarely are these rifles all one and the same. Hunting rifles tend to be technically uninteresting, chambered for a well established and readily available cartridge and often not too pretty as a concession to light weight and durability. The Remington Model 700 Mountain SS, as a hunting rifle, is unique.
Model 700 Mountain SS

Manufacturer

Remington

Order #

84276

Type

Bolt Action

Caliber

7mm-08 Remington

Mag Capacity

3

Barrel Length

22"

Rifling

1:9.25" 6 Groove RH

Weight*

6.0 Lbs

Overall Length*

41 5/8"

Stock

Bell&Carlson Composite

Hardware

Stainless

Length of Pull*

13 3/8"

Drop at comb*

1/2"

Drop at heel*

3/4"

Sights

Clean

Scope

Drilled and Tapped

Trigger Pull

X-Mark Pro Adjustable

Safety

2 Position Thumb Safety

MSRP

$1123

* Actual for this rifle
The Model 700 Mountain SS is based on Remington's cylindrical "Three rings of steel" action. Unlike cast actions that permeate the market place, the Remington receiver is machined from a solid steel billet. The Remington Model 700 is known for excellent longitudinal alignment of bore, bolt and receiver centerline and for keeping surfaces such as locking lugs and bolt faces square to the gun's bore. These are some of the reasons Remington rifles routinely achieve sub MOA performance right out of the box.
The initial impression formed with the Mountain SS is that it is light and balanced. I could easily grab the rifle at the grip with one hand and extend my arm out and hold it steady. In fact, the current generation Remington mountain rifle is nearly a half pound lighter than the prior generation, even though both have 22", #1 contour barrels. The stocks are both 31" long, both 2" wide at the magazine and both 1 3/4" high from receiver centerline to magazine. The weight difference is in the change from walnut stock to a composite synthetic construction.
Short on length, not on features
The Mountain SS has an X-Mark Pro adjustable trigger; no weird projecting blades, no sear presetting function, just stay-put adjustments that control pull weight, creep and over travel. Owners can adjust trigger pull as low as 2.5 to 3 pounds, but my preference is for a 3.5 to 4 pound trigger on a hunting rifle. The rifle stock is complete with sling swivel studs, an aluminum trigger guard and hinged magazine floorplate and a cushy R3 recoil pad in deference to the gun's light weight.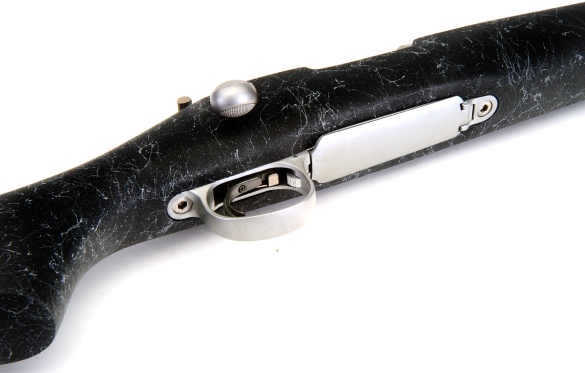 The Bell & Carlson composite stock is similar in construction to the stocks supplied with the Remington Sendero and several recent Remington Varmint/Target rifles. The stock's composite construction includes: aramid fibers, fiberglass, graphite, epoxy gel coats and laminating resins. Polyurethane reinforcement with milled fiberglass, provides a warm and solid feel rather than the hollow feel associated with injection molded stocks. The FTC defines "Aramid" as a manufactured fiber in which the fiber-forming substance is a long-chain synthetic polyamide in which at least 85 percent of the amide linkages are
attached directly to two aromatic rings. No, I have no idea what that mean either, but it was fun to write it.
The properties that make aramid fiber important in this application are that they are flexible, light and incredibly strong. Some popular Aramid fiber brands are Nomex® as used in fire retardant racing suits and Kevlar® as used in bullet resistant body armor. The result is a stock that is strong, weather and damage resistant and full size and full form, yet is still a half to a pound lighter than a comparable walnut stock.
As noted earlier, the rifle has a slender barrel that ends with a 0.550" diameter muzzle. Unlike the traditional Remington wood, laminated and molded poly stocks, the Bell & Carlson stock has an integral cast aluminum frame that provides very rigid mounting for the barreled action.
Thanks to the embedded frame locating the barreled action, the barrel is full floating from receiver to muzzle. Stock inletting, for all intent and purposes, has been reduced to a fit between machined metal surface and not the wandering surfaces of synthetics or wood. As a result, accuracy is consistent from one Mountain rifle to another.
Short and long action versions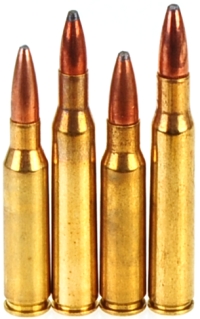 This particular rifle is chambered for the 7mm-08 Remington (far left), an excellent round for antelope, deer, sheep, hogs, and black bear. Other chambers offered, left to right, 270 Winchester, 308 Winchester and 30-06 Springfield. Also available, but not pictured, the 25-06 Remington and 280 Remington.
The 7mm-08 Remington, like the 308 Winchester, is particularly suited to the mountain rifle's short 22" barrel. The cartridge's modest 55 grain case capacity requires less bore volume for near complete burn, which makes this an efficient combination. By comparison, the 30-06 Springfield length cartridges hold approximately 13 more grains of powder, which requires greater bore volume, and the round's additional 0.540" of overall length reduces net bore length. A 22" barrel rifle chambered for the 7mm-08 Remington or 308 Winchester has 19.2" of rifled bore ahead of a chambered round, while a 30-06 Springfield length round has 18.7". Regardless the level of efficiency as a cartridge/rifle combination, the availability of a 30-06 Springfield chamber extends the light weight mountain rifle's hunting reach to include elk and moose.
Indices
Mountain SS - 7mm-08 Remington 140 Grain
Range -yds
0
50
100
150
200
250
300
350
400
Velocity - ft./sec.
2900
2787
2677
2570
2465
2363
2263
2166
2071
Energy - ft.-lbs.
2614
2415
2228
2052
1888
1735
1592
1458
1334
Path - in.
-1.5
1.1
2.6
3.0
1.9
-0.5
-4.5
-10.2
-17.8
Time of flight - sec.
0.0
0.1
0.1
0.2
0.2
0.3
0.4
0.4
0.5
With a 242 yard zero, assuming a six inch target, point blank range is 283 yards and the 0.284" bullets have excellent retained energy for probable game all the way out to 400 yards. Not bad for a compact firearm that has low recoil and is inexpensive to shoot.
Indices

Mountain SS - 30-06 Springfield 180 Grain

Range -yds
0
50
100
150
200
250
300
350
400
Velocity - ft./sec.
2700
2610
2522
2436
2351
2269
2188
2109
2031
Energy - ft.-lbs.
2913
2722
2542
2371
2209
2057
1913
1777
1649
Path - in.
-1.5
1.3
2.8
2.9
1.5
-1.4
-6.0
-12.4
-20.8
Time of flight - sec.
0.0
0.1
0.1
0.2
0.2
0.3
0.4
0.4
0.5
With a 230 yard zero, the 30-06 Springfield version of the Mountain SS, is point blank to 270 yards and carries an additional 300 ft/lbs of kinetic energy out to 400 yards. More power, virtually no penalty in hardware, however, recoil and shooting costs increase.
Part 1 Conclusion...

The Remington Model 700 Mountain SS is a natural evolution in the mountain rifle, or ultra lightweight hunting rifle. Barrel length is 2" to 4" longer than most of Remington's competitors' products, which gives the Remington a significant edge in performance. Weight is less than competitors' products due to Remington's choice of a slender barrel contour and selection of a strong, but lightweight stock. The build quality is excellent as reflected by fit and finish. The next assessment is live fire performance and that is where Part 2 will pick up.
The official Remington Web Site.
Remington's Model 700 Mountain SS Part 1
Remington's Model 700 Mountain SS Part 2