The other day I was reading through a message board thread, where whiffleball220 was advising everyone to turn in any old gun they owned to one of the government buyback programs. They could then use the $50 or so they received to buy a new gun. Sure, then they can haul that '66 Hemi Cuda down to the crusher to make way for an electric green machine that exhausts farts, sunshine and bubbles.

The point missed, in this pursuit for anything new and just released, is that many of these old firearms produce better ballistics than more modern cartridges that were popularized through advertising rather than by demonstrated performance. Additionally, old firearms and cartridges reflect our culture and history, the spirit of our individuality, our sense of adventure... exploration, a willingness to fight for our beliefs, our defense. They tell our story. Left, Winchester's 25-20 WCF, introduced circa 1893 for the then-new Model 1892 Winchester; the cartridge remains in production today, even if in limited supply.
Brand

Cartridge

Bullet
Grains

MV
FPS

ME
Ft-Lbs

Winchester X
22 Long Rifle
40
1255
150
Hornady FTX
22 Winchester Magnum
45
1700
289
Winchester
22 Hornet
45
2670
739
Handload
25-20 Winchester
60
2700
996
Handload
25-20 Winchester
75
2309
888
While the 25-20 WCF may have originated with a lever action rifle, it also made its way into pump, single shot and bolt action rifles. In this case, the subject rifle is a Savage Model 23B, produced somewhere between 1923 and 1933*. The Barrel length is 25". It has two holes tapped for Savage peep sights, it is not tapped for scope mounts.
A pretty cool little rifle

This particular Model 23B was picked up at auction for a few hundred dollars. It appears to be original, metal and wood finish, and probably classified as "Excellent" as a used firearm condition. Bluing is approximately 95%, the bottom metal has a brownish patina and the walnut stock has some great looking contrasting diagonal stripe. The sights are simple "V" notch metallic rear and blade front, both affixed with dovetail mounts.
Savage 23B

Origin
U.S.A.

Manufacturer

Savage Arms

Serial Number

122619

Type

Bolt Action

Caliber

25-20 WCF

Mag Capacity

4

Barrel Length

25"

Rifling

1:14"

Nominal Weight

6 lbs 1 oz

Overall Length

43"

Stock

Walnut

Hardware

Blued Steel

Length of Pull

13"

Drop at comb

1"

Drop at heel

1 5/8"

Sights R - F

Patridge - Blade

D&T for Scope

No

Trigger Pull

3lbs. 2 oz.

Safety

Rotary Thumb

MSRP

$22.50
This particular rifle is identified as pre-1933 production by its knurled cocking piece, absence of trigger adjustment and presence of a schnabeled forearm. Additionally, the cutoff serial number in 1933 was 204,000.
Some unique aspect of all Model 23 firearms: The action is integral to the barrel. The gun's rotating thumb safety is actuated by raising or lowering the thumb piece on the right hand side of the receiver, which rotates the safety about the action's circumference and blocks or unblocks the trigger. The Model 23B's bolt is non-rotating, it cocks on close and is fitted with twin extractors. Both front and rear sights are fitted to dovetails and the receiver is drilled and tapped for a proprietary Savage peep sight.
Below, the rotating safety in safe fire (left) and fire (right) positions. The early model cocking piece could be manually cocked.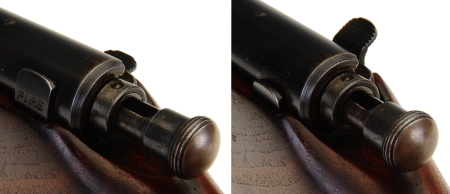 A little closer look at the two extractor bolt face and the blade front sight. Also visible is the one piece barrel and action and the removable four shot box magazine. If there was a rifle of art deco design, I believe this would be it. That period look is very unique and quite graceful for a mechanical design.
Overall, the Savage Model 23B is a simple assembly held together mostly with four wood and two machine screws. The bottom metal is a one piece steel stamping, the magazine is pushed in and is held in place by a forward retaining spring. The magazine is rocked forward for release.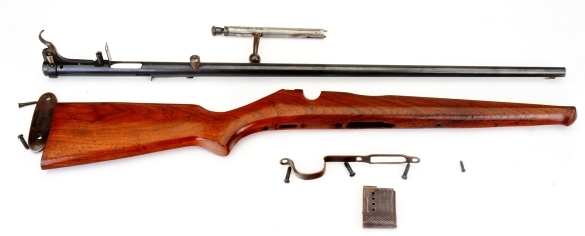 The trigger is a simple rocker design that is quite tunable through stoning and polishing contact surfaces. There are no other means of adjustment. In factory form the trigger has a bit of creep, but release is crisp and pull is relatively light at a little over three pounds of pull.
The cylindrical trigger bushing that locates the trigger spring facilitates safety function. If the safety is rotated to the "Fire" position, the recess in the safety will align with the trigger bushing and permit full travel.
The next step in this process is to break the gun down further and scrub all of the gunk out. There are a couple of spots of surface rust, there is some ancient grease and the bore, while bright and the rifling is sharp, has some presence of powder residue.
The 25-20 WCF
The 25-20 WCF Winchester Model 1892 chamber was derived from the 32-20 WCF that began life with the Model 1882 Winchester. It is a small game and varmint round that was really quiet popular in its time and was often pressed into service for hunting even deer size game although, clearly, it is not ballistically up to the latter task.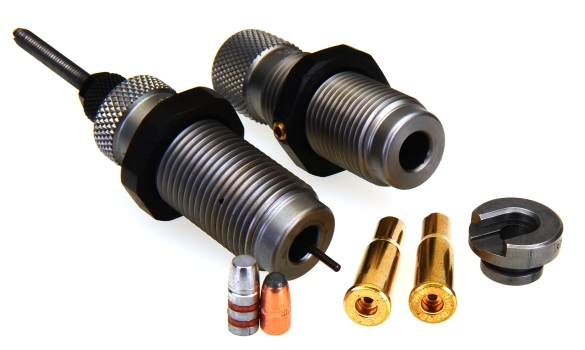 Brass, without too much effort, is available at prices commensurate with this size of modern cartridge. Bullet choice is a little limited with most configured with a flat tip to facilitate use in a lever action's tubular magazine. Sixty and eighty-seven grains are the standard weights but there are variations in cast and jacketed bullets. Bullet diameter is stated as 0.257" and 0.258" depending on source and bullet type; jacketed or cast. The diameter difference isn't of consequence as much as proper location of a jacketed bullets cannelure.
Part 2 will contain handload data we've assembled and tested, as well as live fire results on the Savage 23B. In the mean time, I'll finish giving the rifle a good going over and make sure it is prepped for a shooting assessment.
*Bolt Action Rifles - Frank de Haas and Dr. Wayne van Zwoll (Knurled cocking piece)
The New 25-20 Winchester Magnum! Part 1
The New 25-20 Winchester Magnum! Part 2