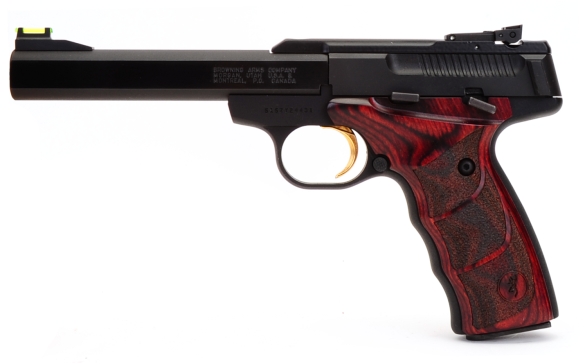 It's difficult for me to write about this type of firearm. I am a mediocre writer at best, constantly locked in a life or death struggle with the English language and always in search of a product hook that might grab and hold a reader's attention. If I can't hang the tags "newest", "biggest", "smallest", "lightest", or "craziest"... on a product, I'm pretty much shooting metaphorical blanks. Which is unfortunate because, while none of those adjectives apply to the Browning Buck Mark Plus, it deserves an enthusiastic presentation.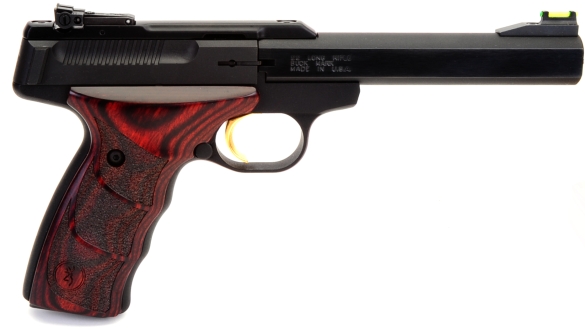 Feature and specification highlights
The Browning Buck Mark product line, since its inception in 1985, has continually evolved into ever more refined firearms, like the Buck Mark Plus Rosewood UDX of 2006. Personally, I believe this is the best looking and best made Buck Mark to date.

The Buck Mark Plus is distinguishable from other Buck Mark models by its combination of slab sided steel alloy barrel, Truglo front sight and finger grooved Ultragrip DX™ grips with matching contoured front strap.

The Buck Mark Plus, with its five and one-half inch barrel, is exceptionally well balanced. At thirty four ounces, its heft makes for a steady offhand shooter, but not so heavy as to cause shooter fatigue or too heavy for holstered carry. Light pipe sights, out to twenty five yards, are great for plinking, small game hunting and recreational target shooting, the primary applications for this pistol.

Buck Mark Plus Rosewood UDX

Manufacturer

Item #

051429490

Country of Origin
U.S.A.
Type
Single Action

Operation

Blow-Back Autoloader

Caliber

22 Long Rifle

Mag Capacity

10

Barrel Length

5˝"

Rifling

1:16"

Weight

2 Lbs 2 Oz

Overall Length

9˝"

Grips

Laminated Rosewood

Frame

7075 Aircraft Aluminum

Rear Sight

Adjustable Pro Target

Front Sight

TRUGLO® fiber-optic

Trigger Pull

4 Lbs. 9 Oz.

Safety
Thumb & Mag Disconnect

MSRP

$519.99

Nominal Weights & Measures
Bracketed by earlier evolution
I guess I will always be attached to the Challenger 1962 - 1985, top; different type of pistol for a different time, but a good shooter with a lot of nostalgic appeal. The Buck Mark Plus, middle, has a number of subtle and not so subtle differences in comparison to an earlier Buck Mark, bottom.
A little more detail
The Adjustable Pro-Target™ rear sight, installed on all current Buck Mark models, is a good one. Windage and elevation adjustment are tactile and positive. The face is serrated to dampen reflection and the approximately 0.125" window is right for the matching 0.125" front sight.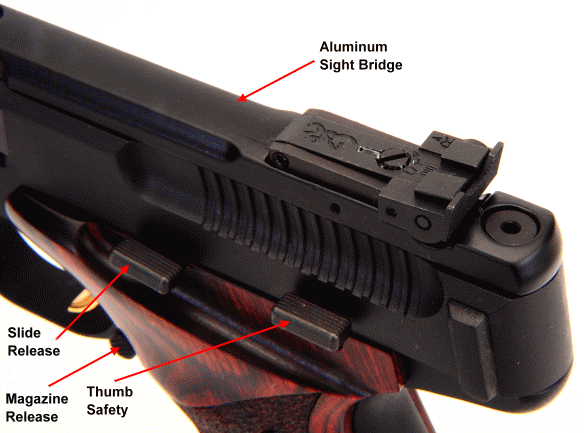 Both the slide release and safety are within easy thumb swipe range. The magazine release button is easy to depress to release the magazine, but not so easy as to cause an accidental release as the basis for one of those truly embarrassing moments at the range. The vertical nubs at the rear of the slide are a thoughtful refinement and make it an easy grab to pull the slide back without grabbing a handful of rear sight. While all Plus models have this feature, other Buck Mark Models may not. Some models within the product line have slides that are scalloped like this, but without the nubs, and others have a slab sided aft slide surface with full height angled serrations and no nubs.

The Buck Mark Plus Rosewood UDX looks even better up close. The framed grip stippling is artful, very clean, and it feels so much better when shooting than traditional checkering. The Made In USA, in these times, is always appreciated. Over-lit by electronic flash, in actual use the bright green ends of the light pipe front sight stand out against any background.
Shooting impressions
The nicest part of the review process is when I can leave my cell phone and desk behind, grab a bunch of ammo and the subject firearm and head out to the range and pretend I am working.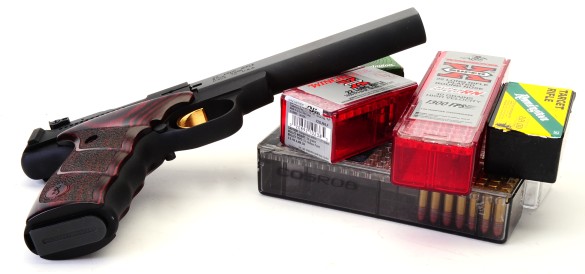 The Ultragrip DX™ grips have a very natural feel. With the curve of the frame snug to the web of my hand, my wrist was straight and the pad of my finger tip fell naturally on the Browning's trigger. This is one of the best Buck Mark triggers I've encountered. For me, pull weight isn't as critical to me as is the lack of creep, a clean break and a relatively wide trigger.
With greater quantification...
Live Fire Performance - 25 Yards

Ammo

Bullet
Weight
Grains
Rated
MV
FPS
Actual
MV
FPS
25 Yd
5 Shot
Group"
Ammo
Bullet
Grains
Rated
MV
FPS
Actual
MV
FPS
25 Yd
5 Shot
Group"
CCI Mini-Mag
40
1235
1051
1.9
Rem Thunderbolt
40
1255
1042
2.2
Federal Game Shok
40
1260
1072
2.0
Rem Yellow Jacket
33
1500
1177
3.2
Rem-Peters
40
1255
1067
2.1
Win - TIN
26
1650
1267
1.3
Rem Sub Sonic
38
1050
785
1.6
Win - Super Speed
40
1300
1102
2.4
Eley Target
40
1985
911
1.0
-
-
-
-
-

Shot from a sandbag rest
These are very good twenty-five yard groups from a rim fire pistol with the exception, perhaps, of the Yellow Jacket Ammo. Not to be confused with virtual Internet groups that are traditionally shot with a keyboard. It was interesting that this is the first 22 LR autoloader pistol we've reviewed that fired Sub Sonic ammo without a feed or eject problem. In fact, we routinely mixed ammo and shot very low and very high velocity ammo without a hiccup.
Live Fire Performance - 25 Feet

Ammo

Bullet
Weight
Grains
Rated
MV
FPS
Actual
MV
FPS
25 Ft
5 Shot
Group"
CCI Mini-Mag
40
1235
1051
0.30
Federal Game Shok
40
1260
1072
0.35
Rem Thunderbolt
40
1255
1042
0.58
Win - Super Speed
40
1300
1102
0.65

Shot from a Sandbag Rest
Up closer, where eyesight was less of a factor, the five shot groups were impressive, even when the best performing, very expensive, twenty-five yard ammo was omitted.
Buck Mark alternatives
If the Browning's Buck Mark Plus Rosewood UDX isn't your cup of tea, Browning has fifteen models of Buck Marks to suit your aesthetic palate. Alloy steel and stainless barrels in a variety of contours and lengths, laminated hardwood or synthetic grips. There are basic rear sight bridges, as well as half and full length scope bases. All models have an Adjustable Pro-Target™ rear sight. Front sights are blade, adjustable and fiber optic depending on particular model. Finish varies from blue, to gray, to green with stainless and natural aluminum alloy frames. For full details on all models and variations, check out www.Browning.Com.