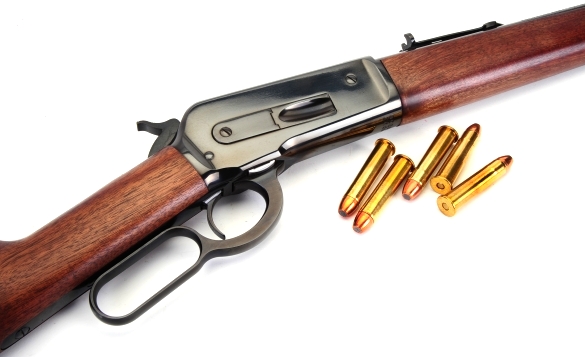 Winchester Model 1886

Manufacturer

B.C. Miroku

Item #

534053142

Type

Lever Action

Caliber

45-70 Government

Mag Capacity

4

Barrel Length

22"

Rifling

1:20"

Weight

7.25 Lbs

Overall Length

40.5"

Stocks

Satin Finish - Walnut

Hardware

Blued Steel

Length of Pull

13.25"

Drop at comb

1.25"

Drop at heel*

1.62"

Rear Sight

Adjustable Buckhorn

Front Sight
Drift Adjustable Blade
Drilled and Tapped
Receiver mounted sights

Trigger Pull

4 Lbs. 12 Oz.

Safety

Tang - Sliding

MSRP

$1,269

Nominal Weights & Measures
No vertical pistol grip, no telescoping stock, no laser sights or a Picatinny rail, and no camo. The Winchester Model 1886 is a traditional lever action rifle; oiled blued steel, stocked in walnut, outfitted with buckhorn sights and chambered for the big ol' 45-70 Government cartridge. In the hands of a skilled shooter, a deer at 200 yards is as good as venison on the table.
The Model 1886 was the third of three rifles John Browning was commissioned to design for Winchester, however, the 1882 and 1883 patented designs never went into production. The Model 1886 was manufactured between 1886 through 1935, Slightly modified, the Model 1886 became the Model 71 and remained in production through 1957*.
The revisions incorporated into the Model 71 were to accommodate feed and cycling of the 348 WCF cartridge** and to introduce manufacturing process refinements and material improvements. The differences between the two models are moot as the current Model 1886 incorporates material and manufacturing process improvements that surpass both original models.
The Winchester Model 1886's claim to fame... strength
The Model 1886 was designed from the beginning with big, high performance cartridges in mind: 38-70 WCF, 45-70, 45-90, 50 Express, etc. Subsequently, it has a stout design. Beyond the inherent strength of the thick walled steel receiver, the breech block has locating rails that ride in slots cut into the inside walls of the receiver. This arrangement hold the breech block square to the bore and held to only fore and aft movement.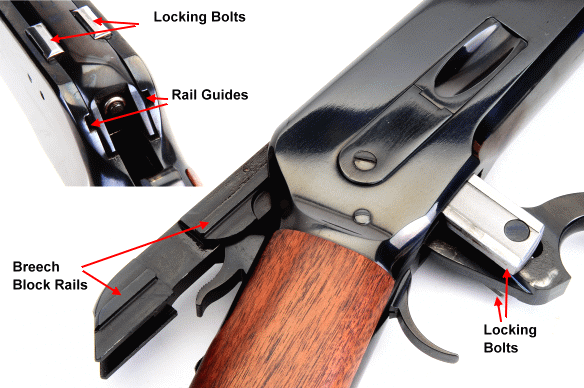 Rather than two small locking lugs as found on a typical bolt action rifle, with the lever rotated closed, the Winchester 1886's breech is locked with two 2.5"x0.750"x0.200" locking bolts that move perpendicular to the gun's bore in an edge forward orientation. Above left, the action closed with the locking bolts "keyed" between receiver and breech bolt and rails fully forward in their corresponding receiver rail slots.
Buckhorn, blade and apertures...
The sights, for folks with patience and with practice, are very good. The large aperture gets the shooter on target and the tiny notch provides the precision. The rear sight elevator allows for stepped trajectory compensation and both the front and rear are drift adjustable for windage.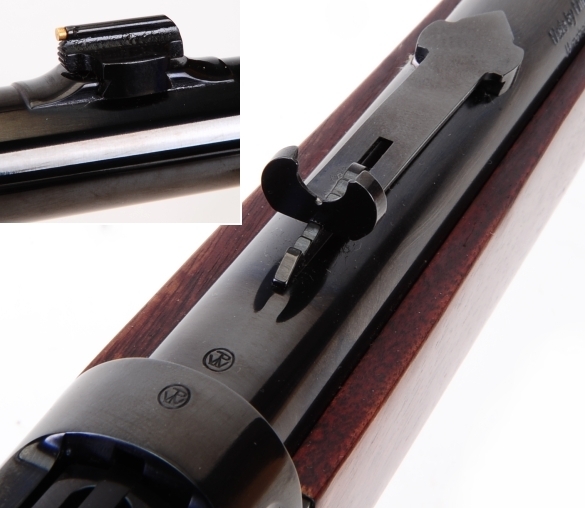 I am at a point where I scope almost everything as a hedge against mature eyesight. The Model 1886 top eject is not drilled and tapped for scope mounts. Personally, I would not alter the rifle to accept an offset mount and I would not put a scout scope in anything... ANYTHING. Fortunately, peep sights work very well for me and there is a tradition of using these types of sights that predates even the original Model 1886.
Pictured below is a Lyman Receiver Sight, Model 66 WB, mounted on the Winchester 1886. Two plug screws are removed from the side of the Winchester's receiver, much like the plug screws that are removed to install scope bases, and the Lyman mount is secured at those two points. Less than a five minute install and no modification to the rifle is required. Brownells# 539-000-004WB.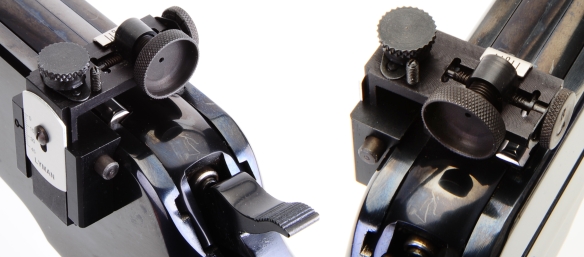 This particular model is supplied with semi-target knobs, micrometer adjustment for windage and elevation and two aperture discs, a 0.040" target and a 0.093" hunting. The coarse elevation scale is in 3 MOA increments, however, both elevation and windage have 1/4 MOA click adjustment. There is a quick release button to facilitate sight installation and removal, and it permits zeroing the elevation scale once the firearm is sighted in. Neato. All live fire was done with this sight in place.
There are tang mounted peep sights available for this type of rifle, but I am not aware of any that are mounted in existing holes with modern 1886 rifles from Browning or Winchester. Williams makes a peep sight that is similar to the Lyman piece. Both sights have aluminum bodies, however, unlike the Williams' sight, Lyman uses steel inserts and adjustment threads rather than steel to aluminum contact and the Lyman sight can be removed and reinstalled without losing zero. The Williams piece is about half the price of the Lyman product.
Finally, an excuse to use the word "dichotomy"...
The Winchester 1886 is a big boy's rifle. No, I don't mean you need to be a giant amongst men to shoot it well, I just mean you have to not have an aversion to moderate recoil and you enjoy the smell of napalm in the morning. Yes, there are 300 and 350 grain loads that are mild and can be shot all day, but if you load up for something really big, you have to expect a little nudge.
There's a look at the muzzle with a 540 grain 45-70 performance round and a what appears to be the beginning of a buttstock tattoo. One of the nice aspects of the Winchester Model 1886 Extra Light Rifle is the flat shotgun type buttplate where the others in this series have a crescent buttplate. I am aware of no prefit pad for this rifle, however, there are lots of gunsmith install choices and a number of very nice slip on pads that don't require rifle modification and, therefore, won't diminish the value of the rifle. There are a number of very nice leather slip and lace on pads.
With rain and/or snow blowing....


Too much weather and too little visibility to continue. So I'll break here, pack up some factory ammo, put together some handloads and get ready to run through a live fire check out and wait out the storm. Beautiful rifle and I am so glad Browning - Winchester has seen fit to continue producing them so they can be appreciated and we can hold onto a little bit of history.

*The History of Browning Firearms - Miller.
** John. M. Browning - American Gunmaker - Browning & Gentry
Winchester's Model 1886 Extra Light Rifle Part 1
Winchester's Model 1886 Extra Light Rifle Part 2