This was probably the most difficult project of the year. The rifle and cartridge were easy, it was getting this floating rifle shot that drove me nuts... I know, short ride. Anyway, glad to be attempting to get out from under the 8 million pieces of email that began with "Where's the 280 Remington reviews and handloads you (creative pejorative)"
The Mountain SS...
Remington Model 700 Mountain SS

Manufacturer

Remington

Point of Origin

Ilion, NY

Weight

6 Lbs 8 Oz

Length

41 5/8"

Type

Bolt Action

Lugs
2 Lug
Bolt Lift
90°

Caliber*

280 Remington

Capacity

4+1

Receiver
Matte Stainless
Barrel
Matte Stainless

Barrel Length

22"

Twist Rate

1:9 1/4"

Stock

Bell & Carlson aramid fiber

Length of Pull

13 3/8"

Drop at comb

1/2"

Drop at heel*

1/2"

Sights

None

Scope

Drilled and Tapped

Trigger Pull

Adjustable 2.5 - 5 Set 4.0 Lbs

Safety

Two Position Thumb

MSRP

$1,123

* Also 25-06 Remington. 270 Winchester,
30-06 Springfield, 7mm-08 Remington,
308 Winchester
The Mountain SS, in this case, is based on a long action Model 700. The same concentric cylindrical design that yields great accuracy and three rings of steel; casehead recessed in bolt face, bolt face recessed into barrel and barrel surrounded by the rifle's front receiver ring that provides lots of shooter safety.
The Mountain SS is light and balanced. I could easily grab the rifle at the grip with one hand and extend my arm out and hold it steady. The Mountain SS is nearly a half pound lighter than the prior generation, even though both have a 22", #1 contour barrel and both have stocks that are 31" long and 2" wide at the magazine. The weight difference between the original and current version can be found in the change from walnut to a composite stock and the substitution of an aluminum hinged floor plate for the original steel detachable magazine assembly. Sling swivel studs and recoil negating Pachmayer Decelerator recoil pad are still included.
The Mountain SS has an X-Mark Pro adjustable trigger; no weird projecting blades, no sear presetting function, just stay-put adjustments that control pull weight, creep and over travel. Owners can adjust trigger pull as low as 2.5 to 5 pounds, however, my preference is for a 3.5 to 4 pounds.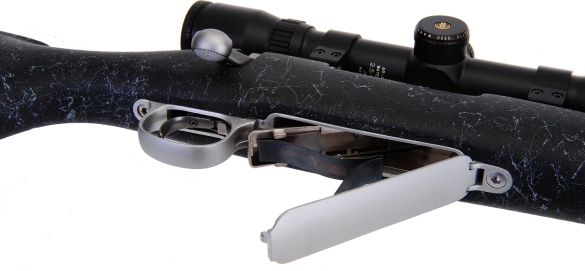 The Bell & Carlson composite stock is similar in construction to the stocks supplied with the Remington Sendero and several recent Remington Varmint/Target rifles. The stock's composite construction includes: aramid fibers, fiberglass, graphite, epoxy gel coats and laminating resins. Polyurethane reinforcement with milled fiberglass, provides a warm and solid feel rather than the hollow feel associated with injection molded stocks. The spider web effect actually provides a non-slip surface in addition to aesthetic appeal.
The properties that make aramid fiber important in this application are that they are flexible, light and incredibly strong. Some popular Aramid fiber brands are Nomex® as used in fire retardant racing suits and Kevlar® as used in bullet resistant body armor. The result is a stock that is strong, weather and damage resistant and full size and full form, yet is still a half to a pound lighter than a comparable walnut stock. Unlike the traditional Remington wood, laminated and molded poly stocks, the Bell & Carlson stock has an integral cast aluminum frame that provides very rigid mounting for the barreled action.
Thanks to the embedded frame locating the barreled action, the barrel is full floating from receiver to muzzle. Stock inletting, for all intent and purposes, has been reduced to a fit between machined metal surface and not the wandering surfaces of synthetics or wood. As a result, accuracy is consistent regardless weather conditions.
The 280 Remington Cartridge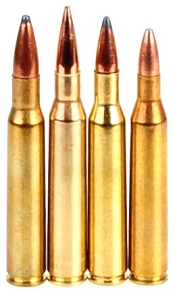 In 1957, Remington introduced the 280 Remington as a SAAMI homologated cartridge in 1957. The cartridge's origins date back to the 1920's in wildcat form when it was known, with minor headspace variations, as the 7mm-06, 285 OKH and 7mm Mashburn*.
The 280 Remington is yet another of the many, many cartridges derived from the 30-06 Springfield cartridge. Left to right: 30-06 Springfield, 280 Remington, 270 Winchester, 25-06 Remington. Cartridges within the family with overlapping applications.
The cartridge was first introduced in the Remington 740 autoloader, then in the 760 Pump before making its way to the Model 721 bolt action. Neither the Model 740 or Model 760 models were known for their accuracy and that is where the cartridge developed its reputation. Additionally, unlike the 270 Winchester with a MAP of 65,000 PSI, the 280 Remington MAP is currently 60,000 PSI, the same as its parent cartridge, the 30-06 Springfield. Handloaders were extracting the most potential from the 280 Remington.

There were other missteps that quelled the 280 Remington's popularity. Unlike its sibling cartridges, the 280 Remington's shoulders are pushed forward 0.050" to prevent it from being forced chambered into a 270 Winchester. Unfortunately this design accommodation didn't prevent a 270 Winchester from being chambered in the 280 Remington chamber where it would 0.050" plus headspace which would almost guarantee case head separation of the cartridge fired. It is unfortunate that everything these days has to be idiot proof to be considered safe.
If things weren't bad enough with the 280 Remington sandwiched between the performance of the 270 Winchester and 7mm Remington Magnum, in 1979 Remington decided to give the cartridge a fresh look by rebranding it as the 7mm-06 Remington. It was the name of an early wildcat with a different headspace dimension and Remington quickly saw the potential for a problem. A few months later, the name was changed to the 7mm Express Remington, which caused confusion between it and the 7mm Remington Magnum. In 1981, Remington stopped playing with names and reverted to the original 280 Remington designation. Must have been a great round to have survived all of the nonsense and, actually, it is.
Pictured with a 168 grain Berger VDL Hunting bullet, the 280 Remington shoots flatter than the 30-06 Springfield and hits harder than the 270 Winchester. It is modest in recoil and powder consumption when compared to the 7mm magnums and it has more bullet selections than just about any other round. It has that 7mm retention that makes for short time in flight, flat trajectory and high terminal energy. Considering this cartridge was created when the Volstead Act ushered in Prohibition and Henry Ford was cranking out Model Ts, that is kind of spectacular performance.
So I got to thinking about where the 280 Remington might hold an edge...
Indices
139 Grain Hornady Superformance 280 Remington
Yards
0
50
100
150
200
250
300
350
400
Velocity - ft./sec.
3090
2970
2853
2739
2628
2519
2414
2310
2210
Energy - ft.-lbs.
2946
2723
2513
2316
2131
1959
1798
1647
1507
Path - in.
-1.5
1.0
2.5
3.0
2.3
0.3
-3.0
-7.8
-14.3
Indices

140 Grain Hornady Superformance 270 Winchester

Yards

0
50
100
150
200
250
300
350
400
Velocity - ft./sec.
3090
2991
2895
2800
2707
2616
2526
2439
2354
Energy - ft.-lbs.
2968
2781
2604
2436
2277
2127
1984
1849
1722
Path - in.
-1.5
1.0
2.5
3.0
2.4
0.6
-2.5
-7.0
-12.9
Using a maximum ordinate of 3", point blank range is 300 yards for bullets in the 140 grain range, where the 270 Winchester slightly outperforms the 280 Remington. However, if I load the 280 Remington to 270 Winchester pressure and bolt thrust levels, the cartridge flip performance positions and the 280 Remington take a slight lead.
Indices
140 Grain Berger 280 Remington Handload
Yards
0
50
100
150
200
250
300
350
400
Velocity - ft./sec.
3145
3048
2953
2860
2768
2679
2591
2505
2420
Energy - ft.-lbs.
3074
2888
2710
2542
2382
2230
2086
1950
1821
Path - in.
-1.5
0.9
2.5
3.0
2.5
0.8
-2.1
-6.3
-11.9
As bullet weight increases beyond the 270 Winchester capabilities, heavy for bore 0.284" bullets have an exceptionally high SD and BC so they hold onto velocity much better over the longer haul, even in comparison to a 180 grain 30-06 Springfield launched at higher velocity.
Indices
168 Grain 280 Remington Handload
Yards
0
50
100
150
200
250
300
350
400
Velocity - ft./sec.
2750
2679
2609
2540
2472
2405
2340
2275
2212
Energy - ft.-lbs.
2821
2676
2538
2406
2279
2158
2041
1930
1824
Path - in.
-1.5
1.2
2.7
2.9
1.8
-0.8
-4.8
-10.4
-17.8
Indices

180 Grain Federal 30-06 Springfield

Yards
0
50
100
150
200
250
300
350
400
Velocity - ft./sec.
2800
2653
2510
2373
2240
2111
1987
1868
1753
Energy - ft.-lbs.
3133
2812
2519
2250
2005
1781
1578
1394
1228
Path - in.
-1.5
1.2
2.7
2.9
1.4
-1.7
-6.8
-14.1
-23.9
Which took me to bullet weights I have come to appreciate in concert with the 7mm Remington, WSM and Remington Ultra magnums. So why not just go with the magnums? Less recoil, less powder and less wear and tear on firearms. A very light 280 Remington may make a good deal of sense, a very light 7mm magnum... not so much.
Good place to stop

Looks good on paper, so it's time to move on to test. I'm going to take a break to do a little research, select some bullets and powder and layout a handload plan. I'll be back.
* Sierra Reloading Manual, 5th Edition
Remington's Model 700 Mountain SS Part 1
Remington's Model 700 Mountain SS Part 11