This is the fourth Marlin 1895 Guide Gun we've reviewed in the past six years. The first was assembled in the Marlin North Haven, CT plant, the second and third were assembled from Marlin inventory at the Remington Ilion, New York Plant. All were barrel stamped, "The Marlin Firearms Company North Haven, Connecticut". The fourth gun, pictured, was manufactured at the Remington facilities, with all Remington parts, in Ilion, NY and barrel stamped to reflect that change.

Of the four rifles noted, the most recent is the nicest production Marlin seen in a very long time; hardware and wood, close fitting parts, no gritty action or trigger, no assembly nicks or dings. The nicely figured American black walnut stock has a very natural satin finish and exceptionally clean laser cut checkering. The blued steel pieces are also satin finished with the exception of the gloss receiver sides.
The ancient Marlin "gold" trigger of my 1957 Marlin 336 is still absent, as it had been from Marlin for a very long time, but the little black and white Marlin Bullseye is right there ahead of the rear sling swivel stud and accuracy rivals many bolt action rifles. In short form - the current Model 1895 45/70 Guide Gun is the same gun that came out of the Marlin factory, just more precisely and skillfully produced.
Pirates like Guide Guns too...
The story might read, "It carried easily in me hands, this smooth curve of walnut and cold blued steel. Like the Great Dragon, its eyes glowed red and it belched smoke and fire, bringing an end to all that stood before it... " OK, perhaps a bit dramatic, but anyone who has spent time shooting one of these truncated cannons, with full tilt ammunition, knows exactly what I am talking about. The gun is pure fun.
Marlin Model 1895G

Origin
Ilion, NY

Manufacturer

Remington

Model

Model 1895G

Type

Lever Action

Caliber

45/70 Government

Capacity

4+1

Barrel Length

18.5"

Ballard Rifling

1:20"

Nominal Weight

6.0 lbs 14 Oz

Overall Length

37"

Stock

Walnut

Hardware

Blued Steel

Length of Pull

13.25"

Drop at comb

1.25"

Drop at heel

2.00"

Sights

Metallic

Scope

Drilled and Tapped

Trigger Pull

5 lbs. 8 oz.

Safety

Cross Bolt Safety

MSRP

$680
Rifles chambered for the 45/70 Government are neither low power nor short range. One of the commercial loads that cranked out 2,100+ fps with a 350 grain bullet during testing, generated 50 ft/lbs of recoil. That is more than a stiff 338 Winchester Magnum load, and more than a 300 grain load from an eight pound 375 H&H Magnum. A good recoil pad is greatly appreciated.
The little Marlin has been used to down the largest dangerous game on earth and light loaded as a terrific rifle for hunting deer and elk.
Representative of Model 1895 Guide Gun's 45/70 Government personality, a Speer 350 grain flat nose bullet with a muzzle velocity of 2,135 fps, and a maximum ordinate of 3", is point blank out to 200 yards. The trajectory remains flat, and the bullet retains good kinetic energy numbers, out beyond 250 yards.
Speer Flat Nose 350 Grain Ammunition - 18.5" Barrel Length

Range -yds
0
50
100
150
200
250
Velocity - ft./sec.
2135
1972
1816
1668
1531
1406
Energy - ft.-lbs.
3542
3020
2562
2161
1822
1537
Path - in.
-1.5
1.9
3.0
1.5
-3.2
-11.6
Not just for handloaders...
The 45/70 Government is a favorite of handloaders and folks who like to cast their own bullets. Still the Marlin Guide Gun owner who does not handload won't be deprived of exercising the Marlin's potential. There are currently 39 readily available factory loads for this cartridge. Seven were picked as a cross section, a mixture of original and modern rifle pressure levels.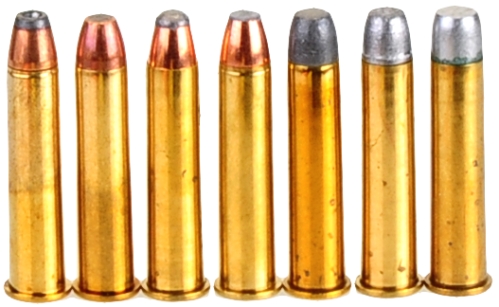 As noted previously, the 50 yard three shot groups were shot through the factory metallic sights, the 100 yard were shot with the aid of a scope. Both sets were shot from a steady rest from the bench. Velocity was recorded from the subject rifle. The application notations are as presented by the respective manufacturer.
45/70 Government - Factory Ammunition - 18.5" Barrel Left to Right Above

Ammunition
Weight
Grains
MV
FPS
ME
Ft/Lbs
Recoil
Ft/Lbs
50 Yard
Groups "
100 Yard
Groups "
Application
Cost
Per
20
Winchester Super X
300

1575

1653
26
0.8
1.1
Light, thin skinned game
$32
Winchester Supreme
300
1583
1670
26
0.9
1.2
Large, heavy game
$36
Buffalo Bore
350
2132
3533
48
1.1
0.9
Large, heavy game
$56
HSM
350
2142
3567
48
1.0
0.8
Large, heavy game
$53
Ultra Max
405
1057
1005
23
0.8
1.2
Cowboy Competition
$35
Buffalo Bore
430
1863
3315
53
1.2
1.0
Large, heavy game
$56
Garrett*
540
1482
2634
53
1.3
1.3
Large, Heavy game
$70
*Not currently available
Bullet, rather than velocity, has much to do with application. The only real difference between the 300 grain Super X and Supreme is the Supreme's Partition Gold bullet, enough to bump up the manufacturer's rating to "Large heavy game". However, recoil for both is mild, about the same as a typical 30/06 Springfield sporter weight rifle.
The Buffalo Bore and HSM 350 grain loads are very similar. The Buffalo Bore uses a small rifle primer rather than large and the HSM utilizes a really tough Swift A Frame bullet that won't come apart on heavy game. The HMS, after handloads, is my favorite. Recoil is... stout.
The 430 and 540 grain loads are for large bear. The claim to fame for both is bone breaking penetration... on both ends of the gun. The Garrett "Hammerhead" will out penetrate a 458 Winchester Magnum. Recoil is... invigorating.
The completion of a transition...
I believe, with the appearance of the Ilion, NY markings on barrels, Marlin has fully become a Remington product. No more Marlin facilities, no more Marlin inventory and what this all means to Marlin fans and customers is now fully known. For folks still grousing about Marlin's demise, I can offer the following perspective.

John Mahlon Marlin announced himself to be a pistol maker in 1863. By 1864, at age 27, he was working out of a shop at 18 Williams street in News Haven, Connecticut3. In 1816, Eliphalet Remington II age 23, began his firearms business in the Mohawk Valley with the production of rifled barrels4. The 1828 location of the Remington Armory became Ilion, New York in 1854, the same location where Remington is currently manufacturing the Marlin product line. There is more than enough tradition to go around. Both companies changed structure
and ownership numerous times. Both companies participated as suppliers of numerous product through two world wars. Both companies grew and expanded through acquisition of other companies.
Remington acquired Marlin at the close of 2007. In March, 2010, Remington announced it was closing the Marlin facilities located in North Haven and began transitioning Marlin firearm assembly to its Ilion, New York facility. On April 1st of 2011, the last 5 of 265 original employees went home and Marlin became fully a Remington product.1 In the end, continuation of "Marlin" firearms was assured and Remington under the Freedom Group expanded to include one more quality brand of firearm.
We sometimes forget that firearm manufacturers are businesses first and that they are subject to the same profit and loss circumstances as any other business. Marlin had grown from $60.3 million to $80.5 million in revenue between 2005 and 2007. Net income grew from $1.2 million to $4.0 million, an increase that came from economy of scale and by reducing sales, general management and administrative costs.
Marlin's balance sheet, over the same time frame, showed a 20% increase in inventory and accounts receivable was out to 61 days, compared to an industry average of 48 days. Accounts payable nearly doubled, short term debt increased substantially and cash from operations dropped from $5.4 million to $1.0 million. Marlin was increasingly debt financed.2
My opinion is that Marlin was a company that could not reasonably finance their own success and went to work optimizing a bottom line to attract a buyer. Enter Remington. As a proportion, not as a precise number, what was once 265 jobs in North Haven, Connecticut created by the use of old systems, equipment, processes, became 100 people as a product line addition to Remington's more modern and centralized manufacturing.
The new product looks better, it is made better, it shoots better, and it has better customer service and support. Sometimes change is good. And what of the 165 jobs lost? It could have been 265 jobs lost and, perhaps, the Marlin product line will prosper under Remington and come to represent many more jobs.

1)Hartford Courant April 01, 2011
2)Financial Statements for Marlin Firearms Co (MFIA-OTC)
3)Marlin Firearms - Brophy
4)The History of Remington Firearms - Marcot