Some states, in deference to concerns over the reach of high power rifles and the presence of residential populations and flat topography, have partially, or completely, restricted hunting firearms to shotguns and handguns. The thought is that while both provide short range hunting lethality, neither retain lethality over protracted distances, suggesting their use would diminishes the chance of an accidental shooting.
In prehistoric New Jersey, deer hunting cavemen were limited to the use of clubs and single barrel Savage shotguns which, in retrospect, may be a statement of some redundancy. Early on, even slugs were prohibited and 00 buck high base had to do the job. The best of the current slug guns have been optimized for use with sabot slugs. They have strong actions, rifled barrels, metallic sights, and receivers drilled and tapped for optical sighting systems.
A-Bolt Shotgun Hunter

Manufacturer

Miroku, Japan

Item #

015001120

Type

Bolt Action

Gauge

12 Gauge 3" Chamber

Mag Capacity

2

Barrel Length

22"

Rifling

1:28"

Weight

7.0 Lbs 2 Oz

Overall Length

43 3/4"

Stock

Satin Finish Walnut

Hardware

Low Luster Blued Steel

Length of Pull

14"

Drop at comb

1/2"

Drop at heel*

5/8"

Adjustable Sights

Windage & Elevation

Scope

Drilled and Tapped

Trigger Pull

4 Lbs. 12 Oz.

Safety

Tang - Sliding

MSRP

$1,269.99

Nominal Weights & Measures
The Browning A-Bolt Shotgun was reintroduced in January 2011 in rifled barreled models only. Originally, A-Bolt shotguns, in both rifled and smoothbore versions, were produced between 1995 and 1998. After discontinuation, demand persisted and prices rose above the original retail price.
There are currently three models in the A-Bolt shotgun line up: the walnut stocked "Hunter", the composite stocked "Stalker" and the "Mossy Oak®". Functionally and structurally they are the same, right down to the use of an adjustable rear sight and a TRUGLO® /Marble® fiber optic front sight.
Features even I couldn't miss...
The A-Bolt's magazine is mounted on a hinged floorplate and is detachable, which means extra magazines can be preloaded.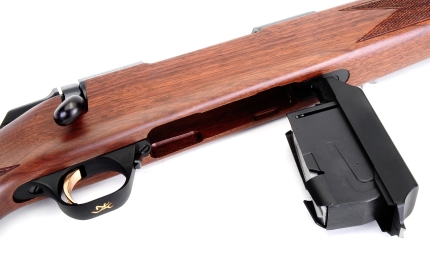 Magazine capacity is two rounds which makes this a 2+1 chambered firearm. In addition to loading from the bottom, the shotgun can also be top loaded through the gun's ejection port. For the cold weather hunter, the magazine release button is large enough and accessible enough to be easily operated with gloved hands, while the guppy belly floor plate projection prevents inadvertent contact with the release button.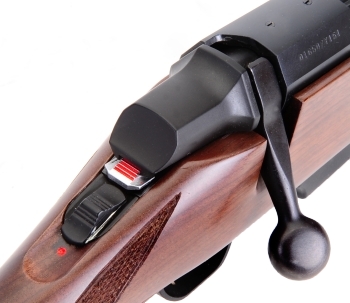 The A-Bolt has a two position tang mounted slide safety that is, again, easy to operate with even gloved hands and obvious in position. In the "On" position, the safety blocks the trigger and locks the gun's bolt in the closed position.
The cocking indicator, located below the bolt shroud and forward of the safety, protrudes when the A-Bolt is cocked, exposing red colored serrations. The indicator retracts out of sight when the firearm is not cocked. This makes it both a visual and tactile indicator; a quick check with the thumb without taking eyes off of a target.
Since the A-Bolt shotgun is designed to shoot very accurate sabot slugs, the metallic sights selected are appropriate and the steel receiver is drilled and tapped for scope mounting.

The rear sight is adjustable for windage and elevation, the ramped front sight is a bright red fiber optic that will stand out against virtually any target.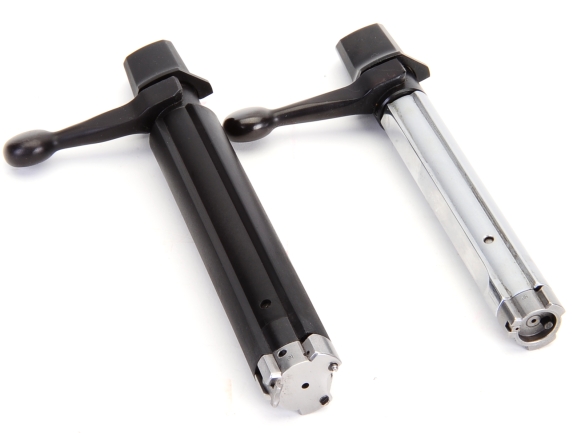 You might notice the subtle difference between the A-Bolt Shotgun bolt, left, and a 325 WSM A-Bolt right. The shotgun bolt's extractor and ejector are mounted slightly higher to facilitate clean feeding from the gun's magazine. The shotgun's bolt body is actually the same size as the stout 325 WSM bolt, but sleeved with a very high strength glass filled composite to bolt head lug diameter for smooth operation. The bolt locks up like a bank vault.
And with a little bit more digging...
The A-Bolt Shotgun disassembles just like A-Bolt rifles. Two machine thread screws secure the hinged floor plate and trigger guard, sandwiching the stock between it and the barreled action. An additional screw, a woodscrew, secure the leading edge of the trigger guard to the stock.
`

The inletted, unexposed surfaces of the stock are well finished and sealed against the effects of moisture. The stock is reinforced at the action's recoil lug with glass bedding, relieved in the barrel channel to reduce contact surface area.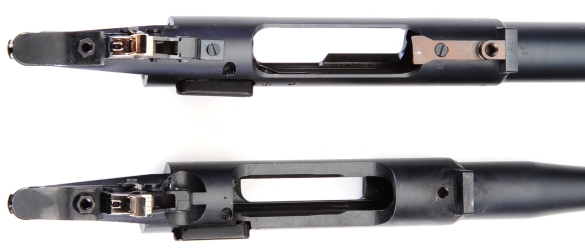 The A-Bolt shotgun action, top, is unique in the Browning lineup, but similar to the A-Bolt 325 WSM action, bottom, in some ways. The difference in length and receiver wall thicknesses is considerable, but the latter is expected. The shotgun sees less than 12,000 PSI of chamber pressure while the short magnum is subjected to 64,000 PSI. The shotgun action also has a screw attached feed ramp to assist in feeding less than streamlined cartridges.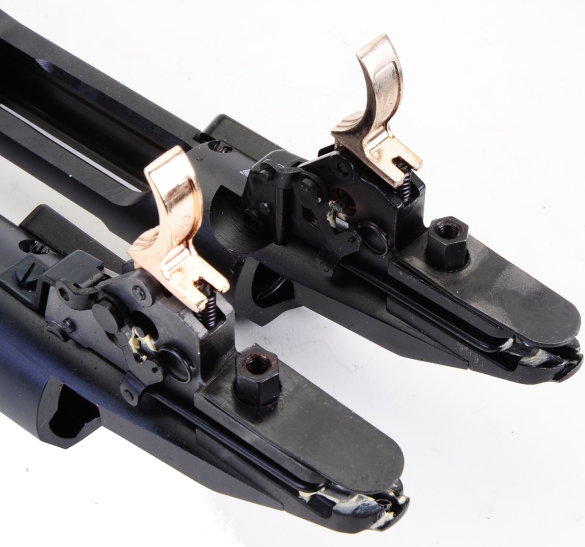 Trigger assemblies are very similar with the exception of mounting and the absence of a bolt handle lock link on the shotgun version. Like the rifle version, the A-Bolt Shotgun has an adjustable trigger with a pull range of 3 - 6.5 lbs. The adjustment screw, visible at the rear of the trigger, is accessible by removing the A-Bolt's trigger guard.
Does this picture make you dizzy?
Sorry, I was going for a distraction while I collected my thoughts. Bolt action shotguns are not a new innovation. In the late 1800's and early 1900's, it was common for early Mausers like the Model 71 of 1872 to be converted from rifle cartridge to shotgun shell duty. They were cheap to produce and the actions were stronger than most shotguns of the day. This allowed the use of heavily charged, higher pressure, long range goose loads and slugs in tightly choked barrels.
Today, shotguns are stronger, but slug guns are more of a specialty when the plan is to have them perform with a high degree of accuracy and this is the plan with the A-Bolt Shotgun. In fact, slug guns are often used even in areas where the use of a shotgun is not mandatory. The picture below is a good illustration of why that might be.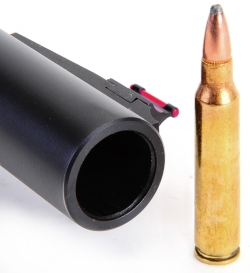 Winchester offers a 3" Dual Bond sabot slug load with a 385 grain projectile and a muzzle velocity of 1850 fps. Muzzle energy is 2,849 fps and it stays at just about a ton out to 100 yards. On a 125 yard zero, the bullet never rises higher than 0.8" and drops only 8.6" at 200 yards. That is one heck of a shotgun slug load. Winchester recommends its use on deer, black bear and boar, but also on elk, moose and brown bear.
Lightfield's Commander IDS Plus 3″ pushes a 73 caliber, 600 grain slug to 3,850 ft/lbs of muzzle energy, but considerably less than the Winchester load with only 1,324 ft/lbs of energy at 150 yards. Lightfield lists this ammunition for the same dangerous North American game at ranges out to 200 yards. Slug selection is a strategy, tied very closely to shooting distance.
I'm not sure why a hunter would select a slug gun for 200 yard shots at very large game. I can't think of a location where elk, moose or brown bear are hunted in shotgun only areas and I couldn't think why I would select a shotgun for 200 yard shooting, unless I was forced to do so by regulation. I could easily see where a slug gun could be the choice for close in dispatching of something large and dangerous. I've read numerous stories of professional hunters in Africa going after wounded leopard and similar game with slug or 00 Buck guns in close quarter situations. I would not see a slug gun as a compromise in the least for hunting black bear, deer and wild hogs in heavily wooded areas where shots are close in.
In any event, we're going to take some time and check out the A-Bolt Shotgun for accuracy at 100 yards and see if this exercise provides an altered perspective on slug gun application. We'll be back with Part 2.
Browning's A-Bolt Shotgun Hunter 12 Gauge Part 1
Browning's A-Bolt Shotgun Hunter 12 Gauge Part 2