A while back, Real Guns® reviewed a Remington's Model 700™ VTR A-TACS™, a camouflaged model chambered for the 308 Winchester. It was an excellent shooter; very accurate and the technical design remains very interesting. This time around we received a VTR chambered for the 243 Winchester and, for me, that is a more appealing combination.
Remington Model 700 VTR

Manufacturer

Remington

Oder #

84368

Type

Bolt Action

Caliber

.243 Winchester

Mag Capacity

4

Barrel Length

22"

Rifling

1:9 1/8"

Weight

7 Lbs 6 Oz.*

Overall Length

41 5/8"

Stock

Green Composite

Hardware

Steel & Aluminum

Length of Pull

13 1/4" *

Drop at comb

3/4" *

Drop at heel*

3/4" *

Sights

Clean

Scope

Drilled and Tapped

Trigger Pull

X-Mark Pro Adjustable

Safety

2 Position Thumb

MSRP

$825

*Actual
With us since 2008, the VTR is a varmint-tactical rifle made light weight by a unique approach to its barrel profile.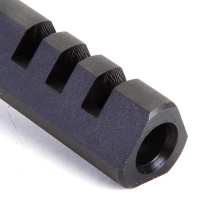 The VTR's barrel begins in conventional cylindrical form at the shank, then transitions into it's triangular from 4" up from the receiver, and continues on in this form to the muzzle, as shown above. This form reduces weight, promotes cooling and is more rigid than a round barrel of significantly larger diameter. The integral brake, the four slots cut into the barrel, decrease muzzle jump and recoil.
The stock has minimal drop at the comb and heel, which is optimal for scope use. The pull is a bit shorter than the typical Model 700, which should make it easier to shoot from a bench or prone from a bipod.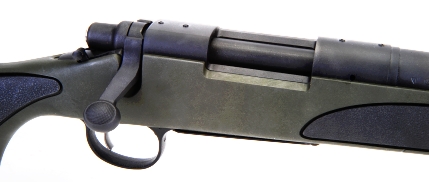 While I am not usually a huge fan of the olive and black generation of Remington firearms, it definitely works in this application. The matte green and black composite stock and bead blasted blued and anodized metal parts make for a very practical non-reflective finish that blends into an outdoor environment. The soft overmolded gripping surface panels are more effective than checkering in all weather conditions, including wet and cold. The stock is a molded poly piece, the barrel is floated.

A closer look at the barrel transition from cylindrical to triangular form. That is daylight through the stock's vents. The slots cut weight and promote bottom side barrel cooling. The double swivel studs allow concurrent sling and bipod installation.

The VTR's bottom metal is aluminum alloy; looks good, works fine and reduced weight. 1) Trigger pull adjustment screw 2) Bolt release 3) Hinged floor plate release. Both # 2 and #3 require beyond flush depression for release so they do not represent an opportunity for inadvertent actuation.
Get Shorty! I liked that movie...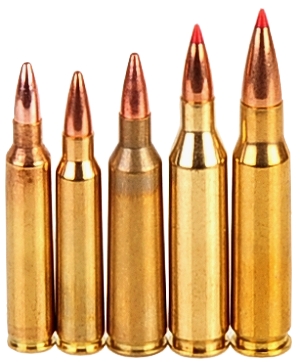 The current VTR is available in short action chambers only. Still, this allows for a compact rifle, with a lot of reach, to fit any hunting applications from varmint to elk. Left to right - 204 Ruger, 223 Remington, 22-250 Remington, 243 Winchester, 308 Winchester.
I am not sure why the long action rifles with triangular profile barrels, like the HXR, were discontinued. It could have been that the HXR proved redundant to the already highly accurate conventional barrel Model 700's. In the case of the VTR, Remington brought long range and accuracy to a shorter barrel firearm where it would not be much of a compromise to cartridges with lesser case capacity.
In this case, we're working with the 243 Winchester, an excellent cartridge for deer and, with lightweight and more fragile bullets, a good round for varmints. At this point, we'll take a break, assemble some handloads for the 243 Winchester and see if we can get some range time in between snow storms.

Remington's Model 700 Varmint-Tactical Rifle (VTR) in 243 - Part 1
Remington's Model 700 Varmint-Tactical Rifle (VTR) in 243 - Part 11