Pictured left, in what looks like black and white photography, is the Remington Model 700 SPS Tactical bolt action rifle... in living color. What makes the SPS Tactical unique, within Remington's line up, is its truncated 20" heavy barrel, overmolded synthetic stock and tight rifling twist rate. The SPS Tactical is one of a generation of tactical firearms where a couple of pounds of heavy barrel have been lobbed off in deference to modest case powder capacity the and moderate bore volume/case volume proportions of the 223 Remington and 308 Winchester cartridges. The idea is that for a small compromise in velocity and no compromise in accuracy, a lot will be gained in handling.
Remington M700 SPS Tactical

Manufacturer

Remington

Item #

84206

Type

Bolt Action

Caliber

223 Remington*

Mag Capacity

6

Barrel Length

20"

Rifling

1:9"

Weight

7.5 Lbs

Overall Length

39 5/8"

Stocks

Overmolded Synthetic

Barrel & Action

Chrome Moly - Black Oxide

Length of Pull

13 3/4"

Drop at comb

5/8"

Drop at heel*

7/8"

Sights

Clean

Scope

Drilled and Tapped

Trigger Pull

X-Mark Pro Adjustable

Safety

Thumb

MSRP

$757

Nominal Weights & Measures
*Also available in 308 Winchester
The SPS Tactical is intended to be shot from a supported position; bipod, rest or with the aid of a shooting sling. The rifle's CG is at the union of the barrel and receiver, which makes for a steady, but muzzle heavy hold. The barrel, with its 0.860" muzzle, has a bit too much mass to make it handy for tracking a fast moving target through a scope's eyepiece.
Remington made a good decision when setting the SPS Tactical's twist rate at 9". Most lighter weight rifles, including Remington's more traditional bolt action rifles, are supplied with a 12" twist in anticipation of 50 - 55 grain bullet weights. The 9" twist stabilizes heavier, high ballistic coefficient 65 - 67 grain bullets for improved extended range performance and the bullet weights are more appropriate for medium game and true tactical applications.
The tighter twist does not prohibit the use of quality lighter bullets, as the moderate velocity of the 223 Remington does not drive lighter bullets to exceptional levels of rotational speed. Generally, the concern is that high rotational speeds of light bullets will expose their minute balance imperfections in the form of lost accuracy. A 55 grain bullet with a muzzle velocity of 3,240 fps will exit the muzzle of a 9" twist rifle at 259,000 RPM. By comparison, a 64 grain bullet with a 3,020 fps muzzle velocity turns 241,000 RPM. Not enough difference to make a difference.
Beyond the experienced varmint and medium size game hunter and TAC shooter, the Remington Model 700 SPS Tactical makes an excellent centerfire rifle for teaching shooting skills. Recoil is virtually nonexistent, report is mild, potential accuracy is excellent and the rifle with scope falls into a manageable weight range.
What about the other guys?
Listening to both Chuck Berry's and Jerry Lee Lewis's early versions of Johnny B. Good, it seems that the lead guitar on the Berry version is better than the piano on the Jerry Lee version, but the aloof southern rockabilly vocal on the Jerry Lee version is better than the teen pop Chuck Berry vocal. May seem like a subtle difference, both are good, but I only listen to one of them.
| | | | | | | | |
| --- | --- | --- | --- | --- | --- | --- | --- |
| Company | Model | Chamber | Weight | Length | Barrel length | Capacity | MSRP |
| Remington | SPS Tactical | 223 Remington | 7.50 | 39 5/8 | 20 | 6+1 | 757 |
| Ruger | M77 Tactical | 223 Remington | 8.75 | 41 1/2 | 20 | 5+1 | 1,239 |
| Savage | Precision Carbine | 223 Remington | 8.00 | 40 1/2 | 20 | 4+1 | 925 |
I'm not a big Savage fan... hysterical email expected. It's just that I have never heard from a person who didn't lead with price as the Savage war cry, which is fine, as every area of activity needs a budget priced player. However, at least in this case, the Savage is not a price leader by any means, which leaves us with an over priced budget built rifle.
Ruger, a premium rifle manufacturer, is priced 63% higher than the Remington, which is not typical price separation where two premium priced brands are competing. Ruger's does include a bipod with their tactical rifle, the Remington does not, and the Ruger is a bit more nicely finished. The Remington is lighter than either competitor's products and it has greater magazine capacity. I can't speak to the Remington's accuracy yet, the most important issue, until Part 2 when I've put in some range time and collected relevant data.
The Remington is steel on top and aluminum on the bottom, appropriate selection of material for the job to be done. The non-stressed bottom metal cuts down on weight but looks good and blends in with the balance of the rifle's finish. As identified by the set screw in the trigger, the SPS Tactical is fitted with Remington's outstanding X-Mark Pro adjustable trigger.
With satin black oxide finish and flat finished synthetic stock, glare and reflected light is not a problem when hunting. The stock is pillar bedded and the barrel floats in its channel. As seen above, the receiver is drilled and tapped for scope bases. The bolt is twin. lug, which means 90º rotation and the thumb safety has two positive positions.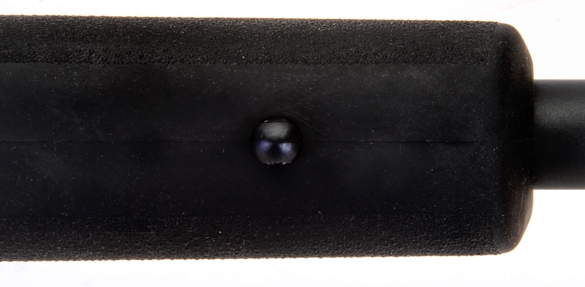 The SPS Tactical has a wide forearm, which is pretty standard for varmint and tactical rifles that are shot off of a rest. The Remington does not have the double swivel studs of the Sendero or longer barrel tactical products. The omission is more different than a problem as a bipod can easily be mounted and removed to make room for a sling. The buttstock is capped with a SuperCell recoil pad, of greater importance for 308 Winchester versions.
Long Vs short... before the Supreme Court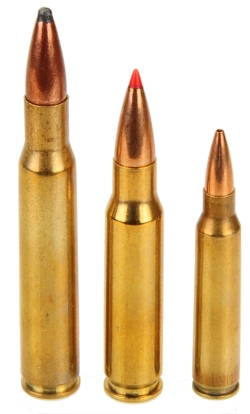 A 24" barrel 30-06 Springfield rifle with a cartridge case powder capacity of roughly 65 grains, assembled with a 150 grain bullet, will burn virtually all of its powder charge within the first 10" or 11" of bore. Pressure will peak at 2.5", but persist behind the bullet, causing it continue to accelerate until it exits ahead of approximately 10,000 PSI of muzzle pressure.
The 20" barrel SPS Tactical, chambered for the 223 Remington, will burn 100% of its 25 grain powder charge, but it will take 17" of barrel to do so. Pressure will peak within 1.5" of bore length, however, the bullet will still exit ahead of 9,000 PSI of muzzle pressure.
The 308 Winchester version of the SPS Tactical will burn 100% of its powder charge in approximately 13" of bore length. Pressure will peak at roughly 1.6" and the bullet will exit ahead of 10,000 PSI of muzzle pressure. In these examples, all cartridges are loaded to a maximum pressure of 60,000 PSI.
What does all of this mean, Joe? I have no idea, but it is kind of interesting to take a long train ride to make the point that even when 100% of a cartridge's powder is burned, what is lost with a shorter barrel is the effect of gas pressure persistence, a condition which will always result in somewhat reduced velocity. How much?
65 Grains at 3050 FPS MV 24" Barrel
Range -yds
0
50
100
150
200
250
300
350
400
450
500
Velocity - ft./sec.
3050
2891
2737
2588
2444
2306
2171
2042
1917
1798
1682
Energy - ft.-lbs.
1342
1206
1081
967
862
767
680
602
531
466
408
Path - in.
-1.5
1.1
2.6
3.0
2.0
-0.3
-4.4
-10.2
-18.2
-28.5
-41.5
Indices

65 Grain at 2950 FPS MV 20" Barrel

Range -yds
0
50
100
150
200
250
300
350
400
450
500
Velocity - ft./sec.
2950
2794
2644
2498
2357
2221
2090
1964
1842
1725
1613
Energy - ft.-lbs.
1256
1127
1008
900
802
712
630
556
490
429
376
Path - in.
-1.5
1.2
2.8
3.2
2.2
-0.4
-4.8
-11.1
-19.7
-30.9
-45.0
Approximately 100 fps separate a 24" from a 20" barrel for the 223 Remington. Both tables reflect a 244 yard zero for the sake of apple and eggplant comparison. Folks who shoot long range know that it is only a minor elevation correction that is required to put both on the same dot at 500 yards and the difference in kinetic energy is negligible. In short, a 20" barrel isn't much more than a theoretical compromise with measureable upside.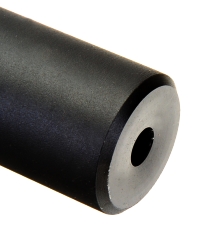 If velocity is diminished with a shorter barrel, why would anyone want a short barrel varmint, tactical rifle? The last full length barrel varmint rifle we assembled in the shop tipped the scales at 11 lbs, or 3 1/2 pounds more than the Remington Model 700 SPS Tactical. The longer barrel version is a lot to haul around without a hand truck.
A short break is in order to round up factory ammunition and handloads for the live fire phase. In the meantime, the Remington SPS Tactical is looking like quite a bargain. I hope the price remains where it is for a while, especially in light of the industry price creep that is following shortage of firearms and ammunition.
Now to pick a scope...
Model 700 SPS Tactical in 223 Remington Part 1
Model 700 SPS Tactical in 223 Remington Part 2