Between the years 1960 and 1963 an "Alaskan" version of the Model 70 was produced. Chambered for the then relatively new 338 Winchester Magnum, and the established 375 H&H Magnum, the Alaskan was Winchester's North American heavy hitter1. In 2012, when Winchester announced a new Alaskan, it was 1960 all over again. Elmer Keith was my favorite outdoor writer and Guns & Ammo was my favorite magazine, Warner Brothers was airing theTV series The Alaskan, and Johnny Horton was singing "North to Alaska". I was fourteen years old and wondering how pumping gas was going to buy the Winchester and pay my way to Alaska where I would hunt big and dangerous game and meet The Alaskans Rocky Shaw, the dancehall girl/philosopher played by Dorothy Provine. Yes, I was an odd child. Thank you for noticing.
The current Winchester Alaskan is a beautifully done firearm, not a duplicate of the original, but certainly capturing a traditional look and feel. Built in Columbia, South Carolina, walnut stocked and deeply blued, the new Winchester incorporates some significant improvements over the original that reflect the better part of firearm evolution.

Neither the original Alaskan nor the new release have a cheek piece, but both have a Monte Carlo comb to better facilitate shooting with a scope. The original has a semi-gloss walnut stock, the current stock has a satin oil rubbed look. The borderless cut checkering on the new Alaskan extends forward of the stock wrist and flows back beyond the grip. The early model's hard recoil pad has been replaced with a much appreciated Decelerator.
The original Alaskan has all steel bottom metal, while the new release has an aluminum trigger guard and floorplate frame with a steel floorplate. The magazine box is steel. But then the original weighs nearly 10 lbs and the current release tipped a calibrated scale at 8 pounds even.
I just had to ask...
Both the original and current release of the Alaskan have a 1" diameter raised boss around the barrel's circumference (Below), located approximately 3.750" forward of the rifle's receiver. The boss provides additional material to dovetail mount a fold down rear sight without having to resort to an overall heavier barrel profile for strength. Also, by raising the rear sight, the rifle's comb height works well for both scoped and open sight shooting.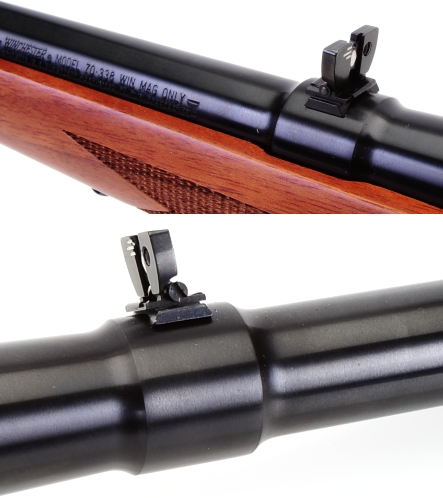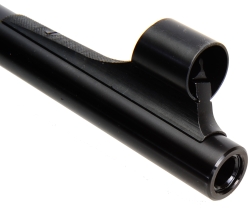 The Boss probably does a decent job of dampening barrel harmonics as well, but that is just conjecture on my part. For sure it is not intended to serve as an additional recoil absorbing surface as underscored by the leading and trailing fillets.
The Alaskan's rear sight is micro adjustable for windage and elevation. It also has one heck of a streamlined ramp with a hooded brass bead front sight. Visible (Left), is the rifle's recessed target crown. The Alaskan has some very elegant aesthetics that I am sure a large brown bear would briefly appreciate.
Now turn right and face the camera...
Where the original Alaskan flat bottom receiver is tightly inletted into a wooden stock and barrel channel that, like all wooden stocks, tends to walk with temperature and humidity, the modern version is glass bedded at the tang and recoil lug. The barrel floats in the barrel channel. These are proven techniques that promote consistent shot to shot point of impact.
The Winchester Model 70 Alaskan is a controlled round system; the cartridge rim is held to the bolt face by the claw extractor as a round is stripped from the magazine. With a slightly greater effort, the bolt will also close properly over the rim of a cartridge loaded directly into the rifle's chamber. The three position wing safety permits, safety on - firing pin blocked and bolt locked closed, Intermediate safety on - firing pin blocked, but bolt can be cycled, Safety off. This is the easiest bolt to disassemble without tools I have encountered.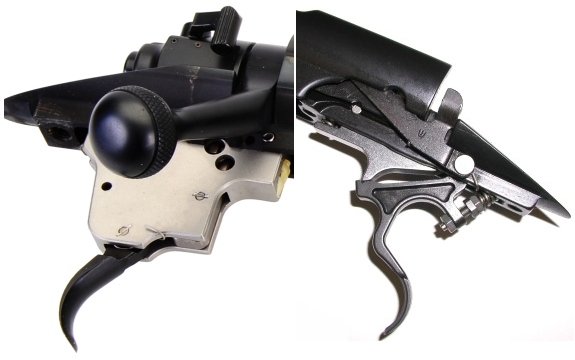 The new MOA trigger, left, represents a major upgrade in comparison the early style trigger, right. The trigger is enclosed and modular, adjustable for pull ( 2.5 and 5 lbs) and adjustable for overtravel. The new design's improved geometry preloads the system, which eliminates take up and its 2x mechanical advantage eliminates creep. While I am always excited about being able to adjust a trigger from a factory setting to something different, and then return it to the factory setting when I am forced to accept I'd done nothing to improve the situation, I left the Winchester trigger as received.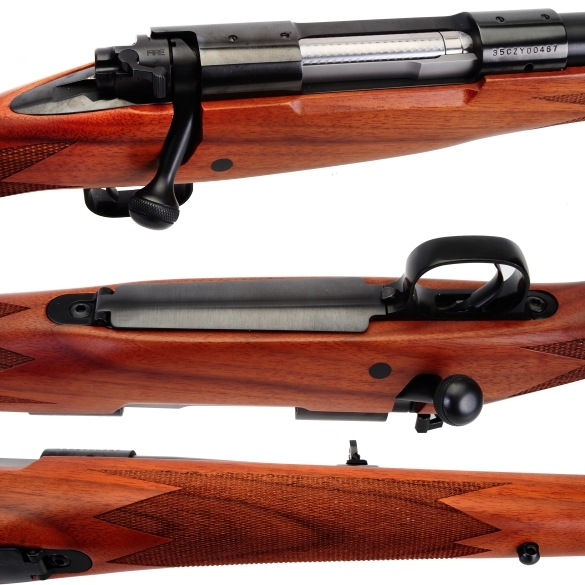 Gratuitous imagery? Not at all. I'm just short on adjectives so I thought pictures would do a better job than a handful of run-on, cliché-ladened sentences. There is no place to look where the new Winchester Model 70 Alaskan doesn't look good, from jeweled bolt to flush fit of metal pieces to crisp checkering. It is the kind of rifle that draws a crowd at the range and gets flowers on Valentine's Day.
Model - Winchester Model 70 Alaskan

Company

Point of Origin

Columbia, SC

Type

Bolt Action

Caliber

338 Winchester Magnum

Mag Capacity

3

Barrel Length

25"

Rifling

1:10"

Weight

8 Lbs*

Overall Length

45 3/4"

Stock

Satin Finished Walnut

Hardware

Blued Steel

Length of Pull

13 3/4"

Drop at comb

1/2"

Drop at heel*

1/2"

Rear Sight

Folding - W&E Adjustable

Front Sight
Ramped Hood

Scope

Drilled and Tapped

Trigger Pull

Adjustable 2 1/2 - 5 Lbs

Safety

Wing - Three Position

MSRP

$1,269.99

*Actual Weight
Is there anything I would change? Never a good question to ask me because I am old, grumpy and picky and I like poking at the product of other people's imagination. I would prefer that the trigger guard and floorplate frame be made of steel also. Not for any functional or strength related reasons, but solely as a function of finish texture of steel versus aluminum. The steel blued floorplate has a fine grain,

the aluminum trigger guard and floor plate frame do not, which causes the latter to appear a deeper black. Perhaps if I had to haul around an additional 1/4 lbs of steel for any length of time I wouldn't be so finicky.
The 338 Winchester Magnum Cartridge
There is no doubt that the 338 Winchester Magnum is experiencing a resurgence in popularity. It has been challenged by the 325 WSM, the 338-06, the 340 and 338-378 Weatherby Magnums, the 338 Remington Ultra Mag, and the 338 Ruger Compact Magnum, but it is still standing. The current popularity means quality rifles like the Winchester Model 70 Alaskan and lots of good factory ammunition are being produced for hunters. These days there are better propellants and bullets and ammunition assembly is near perfection.
Winchester works in a number of premium bullet types to cover everything from thin skinned whitetails to elk and Alaskan moose and African lion. I am not sure why they do not offer a 338 Winchester Magnum load with their XP3 bullet. I noticed they load the 325 WSM with this bullet and list that cartridge as suitable for elephant, cape buffalo and hippo. The MV is the same for both rounds, however, the 0.338" bullet has a lower ballistic coefficient and sectional density... maybe the issue is reduced momentum? As a practical matter, this is not an issue, but it does make me want to run the numbers and see what falls out.
For the hot-rodders out there, Hornady Superformance 200 grain ammunition generates 3030 fps of muzzle velocity and 4076 ft. lbs. of muzzle energy. The 225 grain version generates 2940 fps of muzzle velocity and 4318 ft. lbs. of muzzle energy. Grizzly Ammunition puts even a bit more on the 338 Winchester Magnum.
Rather than make accuracy and live fire performance a footnote, we're going to mount a scope on the Alaskan, assemble some ammunition with a variety of good bullets and see how it all comes together at the range. Be back soon.
1 Standard Catalog of Winchester - Kowalski and The History of Winchester Firearms 1866-1992 - Henshaw. 2 Standard Catalog of Firearms - Schwing,