In 1962, I owned a 1958 Chevy Impala. A rag top with a continental kits, air suspension, Turbo Glide trans and a 280 horse, tri power 348 cubic inch W block. It joined a 392 Chrysler Hemi powered 32 Ford pickup truck and a small block Chevy powered '53 Henry J and a kid still too young to have a driver's license. The first vehicle is of consequence when noting that the Winchester was only my second exposure to a 348. The rest are noted purely as an expression of nostalgia.
A combination of power and strength
Over 47,000 Winchester Model 71s were produced between November 1935 and 1957. The Model 71, a strengthened successor to the Model 1886, it was optimized for use with the smokeless powder, bottle necked, high powered 348 Winchester centerfire1). In comparison to the 1886, the original Model 71 was made from a better grade of steel, it utilized a coil rather than flat hammer spring, its stock's comb was raised to shield a shooter's face from recoil and it had a pistol grip, The rifle's feed system was optimized for use with the 348 WCF. The 348 WCF was one of the most powerful rimmed cartridge of its day, popularly used to hunt the largest and most dangerous game in North America.
As further testimony to the Winchester Model 71's abundant strength, a good number were rebarreled to accommodate Harold Johnson's .450 Alaskan and P.O. Ackley's .450/348; the latter being a less tapered and 40º shouldered version with slightly greater powder capacity. In the words of P.O. Ackley, "Either is powerful enough for anything in the world"2). Ackley goes on to list loads for 500 grain bullets at 2,000 fps for approximately 4,400 ft.lbs of kinetic energy. Other "Improved" versions of the 348 Winchester were made in calibers from .348" to .500".
In more modern times
Model 71 Standard

Company

Winchester Repeating Arms
Item #
534187183

Manufactured

Miroku - Japan

Type

Lever Action

Caliber

348 Winchester

Mag Capacity

4

Barrel Length

24"

Rifling

1:12"

Weight

8.0 Lbs

Overall Length

43 1/8"

Stocks

Oil Finish Select Walnut

Hardware

Blued Steel

Length of Pull

13 1/4"

Drop at comb

1 1/8"

Drop at heel*

1 1/2"

Sights

Semi Buckhorn - Bead Front

Receiver Sight

Drilled and Tapped

Trigger Pull

4 Lbs. 15 Oz.

Safety

Tang - Sliding

MSRP

$1,469.99

Nominal Weights & Measures
The Model 71 is often defined by writers as a favorite of Alaskan Guides, in both standard and in wildcat form. I have no doubt that when the Model 71 was in original production, or until the used firearm supply became thin and very expensive, this was true. However, at auction a clean example of original production will routinely gavel down at $4,000+ and most folks won't drag a historically significant firearm around in the woods. Browning made a production run of deluxe and standard Model 71s, 1986-1987, for a combined 13,000 units. Quickly sold out, these are almost as scarce as the original, with most getting tucked away in a firearm enthusiast's safe, so these are also costly when found.
My point is that, while the Model; 71 is an outstanding hunting rifle, a half century lapse since original production ended, high demand, historical significance, and high prices have combined to make an excellent hunting rifle an uncommon presence at hunting camps. Fortunately, in 2011, Winchester Repeating Arm resumed production of the Model 71, making them again available at a reasonable price for those of us who would like to own, shoot and hunt with a Model 71. The new supply should get a bunch of these lever action Winchesters back into the woods again.
An action designed with big things in mind
The number and directions of motions that occur when closing the breech of a Model 1886 or Model 71 reminds me of a puzzle box. A combination of interlocking parts keyed together in one short stroke of the rifle's lever. Parts moving with vertical, radial and longitudinal motion; slick, precise, solid. The workmanship, the quality of assembly is subordinate to none.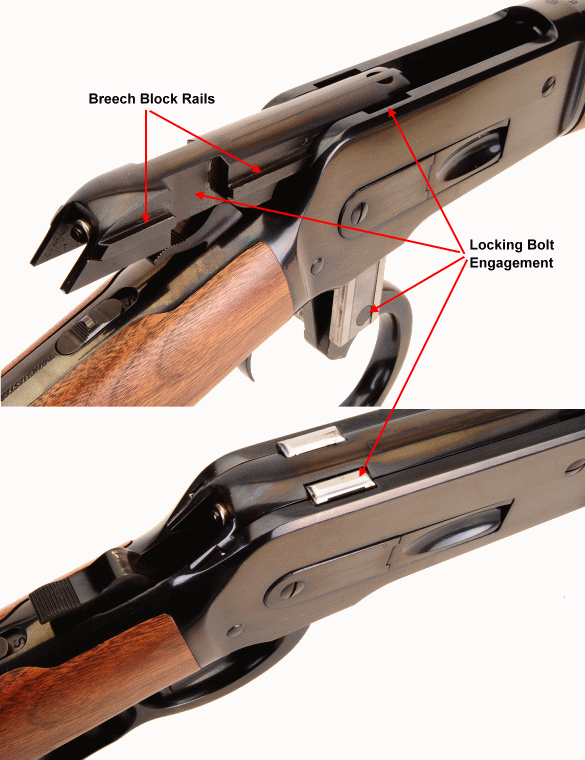 The lever lifts the locking bolts vertically in keyways cut into the thick walls of the receiver, while moving the breech block forward. Rails on the moving breech block guide it in alignment with the bore centerline until the lever is homed and the locking bolts are keyed into the breech block. When closed, the breech block is anchored from movement in any direction. Considering the 348 WCF is a SAAMI 40,000 PSI MAP cartridge using the crusher method, and a CIP 46,000 PSI transducer method cartridge, the Model 71's strong action assures a huge degree of durability and reliability.
Insert basketball rebound metaphor here... I'm too short to know one.
The resounding, Winchester rebounding hammer is an approach to safety in modern firearms. It doesn't detract from the rifle's function; the Model 71 feels like it is cycling on roller bearings and the trigger is crisp and not too heavy for a lever action. The Model 71's rebounding hammer is a mechanism intended to prevent the hammer from making contact with the gun's firing pin unless the trigger has been intentionally depressed.... physically, not emotionally. For relics like me, the familiar "click - click" is missing when cocking the hammer. That has been replaced by just one click to full cock or rebound hammer position, as seen below.
The normal rifle carry position is the hammer in the rebound position with the tang safety on. After chambering a round, the hammer can still be lowered from full cock to rebound position by following the detailed procedures outlined in the product user's manual. The tang safety is smooth, but positive in actuation and a welcome alternative to a Frankenstein, cross bolt through the receiver type safety.
If you like this rifle, you can shoot through these sights
This is a semi buckhorn rear sight, as opposed to semi cow horn rear sight. The difference is that I made up the latter. Total fabrication... but there is a buckhorn where the wings really wrap around. The wings are for getting your attention on a target and the little notch at the center of the wings is for precise aiming. The ramped and hooded from sight is a little piece of art, right down to its 0.065" brass bead. Other than the blue oil tint on surfaces, which of course wipes off, Winchester puts some serious bluing on their firearms, something you don't see very often these days.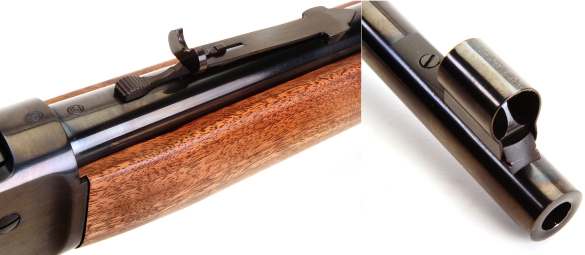 The Model 71 is not drilled & tapped for a scope. No, I am not going to launch into a diatribe about traditional sights on a traditional gun. For folks who don't like open sights, the Model 71 is drilled and tapped for receiver mounted sights, peep sights. Between the two types, and with a little basic practice, a hunter can hit big game out to 200 yards without a lot of fanfare. Keeping in mind that this is a 348 Winchester that will be loaded with flat nose bullets, or those Hornady FTX pointed tipped bullets, the sights are appropriate and all that is needed. Why didn't Winchester D&T the receiver for a scope? Because it is a top eject rifle. No, I wouldn't deface a rifle with a scout scope mount.
Hmm...
The Model 71, as compared to my other hunting compadre the Marlin Model 1895 Guide Gun, has a higher comb and more shallow drop at the heel. The game plan, as it was when the Model 71 first went into production, was to provide good support while moving the stock away from the shooter's face under recoil. Remember, the 348 WCF is a pretty hefty cartridge. The Marlin mostly is content to beat the shooter profusely about the head and ears, which most of us come to enjoy after a time.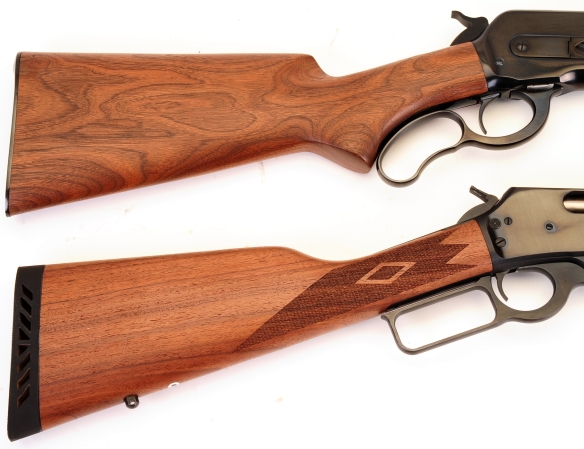 The Winchester's tight radius pistol grip and curved lever loop offers a better hold on the rifle and some protection for shooter's fingers. I'll reserve preference until after all of the live fire is completed. That steel butt plate on the Model 71 is almost a dare, as in "I dare you to hunch up over this rifle on a shooting bench shoot all day". The original was the same and maybe I'm being a big girl about the recoil pad issue.
Capping off this segment...
I've missed these rifles. They connect me to the events and experiences of my life, something good firearms should accomplish. There is a place for rifles with synthetic stocks and modern autoloaders, however, I have a preference for wood and steel and some sign of presence of skilled craftsmanship. I also like early and earlier cartridges because I don't think anything introduced in the past fifty years has advanced ballistic performance.

What has advanced are material sciences and manufacturing technology. Winchester has done a great job of taking all of those advancements and incorporated them into a rifle that looks precisely like early to mid 1900 America. We'll see if we can't wring something more out of the 348 WCF with some newer bullet and powder technology in Part 2.
1) Winchester an American Legend - R.L. Wilson & The History of Winchester Firearms 1866-1992 - Thomas Henshaw 2) Handbook for Shooters and Reloaders - Parker O. Ackley.
Winchester's 348 WCF Boomer... Part 1
Winchester's 348 WCF Boomer... Part 2