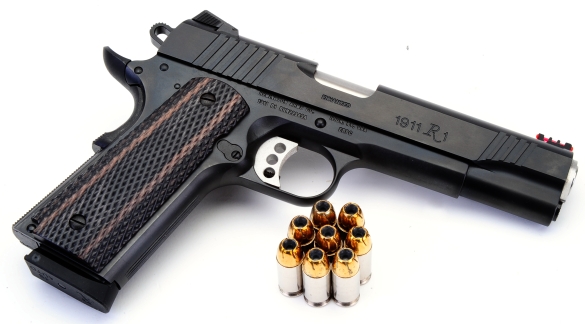 The Remington 1911 R1 offers terrific value in a 1911 type pistol. Even the basic model R1 can be taken out of its box and pressed into service for recreational shooting, or for life saving self defense, with no modifications or finesse finishing required. Its fit and finish is equal to firearms selling at twice the price and the R1 is rock solid reliable. For folks who can't leave well enough alone, like you and me, the basic 1911 R1 offers a lot of potential as an ongoing pet project. The version pictured, the Enhanced, goes on to include most of the features that are popular on custom guns.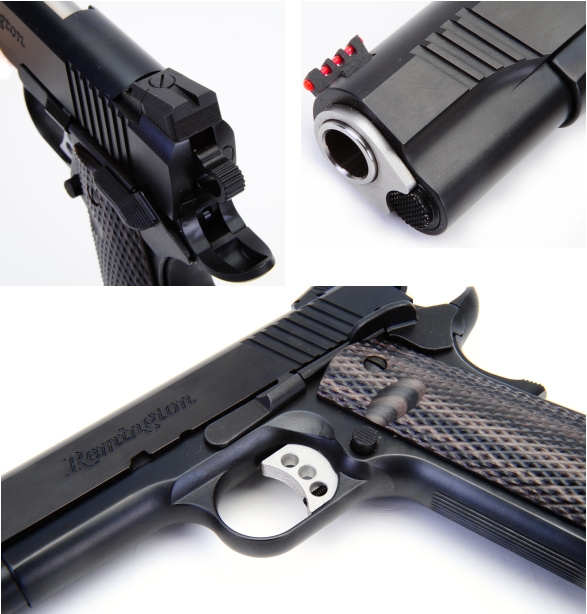 With a $111 bump in list price over the basic R1, the Enhanced model adds: a beavertail grip safety with checkered memory bump, a Commander type hammer, a lightweight trigger with overtravel adjustment, a checkered mainspring housing, an extended safety, fiber optic sight setup, and front slide cocking serrations. Roughly $360 worth of parts, not including matching labor costs from a decent gunsmith if required for fitting and assembly.
The Remington 1911 R1 product line expansion... manifest destiny
Setting aside the limited edition Centennial and threaded barrel Enhanced models as modest derivatives of primary models, there are three versions of Remington Model 1911 R1. Each, with the exception of the carbon steel only "Carry", is available in carbon steel and corresponding stainless steel version, each with their own defining features.
Remington 1911 R1 Product line

Manufacturer
Remington - Ilion, NY
Model
R1
R1 Enhanced
R1 Carry

# Alloy Steel/Stainless

96323/96324

96328/96329
96332

Type

Recoil Operated, Locked breech Autoloader

Caliber

45 ACP

Magazines Supplied

7+7

8+8
7+8

Barrel

5" Stainless Steel

Rifling

1:16" LH

Weight

38.5 Ounces*

Overall Length

8.5"

Overall Height

5.5"

Trigger Pull

3.5 - 5.0 Lbs.

Grips

Walnut

Wood Laminate
Cocobolo
Hardware
Blued Alloy Steel - Stainless Steel
Blued Alloy Steel

Front Sight - Dovetail

White Dot

Tritium Dot
Fiber Optic - Red

Rear Sight - Dovetail

Non-Adjustable
Adj. Low Profile

Adj. Novak

Dehorned Frame/Slide

N

N
Y

Ambidextrous Safety

N

N
Y
Grip Safety Memory Bump
N
Y
Y
Checkered Front Strap
N
N
Y
Checkered Mainspring Housing
N
Y
Y
Front Strap Serrations
N
Y
N
Mainspring Housing Serrations
Y
N
N
Rear/Front Slide Serrations
N
Y
N
Aluminum Match Trigger
N
Y
Y
Bobbed Hammer
N
Y
Y
Lowered Ejection Port
Y
Y
Y

MSRP Alloy Steel/Stainless

$729/$789

$940/$999/$1,140*
$1,299

* Enhanced threaded barrel Model - 42 Ounces
Osservazioni? Sì, certo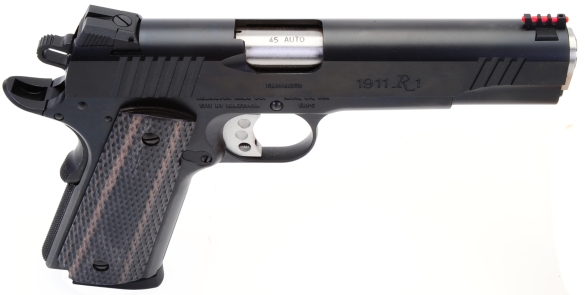 The Remington 1911 R1 Enhanced feels exactly as a Model 1911 type should, like a fist full of steel. There is nothing else that has the heft and balance and excellent slab sided grip. The slide racked like a gun with a 16 lb recoil spring; typical resistance, not too heavy and not so light as to beat up the frame. Trigger pull checked 4 lbs 5 oz and crisp. No signs of creep. There was a bit of overtravel initially, but that was easy enough to adjust out with the overtravel set screw. There was a bit of vertical rock in the trigger that I think could have been removed with a little messaging of the trigger bow. In any event, the play was minor.
I really like the sights, specifically the red fiber optic front sight. At 0.082" at the staked face it is easy to find in the anti glare face of the rear sight and easy to hold on target. I'm sure some traditionalists would opt for a Tritium or white dot front sight, but the piece is dovetailed and easy enough to change. The finish fits in with the gun's overall aesthetics and while it does not have a matte finish, it does have one that isn't reflective so there is nothing to kill sight contrast.
The combination of straight mainspring housing, memory bump and grip swell that fills out the hold at the palm of your hand make shooting and pointing very instinctive. So concentrating remains on target acquisition and target squeeze. The extended safety, one side not ambidextrous, is all that is needed for most shooters, including me. Actuation is positive and within reach without stretching. That slightly elongated grip relief at the magazine release helps without making for inadvertent release. The Enhanced in the only Model R1 with that feature.
The basic R1 has fine serrations at the rear of its slide. The Carry has larger serrations and the gun comes from the factory "de-horned". The Enhanced still has its horns at the front and rear serrations and on the laminated grips' checkering. Lots of sharp, crisp edges. Still, I would say I am ambivalent. It isn't like they are going to cut someone's hand and they do provide a terrific gripping surface.
And then? And then? And then a long came Jones...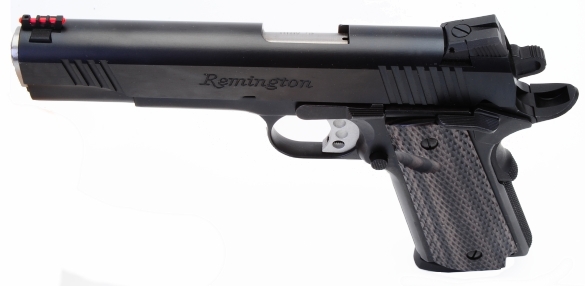 I shot a few rounds of UMC 230 grain ball before checking trigger pull, slide effort and shaking the gun to see if anything fell out. It didn't. No squeaks rattles or rolls. Tomorrow, I'm going to run some defensive ammo through the Enhanced, but I am also going to see how it does with some 185 grain SWC bullseye loads. We'll wrap that up in Part 2 when we see if this will mark the start of a project gun, or if I already have enough things in pieces to work on.
Remington's 1911 R1 Enhanced Part 1
Remington's 1911 R1 Enhanced Part 11