Whenever we publish a story about the Winchester Model 1894, we receive lots of comments from folks who have either own/owned one or knew someone who owns/owned one or who wants to own one. Understandable as the world has been densely populated by the Model 1894, something on the order of 7,000,000+ firearms 1).
Designed for smokeless powder rifle cartridges, the first units produced were chambered for the black powder .32-40 and 38-55 WCF cartridges. However, by 1895 the Model 1894 was also available in .25-35 WCF and .30-30 WCF Smokeless cartridges 1) . While always subject to change, in current listing, the Model 1894 is available in .30-30 WCF, 38-55 WCF and 450 Marlin.
The untouched John Browning design for the Model 1894 lasted only through approximately the first 7,500 units when the Second Model receiver was phased in as a slightly simplified assembly version. The Second Model was produced from 1895 to 1963 and there have been at least five versions of receivers that have seen production since 2). The 1978 Fifth Model is arguably the most significant revision as it brought both a widened receiver, top ejection Big Bore and, soon afterward, the Angle Eject feature.
The receiver was hardly the only component receiving lots of upgrades and enhancements and there were many configurations of the Model 1894 manufactured. There have been rifles, carbines, muskets, short barrel trapper models, and a few chambered for shot shells. Safeties have moved from the hammer to crossbolt and onto the tang. Springs have gone from flat to coil, and numerous sight systems have been employed.
Winchester Model 1894 Overview of Model Differences

Company
Winchester Repeating Arms

Origin

Miroku - Japan

Model

Carbine

Short Rifle
Sporter
Take Down

Type

Lever Action

Caliber

30-30 WCF
38-55 WCF
30-30 WCF
38-55 WCF
30-30 WCF
38-55 WCF

30-30 WCF
450 Marlin

Magazine Capacity

7
7
8

6

Barrel Length - "

20
20
24

20 Ported

Rifling Twist

1:12"
1:15"
1:12"
1:15"
1:12"
1:15"

1:20"

Weight

6 Lbs 8 Oz
6 Lbs 12 Oz
7 Lbs 8 Oz

6 Lbs 12 Oz

Overall Length - "

38
38
42 1/2

38"

Stocks

Satin Finished Walnut

Checkered

No

No
Yes
No

Hardware

Blued Steel

Length of Pull

13 1/2"

Drop at comb

1 1/4"

Drop at heel*

1 3/4"

Front Sight

Blade

Ramped
Rear Sight
Adjustable Semi Buckhorn

Safety

Tang - Slide

MSRP

$1,199.99
$1,229.99
1,399.99
$1,459.99

Nominal Weights & Measures
While the newest models retain the traditional look and feel of the original, they are a modern firearm in terms of design refinements, improved materials and manufacturing processes. The current model would be considered a Sixth Model receiver, more specifically a 6C receiver, with angle eject, tang safety and rebounding hammer in combination.
In context, the Winchester Model 1894 fits somewhere between the hefty Winchester 1886 with an action strong and long enough to handle some of the largest cartridges of the time: 45-70 Gov't, 45-90 WCF, 50-110 Express, etc. and the lighter weight Winchester Model 1892 that was designed for shorter cartridges including the: 44-40, 38-40 and 32-20. Compared to the Models 1886 and 1892, the Model 1894 design changes the way the finger lever pivots and allows the bottom of the receiver, the link, to swing downward before the lever moves full travel.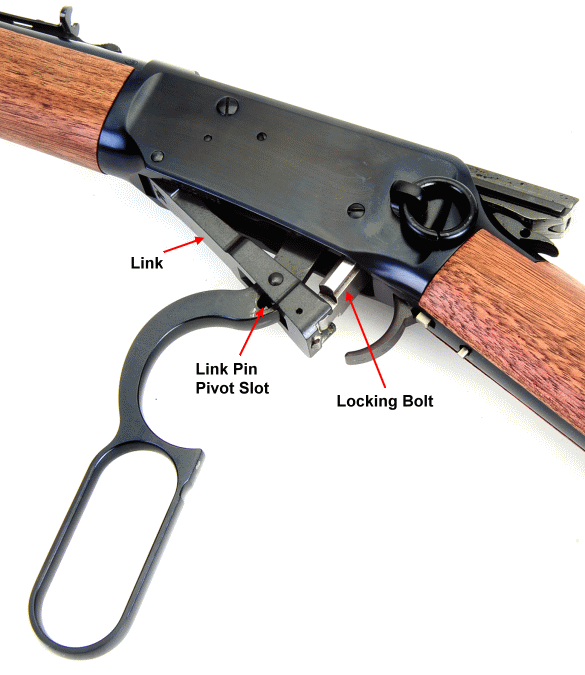 The link's travel pulls the locking bolts fully downward and opens the to bolt approximately 1 1/2". Then the finger lever pivots full travel on the link pin, fully opening the bolt to almost 2 3/4" or enough to cycle 2.550" cartridges like the 38-55 WCF and 30-30 WCF.
A couple of other features....
The Model 1894's hammer is a rebound type. When dropped from the pull cocked position with the safety in the "off" position, the hammer will momentarily travel full down against the firing pin and discharge the rifle, then return to the rebounded position. With the safety in the "On" position, the hammer is blocked. Pulling the trigger from the full cocked position, the hammer will drop but it will be stopped at the rebound position and prevented from striking the firing pin. The tang safety is positive in position and easy to operate.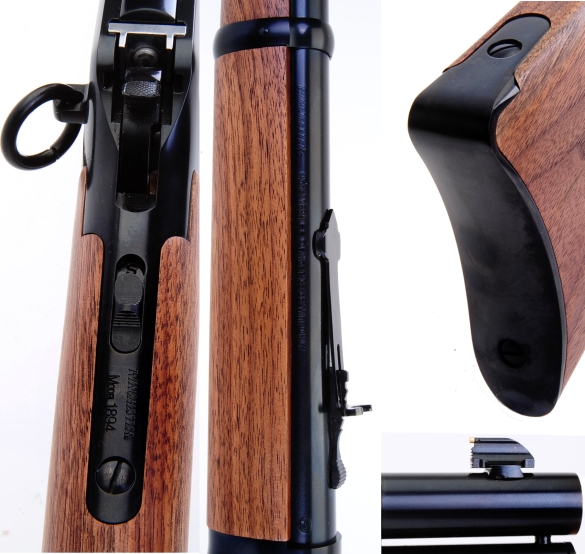 The rear sight is a semi buckhorn type, the front is a beaded blade. With Black Hills Cowboy Action 255 grain 38-55 WCF ammunition that chronographed @1,218 fps, the Winchester's point of impact was 1 1/2" low and 1" left at 100 yards. The rear sight elevator one notch up from the bottom. According to my calculations the gun had 8" of down travel and 36" of elevation, which is a good adjustment range for the cartridge and rifle. The buttplate is steel, but formed for comfort and not a problem with the 38-55 WCF, even with this light weight rifle.
For the sake of comparison, three popular lever action cartridges. The upper data set is typical performance with standard factory ammunition and SAAMI pressure levels. The second data set is high performance factory ammo from companies like Buffalo Bore or Hornady's LeverEvolution ammunition. The first is made for use in original firearms made from the steel and manufacturing capabilities if the day. The second data set reflects ammunition loaded to higher pressures to take advantage of newer, stronger firearms. The difference is significant.
Cartridge
Bullet
Weight
Grains
MV
FPS
ME
Ft-Lbs
30-30 WCF
170
2200
1827
38-55 WCF
255
1320
987
45-70 Gov't
300
1880
2355
High Performance Factory Ammo
30-30 WCF
160
2400
2046
38-55 WCF
255
1950
2044
45-70 Gov't
300
2350
3678
In standard form, while not a... beast of a cartridge, the 38-55 WCF is a solid dear and hog cartridge. In performance versions there is enough steam for black bear and elk close in.
So how does it shoot ?..
Shooting from a sled, fifty yards with metallic sights yielded two groups; 1 1/4" and 3/4" with Black Hills ammunition. The sled is like positioning artillery so I wouldn't take credit for exceptional shooting skills, but mechanically the rifle is sound and accurate. I did not bother zeroing the rifle because there is ammo of different bullet weights and performance levels to wring out next.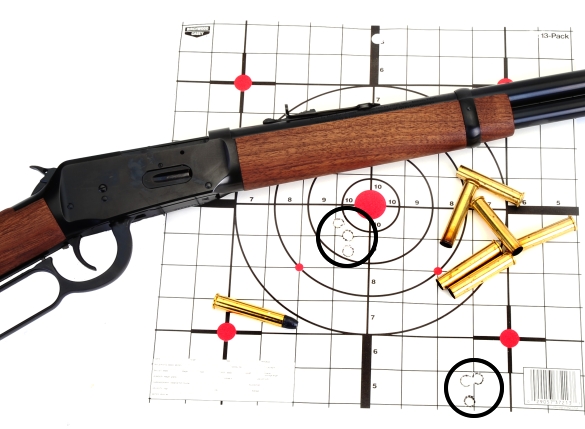 It is tough to find something not to like about the carbine. Operation is slick, the rifle is very light, it is quick to get on target and it has very little recoil. The metal finish is a very deep black with a pleasing level of polish. The dense walnut is appropriately straight grained with a satin finish. It's just a nice rifle that could have been made 100 years ago or last week. It has a timeless appeal. I want to try a few more types of ammo and perhaps, time permitting, some handloads in Part 2.
1) Winchester - An American Legend - Wilson
2) Winchester Model 94 A Century of Craftsmanship - Renneberg
Winchester's Model 1894 Carbine in 38-55 WCF Part 1
Winchester's Model 1894 Carbine in 38-55 WCF Part 2