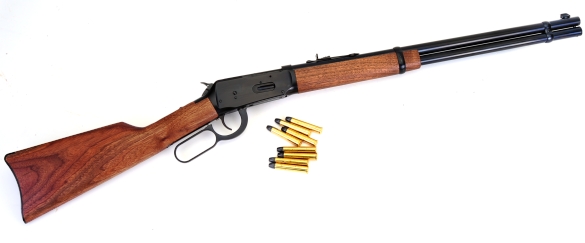 The Winchester Model 1894 and the 38-55 Winchester cartridge make for an interesting combination. A rifle that weighs 6 pounds and change, a deer and hog slaying cartridge with light recoil and good accuracy... very nice. The 38-55 Winchester, like the 45-70 Gov't or the 45 Colt, is straight walled, it has persisted for over 100 years, its SAAMI pressure specification is intended to preserve the integrity of 100 year old firearms. The 38-55 Winchester is capable of much more as demonstrated by Buffalo Bore's Heavy 38-55 Winchester ammo and most handload data.
Background and a little context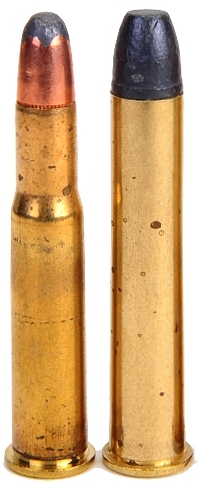 Pictured, left, the 38-55 Winchester next to its hot rod offspring, the 30-30 WCF. In 1895, Winchester necked the 38-55 Winchester down to 30 caliber and introduced the 30-30 Winchester, or 30 Winchester as it is also referred. The 38-55 Winchester continued on in production, ending its first run in 1940 1). In 2005, the 38-55 Winchester was reintroduced as part of the Winchester Model 1894 line up for its historical significance, primarily in support of cowboy action shooters.
As originally designed, the .38-55 was a true 38 caliber with a groove diameter of 0.380" 2). Early Ballard, Marlin and Winchester firearm barrels measured between 0.377" to 0.381", with each manufacturer putting a slightly different spin on specs and tolerances. The current SAAMI barrel specifications for the 38-55 Winchester are 0.373" bore and 0.379" groove. Modern Winchester Model 1894 38-55 Winchester firearms have a bore diameter of 0.368" and groove diameter of 0.375".
The SAAMI bullet specification is 0.377" +0/-0.003". Winchester jacketed ammunition is loaded with 0.375" bullets. Other factory ammunition is loaded with 0.377" cast bullets. Buffalo Bore's Heavy 38-55 Winchester jacketed ammo is loaded with 0.377" bullets. All of this ammunition is within SAAMI bullet diameter specification and all are approved for use in the modern Winchester Model 1894 firearms by Winchester or recommended by the ammunition manufacturer.
For the handloader, cast bullets for the 38-55 Winchester are produced in diameters from 0.375" to 0.380" which permits matching bullets to groove diameter of basically any 38-55 Winchester chambered firearm. However, jacketed bullets are typically either 0.375" or 0.377" with most 0.375"
The difference between 0.375" and 0.377" bullets... No, more than that.
In 1979, Winchester introduced the XTR Big Bore version of the Model 1894, chambered for the 375 Winchester cartridge, a rifle that was significantly thickened at stress and pressure points to accommodate the new cartridge... which is why 375 cartridges should not be used in rifles marked chambered for 38-55 Winchester. So why was the 375 Winchester mentioned at all? Bullets.
Cartridge
Max
Case
Length
Max
Overall
Length
Bullet
Diameter
"
Max
Pressure
CUP
Bullet
Weight
Grains
Typical
Velocity
FPS
Typical
Energy
Ft/Lbs
38-55 Winchester
2.085
2.510
0.377 +0/-0.003
30,000
255
1320
987
375 Winchester
2.020
2.560
0.376 +0/-0.003
50,000
200
2200
2150
Jacketed bullets made for the 375 Winchester are tough enough to work well with 38-55 Winchester handloads and expand appropriately when used to hunt deer, black bear, hogs and similar size game.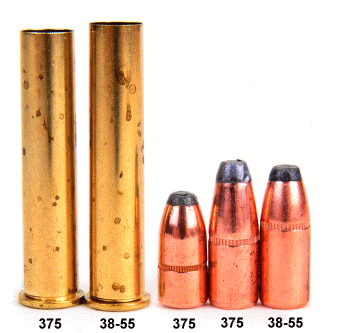 Similarly important, their diameter is particularly well suited to the Winchester Model 1894's 0.375" groove diameter barrels. There were four popular choices to select from: Barnes Original 255 grain flat nose 0.375", Barnes Original 255 grain flat nose 0.377", a Hornady 0.375" 220 grain flat nose, and Sierra 0.375" 200 grain FP.
Pictured near right, the shorter 375 Winchester case, next to 38-55 Winchester brass. Because of the shorter case and longer overall cartridge length, bullets intended for the 375 Winchester have their cannelures located father back from the tip of the bullet. A good illustration are the two bullets, center and far right. Both are the same weight and within 0.002" in diameter, however, the 375 cannelure is located considerably farther aft.
An approach, or two...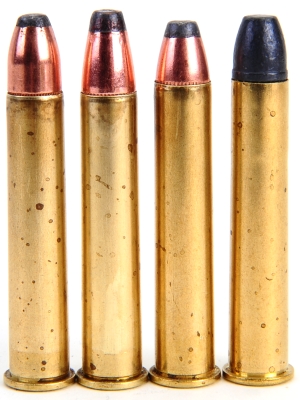 The maximum COL for the 38-55 Winchester is 2.510", the maximum COL for the 375 Winchester is 2.560". The Winchester Model 1894 chambered for the 38-55 Winchester can easily accommodate and cycle a 2.560" cartridge. Unfortunately, a 375 bullet seated to the cannelure in the longer 38-55 Winchester case results in a 2.625" COL.
The excess COL problem is solved, when using long 375 Winchester bullets in concert with 38-55 Winchester brass, by shortening the 38-55 Winchester brass to 375 Winchester length. The 375 Winchester bullets are then seated to the cannelure for a 2.560" or shorter COL. Charge data must be revised to suit the new case powder capacity to avoid excess pressure resulting from reduced net case capacity.
Pictured left, left to right, Sierra 200 grain Pro-Hunter 0.375" bullet, Barnes Original 255 grain FN 0.375", Barnes Original 255 grain 0.377", Black Hills cast 225 grain cowboy action load. As illustrated, the two 0.375" bullets are seated in cases trimmed to 375 Winchester length.
And what about shooting cartridges in longer than case length chambers? The case headspaces on the rim so headspace control is not a factor. In terms of loss of accuracy by moving a bullet back father away from a firearms rifling... Shooting 38 Special ammo from a 357 magnum, shooting 44 Special from a 44 magnum and shooting 45 Colt ammo in a 454 Casull are common place. Additionally, anyone using Hornady FTX or Monoflex bullets in cartridge like the .45-70 Gov't are familiar with trimming below SAAMI minimum case length to meet the COL spec with these longer bullets. Anyone making 38-55 Winchester brass by fire forming 30-30 WCF brass is shooting short cases in longer chambers.
Warning: Bullet selections are specific, and loads are not valid with substitutions of different bullets of the same weight. Variations in bullet length will alter net case capacity, pressure and velocity. Primer selection is specific and primer types are not interchangeable. These are maximum loads in my firearms and may easily be excessive in others. All loads should be reduced by 5%, and developed following safe handloading practices as represented in established reloading manuals produced by component manufacturers. Presentation of these loads does not constitute a solicitation for their use, nor a recommendation.


Cartridge: 38-55 Winchester

Rifle: Winchester Model 1894
Max COL: 2.560"
Bullet Diameter: 0.375" & 0.376
Primer: CCI 200
Barrel: 20"
Reloading Dies: Lee Precision
Case length: 2.020" (trimmed short)
3 Shot Group Distance: 50

yards

For use in modern Winchester firearms in good working order.
Bullet

Bullet Weight
Grains

Net Water Capacity
H2O

COL"

Powder Type

Powder Charge
Grains

Muzzle Velocity
FPS

Muzzle Energy
Ft-Lbs

50 Yards
Group Size
3 Shot "

Sierra Pro-Hunter FN
200
42.8
2.540
Re10x
37.5
2129
2013
1.2
Sierra Pro-Hunter FN
200
42.8
2.540
Benchmark
39.0
2155
2063
1.1
Barnes Original .375"*
255
37.7
2.535
Re10x
32.0
1857
1953
0.8
Barnes Original .375"*
255
37.7
2.535
Benchmark
34.0
1881
2004
1.0
Barnes Original .377"*
255
34.9
2.435
Re10x
30.0
1799
1833
1.0
Barnes Original .377"*
255
34.9
2.435
Benchmark
32.0
1823
1882
0.9
Black Hills Cowboy
225
-
-
-
-
1243
772
1.3

*Listed as 0.375" measures 0.374" and Listed 0.377" measures 0.376"
Closing thoughts
The current generation Winchester Model 1894 us a well made firearm with very good accuracy. Weighing about 6 1/2 Lbs it is quick handling, light to carry and it holds a lot of ammo. It is a classic woodland rifle and right at home in the North East.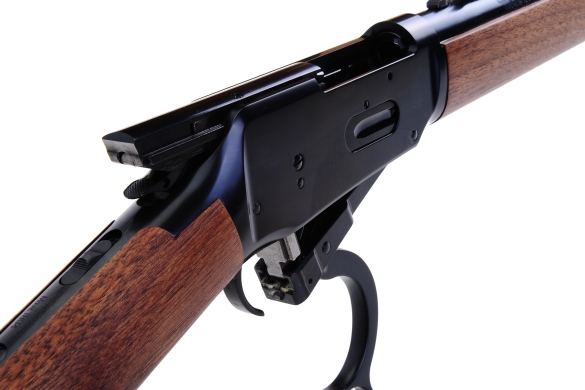 For a hunter, the 38-55 Winchester is not a casual selection. Ammunition selection is a bit limited and reasonably priced ammo is relatively anemic. High priced ammunition is... stout. Any time bullet weight cross 200 grains and heads about 250 grain, we are not talking about a minor amount of lead. Inside 150 yards the 38-55 Winchester is a solid cartridge with elk hunting power with handloads and with specialty ammo like the Buffalo Bore product. I'm quite sure that most customers will pass on the 38-55 Winchester and head for the classic and still very popular 30-30 WCF, but for folks who like to handload and shoot rifles with a lot of personality, this one would be hard to beat. For further information stop by the Winchester site.
1) Cartridges of the World 11th Edition 2) 38-55-1 Barnes Publication
All referenced dimensions from applicable SAAMI drawing or table
Winchester's Model 1894 Carbine in 38-55 WCF Part 1
Winchester's Model 1894 Carbine in 38-55 WCF Part 2