Winchester Model 70 Featherweight

Manufactured

U.S.A.

Item #

535109285

Type

Bolt Action

Caliber

7x57 Mauser

Mag Capacity

3

Barrel Length

22"

Rifling

1:9.5"

Weight

7 Lbs

Overall Length

42 3/4"

Stock

Satin Finish

Hardware

Blued Steel

Length of Pull

13 3/4"

Drop at comb

1/2"

Drop at heel*

3/4"

Sights

Clean

Scope

Drilled and Tapped

Trigger Pull

5 Lbs. 2 Oz.

Safety

Swing Safety

U.S. MSRP

$919.99
I was thinking about how much things have changed. These days, products are routinely announced in advance of production or at least ready supply. The first Winchester Model 70 was shipped to the Winchester warehouse on August, 14, 1936, but it wasn't announced until January 1, 1937. The first Featherweight version was listed in 1952 1).
The Featherweight incorporated the same enhancements that distinguished all of the Model 70 Winchesters from the previous flagship centerfire sporting rifle, the Model 54.
Some highlights - The then new Model 70 design offered much reduced firing pin travel and shorter cocking cam. The trigger was single stage and adjustable and a swing safety kept the thumb piece out of the way of a scope eye piece. The Model 70 incorporated a hanged floorplate to facilitate safe unloading. The stock drop at the comb and heal was significantly reduced to facilitate the use of a telescopic sight 2).
The 1952 Featherweight version of the Model 70, in comparison to the standard model, featured a shorter 22" barrel, a pound less overall weight and a more slender schnabel forearm patterned after the 1926 Winchester Model 56 rim fire. In 1966 and 1972, when the standard Model 70 stock's geometry was changed significantly, the Model 70 Featherweight retained its classic lines.
And what about the current Featherweight?
Winchester took it's lumps for 1964 cost reduction measures. Probably little that actually degraded the functional performance or longevity of the rifle, allowing cost control efforts to put waffle iron checkering on a highly revered Model 70 was definitely poking a tiger with a stick and it made people more willing to listen to knee jerk criticisms that had little foundation... sort of like what we like to call social media.
Winchester said they were machining Model 70 receivers from a solid cast billet of the same steel they previously cut from bar stock, and the rumor mill said, "Winchester is putting cast receivers on the Model 70". No, they certainly don't mean the same thing. Even today people say pre and post 1964 as though it means something when, in actuality, by the 1978 XTR version of the Model 70, Winchester had recovered fully and was making an much improved firearm even in comparison to the coveted pre 1964 models.
For my personal taste in firearms and appreciation of a well manufactured product, the current Winchester Model 70 is the best with two exceptions. I would gladly pay an extra $10 if Winchester would replace the plastic pistol grip cap with a blued steel cap even if just to bring the quality of bits and pieces in line with the rest of Featherweight. The second is a dream I hold onto, but will never be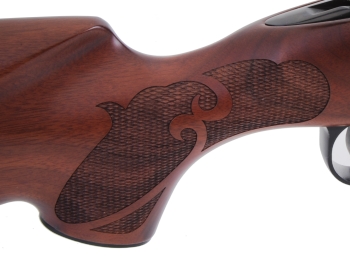 a reality again within the mass produced firearm industry... cut checkering. Considering even the $3,200 Weatherby Ultra Mark has laser cut checkering, I believe I will have to abandon this hope. At any rate, every time I pick up a new Winchester, the laser cut checkering is one step closer to hand cut checkering, the latest very close.
The Featherweight has a satin finished walnut stock; sealed from the elements, nice grain and good coloring. The wood to metal fit is clean. Steel parts are finished in deep satin blue with a good decent color match to non-ferrous parts.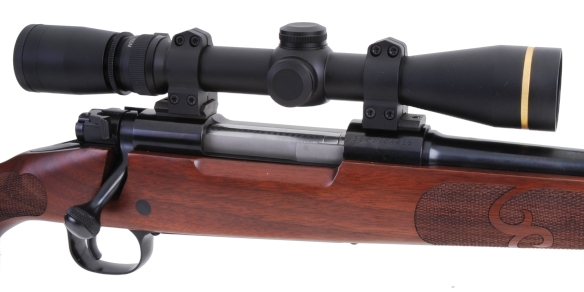 The scope selected is a Leupold VX® 3 2.5x8x36mm, mounted on low Warne rings. A little high above the barrel, the clearance is intended for eyepiece / bolt handle clearance. The same mounts work with up to a 44mm objective lens scopes.
The MOA Trigger is crisp with no creep or perceptible overtravel for that matter. The subject rifle's pull was heavier than typical at 5 Lbs. 2 Oz. but, for folks knowledgeable of the correct procedure, the Winchester trigger is fully adjustable.
From a lower angle, the rifle has a very clean look. For my taste, doing the grip cap, trigger guard and floorplate frame in a matte or even satin finish would have blended in better with the satin bluing on the floorplate and the satin finish walnut. A very subjective preference on my part.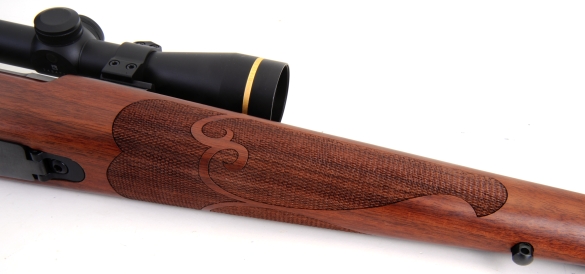 The Featherweight is a really good looking modern firearm and it drew the attention of shop visitors who are use to seeing all sorts of... unique firearms. The most often heard comments was in reference to the rifle being a classic well made bolt action firearm, followed by, "How much?", followed by, "Keep your hands off that rifle!".
Seven is a mm Americans apparently like... The 7x57 Mauser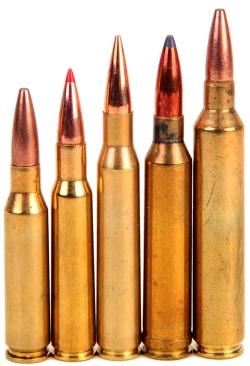 The data indicated within the table below was sourced from factory ammo published specifications... all of the same brand, all of the same product type.
Cartridge

PSI
K
Capacity
Grains
140 grain
MV FPS
140 Grain
ME Ft-Lbs
7mm-08 Remington
60.2
55
2860
2542
7x57mm Mauser
51.0
60
2660
2199
280 Remington
58.7
68
3000
2797
7mm Remington Magnum
61.0
82
3175
3133
7mm Remington Ultra Mag
63.8
112
3425
3646
While the 7x57mm has greater capacity than the 7mm-08 Remington, its performance is rated lower. The result of being a cartridge saddled with an 1892 pressure limitation, intended to safeguard the mechanical integrity of a Model 1892 military Mauser.
The 7x57 Mauser aficionado has a number of options when it comes to ammunition. There are seven manufacturers producing 13 types of SAAMI or CIP standard pressure ammunition in bullet weights from 139 grains to 175 grains.
Hornady's Superformance ammunition gives a velocity boost to 7x57 Mauser rifles with a 139 grain SST or GMX load at 2760 fps and 2740 fps respectively. It does so with the burn characteristics of its Superformance powder and without exceeding industry standard pressure specifications.
Winchester Model 70 Featherweight baseline...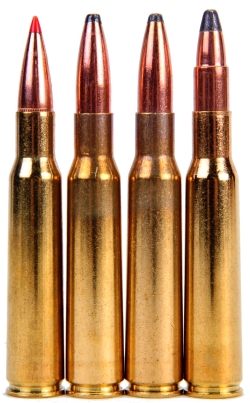 For folks with an interest primarily in using factory ammunition, those listed within the table below is compliant with industry standards, CIP or SAAMI, and is available in a variety of bullet weights and types popular for the 7x57mm Mauser cartridge.
Cartridge

Bullet
Grains

Rated
MV FPS

Actual
MV FPS

ME
Ft-Lbs

Hornady Superformance

139

2760

2759

2350

Prvi Partizan

139

2657

2666

2194

Prvi Partizan Thunder

158

2460

2518
2225

Seller & Bellot

173

2379

2449
2305
All ammunition is factory ratings are with a 24" test barrel, but chronographed here with the Featherweight's 22" barrel. The oddly stepped Seller & Bellot SPCE bullet (soft point cutting edge) is designed to penetrate and to cut a large clean wound channel. Not sure how effective it is, but it is guaranteed to make you the center of attention.
The other day I was reading a comment someone made where they defined the 7x57 Mauser as a short range cartridge, useful at distance of 100 - 150 yards and with enough power only for deer and other recently proclaimed firearm enthusiasts rushed to agree.
How sad that a cartridge's reputation would not stand on the experiences of people like Karamojo Bell who hunted and killed 1,000 elephants with the 7x57 Mauser (275 Rigby), or the military of many countries that relied on the 7x57 Mauser, or the incredible number of sportsman all over the world who have successfully and confidently hunter deer, antelope, elk, moose, and black bear with the cartridge, but rather on the words of some anonymous and obviously inexperienced poster in a public venue. Skipping the conjecture, the 7x57 Mauser, when shot from this rifle, looks a bit like this:
7x57 Mauser - Hornady Superformance 139 grain SST

Yards
0
50
100
150
200
250
300
350
Velocity - fps
2759
2647
2538
2432
2328
2227
2129
2033
Energy - ft.-lbs.
2349
2162
1988
1825
1673
1531
1399
1276
Momentum - lbs-sec
1.70
1.63
1.56
1.50
1.43
1.37
1.31
1.25
Path - in.
-1.5
1.2
2.7
2.9
1.6
-1.4
-6.0
-12.6
Based on a max +3" ordinate, the 7x57 Mauser has a 270 yard point blank range with over 1,000 ft-lbs of energy out beyond 350. No, I am not suggesting the 7mm be packed with your long johns for your next brown bear hunt, but I am suggesting that the 7mm Mauser should not be made synonymous in purpose with the 30-30 WCF. For the handloader, there is even more potential.
I've had the pleasure of owning and shooting the Winchester Model 70 Featherweight in a number of standard and magnum chambers and always found them to be well balanced and accurate firearms. The 7x57 Mauser is a cartridge of particular interest, so we'll take a little more time for a Part 2 and put together some handloads. For further information on the Model 70 Featherweight, and other Winchester products, stop by the Winchester site.

1) Winchester, an American Legend - Wilson. The History of Winchester Firearm 1866 - 1992 - Henshaw
2) The New Model 70 Winchester - Nov. 1936 American Rifleman - F. C. Ness
Winchester's Model 70 Featherweight Part 1
Winchester's Model 70 Featherweight Part 2