I don't know why, but I almost always associate a firearm's personality with songs. The Winchester Super X3's appearance reminds me of LeAnn Rimes's "Blue". That said, it's shooting personality is more like... Justin Moore's "Backwoods". The SX3's satin oil finished, cut checkering and finessed matte black hardware suggests a classic appeal. However, the Winchester Red accent stripes and angular cut stock are well suited to pickup trucks and rural dirt roads.
Winchester Super X3

Brand

Winchester Repeating Arms

Item #

511144392

Manufactured
Belgium
Assembled
Portugal

Type

Gas Operated Autoloader

Gauge

12 (2¾" - 3")

Mag Capacity

4+1 (2¾") 3+1 (3")

Barrel Length

28"

Invector + Chokes

Full, Improved Cylinder, Modified

Weight

6 Lbs 14 Oz

Overall Length

46¾"

Stocks

Walnut - Satin oil

Hardware*

Matte Black Aluminum Receiver

Length of Pull

14"

Drop at comb

1½"

Drop at heel

1¾"

Sights

¼" Ventilated Rib

Trigger Pull

5Lbs. 7Oz.

Safety

Cross Bolt

MSRP

$1,069.99

*Aircraft Aluminum Receiver
The Winchester Super X3 is not listed with graded walnut, however, this example has very nice figure and contrast, adding to the shotgun's overall good looks. The laser cut checkering is the closest we've seen to traditional machine or hand cut checkering and, combined, it all makes for the look of a quality firearm. It's a beauty of a shotgun.
If, when looking at the Super X3, you squint your eyes you might think you are looking at a Browning Silver, and you wouldn't be too far off the mark. Aesthetics and features vary significantly enough to distinguish the brands, while excellent core design that is common to both reflects the finesse that comes with years of field experience and feedback.
Backbored and Invector Plus
The Super X3 is a backbored 12 gauge. The standard bore for a 12 gauge, ahead of the forcing cone, is 0.729" which is too tight for heavy shot charges, often causing shot deformation. Winchester backbores the Super X3 to 0.742" which is enough to prevent shot deformation, but not so much as to cause gas to blow by a shot cup, reduce pellet velocity and scatter patterns. Some competing shotguns manufacturers backbore their 12 gauge products to 10 gauge equivalent, 0.775", which is excessive and tends hampers performance.
The Winchester Super X3 Field is supplied with a choke wrench and three Invector-Plus chokes: full, improved cylinder and modified. Both Invector-Plus and Signature Invector-Plus chokes are compatible with the SX3 and available as accessory pieces. Invector-Plus chokes are muzzle flush, Signature Invector-Plus chokes have an extended knurled tube with choke ID label. Both have a long taper for use with backbored barrels. Check the Winchester site for current listings.
Invector-Plus Chokes

613050
12
Extra Full, Diameter: 0.700", Constriction: 0.040"
613051
12
Full, Diameter: 0.705", Constriction: 0.035"
613052
12
Improved Modified, Diameter: 0.715", Constriction: 0.025"
613053
12
Modified, Diameter: 0.720", Constriction: 0.020"
613054
12
Improved Cylinder, Diameter: 0.730", Constriction: 0.010"
613055
12
Skeet, Diameter: 0.735", Constriction: 0.005"
613056
12
Cylinder, Diameter: 0.740", Constriction: 0.000"
Signature Invector-Plus Chokes

6130703

12

X-Full Trap, Diameter: 0.700", Constriction: 0.040"

61307103

12

Turkey, Diameter: 0.660", Constriction: 0.082"

6130713

12

Full, Diameter: 0.705", Constriction: 0.035"

6130723

12

Lt Full, Diameter: 0.710", Constriction: 0.030"

6130733

12

Improved Modified, Diameter: 0.715", Constriction: 0.025"

6130743

12

Modified, Diameter: 0.720", Constriction: 0.020"

6130753

12

Lt Modified, Diameter: 0.725", Constriction: 0.015"

6130763

12

Improved Cylinder, Diameter: 0.730", Constriction: 0.010"

6130773

12

Skeet, Diameter: 0.735", Constriction: 0.005"

6130783

12

Cylinder, Diameter: 0.740", Constriction: 0.000"

6130793

12

Spreader, Diameter: Rifled
Active Valve Gas System... but no chili
Where some gas systems uses offsetting barrel pressure bleed ports to adjust for shell length and gas pressure, the Active Valve system always draws from two ports located in the barrel's gas bracket. The Active Valve System takes on what is required cycle the gas piston, based on ammunition being used and then rapidly vents the access. The result is an incredibly reliable system that works with any shot shells, 2 ¾" to 3", target to magnum loads.
The Active Valve System is also very clean in operation. The magazine tube is chromed plated steel; a good hard and smooth surface that is easy to wipe down, and the inside of the gas pistol cleans up well with a shot of gun cleaning solvent.
Other stuff...
I have been around firearms, very nice and very expensive firearms, long enough to appreciate the... gingerbread factories and gunsmiths sometimes put on their firearms to show off the designer's capabilities. However, most of those features are for "show and tell" or for specialized applications. What the Winchester Super X3 lacks in fancy, it makes up for in straight up performance. Easiest way to illustrate the point is to compare the Winchester SX3 to a higher priced Browning Maxus.
Where the Browning Maxus magazine capacity limiting plug can be popped out with a key, the Winchester needs to have the gun's spring retainer pulled before the plug can be removed. Both designs still require the removal of the shotgun's barrel and forearm to get to the plug.
The Browning Maxus has a speed lock to aid in forearm removal and to provide a quick connect for a sling. The Winchester requires removal of its threaded magazine cap.
The Maxus has a lever actuated magazine cutoff and a speed unload feature. Very classy. The Winchester has no levers and it needs to be cycled to unload.
In defense of the Winchester Super X3, and from a more pragmatic perspective, I never missed those little touches of mechanical fancy. Additionally, shooting over the course of several days, it wasn't necessary to study the manual as though I were prepping for a final examine to use the SX3 effectively. The absence of excess gadgetry makes the Winchester clean in appearance and intuitive in operation.
The Super X3 product line...
The SX3 Field subject shotgun is only one of ten SX3 models, available in 3" and 3½" chamber dependent upon model. There are walnut, synthetic black and camo treated stock options. There a competition model with adjustable comb and there are models with rifled barrels. In fact, Winchester offers 8 accessory barrels for the various Super X3 models, 3 rifled for slug use and 5 in different lengths and chambers. This is a well supported firearm.
We set up a manual trap and shot clays over the span of a few days. Target loads or high base magnum, even mixed in the same magazine, yielded zero hiccups. Recoil is soft and the action is really fast cycling. At the end of the day, no more than a quick wipe down was required to keep the gun looking good and functioning properly Disassembling was a snap right down to bolt removal and the trigger housing assembly can be removed and cleaned by pushing out two pins.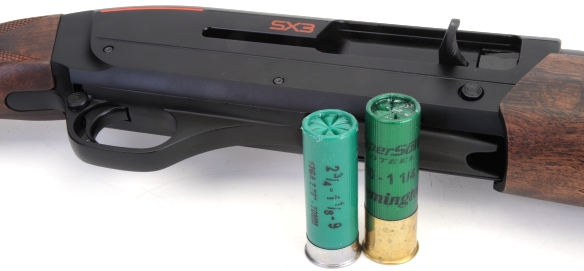 Good performance, great looks... what else could you ask for? Next time you in your favorite gun shop take a look for yourself. Better yet, talk a friend into letting you try his SX3.